Cipriani Club Residences at 55 Wall Street: Review and Ratings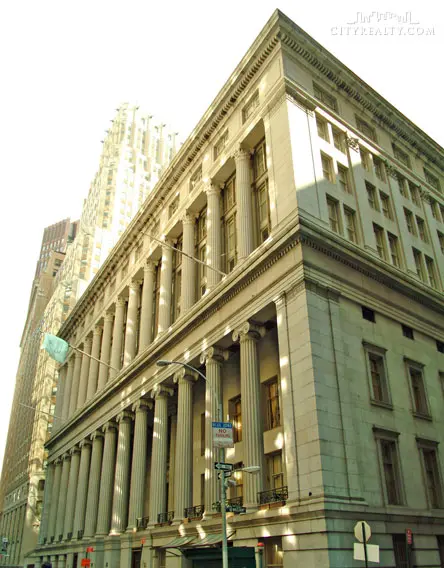 Review of 55 Wall Street by
Carter Horsley

Carter B. Horsley, a former journalist for The New York Times, The International Herald Tribune and The New York Post. Mr. Horsley is also the editorial director of CityRealty.com.
This very impressive structure, which has gone through many changes, has been known since 2006 as Cipriani Residences at 55 Wall Street, and it is one of Lower Manhattan's most important official landmarks.
Behind its two tiers of massive columns is one of the city's most spectacular interiors, a 60-foot-high, domed great hall, at the center of the world's most famous street.
The building contains 106 furnished condominium apartments, including 45 "club residences," or studios, 49 1-bedroom apartments, 8 2-bedroom apartments, and 4 3-bedroom apartments.
Bottom Line
The development's amenities and some of its interiors are fit, without too much exaggeration, for royalty and sophisticates accustomed to true luxury services.
Description
Its front steps may be smaller than those at the Metropolitan Museum of Art or the Farley Post Office but they are on a par with those at Federal Hall further west on Wall Street at Broad Street.
Both buildings make up in history what they lack in height.
The façade of the original four-story, Greek-revival-style building of 1823 at 55 Wall Street had 16 Ionic columns, each a single block of Quincy Granite.
When the building was remodeled and expanded in 1899 a second colonnade was added but the columns were Corinthian, not Ionic.
Amenities
Cipriani Residences also has a 24-hour doorman and lobby attendant, a rooftop garden, butler service, housekeeping service, preferential access to on-site restaurant, a fitness center, a landscaped courtyard, newspaper delivery, private storage, valet, dry cleaning and laundry services, personal shopping and delivery services, postal and messenger service, grocery and toiletry shopping, personal shopping, fresh flower service, dog-sitting and animal grooming, child care, and packing and unpacking.
Buyers of the apartments can choose from three design styles for the fully furnished units, down to linens, toasters and glassware: sleek, classic and eclectic. The apartments were designed by Tsao & McKown.
Residents have two-year memberships in the Cipriani Club.
A lavish brochure for the development showed Giuseppe Cipriani's head, laying in the lap of "Cipriani Club member Margherita Missoni" while holding a cup of coffee.
"The Club, an extension of each residence," the brochure continued, "includes both formal and casual dining rooms in which to enjoy classic Cipriani dishes: an intimate bar serving the trademark Bellini along with the world's finest wines and spirits; a richly appointed billiard room; an elegant wine cellar and private dining rooms; a state-of-the-art screening room featuring the latest Hollywood releases; an old-world, European-style hair salon and barber shop; a library and reading room with an array of international newspapers and magazines and literature both contemporary and classic; a full-service spa featuring tanning booth, wet room, and steam showers; a Cipriani boutique; and access to a world-class concierge able to arrange for services of every sort. Residents have exclusive use of a spacious duplex fitness center outfitted with a complete range of sleek equipment in polished chrome and supple leather."
Apartments
Almost every apartment has a different layout and most have "open" kitchens and are relatively small, since the building has so many amenities and services.
Some of the layouts are quite interesting.
One 1-bedroom unit has a small foyer with a large living room with three large windows and a "dogleg" alcove with kitchen facilities.
Another 2-bedroom unit has a large entrance foyer that turns into a long gallery leading to the large living room on the right and a second bedroom with a long and narrow, windowed "study alcove."
The 2-bedroom unit has a 41-foot- long gallery that opens onto the 31-foot living/dining room that has a kitchen facilities and an "island" in the middle.
A smaller 1-bedroom unit has a long entrance foyer on one side of which is a kitchen area and the foyer leads in to a small living room from which a 15-foot-long gallery leads past a very large bathroom to the larger, 15-foot-4-inch square bedroom.
History
The building was designed by Isaiah Rogers in Greek Revival style, and opened in 1823 as the Merchant Exchange.
In 1841, it became the home of the New York Stock Exchange.
From 1862 to 1907, it served as the U. S. Custom House.
In 1907 it was bought by the National City Bank Corporation for its headquarters. The bank corporation then hired McKim, Mead & White to expand the building by adding four floors and a second colonnade to its Wall Street façade.
The building became an official city landmark in 1965.
For several years in the 1970s, the bank had a stunning, huge and tall, red-lacquer free-standing wall angled in the center of the banking hall that was a tellers' station.
In 1997, Giuseppe Cipriani bought the building with Credit Suisse First Boston only to sell it two years later to Regent Intentional Hotels and Sidney Kimmel, chairman of the Jones Apparel Group. They converted the building to the 144-room Regent New York Hotel.
After the terrorist attacks on the World Trade Center on September 11, 2001, 55 Wall Street served as a relief center for workers and area residents. The hotel closed in 2003 due to lack of business after the 9/11 attacks.
Giuseppe Cipriani subsequently joined forces with Mr. Kimmel and Steve Witkoff to convert the property to Cipriani Club Residences. The hotel rooms were gutted and the apartments were new construction. The hotel no longer exists.
Giuseppe Cipriani's grandfather opened Harry's Bar in Venice in 1931 and it quickly became one of the most famous in the world.
Book a Tour or Get More Information on this Building
389 Buyers
are interested in buying at
55 Wall Street!
Interested in Selling?
We'll introduce you to the agents that
specialize in 55 Wall Street and are
experts in selling apartments there.

And they'll be able to contact all of the buyers interested in the building.
There's no obligation and your inquiry is confidential.
Call us at (212) 755-5544