Downtown by Starck at 15 Broad Street: Review and Ratings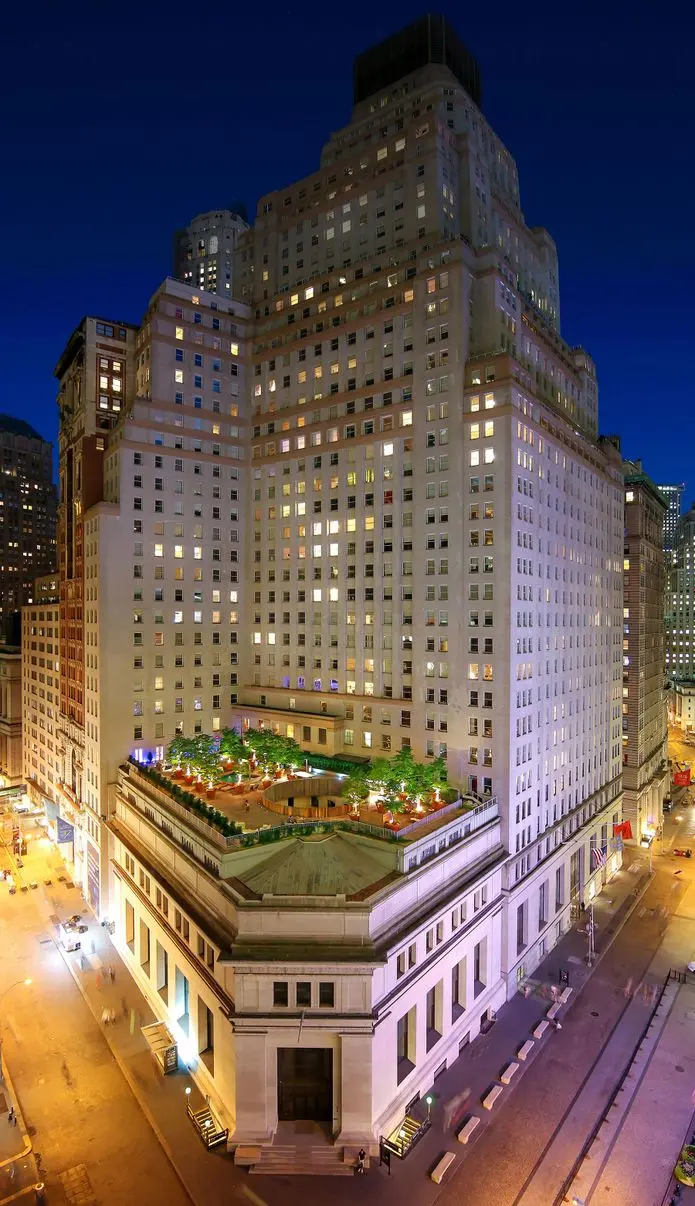 Review of 15 Broad Street by
Carter Horsley

Carter B. Horsley, a former journalist for The New York Times, The International Herald Tribune and The New York Post. Mr. Horsley is also the editorial director of CityRealty.com.
Directly across Wall Street from Federal Hall National Memorial and directly across Broad Street from the New York Stock Exchange, Downtown by Philippe Stark at 15 Broad Street is a major conversion project of two commercial structures to condominium apartments at the most impressive Lower Manhattan location.
It consists of the five-story building at 23 Wall Street that originally was the headquarters of J. P. Morgan's banking operations and the 42-story office building at 15 Broad Street that wraps around it and was originally the Equitable Trust Building.
23 Wall Street was built in 1914, one year after the death of J. P. Morgan, and it was linked in 1957 to 15 Broad Street, which was built in 1928.
An article by David W. Dunlap in the May 11, 2004 edition of The New York Times called the intersection "Finance's Holiest Corner," noting that both buildings were "later remodeled as headquarters of the Morgan Guaranty Trust Company, corporate forerunner of J. P. Morgan Chase & Company."
In 2003, A. I. & Boymelgreen of Brooklyn bought these two buildings for $100 million and announced plans for their renovation and conversion by French designer Philippe Starck. The tower was converted in 2007 into 326 apartments and the roof of the low rise corner building was turned into a lavish and large roof deck for the tower's residents.
Bottom Line
With frontages on both Wall and Broad Streets, Downtown by Philippe Starck at 15 Broad Street is the proverbial heart of the Financial District and has enough amenities to make each resident feel like a C.E.O., including a spectacular roof "deck" atop 23 Wall Street directly across from the New York Stock Exchange.
Description
The 42-story former office building has a three-story limestone-clad base with very tall 2nd-floor windows that are closely aligned with similar tall windows in "The Corner" building at 23 Wall Street. The tower also has stringcourses bracketing the third floor and several "wedding-cake" setbacks near the top. Both buildings are relatively unremarkable architecturally.
A very large, 1,900-piece, Louis XV chandelier that hung in the main banking hall at 23 Wall Street was installed in the lobby of the 15 Broad Street building and it hovers, incongruously, just a few inches off the floor, and, in addition to its many crystals, the chandelier has small plasma screens showing the faces of its residents.
As startling as that chandelier is, blocking most of the lobby passageway surrounded by a low, glass fence, the showpiece of the development is the roof of the low-rise corner building at 23 Wall Street across the street from Federal Hall. On this large roof, Mr. Starck designed a garden with trees, teak decking, a large pool fed by a crook-shaped pipe, and a "topiary wall" with window-like openings in which lanterns hang. The view from the rooftop is spectacular as it looks directly at the highly decorative pediment of the New York Stock Exchange.
The tall building at 15 Broad Street has a small wing that extends to 37 Wall Street on the west side of 23 Wall Street.
Amenities
The building, which has a doorman, has a bowling alley in the basement in space that was formerly used as a shooting range for the bank's security guards.
It also has basketball and squash courts, a lap pool and a small theater.
Apartments
Apartments have high ceilings, many over 11 feet high, and Bosch washers and dryers.
Kitchens have Jenn-Air stainless steel refrigerators, Bosch gas cooktops and convection ovens, and lighting designed by Philippe Stark. Baths are finished in 16-inch Thassos marble and have Duravit soaking tubs and Hansgrohe shower fixtures.
There are 160 different apartment layouts and many have long hallways.
Some "studio" apartments are large. One on the 14th floor has a 41-foot living room with an open kitchen and a 9-foot entry foyer.
A large two-bedroom unit on the 37th floor has a 25-foot-long entrance foyer that leads past an eat-in kitchen to a 32-foot-living room that opens fully onto a 15-foot-long library that opens once a large terrace. A long gallery off the foyer leads to the bedrooms.
Apartment 1001 has an entry foyer that leads around closets to a 23-foot-long living room with open kitchen and an angled 14-foot-long alcove
Apartment 2722 has a three-step-up home office, a long corridor with an open kitchen leading to a large living room and a large bedroom with a very long walk-in closet.
Apartment 2400 is a two-bedroom unit with an 18-foot-long foyer that leads to a 35-foot-long corridor with open kitchen that opens onto a 25-foot-long living room with a large terrace.
Apartment 3010 is a two-bedroom unit with a 21-foot-long foyer that leads to an 18-foot-long living room that opens fully onto an 18-foot dining room with open kitchen. The apartment has a small terrace.
Apartment 3000 has an entrance foyer that leads to a gallery that leads to an angled living room with a very large terrace. There are also two bedrooms, one with a 21-foot hall to its bath.
Apartment 2420 has three bedrooms and 21-foot-long angled gallery that leads to a large living room with an open kitchen and almost 80 linear feet of terrace.
The building has a few duplex apartments.
One has a 17-foot-long foyer than leads to a 31-foot-long living room with an angled corner and open kitchen and a bedroom on the lower level and three bedrooms on the upper level.
Apartment 39 has a 21-foot foyer that leads to a 32-foot-angled living room and one bedroom on the lower level and two bedrooms, 18-foot-long gallery, a 9-foot-square library and a 17-foot-long bath on the upper level.
Another duplex has a 13-foot entry foyer on the lower level that leads to a 32-foot-long great room and a 31-foot-flong recreation/dining room and two bedrooms. The upper level on the 40th floor has five bedrooms, a study and gallery.
History
In 1914, the low-rise bank building at 23 Wall Street was opened as the headquarters of the J. P. Morgan & Company bank a year after the death of the bank's founder, J. Pierpont Morgan. It was designed in a Neo-Classical style by Trowbridge & Livingston, the firm that had designed the Bankers Trust pyramid-topped skyscraper at 14 Wall Street in 1912.
The five-story building is faced with pink marble from Tennessee and had 7-foot-thick foundation walls that could support a tower of about 30 stories.
In 1920, an explosion rocked the building, killing at least 36 people.
Eight years later, Trowbridge & Livingston designed the 42-story building at 15 Broad street for the Equitable Trust Company. J. P. Morgan & Company bought it in 1953 and six years later merged with the Guaranty Trust Company, and in 1960 joined the two buildings in an alteration designed by Rogers & Bergun.
In 1966, 23 Wall Street was declared a city landmark.
In 1998, the New York Stock Exchange proposed demolishing all the buildings on the block except 23 Wall Street for a new headquarters in a 900-foot-high tower designed by Skidmore, Owings & Merrill with a façade design of "dripping" and "cascading" masonry in two colors that was later imitated by SCLE for a new condo tower for the William Beaver development a few blocks to the south.
The S.O.M. plan was abandoned, however, after the terrorist attacks of September 11, 2001 that quickly led to the Broad Street block in front of the exchange being barricaded.
The May 11, 2004 article by David W. Dunlap in The New York Times noted that the conversion of 15 Broad Street into a condominium apartment building "will have an aerial front yard" on the rooftop of the five-story 23 Wall Street.
Mr. Starck, a flamboyant French architect who designed the interiors of the Royalton and Paramount hotels in the Times Square district for Ian Schrager, was quoted in Mr. Dunlap's article as saying that "this is most secure place in the city," adding that "it will be the first fertile place on Wall Street."
The article also quoted Mr. Starck as stating that the project will embody "honesty, respect, tenderness, surrealism, poetry, surprise, vision – which have no value on the other side of the street."
In a November 10, 2004 article in New York Newsday by Justin Davidson, Mr. Starck was quoted as stating that his "idea is to being happiness, respect, vision, poetry, surrealism, magic – these are not values you find in Wall Street,' adding that "here is the center of the world, but it's also hell, so I want to create paradise. This is the Garden of Eden in downtown."
"Walk through the austere portal of 23 Wall St. today," the article continued, "and you enter a world of flamboyant frivolity. On a generous screen in the vestibule is a moving image of the impish Starck, animatedly holding forth in Inspector Clouseau inflections on the philosophic possibilities his remodeled condominiums will afford. Proceed through the double doors and in place of Morgan's pinstriped minions, sleekly suited salespeople await in a rose- colored room lined with gauzy white curtains and pierced by a wooden lightning bolt that wraps itself around an old spiral staircase."
Ismael Leyva worked with Mr. Starck on the residential conversion of 15 Broad Street, which also has entrances at 51 Exchange Place and 37 Wall Street.
15 Broad Street along with 23 Wall Street were bought by A. I. & Boymelgreen of Brooklyn in 2003 for $100 million.
Shaya Boymelgreen, the president of LB Lev Leviev/Boymelgreen came to the United States in 1969 and subsequently founded a bookstore, Eichlers, which specialized in Jewish literature. He later sold Eichlers and then went into the diamond business before entering real estate, starting with some projects on the Lower East Side and then in Brooklyn.
Book a Tour or Get More Information on this Building
2,227 Buyers
are interested in buying at
15 Broad Street!
Interested in Selling?
We'll introduce you to the agents that
specialize in 15 Broad Street and are
experts in selling apartments there.

And they'll be able to contact all of the buyers interested in the building.
There's no obligation and your inquiry is confidential.
Call us at (212) 755-5544