The Lara, 113 Nassau Street: Review and Ratings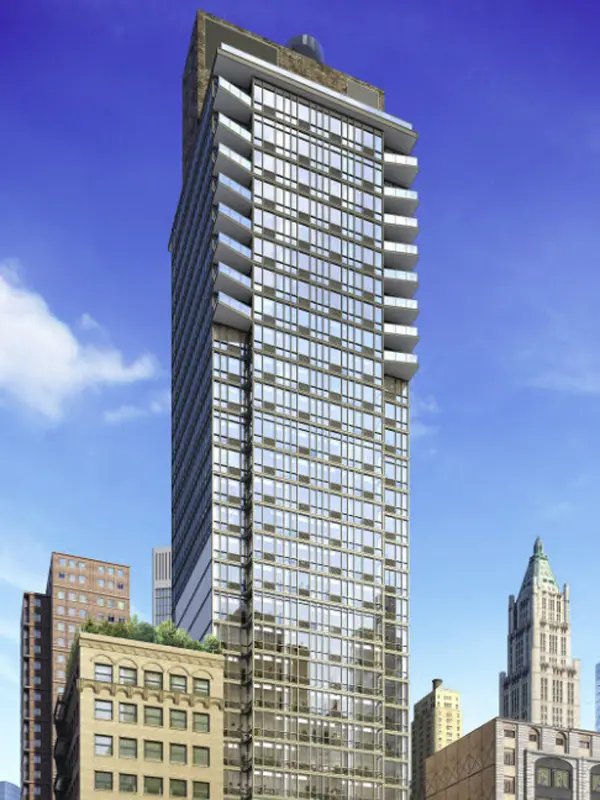 Review of 113 Nassau Street by
Carter Horsley
The Lara is a 30-story rental apartment building at 113 Nassau Street near City Hall Park and the Financial District.
It has 168 apartments and its lower five floors are commercial. It was designed by SLCE and developed by Ann/Nassau Realty LLC.
The mid-block building was built in 2012.
Bottom Line
A mid-block tower with a dramatic, angled top and views around the corner from City Hall Park and close to the Financial Center and the World Trade Center and good public transportation.
Description
The building has a low-rise commercial base that holds the building line on the street and the residential tower is set back and is notable for the rakish angles of its four corner balconies on seven floors near the top.
The center of the mostly-glass tower protrudes slightly and the tower provides very good views of City Hall Park, 8 Spruce Street, the Woolworth Building and the World Trade Center.
Amenities
The building has a 24-hour concierge, a doorman, a laundry room, a fitness center, a library, and a roof deck.
History
Nassau Street has long had a lot of retail activity including one of the busier men's hat stories.
This site was the original home of The New York Times.
In an August 15, 2007 article in The Times, David W. Dunlap wrote that "Volume 1, Number 1 of The New-York Daily Times, four pages for one penny, was published at 113 Nassau Street on September 18, 1851," adding that the newspaper stayed there until 1853 and that "the six-story building was, in order words, a journalistic log cabin."
"There was no glass yet in the windows on the evening when The Times first went to press" and "breezes blew through the place, extinguishing the candlelight," the article continued.