Prism at Park Avenue South at 50 East 28th Street: Review and Ratings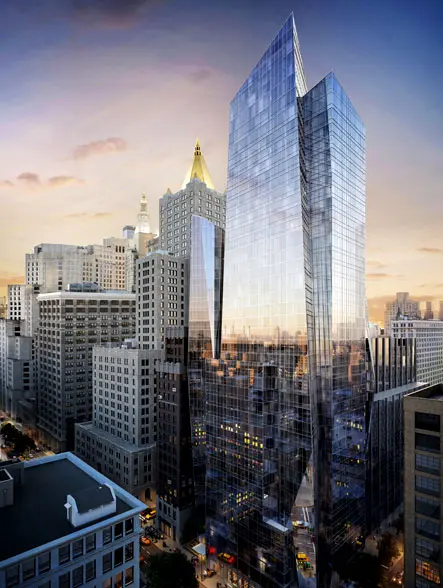 Review of 50 East 28th Street by
Carter Horsley

Carter B. Horsley, a former journalist for The New York Times, The International Herald Tribune and The New York Post. Mr. Horsley is also the editorial director of CityRealty.com.
Prism at Park Avenue South is a 40-story, reflective glass shard of an apartment tower, the bottom 22 floors are 269 rental apartments developed by Equity Residential and the top 18 floors are 81 condominium apartments developed by Toll Brothers.
Christian de Portzamparc, the French architect of One57 and the LVHM Tower, both on 57th Street, designed the project several years ago for A & R Kalimian Realty, which sold it to Equity Residential and Toll.
Like the LVMH Tower, this project is rakishly angled but while the LVMH tower is mid-brock and mid-rise, this project is more than twice as high and on a corner. In contrast, the architect's One57 tower for Extell Development is "softer" with a few rounded setbacks, although, of course, it is much taller and therefore more prominent.
Extell has commissioned another project from the architect, Riverside Center, which consists of several angled towers centered about a plaza between 59th and 61st Streets on Riverside Boulevard. Based on renderings, those buildings do not have the sharpness of this project and their angularity is a bit compromised by their complex form and mixed façades.
This 472-foot-high project on the other hand is a pure and bold work of art that is very dramatic.
Gary Edward Handel is the "executive" architect on the project.
Bottom Line
A faceted peak sprouting from the masonry canyons of Midtown South, this shiny and reflective spire sparkles dramatically in a location that is convenient to Madison Square Park and Murray Hill.
Description
Sculpted asymmetrically, the building has a slightly chamfered and cantilevered corner that extends upward about 15 stories where it becomes the sharp edge of the building's tallest component that is set back somewhat from Park Avenue South and angled considered inward next to the non-setback 28th Street façade.
The most complicated part of the building is its narrow southern wing that is angled inward and downward but also seems to have been split asunder from the main body of the building although it also has a slanting roofline like the main tower.
The façades are a pleasant deep blue glass.
The rental units, which are known as The Prism at Park Avenue South, have their own entrance on 28th Street and the condo units will have an entrance on Park Avenue South.
Amenities
The building has a concierge and a doorman, a gym and swimming pool, a children's playroom, a garden courtyard, a residents' lounge, a media room, a golf simulator room, a conference room and a "sky lounge" on the 27th floor.