The York, 488 Seventh Avenue: Review and Ratings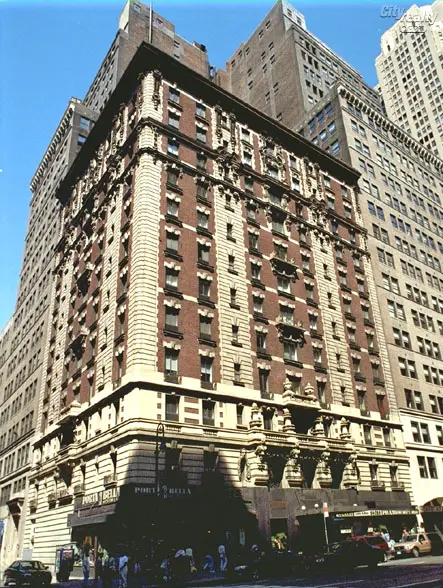 Review of 488 Seventh Avenue by
Carter Horsley
The York is an impressive 12-story building at 488 Seventh Avenue on the northwest corner at 36th Street that was converted from a hotel to a 108-unit rental apartment building in 1986.
Costas Kondylis was the architect for the conversion.
The building, which is also known as 201 West 36th Street, had been erected in 1903 and designed by Harry B. Mulliken, whose other buildings in the city include the Lucerne Hotel on the northwest corner of 79th Street and Amsterdam Avenue, the Bretton Hall on the southeast corner of Broadway and 86th Street. Rossleigh Court at 1 West 85th Street, the Sexton at 530 West End Avenue, and the Severn and the Van Dyck apartment buildings on the east side of Amsterdam Avenue between 72nd and 73rd Streets across from Verdi Square.
Bottom Line
For someone who wants to be in the thick of New York "things," this is it as it just a block north of Macy's and a few blocks north of Madison Square Garden. Traffic is heavy here in the heart of the Garment Center and while this location is raucous and lively during the day, it is considerably quieter at night and the location is also very convenient to such major New York landmarks as the Empire State Building, the Morgan Library and the New York Public Library.
Description
One of the handsomest buildings in the Garment Center, it has a two-story rusticated limestone base with slightly arched windows on the second floor, huge finials atop balconies on the third and fourth floors and several very decorative window surrounds near the top of the building, which has a nice cornice.
It has rusticated rounded quoins at its corners and rusticated limestone piers that run up the lower ten floors. This very attractive and robust Edwardian rendition of an Italian Renaissance palazzo was a style that was used in several midtown hotels of the period, several of which are still standing.
This could easily qualify as one of the more attractive buildings on the Upper West Side, but unfortunately its first floor was very clumsily redone some years ago with the addition of a very inappropriate large pale-green glass marquee and first-floor façade.
Amenities
The building has an entrance marquee, a concierge, a doorman and a fitness center.
Apartments
There are 10 apartments and a laundry on each floor.