44 Kent Street: Review and Ratings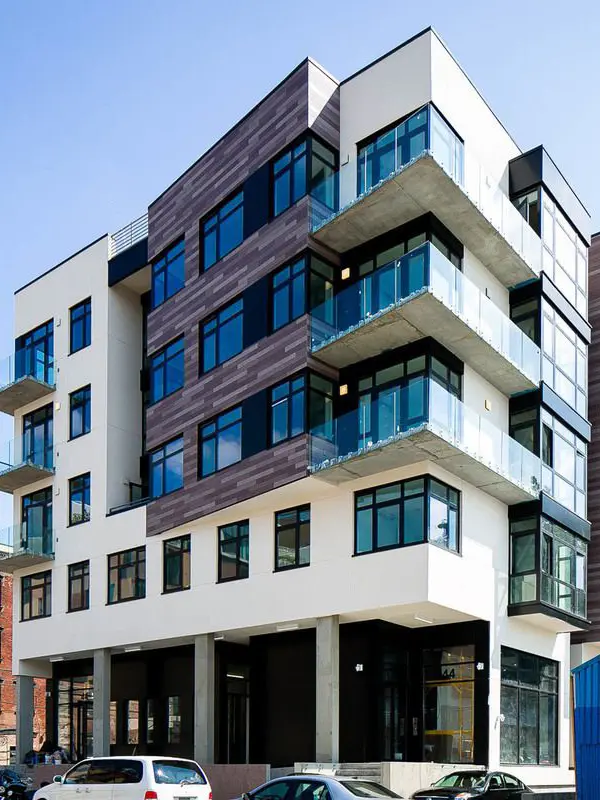 Review of 44 Kent Street by
Carter Horsley
This very handsome, 5-story building at 44 Kent Street between Greenpoint Avenue and West Street in Greenpoint, Brooklyn, across from Transmitter Park was completed in 2017 and has 42 rental apartments.
It was developed by the Loketch Group of which Moishe and Pinny Loketch as principals.
It was designed by ND Architecture, of which Nataliya Donskoy is a principal. She was a former protégé of Robert Scarano, one of Brooklyn's most prolific architects in the post-war period and her other projects include 146 S 4th Street in Williamsburg.
The building has 10,000 square feet of retail space.
The building has parking for 27 cars.
The site was initially owned by Cayuga Capital and Davis Companies who had bought it as an empty lot in 2012 for $5.2 million. It had been designed by Hustvedt Cutler Architects. It was formerly an empty lot.
It is two blocks from a G subway station.
Bottom Line
This low building has a great sense of motion, like a futuristic ship without smokestacks.
Description
The building combines cream-colored stucco, brick and Corten steel. The steel is used on the base and has a bandcourse above the top floor.
The façade treatment is quite syncopated and jazzy some bold breaks and vertical interruptions as well as a few balconies. A central portion of one of the façades at one end is angled outward.
The retail base is beneath a broad cream-colored horizontal band, which is mirrored a bit in glass on the top floor beneath a broad cream-colored horizontal top.
The building has some corner windows and some small square windows at one short end.
Amenities
The building has a roof deck and a garage.