Otto in Greenpoint: Review and Ratings | CityRealty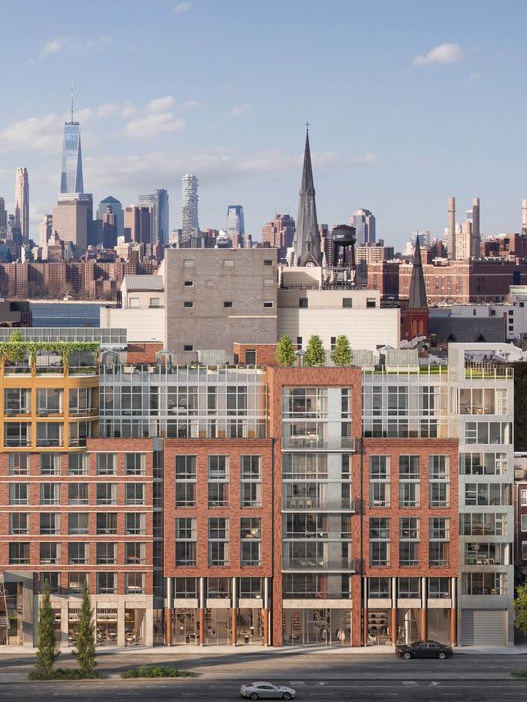 Review by
Carter Horsley

Carter B. Horsley, a former journalist for The New York Times, The International Herald Tribune and The New York Post. Mr. Horsley is also the editorial director of CityRealty.com.
This handsome and impressive, 8-story building at 211 McGuinness Boulevard between Greenpoint Avenue and Calyer Street in Greenpoint, Brooklyn, was completed in 2018 by Stellar Management and designed by Gene Kaufman and Associates.
It has 197 rental units of which 60 are reserved for low- and middle-income residents, and half of those are reserved for residents of Brooklyn's Community Board 1.
It is known as Otto.
It has more than 26,000 square feet of retail space.
Residents have a shuttle bus to Court Square in Long Island City.
The building is not far from the G subway line, the ferry at India Street and numerous bus lines.
Bottom Line
A handsome mid-rise rental building in Greenpoint with very attractive amenities and an interesting, 350-foot-long façade on McGuinness Boulevard that is divided nicely into 9 different components.
Description
A very handsome and broad, mid-rise, red-brick rental building whose frontage on McGuinness Boulevard is modulated with numerous façade treatments including some setbacks, some curved elements, some blue facings, some thin white bandcourses, some fenestration variations and different roof treatments at either end.
There is a white bandcourse above the first floor.
Amenities
The building has a concierge, a double-height lobby with a dramatic, curved, glass second level and brick walls, a co-working space, a penthouse fitness center with pergolas, a roof deck with a pool with a hot tub, a large library, 112 garage parking spaces and 101 bicycle spaces, a game room with fireplace, package room and cold storage, and a large lounge overlooking the building's landscaped courtyard.
Apartments
Apartments have Miele washers and dryers, floor-to-ceiling windows, oak floors and open floor plans. Some units have terraces or balconies.
Apartment 501 is a corner two-bedroom unit with an entry foyer that leads to a hall to the 16-foot-long living/dining room with an open kitchen with a breakfast bar. The master bedroom has a 10-foot-wide balcony.
Apartment 527 is a one-bedroom unit with an entry foyer adjacent to an open kitchen with a breakfast bar, an 18-foot-long living/dining room and a 12-foot-long office. The bedroom has a balcony.
Apartment 526 is a one-bedroom unit with an open kitchen that leads past an 8-foot-long office to a 16-foot-long living/dining room with a 10-foot-wide balcony.
Apartment 523 is a studio unit with a long open kitchen that leads to a 14-foot-long living/dining room.