The Shenandoah, 10 Sheridan Square: Review and Ratings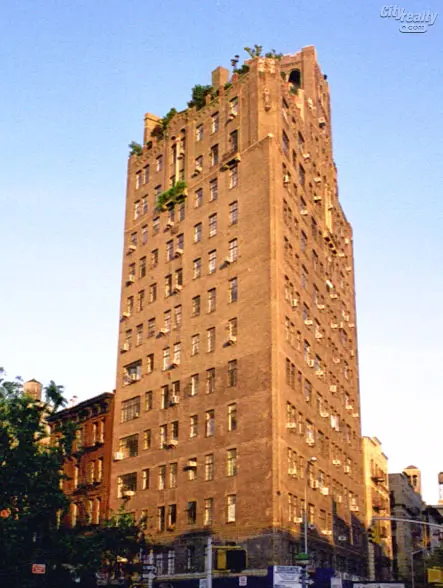 Review of 10 Sheridan Square by
Carter Horsley
In 1929, Emery Roth designed this prominent but asymmetrical, 14-story rental apartment building with many very small apartments at one of the most famous intersections in Greenwich Village. Apartments boast double casement windows and high beamed ceilings. Amenities include laundry room and 24-hour doorman.
Bottom Line
Culturally this handsome apartment building designed by Emery Roth is at the heart of Greenwich Village and it also has fine views because it fronts on two small parks.
Description
The brown-brick building, which is also known as 80 Grove Street, has considerable façade charm including crenelated masonry, medieval-style parapets and a Romanesque-style rooftop watertank enclosed with arcades. It also has casement windows and permits protruding air-conditioners.
Amenities
The building has a full-time doorman and is pet friendly. It permits protruding air-conditioners.
History
It was built the same year as Emery Roth designed the even more prominent but less charming, 20-story apartment building at 1 University Place at the northeast corner of Washington Square Park for Harold Uris.
The site had been formerly occupied by a low-rise building with a nightclub named the Pirates' Den, which opened in 1917. A "facsimile" of the club appeared in "Greenwich Village," a 1944 movie with Carmen Miranda.
According to an article by Ashley Chervinski at The New School Free Press, Sheridan Square was used as a trading post by the Sappokianican Indians. It was paved in 1830 and was used for political campaign speeches and community gatherings. In 1918, the Christopher Street/Sheridan Square subway station opened.
Location
On the north, the building faces Christopher Park, which runs along Christopher Street, and on the south, it faces Sheridan Park, that is named after General Philip Sheridan, a Union Civil War hero who was commander of the Army of the Shenandoah and also was influential in the preservation of Yellowstone National Park. A statue of Sheridan by Joseph P. Pollia was erected by the Parks Department in Christopher Park in 1936.
Sheridan Park had been a traffic island until 1982 when it was converted to a small viewing garden. Sheridan Place is the western portion of Washington Place.
This building is across Christopher Park from the Stonewall Inn on Christopher Street that was the largest gay club in the United States when it opened in 1957, and down the street on Sheridan Place from the former site of Café Society that opened in 1938 and featured such performers as Charlie Parker, Pearl Bailey, Count Basie, John Coltrane, Miles Davis, Ella Fitzgerald, Lena Horne, Paul Robeson, Burl Ives, Josh White, Sarah Vaughn and Billie Holliday. The nightclub eventually became the Cookery and then the One Sheridan Square Theater and then The Haven and finally the Axis Company, a theater group.