Ellipse, 25 Park Lane South: Review and Ratings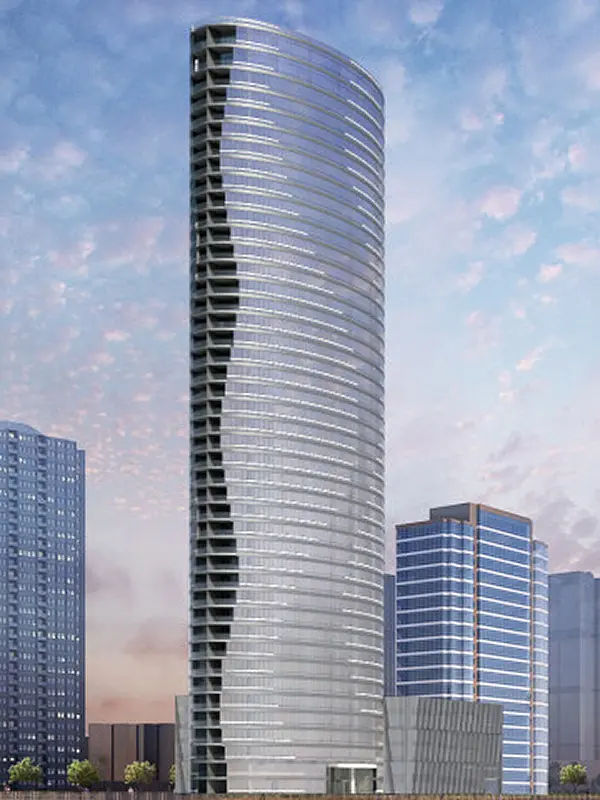 Review of 25 Park Lane South by
Carter Horsley
This very handsome and almost elliptical, 41-story rental apartment tower at 25 Park Lane South on a Hudson River pier at the 600-acre Newport complex in Jersey City was completed in 2017 and has 376 units.
It is called the Ellipse and was developed by the Lefrak Organization and designed by Arquitectonica and HLW is the executive architect.
The glass tower has a very graceful elliptical plan except for very dramatic inset balconies on the east and west ends.
The building has a retail component and a cultural/educational center.
Bottom Line
This slick, curved glass rental tower on a Hudson River peninsula in Jersey City has relatively small living rooms but extremely dramatic curved balconies with breathtaking vistas of Manhattan at its east end west ends and lots of amenities.
Description
The sheer tower rises just to the east of a low-rise amenities podium with a roof-tops swimming pool.
It has a two-story entrance surround on 14th Street facing north.
Amenities
The building has a full-time doorman, an attended lobby, a roof-top terrace, a fitness center, a swimming pool, an event room, a 230-car garage, a game room, a business center and a children's playroom.
Apartments
Apartments have floor-to-ceiling windows, plank oak floors, stainless-steel kitchen appliances, quartz kitchen countertops, and washers and dryers.
Penthouse 02 is a 2,024-square-foot unit with four bedrooms and a very wide curved inset terrace.
Penthouse 04 is a 1,674-square-foot, three-bedroom unit with a living/dining room with an open kitchen with a curved window wall and terrace.
Apartment 05 is a 1,207-square-foot, two-bedroom unit with a long entry foyer that leads to a 16-foot-long living/dining room.
Apartment a05 is a 838-square-foot, one-bedroom unit with a long entry foyer that leads to a 16-foot-long living/dining room.
Apartment 7 is a 507-square-foot studio unit with an entry foyer that leads through an open kitchen to the 13-foot-long living area.