4545 Center Boulevard: Review and Ratings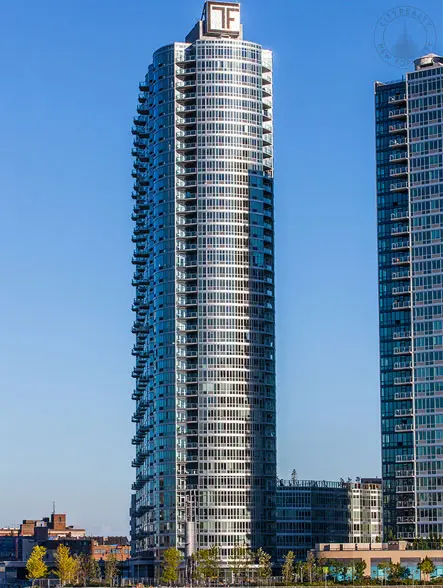 Review of 4545 Center Boulevard by
Carter Horsley
Developed by TF Cornerstone, 4545 Center Boulevard is a spectacular, 41-story rental building with 820 apartments that overlooks the East River in Long Island City.
It was erected in 2013 and is part of TF Cornerstone's large rental development that includes four other high-rise apartment buildings.
It was designed by Arquitectonica, who is best known for its Westin Hotel on the northeast corner of 42nd Street and Eighth Avenue, the Bronx Museum of the Arts, the Banco de Credito Headquarters in Lima, Peru and many residential towers in and around Miami.
Additional TF Cornerstone properties on the 21-acre site include 4615 Center Boulevard, 4540 Center Bouelvard, 4720 Center Boulevard and 4610 Center Boulevard.
Bottom Line
Perhaps the city's finest outer-borough, high-rise apartment building, it abounds in amenities and has a very original, and complex and dramatic form as well as a wonderful waterfront location.
Description
A very elegant and sophisticated blue-glass complex with a tall-tower with a rounded end with inset balconies and a rippled long façade with angled balconies overlook the project's low-rise base that is set at a sharp angle with the tower and has a very pleasant undulation.
Amenities
The building has 24-hour concierge service, a state-of-the-art fitness center, a landscaped terrace and garden, a rooftop deck, two tennis courts, a children's playroom, a residents' lounge, a 1,000-car parking garage, an on-site dog run and a beach volleyball court.
Apartments
Apartments in the building have luxury features such as hardwood floors, stainless steel appliances, floor-to-ceiling windows and generous layouts.
Apartment 3819 is a two-bedroom unit that has an entry foyer that leads past an enclosed kitchen to a 20-foot-long living/dining room with an angled window.
Apartment 3822 is a three-bedroom apartment that has an enclosed kitchen and a 20-foot-long living/dining room.
Apartment 3813 is a one-bedroom unit with an entry foyer that leads to a 20-foot-long living/dining room with an open kitchen and an island and leads to a triangular balcony with one slightly curved side.
Apartment 3810 is a two-bedroom unit with a 24-foot-long living/dining room, a pass-through kitchen and a triangular balcony with a slightly curved side.
Apartment 3803 is a studio unit with a 16-foot-long living area and a pass-through kitchen.
History
In 2004, Tom Elghanayan and his brothers paid $85 million for the 21-acre site of a former Pepsi bottling plant on the Long Island City waterfront in Queens across from the United Nation's complex in Manhattan.
Bu 2013, they had erected 7 residential high-rises with 3,193 apartments, and a 12-acre waterfront park dominated by a shipping gantry at the northern end of the 74-acre Queens West development that had been planned under Gov. Mario Cuomo in the 1980s.
In 2009, the Elghanayan split up their former company, known as Rockrose, that they had founded with their father in the 1970s. Tom and his brother Fred former TF Cornerstone that controls all but one of the buildings in this Long Island City development.
See the entry for 4615 Center Boulevard for commentary about the architectural merits of the rental development.