Watermark LIC, 27-19 44th Drive: Review and Ratings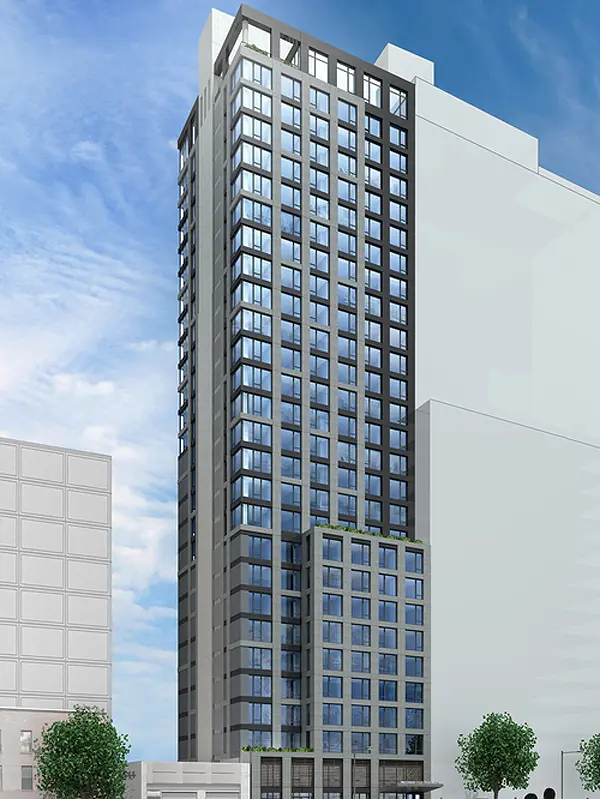 Review of 27-19 44th Drive by
Carter Horsley
This attractive, gray and black, 27-story rental apartment building at 44-19 Purves Street in Long Island City was erected by Twining Properties in 2017.
It was designed by Handel Architects and has 168 apartments and 2,500 square feet of retail space.
It is adjacent to a 26-story, red-brick, residential condominium tower known as the Harrison at 27-21 44th Drive and designed by GF55 Architects. The Harrison was formerly known as the Edison.
Bottom Line
This handsome slim tower on Purves Street in Long Island City snuggles next to the broader building of about the same height known as the Harrison at 27-21 44th Drive whose setback tower has numerous balconies.
Description
This building has corner windows at one end that is bifurcated by a broad white pier that accents the building's geometric styling that uses a few setbacks and different colored spandrels to give the building a very neat and dapper appearance.
The building has an entrance marquee that is angled upwards and a revolving door entrance.
Amenities
The building has a roof terrace, a "sky lounge," a garden, a café, storage, and a fitness center.