One Manhattan Square at 252 South Street: Review and Ratings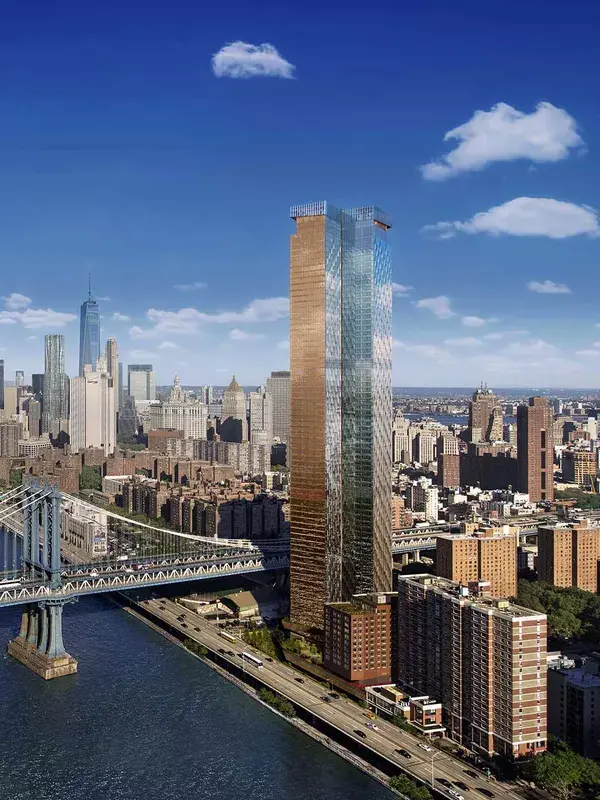 Review of 252 South Street by
Carter Horsley

Carter B. Horsley, a former journalist for The New York Times, The International Herald Tribune and The New York Post. Mr. Horsley is also the editorial director of CityRealty.com.
The Lower East Side has been a vast and wide, low- and mid-rise, residential swath hugging the East River for decades until Extell Development decided to erect this 811-foot-high condominium apartment tower in 2015 just to the north of the lovely, 330-foot-high, Manhattan Bridge.
The elegant tower, whose address is 252 South Street one block north of the bridge, is known as One Manhattan Square.
Confucius Plaza, a curved, brown-brick, 44-story, apartment tower designed by Horowitz & Chan on the south side of the bridge several blocks inland, has been the tallest structure on the Lower East Side since it was erected in 1976.
Extell's new tower will be about twice as high with about 80 stories. While it falls short of the arbitrary, 1,000-foot-plus minimum height for a "SuperTall," its undeniable "stand-aloneness" when announced and very high visibility certainly make it "Super."
Extell is no stranger to "SuperTalls" as its 1,004-foot-tall mixed use tower, One57, designed by Christian de Portzamparc, at 157 West 57th Street, was the first of the very tall skyscrapers to sprout along 57th Street on what has become known as "Billionaire's Row."
With 811 condo apartments, this tower is certainly not a minor player in the city's residential sweepstakes and since its announcement it has been joined by several other, nearby very high-rise projects that promise to make this area one of the city's most dramatic, and most isolated, very-high-rise clusters. They are in the Two Bridges neighborhood between the Manhattan and Williamsburg bridges.
One Manhattan Square is due for completion in the third quarter of 2018 and its "poor door" smaller "affordable," 205-unit building at 229 Cherry Street is due for completion in 2018.
The other new very tall towers include the very handsome, 1,000-foot-high, 639-unit, green-terracotta building at 247 Cherry Street planned by JDS Development Group and designed by SHoP Architects, the same team that is developing the 1,427-foot-high, very skinny tower at 111 West 57th Street. JDS bought about 500,000 square feet of air rights for its project for more than $50 million from the Settlement Housing Fund and the Two Bridges Neighborhood Council. The 77-story JDS rental tower, which will have three skydecks similar in massing to the indendations at 432 Park Avenue and the MetLife building straddling Park Avenue, will be one block north of One Manhattan Square. The five-sided JDS tower will be partially cantilevered over the 10-story residential building at 80 Rutgers Slip.
A block closer to the East River, L and M Development and the CIM Group plan two taller towers with a total of 1,350 apartments of which 25 percent will be "affordable" on a site at 260 South Street two blocks further north. The taller of the two towers, both designed by Gary Handel, will be about 800 feet tall.
In December, 2016, the Starrett Corporation plan another a 62-story tower at 259 Clinton Street on a two-story podium between Piers 42 and 35 with ground floor retail one foot above the flood plain in front on the FDR Drive. This project, which will also have 25 percent of its apartments "affordable," is being designed by Perkins-Eastman very tall tower at 272-283 South Street.
The Chinatown Working Group plan proposed a 350-foot height limitation on new development along the East River but the city's Department of City Planning rejected the plan in February, 2015 and a spokesman for the department was quoted at the gothamist.com as stating that it was "too vast an undertaking" and would interfere with the goals of Mayor de Blasio's Housing New York program to erect 80,000 "below market-rate apartments in the next 10 years."
In June, City Council member Margaret Chin and others asked the city to create a master plan for the neighborhood in view of the radical increase in building heights of these proposals in comparison with the mid-rise towers of the area's many housing projects.
In August, 2016, the Department of City Planning, however, rejected a request to require JDS, L and M and the CIM Group and Starrett to have their towers go through the Uniform Land Use Review Process (ULURP) that would have required approval from the community board, the borough president and the City Council. City Planning Commissioner Carl Weisbrod maintained in an August 11 letter that while the changes might be significant for the neighborhood, an astounding understatement, they did not require any new zoning actions or waivers.
All of these towers are "as-of-right," which means that they do not require public review.
That fact is astounding. These developers have, effectively, "outsmarted" the city and community groups. In a city that has become famous in recent decades for the power of its NIMBY (Not In My Back Yard) groups opposed to new development in their neighborhoods, such an oversight in such a political alert neighborhood.
Indeed, although the Lower East Side had not flashed super-luxury credentials, One Manhattan Square tower does have some exclusivity despite its vast number of small units: it was initially only being marketed, reportedly, to buyers in Asia with exhibitions in Shanghai, Hong Kong, Beijing, Singapore and Kuala Lumpur.
Adamson Associates Architects (AAI) has designed the glass-clad tower.
Interiors are designed by Meyer Davis. West 8 is the landscape architect.
Bottom Line
What's a really nice, really tall apartment tower like this doing in Far East Chinatown? It is flirting intensely with the great but underrated, blue-painted, Manhattan Bridge whose lacy towers are topped with four globes each that have survived the clatter of subways since it opened in 1910 when it gained a grandiose entry arch and colonnade designed by Carrere & Hastings on its Manhattan approach. Despite the small size of most of its apartments, the project has a very bountiful array of amenities.
Description
The apartment tower has a "Z"-shape on the southern part of the full-block site that also fronts on Cherry Street and Pike Place. The northern part of the site is occupied by a 13-story slab apartment building designed by Dattner Architects with slightly undulating angles along its long sides and 205 "affordable" units.
Part of the tower's base is clad in copper and houses a three-story-high lobby that includes a very wide fireplace, a huge chandelier above the concierge desk, angled hanging light fixtures, and a "culinary lounge with a demonstration kitchen."
The glass façades have a slightly projecting and very attractive and sophisticated basket-weave pattern that is less pronounced than a similar one employed at the base of One57, the Extell SuperTall apartment tower at 157 West 57th Street.
This project replaced a Pathmark supermarket.
A November 14, 2016 article in The New York Times by C. J. Hughes said that Extell "hopes that sensational views will help overcome a so-so location," adding that "the panorama from the Z-shaped tower…will sweep across Lower Manhattan and the East River and take advantage of primarily low-lying downtown blocks."
"If the neighborhood is rough around the edges, it's far better off than it was in the 1960s, said Gary Barnett, Extell's founder and president, who grew up in a two-bedroom rental a few blocks away, on Pike Street," the article continued.
"Mr. Barnett said that the two-building layout at One Manhattan Square, which was approved by the city, is respectful of those who reside in affordable units, because it does not make them use a secondary entrance. Extell had been criticized for creating a separate 'poor door' for lower-income residents at 50 Riverside Boulevard, a condo-rental project with affordable units on the Far West West. The city ultimately banned these separate entrances in 2015," the article continued.
Manhattan Square is the name of the Upper West Side site of the American Museum of Natural History between Central Park West, Columbus Avenue and 77th and 81st streets, but no one has formally protested the use of the name for this site.
Amenities
First and foremost, this development has an "adult tree house" amidst 100,000-square feet of amenities.
It also has a 24-hour doorman and concierge, a tea pavilion, a covered dog run, a tranquility garden, a two-lane bowling alley, a windowed basketball court, a squash court, art studios, a putting green, fire pits, outdoor kitchen and grilling, an herb garden, a star-gazing observatory, outdoor ping-pong, a cigar room, a 70-seat movie and performance theater, a large cellar bar, a circular driveway on Cherry Street, a double-height children's playroom with teepee, spiral slide and climbing net, and a 75-foot-long indoor swimming pool.
Apartments
Buyers can choose between dark and light finishes.
Master bathrooms are finished in ocean blue travertine and mosaic tiles.
Apartment A on floors 58 through 76 is a three-bedroom unit with 1,667 square feet with a 5-foot-long entry foyer that leads to a windowed, 10-foot-long pass-through kitchen and an 18-foot-long living/dining room.
Apartment L on the 33rd through the 55th floors is a two-bedroom unit with 1,123 square feet, a 7-foot-long entry foyer that leads to a windowed, open, pass-through, 10-foot-long kitchen with a breakfast far, a 17-foot-long living/dining room.
Apartment M on the 33rd through the 55th floors is a one-bedroom unit with 695 square feet with an entry foyer next to an 8-foot-long, pass-through kitchen, and a 16-foot-long living/dining room.
Book a Tour or Get More Information on this Building
14,838 Buyers
are interested in buying at
252 South Street!
Interested in Selling?
We'll introduce you to the agents that
specialize in 252 South Street and are
experts in selling apartments there.

And they'll be able to contact all of the buyers interested in the building.
There's no obligation and your inquiry is confidential.
Call us at (212) 755-5544