The former Downtown Athletic Club building at 19 West Street across from Battery Park City is being converted to condominiums by The Moinian Group that originally had planned to offer its 288 apartments as rentals. The 35-story development is known now as The Downtown Club. Occupancy is now planned for this fall.

The apartments range in size from about 500 sq. ft. to about 1,000 sq. ft. with prices starting at about $475,000. The loft-style apartments at the top of the building have 9- to 16-foot-high ceilings and open-island kitchens. The building was a 12,000-sq.ft. sports and gym facility with spa services and an owners' lounge that will be known as the Trophy Club.

The 534-foot-high, Art Deco-style building also fronts on Western Union International Plaza where it overlooks the entrance to the Brooklyn Battery Tunnel.

It was designed by Starrett & Van Vleck, the same firm that designed the adjacent tower at 21 West Street.

When the Downtown Athletic Club opened in 1930, it had a 137-room hotel, seven banquet rooms, an Olympic-sized swimming pool, billiard rooms, bowling alleys, and squash, handball and racquetball courts.

The club had been home of the Heisman Memorial Trophy, given every year to the most outstanding college football player and named after John Heisman, the club's first athletic director who had previously been coach of Georgia Tech's "Golden Tornado" football team. The prize originated in 1935 when it was named for the club but it was renamed the next year when Heisman died.

The Downtown Athletic Club building was designated an official New York City landmark in 2000.

The building is faced in mottled orange brick, is set back from the building line on both its east and west facades and the tower rises in a series of irregular setbacks that one observer suggested was a precursor to the form of the Sears Tower in Chicago.
Additional Info About the Building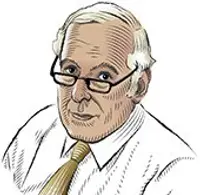 Architecture Critic
Carter Horsley
Since 1997, Carter B. Horsley has been the editorial director of CityRealty. He began his journalistic career at The New York Times in 1961 where he spent 26 years as a reporter specializing in real estate & architectural news. In 1987, he became the architecture critic and real estate editor of The New York Post.