Laurence Gluck's Stellar Management has acquired the stalled condo project at 111 Kent Avenue in Williamsburg and will relaunch it as a rental, according to an article today crainsnewyork.com by Amanda Fung.

It is the firm's first acquisition in the trendy Brooklyn neighborhood, the article said, adding that Stella "partnered with Largo Investments to buy the seven-story, 73,000-square-foot property, located at 111 Kent Ave., for $24.6 million" and "will invest $8 million into completing the construction of the building, which is already 90% complete, according to Matthew Lembo, vice president at Stellar Management."

According to city records, the article continued, "Stellar and Largo purchased 111 Kent from Garrison Investment Group, which bought the property for $43 million in November 2010." Mr. Lembo would not comment on financial details of the deal.

The article said that the project will consist of 62 units, and Stellar expects to begin marketing the apartments this summer with scheduled occupancy for fall, he said.

"Williamsburg is like TriBeCa, Chelsea and SoHo in Manhattan. It has a great vibe," said Mr. Lembo. "People want to be there and its proximity to the subway and water ferry."

According to public records, the original owners of the project defaulted on its $1.3 million loan two years ago. At that time, one-bedroom units at 111 Kent were listed for sale for $575,000 and two-bedrooms for as much as $1.1 million, according to Streeteasy.com. Mr. Lembo said the firm has not decided how much rents would be for the project.

"This is the latest deal for Mr. Gluck, who appears to be making a comeback after major setbacks," the article said, adding that "Late last year, he purchased the 374-unit Windermere Hotel on the Upper West Side for $68 million and Tivoli Towers, a 320-unit rundown rental building in Crown Heights, Brooklyn, for $9.5 million. Mr. Gluck said that he plans to keep Tivoli affordable and will renovate that building for $15 million. Early last year, Mr. Gluck lost Riverton Houses, a sprawling 1,230-unit, rent-regulated apartment complex in Harlem that he failed to turn into market rate rentals. He eventually defaulted on the mortgage. Additionally, he illegally deregulated apartments at 1,331-unit Independence Plaza North in TriBeCa, and that property's loan is currently up for sale."

The very impressive and dramatic, 7-story, 62-unit residential condominium building at 111 Kent Avenue and overlooks East River Park, a state park.

A broker involved with the development noted that "Eighty percent of the units have permanently unobstructed park, skyline and river views," while in its tall neighbors, Northside Piers and the Edge, "maybe 25 to 30 percent of the buildings have unobstructed views because other towers could obstruct their views. And they're tall and narrow, so three-quarters of their buildings face the other side. We're wide along Kent Avenue."

This building differentiates itself from the nearby glass-clad towers with a brick facade that in initial renderings indicated an Art Deco-like, black-and-white treatment but eventually was changed to a pale orange.

The facade's color, however, is not what is impressive about this building but its very angular bay windows that give it a rigorous and dynamic rhythm almost without equal in the city.

Michael Muroff is the architect for this development and Charles Sharf was one of the developers.

Apartment layouts facing Manhattan are "winged" with bedrooms on either side of the living rooms so that all windows face the East River.

The building has a rooftop outdoor pool with two south-facing sundecks and private cabanas for sale, a gym, a window-walled lounge, a garage with valet service and a 3,000-square-foot private garden in the back. Kitchen appliances are by Bosch.

The building is three blocks away from the Bedford Avenue subway station of the L line.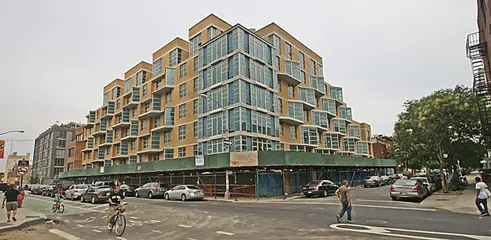 Additional Info About the Building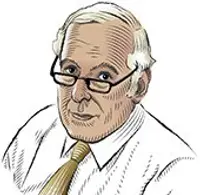 Architecture Critic
Carter Horsley
Since 1997, Carter B. Horsley has been the editorial director of CityRealty. He began his journalistic career at The New York Times in 1961 where he spent 26 years as a reporter specializing in real estate & architectural news. In 1987, he became the architecture critic and real estate editor of The New York Post.