Cassa, 70 West 45th Street: Review and Ratings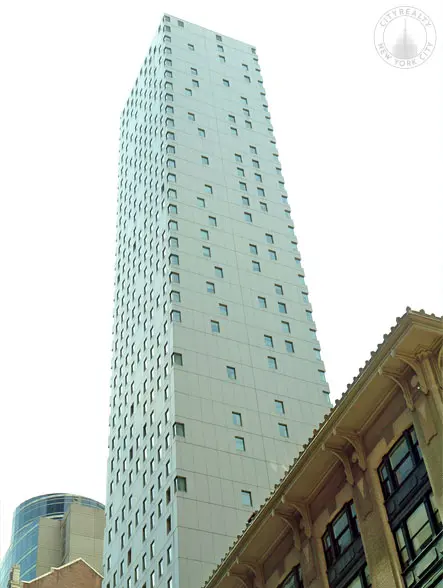 Review of 70 West 45th Street by
Carter Horsley
Cassa Hotel and Residences, the striking, white, mid-block building at 70 West 45th Street, which overlooks the large and lushly landscaped mid-block plaza of the black skyscraper at 1166 Avenue of the Americas, was designed by Enrique Norten of Ten Arquitectos and Cetra/Ruddy for Assa Properties, which was founded by Solly and Isaac Assa. Assa's other properties include the nearby 7 Times Square, the former Knickerbocker Hotel built by John Jacob Astor.
This slender, mixed-use tower is 48 stories high with 57 condominium apartments starting on the 28th floor above the 166-room hotel. It was completed in 2010.
TEN Arquitectos, which is headed by Enrique Norten, was founded in 1986 in Mexico City and opened an office here in 2001. It was the subject of a major exhibition at the Museum of the City of New York in 2005. Enrique Norten is also the architect of Mercedes House, the sinuous mixed-use development with many staggered penthouses on West 54th street, and 1 York Street in TriBeCa.
He had designed some important projects featured in a 2005 exhibition at the Museum of the City of New York that were not built, a mixed-use building on Park Avenue at 125th Street that was notable for its wavy waffle-like façade and bright colors, and a library in Brooklyn near the Brooklyn Academy of Music.
Bottom Line
A gleaming white, mixed-use tower with interesting views through unusual window patterns that give character to a street that is around the corner from the sensational New York Yacht Club and the Harvard Club, a block south of the city's famous Brazilian Street that is a block south of the fabled "Diamond Street."
Description
The tower is distinguished by its asymmetrical fenestration patterns.
The building overlooks the very lush and large mid-block plaza behind 1166 Avenue of the Americas.
It has its own restaurant on a level overlooked by the building's rear garden. In addition there is a lounge and terrace on the 8th floor.
Amenities
The residential condominium apartments have a 24-hour concierge, room service, full housekeeping and turndown services, a fitness center, storage, a business center, a restaurant, valet, childcare and fresh-flower delivery, in-room spa treatments, pet-care services, limousine and child-care services and overnight shoeshine service.
Apartments
Kitchens have white lacquer cabinetry, Pietra Bedonia stone countertops and Miele, Liebherr and Wolf appliances. Bathrooms are lined with limestone and have travertine vanities and frosted glass tile work around the soaking tubs.
Apartment 34C is a studio unit with a 23-foot-long living room with an open kitchen.
Apartment 37C is a one-bedroom unit with a 15-foot-long living room and an open kitchen.
Apartment 37H is a two-bedroom unit with a 23-foot-long living room with an open kitchen.
The penthouse is a three-bedroom unit with a 14-foot-wide entry foyer that opens onto a 41-foot-long living/dining room with an open kitchen with an island.
History
Assa Properties brought the site in 2007 for about $410 million.
In a July 31, 2009 article in The New York Times, Alec Appelbaum wrote that Mr. Norten said the architects considered a metallic screen with a brick-like masonry skin before settling on" concrete for the façade.
The hotel portion of this building was operated by Desires Hotels whose properties include the Hotel Mela here and the Sagamore Hotel in South Beach, Miami. In early 2012, however, Assa Properties announced that it sold the hotel portion of the development to HNA Property Holdings, China's fourth largest air group.
Location
The site consisted of the 4-story building at 66 West 45th Street that housed the Vega House Chinese Restaurant, the 5-story building at 68 West 45th Street that housed Kitchen Provence, and the four-story building at 70 West 45th Street that housed Pizza Paradise.
In a May 15, 2005 article in The New York Times, Christopher Gray noted that "the tumbledown buildings on West 45th Street from Fifth Avenue to the Avenue of the Americas incubate some of the most interesting enterprises in New Yor, from model railroads to second-hand silver to the obscure Coffee House /Club," adding, however, that "now that development frenzy has reached even the shores of this unusual street, it remains to be seen how long three centuries of architecture can happily co-exist."
"Row-house development reached the West 40thst off Fifth Avenue in the 1860s…The house at No. 70, for instance, was built in 18690 and first occupied by Max Rau, a hat manufacturer."
Mr. Gray noted that in 1903 "an alteration of the house at 66 West 45th Street promised to turn it it, according to The New York Times, into 'one of the finest gambling houses New York has ever known' with "reinforced doors, frosted glass, iron bars and metal shutters that could be swung closed before the police entered."
"In 1991, the architect H. Craig Severance built the 10-story office building at 17 West 45th Street, a complicated but entertaining humble of classical forms in glazed terra cotta and cast iron. At the same time, the architects Schwartz & Gross built the 16-story Putnam building g at 2 Wes 45th Street, with the chunky, colored terra cotta ornament typical of their work at that time. The following year the same architects built the even more distinctive 7 West 45th Street, one of the skinny midblock neo-gothic towers that were popular in the period. But this one is gold-colored, an unusual choice."
Another neo-Gothic building at 25 West 45th Street was built by James T. Lee, the grandfather of the late Jacqueline Kennedy Onassis. The gambling den at No. 70 was taken over by the Coffee House Club that was founded in 1914 when members of the Knickerbocker Club, "announced with the increase in bankers, lawyers and stockbrokers in the Knickerbocker, banded together as the 'foes of finance' to create a new organization."
The 45th Street project is two doors to the west of another new white mid-block tower, the Sofitel Hotel. Mr. Gray noted that the Sofitel New York hotel extends through the block to 44th Street and wrote that its "giant curve façade makes it look like an alien landing ship."
In 2013, another slender, white, mid-block tower sprouted a couple of blocks to the north when Extell Development erected its geometrically stunning International Gem tower designed by Skidmore, Owings & Merrill.
Book a Tour or Get More Information on this Building
155 Buyers
are interested in buying at
70 West 45th Street!
Interested in Selling?
We'll introduce you to the agents that
specialize in 70 West 45th Street and are
experts in selling apartments there.

And they'll be able to contact all of the buyers interested in the building.
There's no obligation and your inquiry is confidential.
Call us at (212) 755-5544