EOS, 855 Avenue of the Americas: Review and Ratings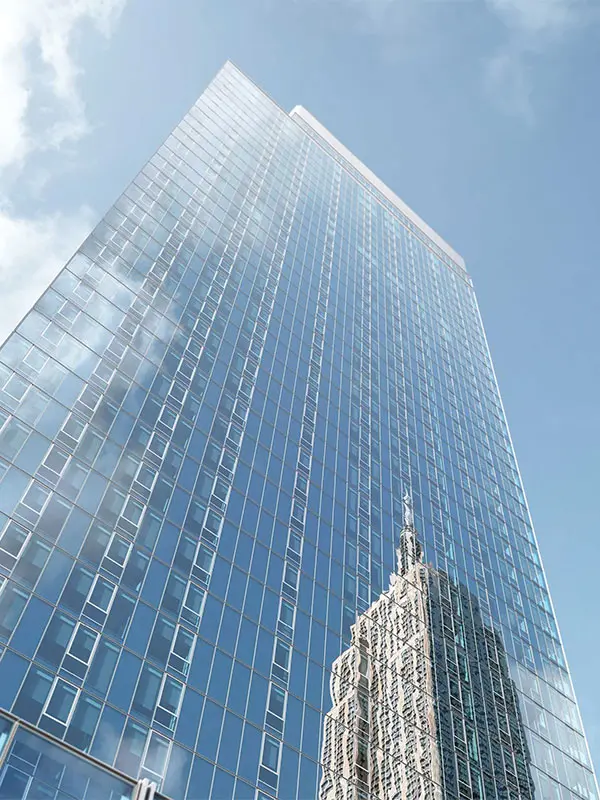 Review of 855 Avenue of the Americas by
Carter Horsley
This attractive, 47-story, glass-clad, mixed-use tower at 855 Sixth Avenue on the southeast corner at 31st Street was erected in 2016 by the Durst Organization and Fetner Properties.
It was designed by COOKFOX Architects.
It has 375 rental apartments and 190,000 square feet of commercial space in its low-rise base.
Bottom Line
This sleek slab, glass residential tower is setback on its low-rise retail base on the avenue which lessens its visual impact on its high-rise neighbors to the north and south and its site, near Herald Square, is one of the last to be redeveloped in the former Flower District.
Amenities
The tower's 41st floor has a media room and lounge. It has a health club with a ftiness center, a simming pool and a basketball court. There is a children's playroom, a party room, a residents's lounge and a roof deck.
History
According to a December 27, 2010 article by Adam Pincus at therealdeal.com, this site was involved in litigation for several years following the acquisition of six of the site's seven parcels for $117 million in February 2006 by Baruch Singer and a group of investors. Soon thereafter, the article continued, "several investors with Singer who claimed they had agreed to partner with singer and others to buy the site accused him and his other partners in an April 200 lawsuit…of improperly shutting them out of an opportunity to buy the property." In March 2007, the article continued, Singer's group sold the assembled plot to Tessler and the Chetrits for $140 million and separately Tessler signed a contract to acquire 112 West 31st Street and 110 West 31st Street from separate owners. In January 2008 Tessler and partners closed on the purchase of 112 West 31st Street, but they never closed on 110 West 31st Street, a narrow 25-foot-wide commercial building.
Subsequently they claimed the owner defaulted and they sued to recover their $400,000 down payment.
Durst Fetner bought the note with a face value of $104 million for an undisclosed amount" after IStar Financial initiated foreclosure proceedings in November 2008 against property owner 855 Realty Owner, as well as Tessler and the Chetrits individually.
In January 2011, a group led by Douglas Durst said it planned to break ground on a $350 million, 40-story tower on the site six years after he and Harold Fetner first considered acquiring the site and the discussing plans for it with Pelli Clarke Pelli.
A November 14, 2011 article by Craig Karmin in The Wall Street Journal reported that Ian Schrager joined the project with plans for a 250-room hotel in the bottom 16 floors of the Durst project that now was planned for 56 stories.
However, an April 9, 2013 article at therealdeal.com by Adam Pincus said that Durst Fetner decided to drop the hotel component and lower the height of the building to 43 stories. The article said the d30evelopment would have 382 apartments on floors 8 through 40, 30,000 square feet of retail space on the ground floor, lower level and second floors and 119,000 square feet of office space on the second through the sixth floors.
A March 18 article by Ondel Hylton at 6sqft.com reported that the project will be 41 stories high with 375 apartments.
It noted that "855 Sixth Avenue's site is at the northern end of the city's former Flower District, an area that has seen significant high-rise apartment and hotel development over the past 15 a years," adding that "Its growth spurt was facilitated by a 1995 rezoning spanning both sides of Sixth Avenue from 23rd Street to 31st Street." The article noted that Costas Kondylis & Partners had designed a faceted 40-story mixed-use tower for Tessler and the Chetrits.