325 Fifth Avenue: Review and Ratings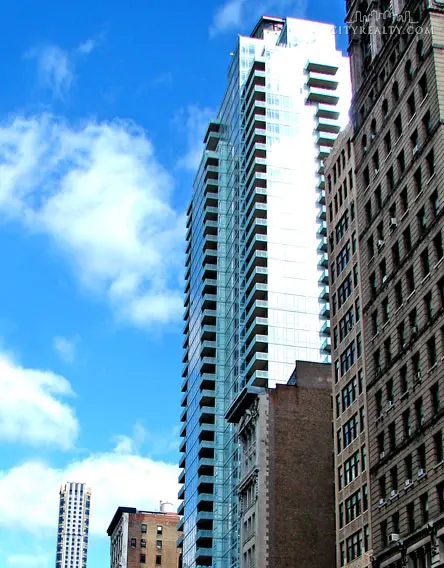 Review of 325 Fifth Avenue by
Carter Horsley

Carter B. Horsley, a former journalist for The New York Times, The International Herald Tribune and The New York Post. Mr. Horsley is also the editorial director of CityRealty.com.
This attractive, 42-story condominium apartment tower at 325 Fifth Avenue between 32nd and 33rd Streets brightened up the area around the Empire State Building, to which it sits cattycorner, when it was completed in 2006.
In a city where visual chaos is triumphant and context is not something universally admired or adhered to, one of the most remarkable architectural achievements/oddities in the city has been that the Empire State Building's solitary isolation survived for so long. A few towers have gone up several blocks away, but nothing very close and nothing very tall. This mid-block project, however, announced in 2004, encroached somewhat on that isolation.
It has about 250 condominium apartments and was a joint venture between Continental Properties, owned by the Fisch family, and Jeffrey Levine's Douglaston Development.
Stephen B. Jacobs was the architect.
Bottom Line
While not the tallest new building in the area, 325 Fifth Avenue is the most prominent. Apart from its very central location, it has fabulous views, many balconies and very good amenities.
Description
325 Fifth Avenue is distinguished by its very sculptural top - a curved and open roof structure over its watertank - which is quite similar to one that its architect placed atop the very popular Gansevoort Hotel in the Meatpacking District near the Hudson River. Its curve arcs slightly to the north.
The building is also distinguished by its many balconies, its very large mid-block plaza at the rear of the tower and by the cheerful, "baby blue" color of its façades.
A mid-block development half a block away and across Fifth Avenue from the Empire State Building, this tower was erected on the former site of several five-story commercial buildings.
It was marketed as a 50-story tower, probably reflecting that some floors have higher ceilings than others, but in fact it only has 42.
Amenities
The building's lobby is attended around the clock by a doorman and concierge and the building has a garage, an entrance marquee, fitness center, a business center, a children's center, indoor pool and spa, a screening room, and a lounge with kitchen available for parties.
Apartments
325 Fifth Avenue has a very large number of different apartment layouts.
Apartment 12H is a two-bedroom unit with a foyer that leads to a large living/dining room with an open kitchen and a large balcony
Apartment 30C is another two-bedroom unit with a balcony that has a considerably larger living/dining area with an open kitchen.
A third two-bedroom variation, 33B, has a very long entrance foyer.
A three-bedroom unit, 8A, has a very large terrace that measures 61 feet by 27 feet.
Apartment 43D is a three-bedroom unit in which the master bedroom has its own balcony at one end of the apartment and the other two bedrooms share an "L" shaped balcony.
Location
The area between Madison Square Park and its surrounding Flatiron District and the Murray Hill neighborhood east of the Empire State Building has begun to come into its own in recent years and has got a nickname, SoFi, for South Fifth (Avenue).
This site is convenient to Midtown South and the Murray Hill, Flatiron, Gramercy Park and Chelsea neighborhoods and is a few blocks south of other new condo towers at 425 Fifth Avenue and 400 Fifth Avenue and a few blocks north of the 54-story Sky House condo tower at 11 East 29th Street and the 50-story, Madison Belvedere rental tower at 10 East 29th Street.
"Sandwiched between Murray Hill and Chelsea, Madison Square Park and Bryant Park, the area straddling the spine of Fifth Avenue from about 26th Street to 38th Street has, until now, had no image, no patina, no label," observed Nadine Brozan in a July 10, 2005 article in The New York Times.
"'We have jokingly called it 'NoFlaWeMu,' said Adam R. Rose, president of Rose Associates, which is considered a pioneer in residential construction in the area. His acronym, he explained, stands for 'North of Flatiron, West of Murray Hill.' Not entirely facetiously, others have suggested North Flatiron and 'SoFi,' for South Fifth Avenue," the article continued.
Stephen B. Jacobs, the architect of 325 Fifth Avenue, was quoted in the article as stating that "if you look at the map of Manhattan in terms of hot residential neighborhoods, you see a hole there surrounded by fantastic areas: Greenwich Village, Murray Hill, Turtle Bay, the Upper East Side and Park Avenue," adding that "people pooh-poohed it while there were other places to go."
The article noted, however, that "the dearth of sites available for development in the frenzied market changed all that and imbued this southern slice of Fifth Avenue with a new glow."
So far, the area seems to be attracting mainly singles, professional couples and empty nesters. But that may be changing.
In 1999, when Rose Associates opened the Madison Belvedere, it was widely credited with kick-starting the current wave of development. "We had no children whatsoever living there," Mr. Rose said in the 2005 article, adding that "now there are more than 10."
The "SoFi" name only a few years earlier, however, referred to a different area in Manhattan. A July 29, 1990 article by Steven Rea in the Philadelphia Inquirer observed that "In an island awash in acronymic and trendy neighborhoods - TriBeCa, SoHo, NoHo - the SoFi district is perhaps the least known by name," adding that "it's fast becoming one of the best known by place - an increasingly popular downtown stomping ground.
"Derived from 'South of Flatiron'' - as in the Flatiron Building, Daniel Burnham's landmark 1902 triangular skyscraper - the SoFi district is an area of roughly two dozen blocks bounded by 23rd Street to the north and 14th Street to the south, Sixth Avenue to the west and Park Avenue South to the east," the article maintained.
Book a Tour or Get More Information on this Building
406 Buyers
are interested in buying at
325 Fifth Avenue!
Interested in Selling?
We'll introduce you to the agents that
specialize in 325 Fifth Avenue and are
experts in selling apartments there.

And they'll be able to contact all of the buyers interested in the building.
There's no obligation and your inquiry is confidential.
Call us at (212) 755-5544