The Schumacher, 36 Bleecker Street: Review and Ratings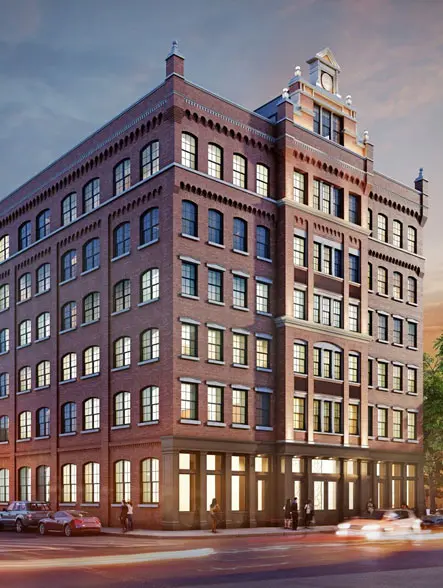 Review of 36 Bleecker Street by
Carter Horsley
The 7-story, red-brick building at 36 Bleecker Street between Mott and Mulberry Streets in NoHo is one of the city's most spectacular and artistic residential conversions of a mid-rise commercial building.
The conversion of the 1867-1883 building that was erected for the Schumacher and Ettinger Lithography Studio was undertaken by Roy Stillman of Stillman Development who paid $45 million for the building to a family that had been using it for document storage in December 2012. It will be completed in 2015.
The building was originally designed by Edward E. Raht and the conversion was designed by Morris Adjmi, who found a drawing by Raht of a pediment for a Union Club design competition that he used to fashion a replacement for the building's lost and very prominent pediment.
It has 21 residential condominium apartments.
Bottom Line
Do whatever it takes to wrangle an invite to this building to gander at its great vine-covered courtyard strewn with marble chips and a spread-out and very esoteric and poetic forest of slanted vine-covered cables harboring a Jeff Koons sculpture belonging to one of the residents, the art dealer Alberto Mugrabi. Eat your hearts out, residents of nearby 40 Bond Street and the new supertalls in midtown! Meow!!!
Description
The red-brick building was designed in the Romanesque Revival style and has corbelled brick layering, ornamental overhangs, radiating lintels, some turrets and the 5th and 6th floors have arched windows.
Focus Lighting, a lighting design firm, is lighting the building's top dramatically.
Higgins Quasebarth & Partners was the preservation consultant.
Amenities
The building has a 24-hour doorman, a landscaped roof, a fitness center, refrigerated lobby storage, bicycle storage, a library overlooking the garden with a Hechizoo rug of wool, nylon and copper, individual storage and a pirate-theme children's playroom.
Apartments
Apartments have exposed brick ceiling vaults, some 15 feet high.
Penthouse B is a duplex four-bedroom unit with 4,546 square feet.
Penthouse C is a four-bedroom unit with 3,527 square feet.
Mansion 3 is a three-level unit with four bedrooms and 4,342 square feet with an entry foyer leading to a large great room overlooking the building's courtyard, an enclosed kitchen and a large theater room.
Apartment 3D and 4D are three-bedroom units with 2,900 square feet.
Apartment 2E is a three-bedroom unit with 2,115 square feet.
Apartment 2A is a two-bedroom unit with 1,791 square feet with a great room with an open kitchen.
Apartment 3C and 4C are two-bedroom units with 1,125 square feet.
History
When Mr. Stillman bought the building its original cast-iron and wood ground floor façade had been covered with bronze-colored aluminum siding and its Queen Anne-style roof pediment had been "blown off by wind at one point," according to an April 14, 2013 article by Alexei Barrionuevo in The New York Times.
The article maintained that Mr. Stillman had been "inspired" by some purple bullet glass on a door on the roof and that inspired his friend Cristina Grajales, who owned an art gallery in SoHo to commission Christophe Cóme to design a wall of two-sided glass roundels for the lobby and the doorman's desk. According to the building's website, he "shapes and defines the forms through texture and oxidation producing distinctive finishes" and "pairs these objects with industrial crystal and molded glass lenses that are transformed through carving, melting, and slumping."
She also had a large painting by José Parlá to hang in the building's sales center in a garage-type building next to a gas station on Crosby Street. Mr. Parlá had created a 70-foot-long mural at the Barclays Center in Brooklyn.
A June 16, 2014 article by Matt Chaban in The New York Times entitled "Green Space So Exclusive It's off Limits Even to Residents" noted that quoted Mr. Stillman as saying that the building's light well was "a serene space" and "the last thing we want is barbecue and cigarette smoke."
"We didn't want big trees, because it would block too much light, but we still wanted to create a sense of privacy," he continued, added "We decided to bring the Hanging Gardens of Babylon to Manhattan."
Usually, however, when one mentions "hanging gardens" with regard to apartment buildings, one thinks of landscaped terraces.
Here, however, the gardens are not hanging but climbing and are not layered and many are diagonal.
Ivy will cover the walls of the courtyard, which is lovely and nice.
But the real drama will be the evergreen-and-climatis-covered cables that diagonally rise up from the marble-gravel floor of the courtyard to create "a distinctive visual screen for residents" and not like a forest clump of bamboo but tilting standards.
The brilliant courtyard design, which also includes two fountains, is by Ken Smith.
Book a Tour or Get More Information on this Building
180 Buyers
are interested in buying at
36 Bleecker Street!
Interested in Selling?
We'll introduce you to the agents that
specialize in 36 Bleecker Street and are
experts in selling apartments there.

And they'll be able to contact all of the buyers interested in the building.
There's no obligation and your inquiry is confidential.
Call us at (212) 755-5544