The Pierre, 795 Fifth Avenue: Review and Ratings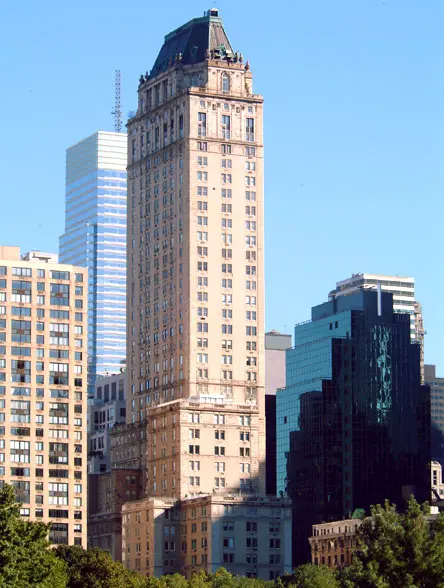 Review of 795 Fifth Avenue by
Carter Horsley
The Pierre Hotel at 795 Fifth Avenue and 2 East 61st Street on the southeast corner at Fifth Avenue was completed in 1930 and was designed by Schultze & Weaver, which also designed the Sherry-Netherland Hotel at 765 Fifth Avenue on the northwest corner at 59th Street the same year.
The very tall and distinctive silhouettes of these skyscraper hotels were instant, albeit unofficial, landmarks that marked the epicenter of elegance in Manhattan and quickly became two of the most recognized building profiles in the world.
Until the incursion of the mammoth and overshadowing General Motors Building, which replaced the very impressive Savoy-Plaza Hotel, designed by McKim, Mead & White, directly across 59th Street from the Sherry Netherland, these properties along with the nearby Plaza Hotel and the Bergdorf Goodman store created the city's most impressive and distinctive urban "square."
The hotel originally had 714 rooms and in 1959 77 cooperative apartments were created and the hotel now has about 140 rooms and about 49 suites.
Bottom Line
An appropriate neighbor to the palatial and very elegant Metropolitan Club, the Pierre is one of the city's greatest luxury hotels and apartment buildings with stupendous views and a heavenly location.
Description
The Pierre and the Sherry Netherland are quite different.
The Pierre is light colored and the Sherry Netherland is dark. The Pierre has a green mansard-style roof and the Sherry Netherland has an elaborate minaret.
Both have slender shafts rising from fairly large bases and both were designed by Schultze & Weaver, the architectural firm that designed the Waldorf-Astoria Hotel on Park Avenue at 50th Street in 1931.
The Pierre Hotel's Fifth Avenue entrance is somewhat disappointing as the main entrance is really on the sidestreet.
The Fifth Avenue entrance leads up a few stairs to the elevator bank and also has stairs leading down to a restaurant. A pleasant window-less, street-level cafe has its own Fifth Avenue canopied entrance. The main sidestreet entrance for the hotel opens onto a pleasant lobby with a raised alcove, but it is rather restrained and not spectacular, similar to the lobby treatment at the Hotel Carlyle on Madison Avenue at 76th Street.
The hotel's tower is marred somewhat by repairs to its corners over the years and much of its south façade is blank because of the placement of the elevator bank.
The slanted roof was modeled after the Royal Chapel at Versailles by Mansart.
A large circular cocktail lounge just off the main floor was decorated with murals in which Jacqueline Kennedy Onassis is depicted.
Amenities
The building has full-time doorman and concierges and elevator operators and a couple of restaurants.
Apartments
Apartment 2608 is a one-bedroom unit with a 22-foot-long living room and an 8-foot-long enclosed kitchen.
Apartment 1001-3 is a one-bedroom unit with an 11-foot-wide, five-sided foyer that leads to a 18-foot-long living room with a 9-foot-long enclosed kitchen.
Apartment 3804 is a one-bedroom unit with a 10-foot-long foyer that leads to a 12-foot-wide gallery that opens onto a 17-foot-wide dining room that opens onto a 23-foot-long living room. There is also a 17-foot-wide library and a 10-foot-long kitchen.
Apartment 1207 is a three-bedroom unit that has an 11-foot-long foyer next to a 8-foot-long kitchen and a 31-foot-long living room with a fireplace that opens onto a 24-foot-long formal dining room.
Apartment 2711 has a 13-foot-long entrance gallery that leads to a 31-foot-long living room with a fireplace that opens onto a 19-foot-wide dining room next to a 17-foot-wide kitchen. The apartment also has a 16-foot-long library and three bedrooms.
Apartment 1112 is a two-bedroom unit that has a small entry foyer that opens onto a 14-foot-wide, octagonal gallery that opens onto a 25-foot-long living room with two broadly curved corners, a 16-foot-long formal dining room and a 10-foot-long kitchen.
The 29th floor unit has a circular entry foyer that leads to a 24-foot-long gallery that leads to a 19-foot-wide dining room, a 29-foot-long living room, and a 17-foot-long library. The apartment also has a 18-foot-wide kitchen with a semi-circular breakfast room, a 16-foot-wide study, a 17-foot-long gym, a 13-foot-long sitting/tv room, 16-foot-long staff room and three bedrooms.
History
Because the Plaza was older and more established and had far larger and far more spectacular interiors than the rest of this group of hotels, the Pierre and the Sherry Netherland hotels have not shared as much limelight despite their far greater visibility.
As elegant as the area was before their arrival, the hotels, nevertheless, incredibly enhanced the prestige of this district with their towering presences and romantic silhouettes, giving hope, realized decades later when design styles had changed markedly, that the Plaza District might become Manhattan's third major skyline district after Lower Manhattan and Grand Central Terminal.
Although the silhouette of the Sherry Netherland is infinitely more memorable and dramatic and interesting than the Pierre's, the Pierre's more conventional formality and light tones made for a more compatible transition with the white mansions of "Millionaire's Row" north of it on the avenue that were already being razed to make way for expensive apartment buildings.
Furthermore, in an age when contextual design had not yet reared its wagging head in architectural circles, the Pierre's light colors were more appropriate as a backdrop for its very impressive small neighbor on the same Fifth Avenue block, the stunning Metropolitan Club.
(Quality architecture in new construction in the city in the 1960's and 1970's was a rarity as evidenced sadly by the bland apartment buildings at 800 Fifth Avenue, across 61st Street from the Pierre, and 775 Fifth Avenue, across 60th Street from the Metropolitan Club. Ulrich Franzen & Associates and Wechsler & Schimenti were the architects of 800 Fifth Avenue, whose rear façade facing an utterly unnecessary, large, heavily fenced garden plaza is far better than its pedestrian frontage across from Central Park.
The incongruous rear plaza was perhaps some misguided city planner's brainstorm to recall the walled in, unattended gardens of the former Geraldine Rockefeller Dodge Georgian-style red-brick mansion that formerly occupied, rather dourly, this large important site.
Mrs. Dodge, a niece of John D. Rockefeller, had been married to Marcellus Hartley Dodge, the chairman of the Remington Arms Company, and was known as the "first lady of dogdom" and had founded, with her husband, the Morris and Essex Kennel Club in New Jersey and their estate, Giralda Farms in Madison, N.J., was the scene of many important dog shows. Over the years she acquired several adjacent brownstones and tore them down letting the foliage grow wild next to her austere 61st Street, 35-room mansion filled mostly with animal paintings.)
In "Fifth Avenue, A Very Social History," (Harcourt Brace Jovanovich Inc., 1978), Kate Simon recounts some of the Pierre Hotel's early history: "Ambitious and tenacious, like many of his fellow Corsicans, Charles Pierre Casalesco left his father's Ajaccio restaurant where he had been the busboy, to go as Charles Pierre to the brilliant Hotel Anglais in Monte Carlo....
"On a job foray to London, he was picked out by Louis Sherry for a position in New York. Twelve years of Sherry's brought him to an impasse. Smart women were beginning to smoke in public rooms. Mr. Sherry forbade it in his restaurant, an irritating, old-fashioned prohibition, Pierre thought, and, after flights of heated words he left. A stint then at the Ritz-Carlton on Madison Avenue at Forty-sixth, followed by his own restaurant, first on Forty-fifth immediately west of Fifth Avenue, and later at 230 Park, a place equally famous for its cuisine and for its care of American heiresses who, it was seen to by M. Pierre (himself occasionally the escort) went directly home to Mama.
"Inevitably he became a conservative elder statesman, deploring the vast democratic size of World War I parties and the unrestrained Prohibition guzzling that followed after. He soldiered on in this frantic new world that had lost its manners until a group of admirers and financiers, among them Otto H. Kahn, Finley J. Shepherd (who had married Helen Gould), Edward F. Hutton, Walter P. Chrysler, Robert Livingston Gerry (the son of Elbridge Thomas Gerry, lawyer, philanthropist and grandson of Elbridge Gerry, the inventor of 'gerrymandering') and others decided to use the site of the Gerry mansion at Sixty-first Street and Fifth Avenue for a hotel to be managed and run by Charles Pierre.
"The new structure, rising forty-two stories, could hardly keep the Richard Hunt chateau quality of the pink mansion it replaced, but a few old France touches were built into the hotel whose motto was 'from this place hope beams.'"
"The Depression took its toll, however, and the hotel went into bankruptcy in 1932. Six years later, oilman J. Paul Getty bought it for about $2.5 million in 1938 and subsequently sold many cooperative apartments in the building.
The hotel's operations changed hands a few times until Trust Houses Forte Corporation took it over in 1973 and finally the Four Seasons luxury hotel chain in 1986.
(Having sold his townhouse for the new hotel, Elbridge T. Gerry bought a Georgian-style townhouse on the northeast corner of Fifth Avenue and 94th Street from Mrs. Leonard K. Elmhirst, who, according to Robert A. M. Stern, Gregory Gilmartin and Thomas Mellins in their book, "New York 1930, Architecture and Urbanism Between The Two World Wars," published in 1987 by Rizzoli, "stipulated that it not be demolished. Mrs. Elmhirst was Dorothy Payne Whitney Strait, one of the country's leading heiresses, suffragettes and a founder of the Junior League whose first husband, Willard Strait, had founded The New Republic magazine. She and her late husband, Mr. Elmhirst founded and operated Dartington Hall, a very progressive school and cultural center in England. The Fifth Avenue building eventually became the International Museum of Photography for several years before being converted back to a single-family townhouse.)
In 1988, the Pierre's duplex penthouse with an enormous ballroom with double-height arched windows, was put on the market with the highest price tag ever believed then asked for a single co-op - $20 million.
A couple years later, it was sold to Lady Fairfax for about $12 million, and the July 27, 1998 issue of The New York Observer reported it had been sold to Thomas O'Gara, vice chairman of the Kroll-O'Gara Company, which is based in Fairfield, Ohio, for close to $25 million, but later said that he was not the buyer. The August 31, 1998 Neal Travis' New York column in The New York Post, reported that "the actual price paid by an unidentified American buyer was $35 million."Lady Mary, heir to a depleted Australian newspaper fortune, has done quite nicely on the deal, even if owning the pad never did gain her the social acceptance she so fiercely sought. Fairfax had paid $12 million for the place in 1990, spent about $6 million doing it up, and covered the $30,000-a-month maintenance by sealing off the bottom floor and renting it out," Travis wrote. Weeks later, however, reports were that the deal fell through and the penthouse was again on the market.
The ballroom, which had served for a while as a supper club, had been rented for parties over the years but had long been not in use as the hotel had redone its main public spaces in its base where it had another ballroom as well as a circular double-height lounge with a painted mural that included a portrait of Jacqueline Kennedy Onassis. The penthouse ballroom, with views in all directions, large mirrors etched with palm trees, a small bandstand and some peeling pink paint when it was offered in 1988, can hold 285 people at once, according to a Fire Department sign that then hung on a wall. It is approximately 50 by 85 feet.
It had not been used as a ballroom since 1973.
In 2003, it was put on the market for about $70 million.
The New York Observer article noted that the building's coop apartment owners "didn't want the rent-a-ballroom wedding parties tramping around in their elevators, so they made the Pierre close the ballroom, and it spent the next 15 years as a storage room for hotel furniture." The article also said that Lady Fairfax "put $5 million into renovation" of the five-bedroom penthouse. A hotel employee said that the views from its small corner terraces were so grand that they had been used as lookouts by the Police Department. The views, in fact, from its terraces are grand. In 1994, the building announced it would have to replace its three-story-high copper roof, but since the building is within the Upper East Side Historic District and therefore a landmark the new roof did not alter the hotel's appearance.
The hotel originally had 714 guest rooms, but many of them were combined into larger suites over the years.
In the late 1980's, the adjacent Metropolitan Club contemplated erecting an apartment tower in the unused air space over its large midblock driveway and courtyard and its east wing. The tower would have abutted the Pierre's tower but been several stories lower as well as set back a bit from its western edge. The very handsome plan, however, was not approved by the city's Landmarks Preservation Commission.
The Pierre has fabulous views and a magnificent location.
The Pierre changed hands a couple more times until, in 2005, the Indian company Taj Hotels entered the picture. Taj dates back to 1903 with the opening of the Taj Mahal Palace in Bombay. But in recent years, the hotelier's been playing an ambitious game of Monopoly, buying up hotels all over the world, including Boston's famed Ritz Carlton, for which it plunked down a cool $122 million.
In 2012, it was announced by Tata-owned Indian Hotels Company, which owns the Taj hotels, that Royal Attaché would provide its famed concierge service for guests staying at 11 Grand Suites at the Pierre.
An article at mydigitalfc.com Sept. 24, 2012 by Jharna Mazumdar said that the hotel "underwent a $100 million renovation, updating 189 guestrooms, including 38 suites and 11 Grand Suites, as well as the hotel's banquet and social event spaces.
In 1972, a robbery that was considered the largest and most successful hotel robbery in history occurred at the hotel.
Residents at the hotel have included Elizabeth Taylor, Sumner Redstone, Yves Saint-Laurent and Mahamed al-Fayed.
Book a Tour or Get More Information on this Building
10,919 Buyers
are interested in buying at
795 Fifth Avenue!
Interested in Selling?
We'll introduce you to the agents that
specialize in 795 Fifth Avenue and are
experts in selling apartments there.

And they'll be able to contact all of the buyers interested in the building.
There's no obligation and your inquiry is confidential.
Call us at (212) 755-5544