535 Carlton Avenue: Review and Ratings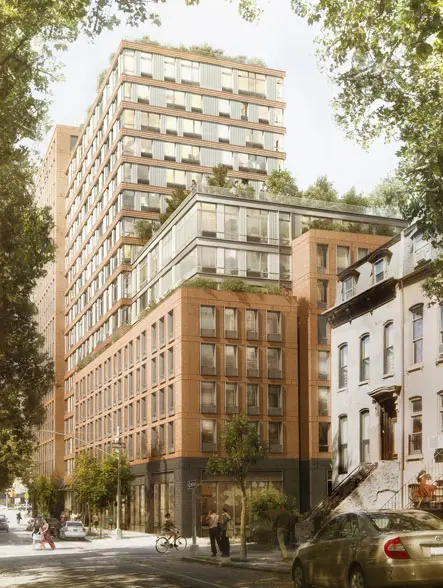 Review of 535 Carlton Avenue by
Carter Horsley

Carter B. Horsley, a former journalist for The New York Times, The International Herald Tribune and The New York Post. Mr. Horsley is also the editorial director of CityRealty.com.
This attractive, 18-story apartment building at 535 Carlton Avenue between Pacific and Dean streets in the Prospect Heights section of Brooklyn was erected in 2017 and has 298 "affordable" rental apartments. It is part of the Pacific Park complex, formerly known as Atlantic Yards, being developed by Greenland Forest City Partners.
It was designed by CookFox Architects and has two very different and unrelated sections, one with red-brick façades and vertical fenestration pattern and the other with light-colored façade with horizontal, inset fenestration pattern on top of red-brick base. Each section is handsome, but they are incongruous together.
Bottom Line
A crisp, 18-story "affordable" apartment building in the sprawling Pacific Park development that was formerly known as Atlantic Yards with a sedate and attractive red-brick section and a bolder and lower light-colored section all over a very handsome landscaped plaza with dark gray masonry.
Description
The building has a very attractive ground floor with circular landscaping with dark gray bricks beneath a sprightly façade of four horizontal layers of orange brick spandrels and light-colored mullions.
The development will have 309 parking spaces in two basement levels.
There are some corner windows.
Amenities
A November 17, 2017 article in The New York Times by Ginia Bellafante noted that this building "delivers a lot in terms of Instagram friendliness," adding that "it looks like the kind of place where everyone is supposed to arrive by Dutch cargo bike and ascend to well-stocked kitchens to make momentous decisions about whether or not tonight's grain salad ought to be topped with a poached farm egg or something more adventurous." "There is a gym, a playroom and a lounge, but using those spaces require additional fees….To qualify for a currently available three-bedroom apartment – the rent for which is $3,716 a month – a family of five would have to have a household income of between $129,000 and $170,000."
The building also has a bicycle room, laundry facilities on each floor, a communal terrace and a rooftop community garden.
Apartments
Apartment 1802 is a two-bedroom unit with a 21-foot-wide living room with a corner window, an open kitchen and a wide terrace.
Apartment 813 is a two-bedroom unit with a 17-foot-long living room with an open kitchen.
Apartment 1713 is a one-bedroom unit with a 24-foot-long living room with an open kitchen.