160 Riverside Boulevard: Review and Ratings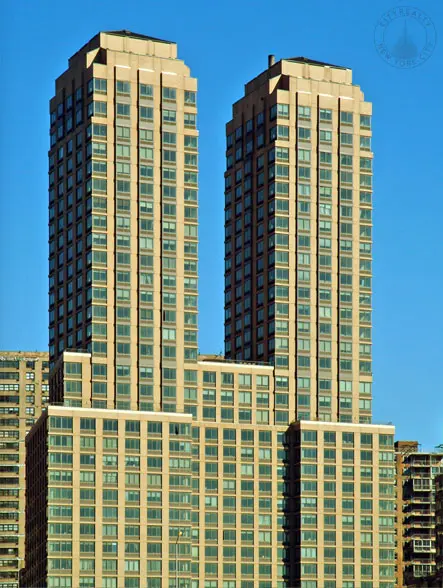 Review of 160 Riverside Boulevard by
Carter Horsley

Carter B. Horsley, a former journalist for The New York Times, The International Herald Tribune and The New York Post. Mr. Horsley is also the editorial director of CityRealty.com.
This attractive, 33-story building at 160 Riverside Boulevard between 67th and 68th Streets has 438 rental apartments and was completed in 2001. It is in the middle of Donald Trump's enormous redevelopment, known originally as Trump Place and subsequently as Riverside South, on the former rail yards at the south end of Riverside Park.
It was designed by Costas Kondylis & Associates.
In 2005 it and 140 Riverside Boulevard and 180 Riverside Boulevard, all rentals, were sold to Equity Residential.
It is also known as 423-443 West 67th Street, 444 West 68th Street and 161-1777 Freedom Place.
A November 15, 2016 article by Charles B. Bagli in The New York Times reported that Equity Residential is removing the "Trump Place" name on this building and 160 and 180 Riverside Boulevard. In October, 2016, hundreds of residents in these buildings signed a petition to "Dump the Trump Name" because of provocative statements made by the developer in this Presidential campaign. Mr. Trump was elected President of the United States in the 2016 election.
Equity Residential bought the three buildings in 2005 for $809 million.
Mr. Bagli's article quoted Sam Zell, the chairman of Equity Residential as stating in an interview that "the tenants had no role in this," adding that he and Mr. Trumphad discussed the change a year ago, adding "we didn't want anything to happen while the election was going on.""
Equity had entered a "use of name contract" with Mr. Trump, but it expired, according to the article, which added that a spokesman for the Trump Organization said that the name change "was mutually agreed upon."
Bottom Line
This twin-towered structure is two blocks south of the attractive, angled Pier 1 with bucket chairs and silvery railings at Riverside South Park that opened with the completion of this building that was described by David Dunlap of The New York Times as "the privileged vantage of center stream," adding that "even the towers of Trump Place momentarily take on Venetian magic, glimpsed as sensuous, rippled reflections in the wake of a passing ship."
Description
The massing of this gray-brick, twin-towered building recalls the Century and Majestic twin towers on Central Park West.
Amenities
The building has a 24-hour concierge, a doorman, a live-in superintendent, a health club, a lounge, a children's playroom, a spa, a dog spa, basement storage, a 210-car garage and an on-site supermarket. It has commanding views of the Hudson River All of the Trump towers here have handsome and lavish lobbies and good amenities even if the apartments themselves are relatively routine.
The building offers shuttle service to the 72nd Street subway station at Broadway.
Apartments
Many apartments in the three-setback tower have corner windows.
Apartment 8-3-8 is a studio unit with a 22-foot-long angled living room and an open, past-through kitchen.
Apartment 5F is a one-bedroom unit with a 15-foot-long living room.
Apartment 8-31-8 is a one-bedroom unit with a 21-foot-long living room that opens onto a 48-foot long terrace with a 24-floot-long wing. The apartment has an enclosed kitchen next to a 9-foot-long dining area that also opens onto the side terrace.
Apartment H on floors 5 through 17 is a one-bedroom unit with a 27-foot-long living room and an open, pass-through kitchen.
Apartment 03-3-8 is a one-bedroom apartment with a pass-through kitchen and a 22-foot-long angled living room.
Apartment 3S is a two-bedroom unit that has an entry foyer that leads to the 21-foot-long living room that adjoins a 12-foot-long angled dining room with a large corner window and a kitchen.
Apartment 24A is a three-bedroom unit with a wide entry foyer that leads to a 22-foot-long living room and adjoining 12-foot-wide dining room next to an enclosed kitchen.
History
For a history of Riverside South and Trump Place see the CityRealty.com entry for 140 Riverside Boulevard.