The Lyric, 255 West 94th Street: Review and Ratings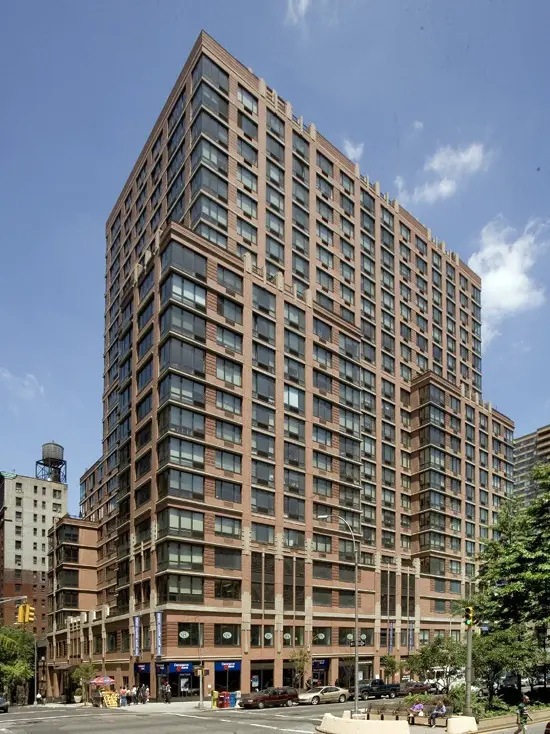 Review of 255 West 94th Street by
Carter Horsley
The Lyric is the large, red-brick, rental apartment building at 255 West 94th Street on the northwest corner at Broadway that houses the excellent Symphony Space, cultural center that includes the Peter Norton Symphony Space, the Leonard Nimoy Theater and the Peter Jay Sharp Theater.
The 23-story building occupies the west blockfront on Broadway between 94th and 95th Streets has 285 apartments.
It was developed in 2000 by The Related Companies and designed by Costas Kondylis.
The lobby was designed by David Rockwell.
The Polshek Partnership designed the building's cultural spaces that are at the 95th Street corner.
Bottom Line
This large rental apartment building replace some important cultural facilities with new and improved spaces and has seen renaissance of the area including a dramatic new subway station across the street.
Description
A big, bulky building with many corner windows and several setbacks, the building has some Art Deco-style touches with roofline finials and major cultural facilities.
Amenities
The building, which is also known as 2521 Broadway, has a sundeck, a children's playroom, a fitness center, a business center, many corner windows, revolving front door, and a doorman. The building also has a garage and a business center and valet and maid service.
There is excellent public transportation and in 2012 the M.T.A. opened a dramatic, renovated 96th street subway station with a large, curved superstructure.
Apartments
A studio apartment has a 8-foot-long entry foyer that leads both an enclosed kitchen to a 15-foot-long kitchen/dining room with a 9-foot-long sleeping alcove.
A two-bedroom apartment has a 19-foot-long entry foyer that leads past an enclosed kitchen to a 15-foot-long living/dining room.
History
The building was able to increase its size by about 40,000 square feet, or about 40 apartments, by erecting a building with 11 low-income apartments on West 105th Street.
By selling its air rights above its 1915 two-story building, Symphony Space was able to renovate its building and integrate the 200-seat Thalia movie theater into its complex.
In a November 29, 1998 article in The New York Times by Corey Kilgannon, Isaiah Sheffer, co-founder and artistic director of Symphony space said that it could have redeveloped its site sooner but wanted to make sure that it would include affordable units. "It means a lot to us that there isn't some completely elite building over us. It was important to us as preserving the theater," he told the reporter.
In addition to its own calendar of performances, Symphony Space hosts about 40 not-for-profit organizations presenting about 125 performances in its space each year. It was founded in 1978. From 1979 to 2001, it hosted all of the New York productions of the New York Gilbert and Sullivan Players.