40 Mercer Street in SoHo: Review and Ratings | CityRealty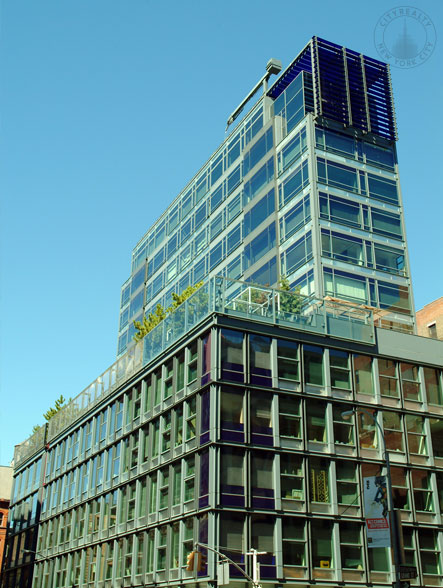 Review by
Carter Horsley

Carter B. Horsley, a former journalist for The New York Times, The International Herald Tribune and The New York Post. Mr. Horsley is also the editorial director of CityRealty.com.
This handsome, modern, 13-story, 41-unit glass tower at 40 Mercer Street was completed in 2006.
This was the first project to be completed in New York by Jean Nouvel, the well-known French architect.
It has an excellent SoHo location, occupying the entire north blockfront on Grand Street between Mercer Street and Broadway.
It is a residential condominium project of André Balazs, the owner of the Mercer Hotel who was also involved in the condo development known as One Kenmare Square not too far away.
Bottom Line
With its deep blue rooftop on Broadway and its Mondrianesque red and blue fenestration on Grand Street, this luxury residential condominium building defies context and is one of the new, unofficial landmarks of SoHo.
Description
The 40 Mercer Street development, a project of Hines, Whitehall Group and EMJ Management, has a five-story base topped by 8 tower floors and it contains 41 condo apartments, retail spaces and a spa.
The building, which has a through-block alley on its north side, is distinguished by its very large windows, many of which slide open vertically.
The renderings for this project initially indicated that its glass façades would have quite bright blue and red components, but upon completion the overall palette was more battleship gray.
Amenities
The free-standing building has a 24-hour concierge, a garage with valet parking, a private landscaped garden, private storage, live-in superintendent, event spaces for exclusive use by residents, and continental breakfast delivery.
There is a M40 club for residents with a fitness center with a marble-walled, "T"-shaped, 50-foot lap pool and 12-person Jacuzzi, steam room and sauna, a lounge with catering bar and projection screen.
The building also has a "sky garden" on the seventh floor and a private garden.
Apartments
Apartments have 11- and 12-foot-ceilings and some kitchens have stainless steel refrigerators with glass doors and some bathrooms have vanity shelves that extend over one end of the bathtub and mirrors over the bathtub. Two of the penthouse units have private pools.
A three-bedroom apartment has a 14-foot-long entrance foyer than opens onto a very large kitchen that leads to a very large living room with a sliding wall to one of the bedrooms.
One two-bedroom apartment has a 57-foot-long, open entertaining space with a large sliding window in the center opposite a large recessed kitchen.
Another two-bedroom has a 16-foot-long entrance gallery that leads to a 30-foot-long "great room" with a large open kitchen in the center and bedrooms on either side of the "great room."
Another two-bedroom has a very long foyer that opens onto a library/gallery adjacent to a large open kitchen next to a free-standing enclosed bathroom at one end of a very large "great room" and dining area.
There is also a two-bedroom unit that where the entrance is a very large library/gallery that leads to a long hall past a large recessed kitchen to a very large "great room" with a sliding bookcase wall leading to a library/bedroom.
History
The site was at one time occupied by a department store and then a parking lot.
The architect for 40 Mercer Street development was Jean Nouvel, the well-known French architect.
He also designed a cantilevered low-rise hotel in Brooklyn jutting into the East River just south of the Williamsburg Bridge and a very dramatic multi-building complex in Chelsea along the High Line, but those projects did not advance beyond the planning stage.
After this project, Mr. Nouvel went on to design two spectacular new projects in Manhattan, 100 Eleventh Avenue, where he designed a curved façade facing south and west with different sized and angled windows, and a mixed-use tower to the east of the Museum of Modern Art that will be one of the tallest buildings in midtown and be notable for its prominent, asymmetrical diagonal bracing even through the City Planning Commission order its height reduced.
This project was first designed in 2000 as a hotel.
When the city's Landmarks Preservation Commission unanimously approved plans in 2001 for a hotel on this site designed by Nouvel, Herbert Muschamp, then the architecture critic of The New York Times gushed that "This is the most significant architectural initiative we've seen from city government since – well, since the landmarks law was passed in 1965."
"This design is about sex," Muschamp continued, adding that "that is a major departure from the glass towers of mid-20th Century New York." He compared the building's north wall to "film sprockets or movie stills from an emphatically film noir genre."
Given that film noir was generally "B" films, such an analogy might not be marketing box office hype for such a super-luxury development and the "sex" reference is not obvious to some observers although there is little question that its design is "macho."
There is, however, something of Darth Vader styling here and also of Batman's Gotham City. This building has a mysterious, lugubrious loom about it that would not be out-of-place in "Bladerunner" and, goodness, New York certainly needs more surprises and daring. The lapis-lazuli-colored, louvered brise-soleil (sun-shade) at the top of the building on Broadway will probably be featured in the next "Raiders of the Lost Arc" installment.
The hotel plan was abandoned after the terrorist attacks of September 11, 2001 discouraged some tourists.
Balazs decided to change the project to residential uses and added two stories to its height and sought, and got, a zoning revision to allow residential development on the site.
A May 13, 2007 article in New York magazine by David Colman described the building as "utterly seductive as a unique and intriguing work of architecture," adding that "The bracketed cornice on the east façade and the boxy, planar Palladian windows on the rear are a reference to nearby Broadway façades. Inside, the wood-and-stainless-steel kitchens nod to Eames, and the sleek, multiple-veneered and back-painted glass-tile bathrooms recall Parisian Art Deco luxury."
Book a Tour or Get More Information on this Building
271 Buyers
are interested in buying at
40 Mercer Street!
Interested in Selling?
We'll introduce you to the agents that
specialize in 40 Mercer Street and are
experts in selling apartments there.

And they'll be able to contact all of the buyers interested in the building.
There's no obligation and your inquiry is confidential.
Call us at (212) 755-5544