56 Crosby Street: Review and Ratings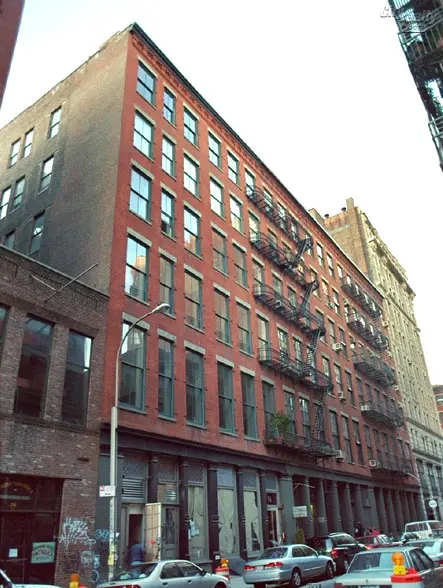 Review of 56 Crosby Street by
Carter Horsley

Carter B. Horsley, a former journalist for The New York Times, The International Herald Tribune and The New York Post. Mr. Horsley is also the editorial director of CityRealty.com.
This attractive six-story, red-brick former loft building was converted to condominium apartments in 2000 by Surtsey Realty Corporation of which Howard Katz is a principal.
The 19th Century structure has tall windows and lovely curved wrought-iron fire-escapes and a bracketed cornice.
The building has two apartments a floor of either 2,935 or 3,200 square feet and two 4,000-square-foot penthouses. The apartments have original Corinthian-style columns, brick walls with arches, wood-framed thermopane windows and ceiling heights range from 12 feet 4 inches to 16 feet and prices initially ranged from $1.65 million to $3.2 million. The building has a small, bright lobby and a nice elevator.
Like many Italian villas and some other converted loft buildings in SoHo and TriBeCa, exterior looks can be deceived and what looks rather bland from the outside can be quite sumptuous inside.
A March 19, 2001 article in The New York Observer by Deborah Schoeneman, Deborah Netburn and Tom McGeveran discussed the original plans of a buyer of the penthouse at this property:
"When Roger Evans paid $8.65 million for a brand-new - and practically barren - apartment at 56 Crosby Street last September, he thought he was buying the right to do with it what he wanted. In fact, the price included not only the 9,500-square-foot penthouse - which was sold 'raw, meaning there weren't even any bathrooms - but ownership of the nearly 4,000-square-foot roof. But after Mr. Evans and his architect had spent three months planning to dramatically redesign the place, the condo board of the building - still in its infancy - complained and put a halt to the entire project. Granted, what Mr. Evans, the British-born, Cambridge-educated venture capitalist, had in mind was an architectural magnum opus. Out of the 8,000-square-foot space, with weathered red brick walls and large windows providing views of the World Trade Center, the bridges spanning the East River and urban rooftops, Mr. Evans wanted to create an elaborate mezzanine-level master-bedroom suite suspended from the ceiling; two dramatic sweeps of stairway leading to two doors in the skylights on either end of the apartment, leading out in turn to large decks on the east and west sides of the roof; and, to top it all off, an outdoor swimming pool. Now Mr. Evans has walked away from the project, and the broker who sold him the place is trying to find a new buyer for his condo construction site - for $9.5 million....Creating the monstrous residence was to be Mr. Evans' first step into New York from Palo Alto, Calif., where he has been a general partner at the private venture-capital firm Greylock...."
Mr. Evans's architect for the project was Raphael Vinoly.
His plans were hardly monstrous if one compares them to Lenny Kravitz's rather flamboyant penthouse just down the street at 30 Crosby Street that, according to April 26, 2004 article in The New York Observer, had, among other "features," "an undulating wall that spits fire."
Apartment buyers in New York have long been accustomed to persnicky co-op boards, but condominiums generally permit owners much more freedom.
Buildings like these two on Crosby Street and numerous others conversions in SoHo and TriBeCa of the same period are beginning to significantly alter the ground rules of luxury apartment living in Manhattan. Such projects are commanding prices that rival the highest in the city in any neighborhood and they are introducing "amenity" packages to properties with very few units that were traditionally only found in very large developments. Furthermore, they are generally deceptively unostentatious.
Whereas Fifth and Park Avenues on the Upper East Side were the traditional pinnacle of residential living in the city for much of the 20th Century and began to get serious competition from Central Park West at the end of the 20th Century, the 21st Century is starting with a new focus on such neighborhoods as Soho, TriBeCa and Chelsea, which are bursting with lively nightlife and an incredible amount of real estate investment, renovation and construction.
Discrete exteriors and flamboyant interiors make for a lot of sophistication.
Book a Tour or Get More Information on this Building
Multiple Buyers
are interested in buying at
56 Crosby Street!
Interested in Selling?
We'll introduce you to the agents that
specialize in 56 Crosby Street and are
experts in selling apartments there.

And they'll be able to contact all of the buyers interested in the building.
There's no obligation and your inquiry is confidential.
Call us at (212) 755-5544