The American Express Carriage House, 60 Collister Street: Review and Ratings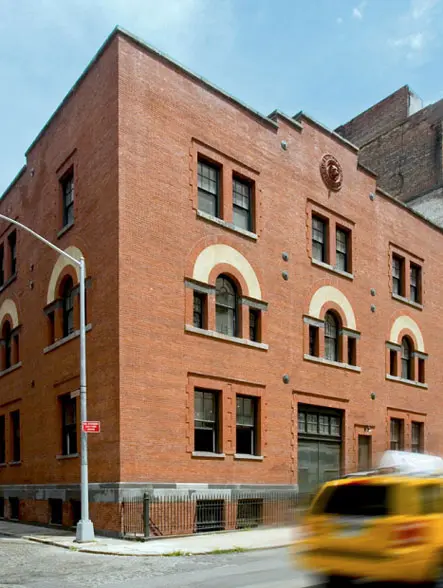 Review of 60 Collister Street by
Carter Horsley
Built in 1867 as a stable for American Express, this red-brick building at 60 Collister Street in TriBeCa is missing its hitching posts for stagecoaches and John Wayne's trusty steeds.
It has managed, however, not only to survive, but also to step lively as before its residential conversion it housed the Heat, B Square, Area, Shelter and Vinyl nightclubs in a city that seldom slept…in those days.
For a few years in the mid-1980s, it was the center of the universe for the Night People who haunted dance floors and bathrooms and alleys and newspaper columns.
With some regularity long after "Saturday Night Fever" had worn out much of its groove, disco nights at Area were themed with considerable imagination and occasional vulgarity. It was all of Greenwich Village's sprawling, marching Halloween crammed into a closet. What fun! Absolutely, positively shocking…
In its latest incarnation, the building was converted in 2008 to residential condominiums and expanded two setback floors with a total of 15 apartments on five floors.
The original architect was Ritch & Griffiths when the building was only two stories. It was altered and enlarged one floor in 1899 by Edward Hall Kendall and altered again in 1902 by Charles W. Romeyn.
According to daytonianinmanhattan.com, "the building was renovated again in 1946 when architect Henry G. Harrington remodeled it for use as the factory of the First Machinery Corporation, manufacturers of plastic and rubber products" and Harrington "also remodeled the Hudson Street façade by adding stone pilasters and arches framing the entrances."
In 2005, the city's Landmarks Preservation Commission approved the latest enlargement plan by Peter Moore for the building that is also known as 4-8 Hubert Street, 157 Hudson Street and 49-55 Laight Street.
Mr. Moore lost the building to the Federal Deposit Insurance Corporation from which it was picked by VE Equities, of which Justin Ehrlich and Zach Vella are principals.
Bottom Line
A reveler's reveille, this is the place!
Description
Cleaned up and fixed up and disguised as large, luxury condominium apartments in a low-rise former stable in TriBeCa, this is still the Yankee response to laissez les bons temps rouler.
Tucked away near the imposing, new Hubert apartment building, this once chalky building hosted the city's wildest soirées and dawn parties for assorted soignés and those beyond salvation.
The second floor has arched windows and the third-floor roofline is stepped but its frontage on the short alley known as Collister is quite formal and handsome.
A circular terracotta relief that depicts American Express's bulldog mascot is centered on the Hubert Street façade.
For some, life in the city is cramped, here it was, and probably still is, explosive - spatially. Who says living in a vitrine ain't vital!
Peter Moore's renovation and expansion was neatly done and tamed some of this joint's haunted and histrionic….
We're walkin' here. Heck, we're dancin' here.
Amenities
24-hour concierge and parking
Apartments
The building has a three-level, 9,079-square-foot maisonette that is known as The Marble House whose lower level include a swimming pool in the 57-foot-long, marble-clad Quarry Room next to a 26-foot-long Yellow Pine Room with full-height, multi-pane windows and doors overlooking the pool and that room also adjoins a 16-foot-wide, 12-seat theater and a 15-foot-wide game room with a 12-foot-wide wet bar. The unit's main level has a 28-foot-long entrance foyer that leads to a 59-foot-long Grand Hall adjacent to a 18-foot-long Library and an 18-foot-long dining room next to a 25-foot-long Chef's Kitchen. The unit's upper level has a 22-foot-long gallery that leads to four bedrooms, a 16-foot-long office/music room, a 19-foot-long "trunk" room and a 12-foot-long laundry. This apartment was first put on the market in 2009 for $24.5 million by Stuart Parr, a movie producer, but its price was subsequently reduced to $18.5 million, according to a February 29, 2012 article by Josh Barbanel in The Wall Street Journal and then to $17.5 million in July, 2012 according to ny.curbed.com that noted that the apartment has radiant heated floors and six individually controlled climate zones.
Penthouse 5B is a three-bedroom duplex unit with a 24-foot-wide media room on the upper level that connects to a 20-foot-long open kitchen with an island and a 24-foot-wide upper gallery and the 30-foot-long living room with a fireplace and a 24-foot-wide terrace with the bedrooms on the lower level with another 24-foot-wide terrace.
Penthouse 4B is a four-bedroom unit with a very wide entry foyer that leads to a 40-foot-wide living room with a 70-foot-long east terrace and an 80-foot-north terrace that adjoins an 18-foot-long den and a pass-through, 20 foot-long kitchen.
Apartment 3C is a three-bedroom unit with a 17-foot-wide entry foyer that leads past a 17-foot-wide office and the 11-foot-wide, pass-through kitchen to the 36-foot-long living/dining room.
History
The March 11, 1985 edition of New York magazine devoted 8 full pages to an article by Jesse Kornbluth about the Area disco in the building and its constant make-overs by its young founders, Darius Azari, Christopher and Eric Goode and Shawn Hausman.
The article described the interior as three clubs:
"The first one is on the dance floor, where young Wall Streeters in pin-striped suits and young women in taffeta dresses forget their portfolios together. They're joined by college kids dancing alone, a middle-aged couple or two, a sprinkling of blacks. But few bohemians are here – the music's too industrial for them. Indeed, it is shockingly retro, bass-heavy disco, set far enough ways from the dance floor to blunt the disco beat. Under the glass bar is a long, perforated sheet of steel, with straight pins filling the perforations. You can stick your hand under these pins and make a wave pattern by pushing them up- or, if it's your taste, draw a little blood. This décor/danger motif is repeated on the back wall, where lemon sharks glide through an aquarium. The silver bar is where worlds collide. Andy Warhol might be brushing up against Malcolm Forbes, Keith Haring and Jean Michel Basquiat against David Bryne or Giorgio Armani, Scavullo and Joan Rivers against Phoebe Cates or Henry Geldzahler….this is pretty hot stuff when compared with other clubs. Studio 54 is now a moonshadow of itself: its strenuous pecking order has given way to promotional parties and a sushi bar. Xenon, once the favored watering hole of the Europeans, is closed; Club A hasn't quite taken its place. Limelight is a money machine that admits anyone with $15…."
In an article about "Culture Club" in the August 27, 2006 edition of The New York Times, Glenn O'Brien recalled the days of yore at Area when "the opening-night theme was 'Night,'and there was a masked welder in the middle of the darkened dance floor showering everyone with sparks" and "'Gnarly' featured skulls, monster trucks, a drag racer, a skateboard ramp with live skaters, a strobe-lighted electric chair and a speedboat in the swimming pool with a giant gargoyle driving it."
"The club's 'Disco' night was announced by a phonograph record; 'Suburbia,' by a slice of Velveeta; 'Confinement,' by a Chinese finger trap," Mr. O'Brien rhapsodized.
"…artists had a field day. David Hockney flew in to do the pool. Michael Heizer put his meteorites on the dance floor. Warhol did T-shirts and an invisible sculpture," he wrote, almost conjuring the dumb-founded scene in "Blow-Up" where David Hemmings retrieves an invisible tennis ball that some London dizzies were playing with in a mysterious park….
Book a Tour or Get More Information on this Building
38 Buyers
are interested in buying at
60 Collister Street!
Interested in Selling?
We'll introduce you to the agents that
specialize in 60 Collister Street and are
experts in selling apartments there.

And they'll be able to contact all of the buyers interested in the building.
There's no obligation and your inquiry is confidential.
Call us at (212) 755-5544