100 United Nations Plaza: Review and Ratings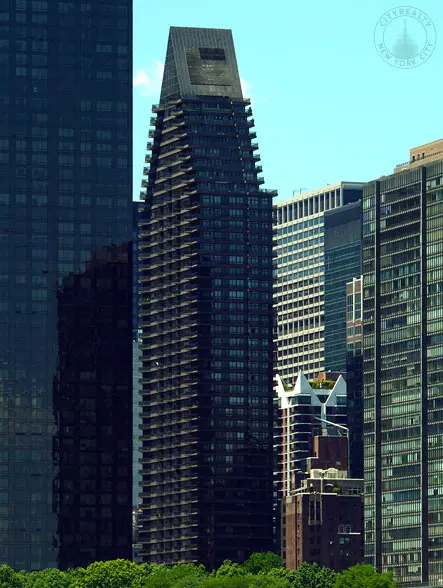 Review of 100 United Nations Plaza by
Carter Horsley

Carter B. Horsley, a former journalist for The New York Times, The International Herald Tribune and The New York Post. Mr. Horsley is also the editorial director of CityRealty.com.
This very dramatic spike in the Midtown East skyline at 100 United Nations Plaza is one of the most stunning residential towers erected in the city after World War II.
Designed by Der Scutt and Schuman, Lichtenstein, Claman & Efron for developer Anthony Albanese, this 52-story, serrated tower at 861 First Avenue and 327-345 East 48th Street in the Turtle Bay neighborhood is sharply highlighted by its steeply angled top.
The building, which is very close to the United Nations complex and gardens, contains 267 condominium apartments and was completed in 1989.
Bottom Line
They shot an arrow into the air…and it landed here, obviously, clearly marking the spot for those who want an extremely aggressive and impressive foil that demonstrates that elegance can be rugged and daring.
Despite its almost lethal, Darth Vader looks, 100 United Nations Plaza was a very important improvement to the United Nations/Beekman Place neighborhood as it introduced some long-overdue glamour and became an instant landmark, albeit unofficial still. With its multi-level gardens and waterfall, the base of this building is a fine hitching post for jet-set diplomats and hip riders thirsting for drama.
Description
The antithesis of clean simple lines, the wedge top of 100 United Nations Plaza cascades with 22 terraced penthouses.
The top of the tower is a triangular wedge with nine tiers of penthouses on its east and west sides with each one set back from the one below so that they all open to the sky. The penthouses stop short of the building's pinnacle which contains mechanical equipment.
The building has a large brass and glass entrance canopy that has peaked elements to carry on the triangular wedge theme of the top of the building. The motif is carried through to the large lobby.
A broad, cascading waterfall is off the side and ends in a pool beneath another waterfall surrounded by red brick seating areas and lush landscaping designed by Thomas Balsey Associates.
The tower is setback considerably from the very busy First Avenue corner.
The building is best viewed from Dag Hammarskjold Plaza across from Japan House in the spring, which is to say that this mid-block tower cannot be fully appreciated up close.
Amenities
100 United Nations Plaza has a 24-hour doorman/concierge, a 24-hour attended garage, a fitness center with pool, a laundry, a business meeting room, an entertainment room, a 11,400-square-foot garden with waterfall.
The building is pet-friendly.
Apartments
Because of its mid-block location and location to the spacious United Nations gardens, many of this tower's apartments have very impressive views.
Most apartments have balconies although there are some small apartments on lower floors that do not. Ceiling heights are 9 feet.
A one-bedroom unit on the 10th floor, for example, has an enclosed kitchen and a living/dining area that is almost 19-foot-long adjacent to a 15-foot-long bedroom.
Line D on floors 3 to 25 has a similar layout except that it has a small triangular balcony off the living/dining room.
A two-bedroom on the 18th floor has a 25-foot-long living dining room with two doors leading to a "wrap" balcony that is angled at one end.
Another two-bedroom apartment on the 25th floor has a considerably larger living/dining room with two doors leading to a "wrap" balcony that is angled at one end, but it also has an angled balcony off its 17-foot-long master bedroom.
A two-bedroom on the 7th floor has a large entry foyer that leads into a 25-foot-long living/dining room with a very large, double-corner balcony with two entrances.
A 46th floor penthouse has a 557-square-foot terrace on three sides of the apartment, a 28-foot-long living room with an open kitchen and a 17-foot-long master bedroom with a whirlpool bath.
History
Its slanting roof is thematically repeated in the angled shape of many of the building's many balconies.
As good as this is, it misses a bit because the lower half of the slanted roof, which looks like a pyramid from the south and north, has terraces bursting outwards, making an otherwise pure geometry quite complex. Obviously, the added value of terraces for such "penthouses" was most likely irresistible to the developers, and the buyers, but they sacrificed ascending to architectural masterpiece levels. (In comparison, consider the Allied Tower at Fountain Place in Dallas, an angled office tower designed by Harry Cobb of I. M. Pei and Partners with a more complex basic form, a possible design influence here.)
"With a brooding exterior of brown brick and dark brown windows, any liveliness in the otherwise massive design rested on the shoulders of the army of balconies (provided for every apartment above the third floor)," observed Robert A. M. Stern, David Fishman and Jacob Tilove in their fine book, "New York 2000, Architecture and Urbanism Between the Bicentennial and the Millennium" (The Monacelli Press, 2006).
The tower would lose some of its monumentality a few years later when Donald Trump erected his much taller, terrace-less, condominium apartment tower, Trump World, one block away at 845 United Nations Plaza.
Book a Tour or Get More Information on this Building
2,301 Buyers
are interested in buying at
100 United Nations Plaza!
Interested in Selling?
We'll introduce you to the agents that
specialize in 100 United Nations Plaza and are
experts in selling apartments there.

And they'll be able to contact all of the buyers interested in the building.
There's no obligation and your inquiry is confidential.
Call us at (212) 755-5544