860 United Nations Plaza: Review and Ratings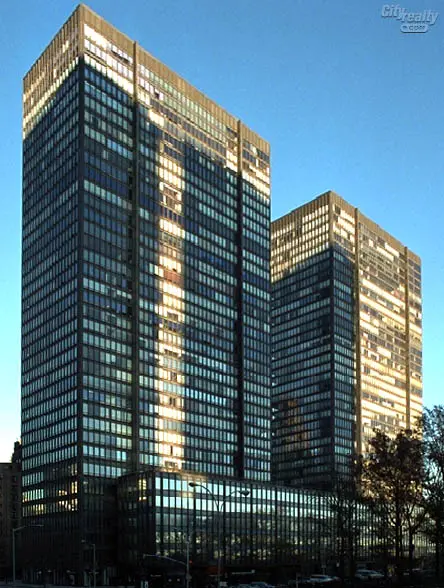 Review of 860 United Nations Plaza by
Carter Horsley
This twin-towered, 38-story apartment and office complex consisting of 860 and 870 United Nations Plaza on 49th Street commands outstanding views of the United Nations to the south, Midtown to the west and the East River to the east.
The prestigious full-block project was built in 1966 by Harrison & Abramovitz, which also served as the lead architects for the United Nations headquarters, the Time-Life building at Rockefeller Center, and the master plan for Lincoln Center.
The six-story base of the large development contains about 300,000 square feet of office space and the cooperative apartments share an expansive, corporate-style lobby overlooking an enclosed garden court.
The two towers contain a total of 334 apartments, of which 56 are duplexes on the top eight floors. Full-service co-op amenities and staff include doormen, concierge, double-height attended lobby, full-block driveway, library, garage, party room, game room, storage bin, and laundry room.
Bottom Line
Overlooking the beautiful gardens of the United Nations and its great Secretariat building, this residential and commercial complex was one of the city's first residential projects that emphatically deployed mostly glass façades.
Description
The towers are huge and bulky and the apartments are notable mostly for their large and tall windows and views.
The tower façades are in the Miesian tradition of crisp rectilinearity and are a bit reminiscent of some of Mies' projects in Chicago. The towers are slightly lower than the United Nations Secretariat Building, as mandated by zoning, and clearly its glass façades were also in deference to that tower, although they are much darker.
The towers sit on a six-story commercial base and share one large lobby.
Despite its lack of fine architectural detail, this enormous complex has always attracted an impressive roster of affluent tenants, attracted presumably to its great views, the large gardens and park of the United Nations to the south, and the surrounding Beekman Place neighborhood rather than any notion of architectural majesty.
The project was the first on the East Side to follow the pioneering lead of twin-towered residential projects on Central Park West.
While its scale and proportions are rather cumbersome, the complex nevertheless makes a handsome, if not distinguished, foil to the U. N. complex, which, after all, is the most important consideration.
It was also influential in helping to bolster the residential attractiveness of the area for subsequent high-rise development nearby and major mixed-use development elsewhere in the city.
The rather monumental scale of the tower slabs is mitigated considerably by the two narrow piers that protrude slightly on the south and north façades that create a broader center section than at the ends, a quite pleasing proportion.
The use of identical white window-shades furthermore results in a rich and rhythmic of neat and not chaotic patterning.
Amenities
The complex has doormen and concierges, a gym, a laundry, a garage and a roof deck. It also permits pets.
Apartments
Apartment 3738F is a duplex with a 23-foot-wide gallery with a curved staircase at one end and it opens onto a 37-foot-long living room with a wood-burning fireplace that opens onto a 17-foot-long dining room next to an 18-foot-long enclosed kitchen that also leads to a small service hall on the lower floor. The upper level has four bedrooms.
Apartment 3738H has a 17-foot-gallery with a curved staircase across from a 19-foot-wide dining room and a 31-foot-long living room with a wood-burning fireplace and a 16-foot-wide library with a wet bar. Also on the lower level is a 31-foot-long kitchen. The upper level has three bedrooms and a 19-foot-long staff room.
Apartment 24DE has a 14-foot-wide gallery that opens onto a 59-foot-living room that flows into a 26-foot-long corner dining room next to the 18-foot-long kitchen. The apartment also has a 20-foot-long gym, an 11-foot-square home office, a 29-foot-long bedroom and a 19-foot-long second bedroom and a maid's room.
Apartment 30A is a four-bedroom unit that has a 17-foot-long curved gallery that opens onto a 26-foot-wide living/dining room next to an enclosed 20-foot-long kitchen.
Apartment 26E has an 18-foot-wide gallery that opens onto a 31-foot-long corner living room adjacent to a 20-foot-wide library and an 18-foot-long dining room. The apartment has a 20-foot-long, enclosed kitchen, a 10-foot-square staff room and three bedrooms.
Apartment 27B is a two-bedroom unit that has a 14-foot-wide gallery that opens onto a 25-foot-long corner living room adjacent to an 18-foot-long dining room next to a 20-foot-long enclosed kitchen.
Apartment 18A is a two-bedroom unit that has a 14-foot-long entry foyer that leads to a 24-foot-long living room next to a 10-foot-long dining room adjacent to the 14-foot-long kitchen. The apartment has a 40-foot-wide terrace overlooking the East River.
Apartment 15B is a two-bedroom unit with a 17-foot-long gallery and a 32-foot-long living/dining room next to a 23-foot-long enclosed kitchen.
History
The site orientation and massing was first imagined in 1947 by Le Corbusier, a member of the architectural team that created the United Nations complex. That team also included Oscar Niemeyer, and Wallace K. Harrison and Max Abramowitz, the latter two who were directly responsible for this residential/commercial complex.
An article by Jerry Miller in the July 21, 1963 edition of The New York Times said that the Aluminum Company of America "will proceed with William Zeckendorf's long-delayed plans for an office and co-operative apartment development just north of the United Nations headquarters." "Until Mr. Zeckendorf withdrew from the partnership, Alcoa held a minority interest," the article said, adding that the company had "now increased its share to 70 percent; Canbritam-New York Inc., and Orion-New York, Inc., subsidiaries of Canadian investment corners, hold the remaining interest in the $45,000,000 venture."
"The two-tower design was intended to placate opposition that arose from tenants in buildings on Beekman Hill, who objected to a bulky structure that would block their view to the south," the article noted, adding that the development's site "covers two and a third acres, of which almost one acre will be devoted to a children's play area that will be deeded to the city."
The apartments on the first 15 floors have three-and-a-half to six rooms.
An early resident was Truman Capote, the author who had just published "In Cold Blood" and would that same year host his "Black and White Ball" at the Plaza Hotel in honor of Katharine Graham, the publisher of The Washington Post. The ball, attended by about 400 celebrities, was the buzz of the city's social swirl for years.
Other early residents were Senator Robert F. Kenney and Mary Lasker, the art collector.
Book a Tour or Get More Information on this Building
808 Buyers
are interested in buying at
860 United Nations Plaza!
Interested in Selling?
We'll introduce you to the agents that
specialize in 860 United Nations Plaza and are
experts in selling apartments there.

And they'll be able to contact all of the buyers interested in the building.
There's no obligation and your inquiry is confidential.
Call us at (212) 755-5544