325 Kent Avenue: Review and Ratings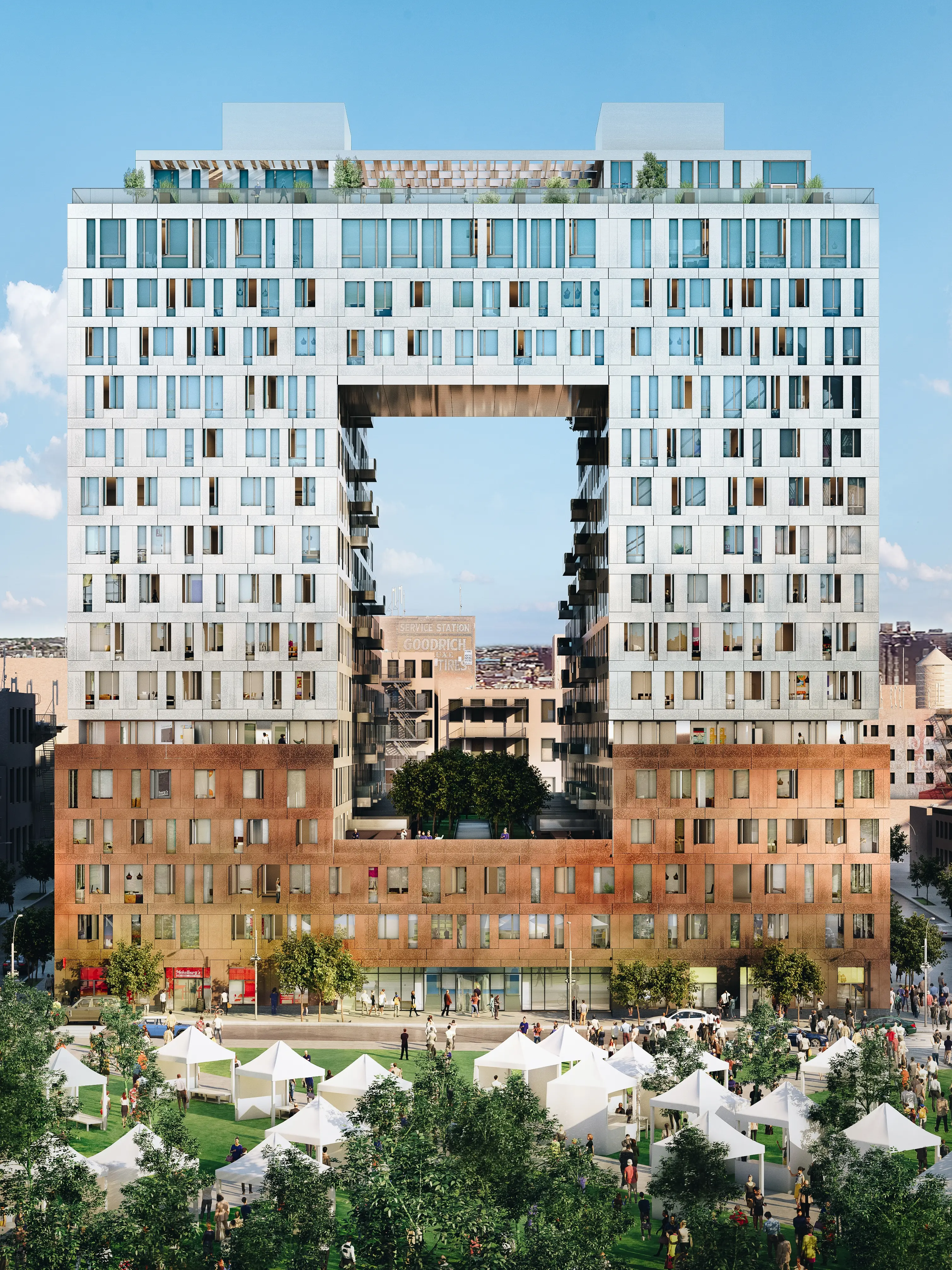 Review of 325 Kent Avenue by
Carter Horsley
This large apartment building at 325 Kent Avenue between South Third and South Fourth streets just to the north of the Williamsburg Bridge in Williamsburg is part of the huge redevelopment of the Domino Sugar Refinery Complex by Two Trees Management Company.
From Manhattan and the East River it looks a two-tone rectangular donut but its looks are deceptive as the tall sides are very long and stepped and the 16-story building had 522 rental apartments of which 20 percent are "affordable." Two Trees received 87,000 applications for this building's 104 "affordable" apartments.
The design by SHoP Architects has a copper-clad base that rises 4 stories beneath the "hole" and 5 stories on the side "legs." The top of the building is clad in zinc. The architects also used a two-tone motif for its first major project, the superb Porterhouse on the southeast corner of Ninth Avenue and 15th Street where it mounted a black box with vertical lights between its windows above a red-brick building with a shed canopy.
The building is setback considerably from the riverfront and is just to the south of the original refinery building that was built in 1882, has a tall smokestack and was once the largest in the world.
The entire complex will contain about 2,800 apartments and 600,000 square feet of office space. It will also have a riverfront park designed by James Corner Field Operations.
Bottom Line
Tale a big, "U"-shaped building and step its long "paws" down away from the river but open up its middle with a very large rectangular opening and then coat it with a copper base and a zinc top and you have a very special and spectacular Brooklyn "donut" that may do that borough's architecture what Nathan's "hot dogs" did to Coney Island.
Description
Not a typical New York City apartment building, this bulky edifice has a copper base and its zinc top "floats" above it visually because its lowest floor is slightly indented.
The building's most dramatic feature is its large rectangular "hole" in its river-facing façade that that is spanned by a four-story top.
The building's fenestration is a frenetic mix of sizes and the next-to-the-top floor facing the river has very large windows and above that the top floor is setback a bit.
The base will have retail.
The two long wings of the building step down from west to east and enclose a large, landscaped courtyard with a long canal.
The "inside" wings of the building have some randomly spaced balconies.
Amenities
The building has a 24-hour concierge, a garage that is two floors underground and three above, a room for 266 bikes, a 7,000-square-foot roof deck with grills and cabana, a 2,000-square-foot courtyard on the second floor, valet service with cold storage, a residents' lounge with fireplace, chef's kitchen and billiard tables, and storage.
Apartments
Apartments have washers and dryers, solar shades and stainless-steel Bosch and Blomberg kitchen appliances and Caesarstone countertops and backsplashes.
Apartment 412 is a two-bedroom unit with an entry foyer leading past a dining alcove and an open kitchen with a breakfast bar to a 17-foot-long living room and a 35-foot-wide terrace facing the south side of the complex's long courtyard.
Apartment 241 is a one-bedroom unit with an entry foyer next to a 12-foot-wide home office and an open kitchen with a breakfast bar and a 21-foot-long living room facing Kent Avenue.
Apartment 410 is a studio unit with an entry next to an open kitchen leading to a 15-foot-wide living room and a 15-foot-wide terrace facing the south side of the complex's long courtyard.