44 Berry Street: Review and Ratings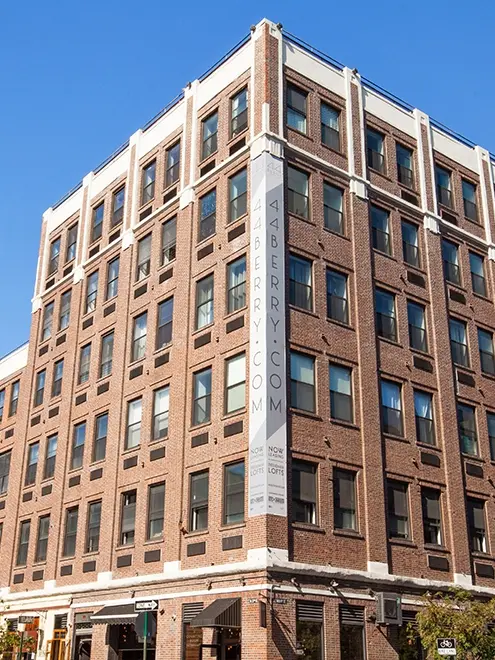 Review of 44 Berry Street by
Carter Horsley

Carter B. Horsley, a former journalist for The New York Times, The International Herald Tribune and The New York Post. Mr. Horsley is also the editorial director of CityRealty.com.
In November 2007, Jamie Wiseman and Jacob Sacks bought an abandoned quinine factor at 44 Berry street for $12.7 million.
Atherton-Newport Investments had previously planned to purchase the building for about $15 million as it was developing the adjacent lot at 34 Berry Street with a new condominium building designed by Perkins Eastman. Atherton-Newport would go bankrupt but their project was completed as a rental by LCOR and is notable for its dark red panels.
Atherton-Newport had put down a non-refundable deposit of a million dollars that made the owner more amenable to Wiseman and Sacks' offer.
In an article by David Amsden published July 12, 2009 in New York magazine on "the Billyburg Bust, Mr. Wiseman was described as "a laid-back 33-year-old who is not what most people think of when they think about real-estate developers."
"A self-described 'recovering lawyer' who favors stenciled T-shirts, Wiseman lives with a roommate in a small apartment in Bushwick, where over the past few years he has made a modest living buying up non-descript buildings and turning them into rentals and condos. In November, 2007, he made his first foray into Williamsburg, when, along with his business partner, Jacob Sachs, he purchased an abandoned factory at 44 Berry Street for $12.7 million," the article said.
"'They d already put down a nonrefundable deposit of a million dollars,' the article continued, 'so the owner was willing to cut us a deal,' Wiseman told me on a recent afternoon, as we stood outside the building along with the project's development manager, a 25-year-old named Ari Heckman. 'The biggest difference between us and most of the developers out there is we're not building apartments based on the fantasy that Williamsburg is where bankers want to live. Basically, what we're doing is creating places for the people who live here now.'"
On a tour, it became clear to Amsden what they meant: "Unlike most new apartments in the area, theirs were more reminiscent of the semi-legal artists' lofts that have been all but eradicated by the influx of development: big, airy spaces designed to be shared by self-consciously creative types who don't mind sleeping in cramped mezzanines."
Rents in the building, the article said, average $2,500 and are meant to be split two or three ways.
"'Will I get rich off this building? Not at all,' Wiseman said as he showed...the apartment he'll be renting to himself. 'I'll probably need a roommate to afford this.' Still, Wiseman explained that although he won't see the immediate returns that condo developers aim for, he is expecting slow, consistent revenue from a product that can expand and contract as the market dictates. The building is poised to generate about $2 million a year in revenues, which, after the debt is serviced and operating expenses are paid, comes out to around half a million in cash. Most of that will go to paying off private investors, with Wiseman and his partner receiving a roughly 3 percent management fee. They hope to refinance down the line, which will free up cash for other projects."
"On the Fourth of July," the article concluded, "Wiseman threw a party for the future residents of 44 Berry on the building's expansive roof deck. It was a decidedly different affair than the launch of the Steelworks Lofts back in October: keg beer instead of top-shelf liquor, twentysomethings decked out in thrift-store attire as opposed to thirtysomethings in designer clothing, and the general mood seemed less like a stylized appropriation of the neighborhood's identity than something approximating the neighborhood itself. Less than a year ago, the notion of such a scrappy scene unfolding in a brand-new building would have been unthinkable. But in time, as more developers fail to find buyers and default on their loans, Williamsburg is likely to see more projects like 44 Berry begin to take shape: new endeavors that, somewhat ironically, will keep the neighborhood feeling much like its old self. As everyone gathered to watch the fireworks dazzle above the Manhattan skyline, it was easy to imagine a future in which even Williamsburg's swankier buildings have become home to the very people they once threatened to displace."
Mr. Wiseman, the co-principal of Cayuga Capital Management said that the building finished up leasing its 42 apartments in August, 2009 and that its largest apartment, a three-bedroom unit, rented for about $4,500 a month.
The renovation and loft conversion of the building was designed by Ayuso Architecture. The building has retail space on the ground floor.
The building's website describes the building as "Modern Art-Gallery Minimalism meets 20th Century Industrial New York in this historic warehouse creatively reinvented as 44 Berry. The forty-two versatile loft residences feature beautiful industrial details, like exposed wood columns and beams, and exposed brick. Key amenities include two incredible communal roofdecks with bocce ball courts and unbelievable views, fitness center, and laundry room.
The 6-story, red-brick building, which is adjacent to the Brooklyn Brewery, has discrete air-conditioners.
Ceilings range from about 12 to 16 feet high and many apartments have mezzanine levels. The stainless steel kitchen appliances include Frigidaire refrigerator, stove and microwave. The cabinets are white lacquer and the countertops are butcher-block.
On May 3, 2009, the website blog.zohray.com noted that "some bathrooms had double sinks; no bathroom had a tub, btw - showers only!" It also observed that the "apartment modifications/menu of options rider was interest": "kitchen island; $900 to install, then $45 extra rent increase; kitchen pot rack: $400 to install, then $25 extra per month; ceiling mounted bike hook: $125 to install, then $9 extra per month; window blinds: $175 to install, then $9 extra per month."