Two Northside Piers at 164 Kent Avenue: Review and Ratings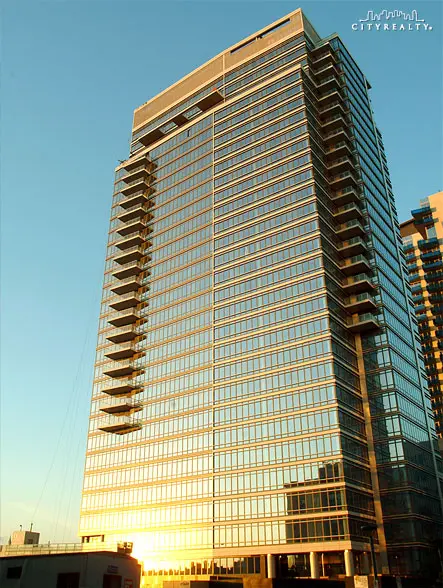 Review of 164 Kent Avenue by
Carter Horsley

Carter B. Horsley, a former journalist for The New York Times, The International Herald Tribune and The New York Post. Mr. Horsley is also the editorial director of CityRealty.com.
The waterfront in Williamsburg, Brooklyn, changed significantly in 2008 with the initial occupancy of the first of two handsome, blue-glass apartment towers at Northside Piers, developed by Toll Brothers, RD Management and L&M Development Partners.
The luxury, full-service apartment complex now consists of two similar, sleek, glass-clad towers, one 29 stories and the other 30, and some low-rise buildings, some with angled fronts, all designed by FXFowle Architects.
The tower closest to the East River is Two Northside Piers, the 30-story, 270-unit building at 47 North 4th Street. The 29-story, 180-unit building at 4 North 5th Street is One Northside Piers.
The pier is highlighted by a delightful, twisting stainless-steel canopy over a long bench.
Bottom Line
This attractive complex offers Miami high-rise living with Manhattan skyline substituting for thousands of miles of ocean. It also has a 400-foot-long recreation pier with the city's finest waterfront sculpture, a dramatic, stainless-steel, curving canopy designed by Brooklyn artist, Mark Gibian.
Description
Two Northside Piers is located along on Kent Avenue between North 4th and North 5th Streets in Brooklyn.
Northside Piers was the first residential development at the waterfront of Williamsburg, a former warehouse district that is rapidly transforming into one of Brooklyn's most significant residential enclaves.
The base of 2 Northside Piers is directly across from the entrance to the very impressive, mid-rise waterfront building known as 184 Kent Avenue. The base of 2 Northside Piers is very notable for its angularity and the excellent street-front maisonettes that have high, solid grey stone fences with glass-block windows at their base and narrow stoops.
Palmer's Dock is the low-rise, inland section of the development. It is a 113-unit, six-story, concrete-masonry-and-plank building with a brick façade, and was erected to fulfill a zoning mandate requiring that at least 20 percent of the built-up area be used for low-to-moderate-income rentals.
Amenities
Residents of Northside Piers will certainly enjoy the good life. World-class amenities include a waterfront esplanade, hotel-style concierge, a heated indoor pool and hot tub, fitness centers, saunas, a massage/yoga room, children's playrooms, an outdoor deck, a residents' lounge, 24/7 doorman, a restaurant, valet parking, bike storage, and LifeAt.com, a modern twist on the building bulletin board. Plus, rooftop cabanas and residential storage are available for purchase.
An array of amenities will be available to residents of Two Northside Piers including a full-time concierge as well as Procierge, a virtual five-star, hotel-style concierge service. There will be refrigerated storage for fresh food deliveries, an indoor pool with outdoor seating, a hot tub and sauna, a fitness center, and a children's playroom.
Two Northside Piers features more than 4,000 square feet of retail space. One Northside Piers also offers 17,000 square feet of street level retail space.
Two Northside Pier's interiors were a bit more modern, and amenities included a private lounge with wet bar and 675-square-foot terrace overlooking the Manhattan skyline and residents also have access to One Northside Pier's amenities, which include massage and yoga facilities and a screening room.
Apartments
Although most of the apartment layouts at Northside Piers are small, some of its penthouses are impressive.
Penthouse 2, for example, is a triplex with an entry foyer that opens onto a living/dining area that is 34 feet long with an open kitchen. Stairs led up to a 365-square-foot terrace and down to two bedrooms and two baths.
Penthouse 3, another triplex, has a 465-square-foot terrace on its top floor, a 24-foot-long living and dining area with an open kitchen, a powder room and a small bedroom with bath on its middle floor, and two more bedrooms on its lowest floor.
A three-bedroom unit has a den off its entrance foyer and a 16-foot-wide dining area that opens directly onto a 12-foot living room that has a 96-square-foot balcony.
Another three-bedroom apartment has a 23-foot-living/dining room with kitchen island and a 71-square-foot balcony.
A two-bedroom unit has a den off its entry foyer that leads to a 15-foot-wide dining area with a 140-square-foot balcony and leads to a 18-foot-living room
Another two-bedroom has a 21-foot-wide living/dining room flanked by two bedrooms with a den just off the entry foyer.
A one-bedroom unit has a long foyer that leads to the kitchen that opens onto a 22-foot-long living/dining room with a 474-square-foot terrace.
A studio apartment has a 15-foot-long living room with a 8-foot-long alcove.
A larger studio unit has a 21-foot-long living/dining area with a 12-foot-long den.
There are a few four-level townhouse units that have 44-foot-long cellars, 23-foot-long living and dining areas with open kitchen, a level with a 20-foot-long master bedroom, a terrace and bath, and another level with a 15-foot-long family room, two bedrooms and a small terrace.
One Northside Piers has open-plan interiors outfitted with custom cabinets, Kohler fixtures, and a combination of Thermador, Bosch, and SubZero appliances.
Kitchens were designed by Stephen Alton, with rich, wide-plank American walnut floors, custom high-gloss cabinets with chrome hardware, honed marble countertops with pure crystal white backsplash and a host of sleek appliances by Bosch® and Sub Zero®. Baths have floor-to-ceiling tile, with Lefroy Brooks® fixtures and a frameless glass-enclosed shower with rain head and separate soaking tub.
At Palmer's Dock, the floor plans and fixtures are all straight out of HPD spec sheets - ready-made cabinets, Delta faucets, GE appliances.
Team
The developer, Toll Brothers, Inc. is the nation's leading builder of luxury homes. The company began business in 1967 and became a public company in 1986 and now operates in 21 states. It is the only publicly traded national home building company to have won all three of the industry's highest honors: America's Best Builder, the National Housing Quality Award, and Builder of the Year.
RD Management is one of North America's largest privately held real estate development and management firms, with investments throughout the United States and Puerto Rico. It has its headquarters in New York.
Founded in 1984, as a venture between Sanford Loewentheil and Ronald Moelis, L+M Development Partners (formerly L&M Equity Participants) has built more than 8,000 units of high-quality, affordable and market-rate housing in the tri-state area.
History
A July 30, 2008 article at therealdeal.com by Steve Cutler indicated that buyers at One Northside Piers were younger than at Two Northside Piers, "prompting the developer to switch the unit mix, building 60 percent studios and one-bedrooms at Tower Two, compared to the 60 percent family-sized two- and three-bedroom residences at Tower One."
"Our people are singles in their late 20s and 30s, with some couples," said Toll Brothers senior vice president David Von Spreckelsen. "There are not a lot of families so far, which may change as the neighborhood matures." Most of the unsold units at Tower One are the bigger layouts."
On June 26, 2009, the development announced that home buyers could buy an apartment by August 31, 2009 and "live free for one full year," with their mortgage payments, common charges and real estate taxes "covered." In addition to the exclusive "live free" offer, buyers will also take advantage of a 25-year tax abatement, with monthly real estate taxes as low as $6; a "Borrower's Protection Plan" that is free for one year; and historically low interest rates.
The pier's design called for a shade structure and, rather than install something utilitarian, the developers of Northside Piers elected to commission Mr. Gibian, an artist who has lived and worked in Williamsburg for 28 years, to create something unique.
Gibian's sculpture, titled "Crescendo," is an eight-ton, two-part piece that, according to a press release from the development "evokes sea imagery and river life with its rib-like skeletal formation." Crescendo is located at the end of the 400-foot-long pier and provides shade and seating. The piece is composed of highly-specialized stainless steel and extremely fine chain link, which the artist says allows for an "industrial, yet organic presence."
"Our new pier is symbolic of a dramatic and positive shift taking place at the Williamsburg waterfront and we felt it offered a great opportunity to have a member of the Williamsburg arts community influence the neighborhood's evolution," said Shirley Jaffe of RD Management, a co-developer of Northside Piers. "The pier offers incredible views of the river and Manhattan and the Gibian's piece truly advances the visual experience."
"The opportunity to create a functional and beautiful piece of art for Northside Piers has been a dream-come-true for me in many ways," Gibian said. "Crescendo is the first of my pieces ever to be installed in Williamsburg, a neighborhood I've called home for decades, and I am thrilled that my neighbors will finally be able to enjoy my work."
An April 25, 2009 article by Sarah Ryley at therealdeal.com said that the sculpture departed from the artist's home in Wallkill, New York, normally a two-hour drive, but the trip took much longer because "the 28-by-16-foot stainless steel sculpture is so wide, even after nine feet were shaved from one side that...[would] be re-welded on-site."
"Permitting laws require the flatbed truck to take a winding route through New York and New Jersey, on some roads where it is only permitted to travel by day, and on others only by night. Police escorts are required for certain legs of the route," according to the article.
Gibian said it took months of wrangling with the rigging company, route surveyors, and state and local authorities to secure permits, the article noted, adding that there were "at least five false departures including one where the rigger could not depart because he did not have a permit to travel from the artist's driveway to the state route" and the load was subsequently found to be two inches wider than the permit would allow.
"The job became so enormously complicated that earlier this week Gibian said he was afraid Toll Brothers would give up on the sculpture altogether. Toll Brothers was required to construct a public waterfront esplanade with a shade feature on the pier to get approval from the city to build Northside Piers. 'We could have frankly had a big umbrella up there with mesh on it,' said Shirley Jaffe, vice president of RD Management, a partner in the project. 'We just thought it would be nice to have something dynamic, a focal point at the end of the pier ... some sort of public art,'" the article continued.
Jaffe said a number of people recommended Gibian, a local artist who is also sculpting three serpentine stainless steel pieces for the TriBeCa segment of Hudson River Park. Gibian is known for his "Cable Crossing" artwork at the Brooklyn Bridge-City Hall subway station.
This development is not the only major result of the zoning as another major luxury high-rise apartment project known as the Edge is nearby just to the north and the very fine conversion of a former mid-rise Austin Nichols warehouse designed by Cass Gilbert at 111 Kent Avenue is just to the south. Just to the north of the Edge is the new East River State Park.
In October, 2011, it was announced that Douglaston Development, which built the Edge, the adjoining property just to the north of Northside Piers, would built a 40-story rental tower on a site within the Northside Pier complex with construction scheduled to bring in March 2012.
Book a Tour or Get More Information on this Building
633 Buyers
are interested in buying at
164 Kent Avenue!
Interested in Selling?
We'll introduce you to the agents that
specialize in 164 Kent Avenue and are
experts in selling apartments there.

And they'll be able to contact all of the buyers interested in the building.
There's no obligation and your inquiry is confidential.
Call us at (212) 755-5544