The Strathmore in Yorkville: Review and Ratings | CityRealty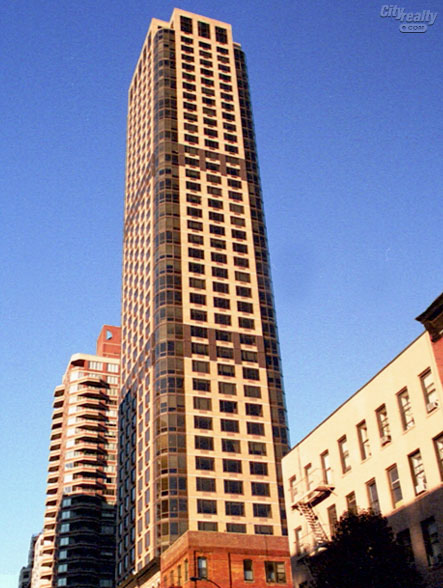 Review by
Carter Horsley

Carter B. Horsley, a former journalist for The New York Times, The International Herald Tribune and The New York Post. Mr. Horsley is also the editorial director of CityRealty.com.
This attractive, 43-story rental apartment building at 400 East 84th Street in Yorkville was erected by The Related Companies in 1994 and has 178 units.
It is known as The Strathmore and is also known as 1608-1616 First Avenue and 403 East 83rd Street.
It was designed by Costas Kondylis.
It is not far from Carl Schurz Park.
Twenty percent of the building's units are affordable.
Bottom Line
A handsome tower near Carl Schurz Park with large bay corner windows, large layouts and lots of amenities.
Description
The orange-beige-colored brick tower has large bay windows at its corners and is set in a plaza with an entrance marquee.
Amenities
Concierge, gym, swimming pool, live-in superintendent, garden, valet parking, children's playroom, bicycle room, a squash court, and smoke-free building.
Apartments
Apartment 2397 is a three-bedroom duplex unit with an entry foyer with staircase, a 16-foot-long living room with a corner terrace that is also open to the 16-foot-wide dining room that connects to a 9-foot-wide breakfast room next to the enclosed kitchen. The lower level also has a library/bedroom and the upper level has two bedrooms.
Apartment 39 C is a three-bedroom unit with an entry foyer that leads to a 40-foot-wide living room with a library and a solarium/dining room with a large corner bay window next to an enclosed, windowed kitchen and a windowed breakfast room. The master bedroom also has a large corner bay window.
Apartment 38B is a three-bedroom unit with an entry foyer that leads to a 20-foot-wide living room next to a 12-foot-wide solarium/dining room with a large corner bay window next to a windowed, eat-in kitchen.
Apartment 2226 is a two-bedroom unit with an entry foyer adjacent to a pass-through kitchen and the 17-foot-wide living/dining room with a large corner bay window.
History
In a March 12, 1995 article in The New York Times, David Dunlap wrote that "'The scope and design of 400 East 84th Street is in complete contradiction to the letter and spirit of the widely supported East Side rezoning," declared Community Board 8 of the Upper East Side, in a resolution adopted last year by a vote of 26 to 1."
The article noted that rarely "does the issue hinge on a matter of days – those days being in the middle of February 1994, when construction crews were busily at work in a deep pit on the southeast corner of First Avenue and 84th Street."
"But the story begins long before that critical month. It can be traced in part to 1986, when an Upper East Side neighborhood group called Civitas released a rezoning study, 'No More Tall Stories,' which called for controls on the heights of towers and for an end to the plaza bonus. In 1989, the City Planning Department issued its own discussion paper. After studying new buildings in the area covered by Community Board 8, planners concluded that existing rules resulting in towers that were incompatible with the neighborhood's established character. Joining the discussion at this point was a group called the Oculus committee, convened by the Oculus newsletter of the New York Chapter of the American Institute of Architects. Further study, including computer modeling at the Environmental Simulation Center at the New School for Social Research, was undertaken by the planning agency, the Oculus committee, Civitas and the Real Estate Board of New York. They were joined by representatives of the community board and the Manhattan Borough President. In September 1992, Community board 8 filed a rezoning application. Meanwhile, Related was moving forward with its projects…[and] got its building permit June 15. Seventeen days later, the City Planning Department filed an application to amend the Zoning Resolution to eliminate the plaza bonus and encourage the construction of shorter, squatter apartment towers on bases that would align more closely with older neighboring structures….Construction began…on November 15….On Dec. 1, the City Planning Commission held a public hearing on the zoning changes. On Dec. 20, it approved the new zoning rules and sent them on to the City Council. The Council passed the measures Feb. 9, 1994."
A couple of weeks later the project's building permit was considered lapsed because work on the foundation had not yet been completed but Related appealed to the Board of Standards and Appeals, asserting that 85 percent of the foundation materials had been in place by Feb. 9. The board accepted Related's claim and then the 84th Street group sued the board but its decision was upheld the Appellate Division.
Stephen Ross, the head of Related was quoted in the article as stating that "everybody is fighting taller buildings, but everyone wants to live in them. When you look at them, it gives a greater feeling of openness," adding that "in certain locations, a lot can be said for a taller, thinner building being better than shorter, squatter building. At ground level, you don't recognize the difference between a 30- and a 40-story building."