Top 10 Residential Buildings Designed by Emery Roth
Emery Roth was the city's greatest architect of pre-war apartment buildings.
While his contemporaries J. E. R. Carpenter and Rosario Candela offered lush layouts of their buildings on Fifth and Park Avenues making them the most desirable for the city's upper classes for decades, their exteriors were quite understated and conservative.
The exteriors of Roth's buildings, on the other hand, were flamboyant and adventurous.
Not only did he create romantic and very dramatic skyline structures such as the San Remo and the Beresford on Central Park West and the Ritz Tower on Park Avenue, Roth also experimented with great success with bold façade patterning such as the Ardsley on Central Park West.
He also dabbled artfully in streamline Art Deco-style design at the El Dorado and 601 West End Avenue and could model historical revival styles with great finesse at 993 Fifth Avenue, 480 Park Avenue, 10 Sheridan Square and Southgate at 434 East 54th Street.
Born in 1871, Roth died August 20, 1948.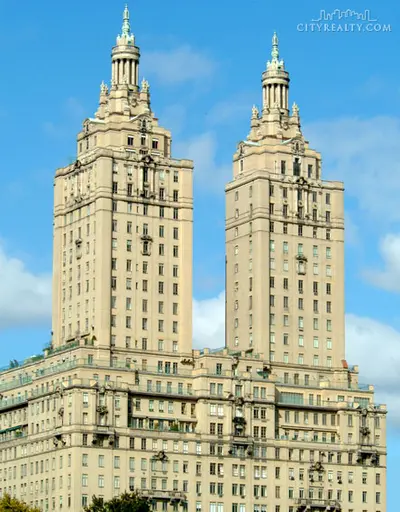 7 Photos
Co-op in Central Park West
This 1930 building between 74th and 75th Streets was the city's first twin-towered apartment building with each of the tall, slender towers capped by lyrical circular colonnades based on the Greek Choragic Monument of Lysicrates.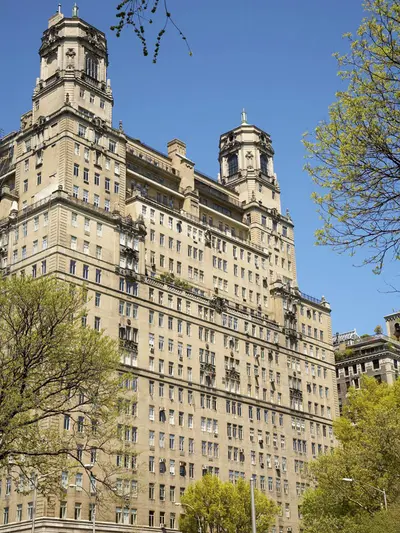 21 Photos
Co-op in Central Park West
A massive, 1929 residential fortress, the Beresford sports three bulky and squat towers with lit finials, a daringly asymmetrical silhouette dominating both Central Park and Manhattan Square and its American Museum of Natural History.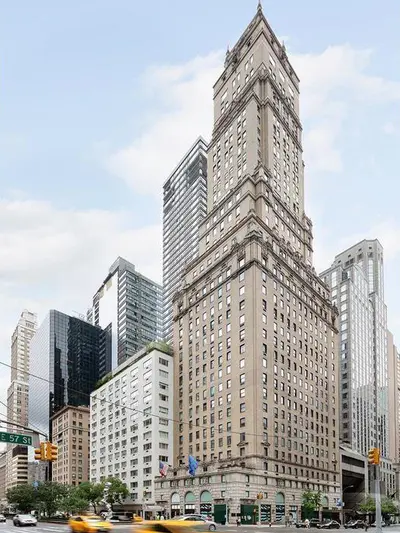 17 Photos
Co-op in Midtown East
Telescoping 41 stories into the sky on the northeast corner at 57th Street, about three times higher than any residential building before it, this 1926 tower was a sure sign that its pioneer residents were "moving up."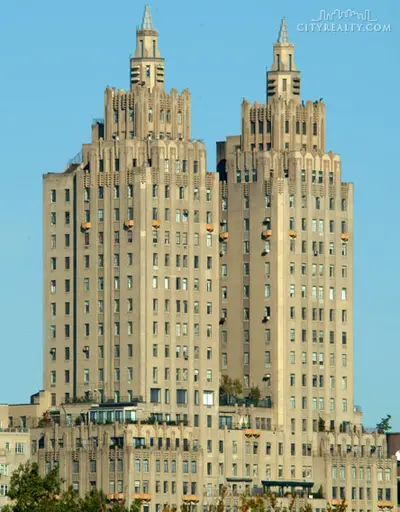 14 Photos
Co-op in Central Park West
Roth served as "associate architect" to Margon & Holder's 28-story, twin-tower apartment building of 1930 on the blockfront between 90th and 91st Streets that is notable for its "Flash Gordon" finials.
Price Range
$1.2M - $6.7M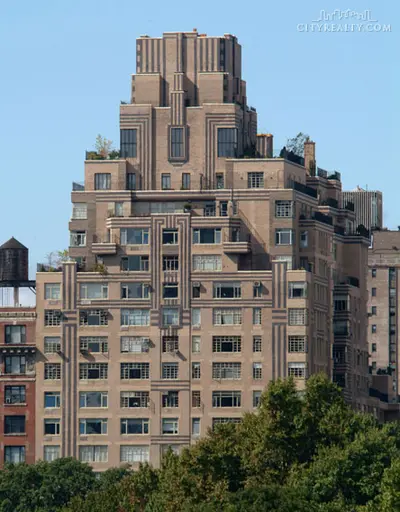 13 Photos
Co-op in Central Park West
Recalling the massing of a Mayan temple, the buff-brick façade of this 1931 building is highlighted by vertical and horizontal bands of black brick in an Art Deco-style masterpiece.
Explore 100,000 sq ft of amenities, including spa, lounges and gardens. 1-3 Bedrooms from $1.2M.
View Property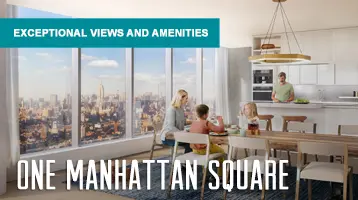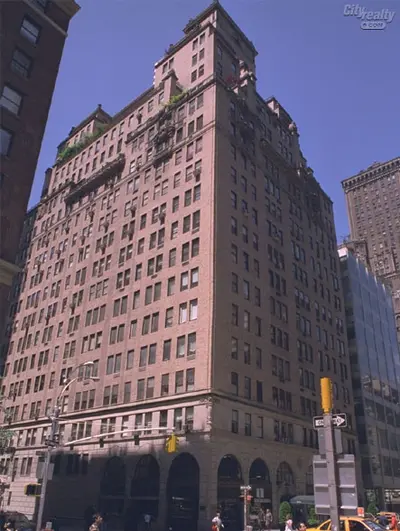 12 Photos
Co-op in Midtown East
A very handsome, 19-story, 1929 apartment house, this building has a two-story rusticated base with large arched windows on the second floor, an enormous lobby and an Italian Renaissance-palazzo-style façade with large apartments with wood-burning fireplaces.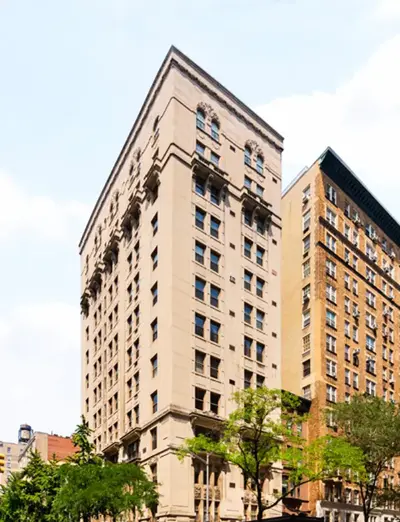 7 Photos
Co-op in Riverside Dr./West End Ave.
Limestone-clad, this 13-story apartment building was designed in 1915 for Bing & Bing and is a striking mix of neo-classicism and the Viennese Secession styles.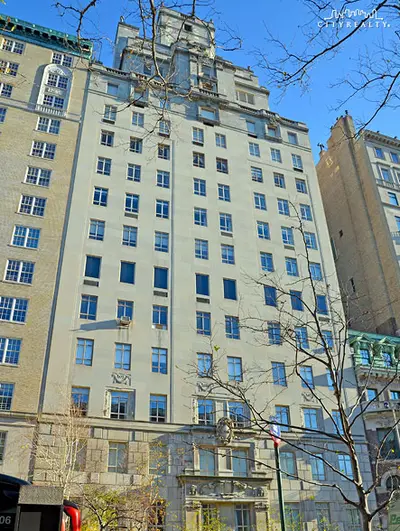 4 Photos
Co-op in Carnegie Hill
Another limestone-clad project, this 17-story apartment building across from the Metropolitan Museum was designed in 1930 by Roth with considerable and grand decorative embellishment.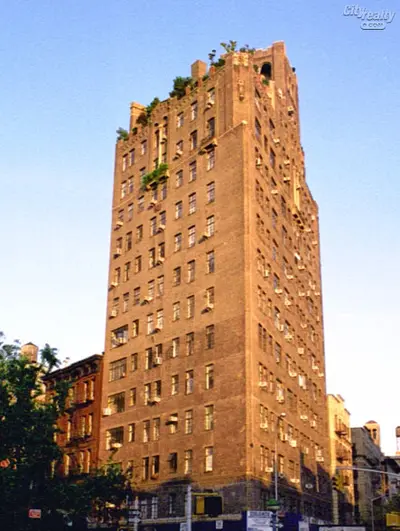 2 Photos
No fee rental in Greenwich Village
In 1929, Roth designed this prominent but asymmetrical, 14-story, Greenwich Village rental apartment building with many very small apartments but considerable façade charm including crenelated masonry and medieval-style parapets and a Romanesque-style rooftop watertank enclosed with arcades. It was built the same year as Roth designed the even more prominent but less charming, 20-story apartment building at 1 University Place at the northeast corner of Washington Square Park for Harold Uris.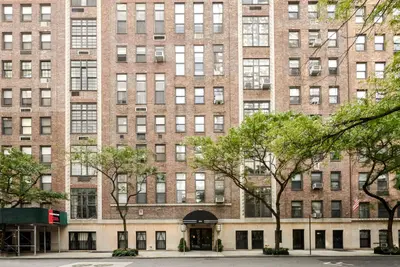 6 Photos
Co-op in Beekman/Sutton Place
The easternmost of an ensemble of five, elegant, mid-block apartment buildings that Roth designed in Art Deco-style for Bing & Bing in 1928.
Price Range
$425K - $1.5M
Off Market Listings
Off-Market Listings
Many apartments are sold off-market
without being publicly listed.
Contact us to learn more about off-market listings in Manhattan, Brooklyn and Queens.
It's quick and easy. And never any obligations.
. I'm only interested in publicly listed properties.