60 Sutton Place South: Review and Ratings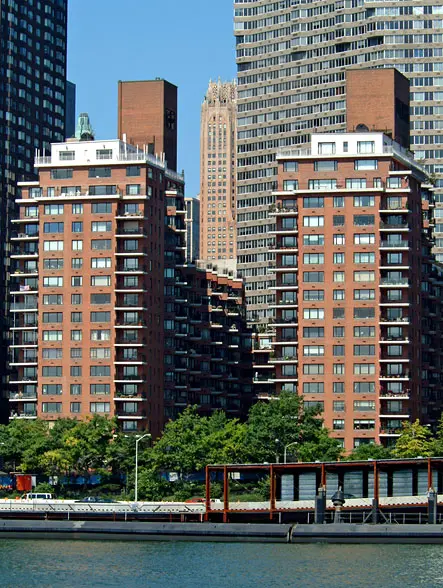 Review of 60 Sutton Place South by
Carter Horsley

Carter B. Horsley, a former journalist for The New York Times, The International Herald Tribune and The New York Post. Mr. Horsley is also the editorial director of CityRealty.com.
This handsome, red-brick, two-building complex at 60 Sutton Place South occupies most of the eastern half of the block bounded by Sutton Place South, First Avenue and 53rd and 54th Streets. It was designed to maximize its waterfront and park views.
Everyone would like great waterfront or park views, but it's not enough normally to just live in a building fronting on a waterfront or a park as most such properties have many apartments without views.
This 19-story development was completed in 1952 and converted to a cooperative in 1955 and is a significant contributor to the allure of the Sutton Place neighborhood.
It originally had 363 apartments and now has 357.
It was designed by Arthur Wieser and built by the Paul Tishman Company.
Bottom Line
This is a large, striking building with many angled balconies overlooking a large central garden and glass-enclosed lobby entrance with a curved driveway across a small park overlooking the East River.
Description
There is a very broad curved driveway on Sutton Place with a center island with a modern sculpture.
The white concrete slabs of the balcony floors are strong accents against the red-brick façades and the proportions here are quite fine.
The architect, Arthur Wieser, put balconies facing the courtyard and angled them towards the East River. The two buildings in the development are joined by a glass-enclosed lobby near their midpoints. The building's north and south "slabs" are separated by a large garden courtyard.
"Wieser," noted Robert A. M. Stern, Thomas Mellins and David Fishman in their book, "New York 1960, Architecture And Urbanism Between The Second World War And The Bicentennial," (The Monacelli Press, 1995), "visually broke up the slabs by canting walls of the living rooms and master bedrooms to shelter a terrace and to create a diagonal oriented east, toward the river views, for even the rear-most apartments. This feature, probably derived by Loebl, Schlossman & Bennett's Darien Apartments (1948-1951) on Lake Shore Drive in Chicago, resulted in five-sided bedrooms and living rooms."
The buildings have discrete air-conditioners.
The view from Sutton Place South to the west here is very interesting because of the rakish angles of the courtyard balconies. The building achieves an excellent sense of openness.
In stark contrast, another building that adopted a similar approach, 1025 Fifth Avenue, is far less successful and attractive in part because it is really a sidestreet building with only a midblock entrance frontage on Fifth Avenue and because its façade is a lackluster beige rather than a strong red and, finally, because its design is less inspired.
Amenities
The building has a doorman, a concierge, a gym, a live-in superintendent, a garden, a garage, a large driveway and it permits pets.
Apartments
Apartment 1DS has a 19-foot-long living room, 10-foot-square office, an 18-foot-long windowed dining room and an open 17-foot-long kitchen and a 12-foot-long bedroom on the lower level and a four bedrooms on the second level.
Apartment 14LS is a one-bedroom unit with an 8-foot-wide entry foyer that leads to an 18-foot-long living room adjoining a 9-foot-long, open dining room adjacent to an enclosed 8-foot-long kitchen. The unit has a 55-foot-long terrace with four triangular edges.
Apartment 14EN is a two-bedroom unit that has a 19-foot-long living room with an angled corner window overlooking an 11-foot-long balcony that is also accessed by one of the bedrooms that has an angled window wall. The living room opens onto a corner windowed 15-foot-long dining room that is open to a 10-foot-long kitchen. The 17-foot-long master bedroom has its own triangular balcony.
Apartment 11CDN has a large elliptical entry foyer that leads to a 26-foot-wide living room that flows into a 23-foot-long dining from that opens onto a vestibule that leads to a 14-foot-long enclosed and windowed kitchen. The apartment has four, non-contiguous bedrooms, and two balconies and a curved hallway.
Penthouse 19CS is a duplex with a 17-foot-wide entry foyer that leads to a 22-foot-long living room with a fireplace and a 14-foot-long dining room that opens onto a 26-foot-wide, three-sided terrace. The dining room also leads to an open 13-foot-long kitchen. The upper level has three bedrooms, two of which open onto a 56-foot-long terrace.
Penthouse 1920A is a duplex has a wide entry foyer on the lower level that leads to a 21-foot-long living room with a fireplace that opens onto an open 13-foot-square dining room next to a 20-foot-wide kitchen that leads to an 11-foot-office. The lower level has a 345-square-foot terrace accessed from the living room and the upper level has two bedrooms and a 425-square-foot terrace.
Book a Tour or Get More Information on this Building
401 Buyers
are interested in buying at
60 Sutton Place South!
Interested in Selling?
We'll introduce you to the agents that
specialize in 60 Sutton Place South and are
experts in selling apartments there.

And they'll be able to contact all of the buyers interested in the building.
There's no obligation and your inquiry is confidential.
Call us at (212) 755-5544