The Harrison at 205 West 76th Street: Review and Ratings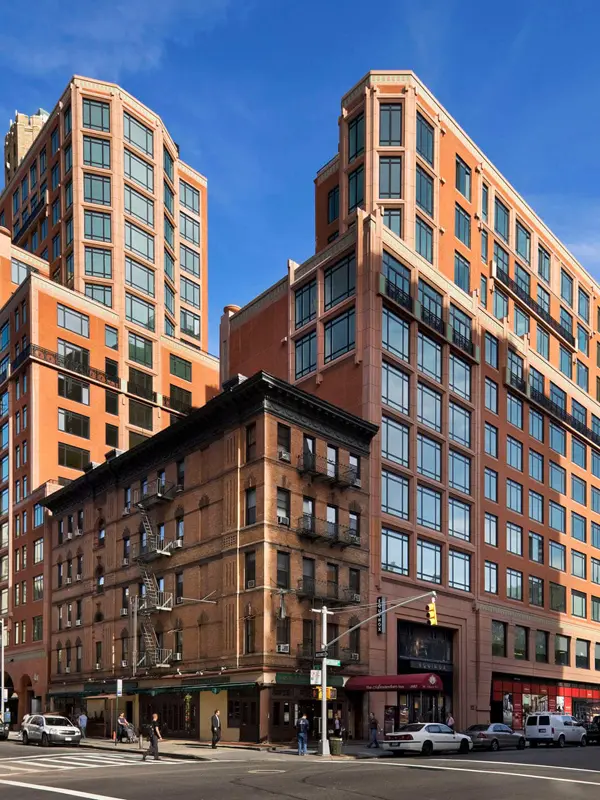 Review of 205 West 76th Street by
Carter Horsley

Carter B. Horsley, a former journalist for The New York Times, The International Herald Tribune and The New York Post. Mr. Horsley is also the editorial director of CityRealty.com.
The handsome Harrison consists of a 19-story building at 205 West 76th Street with 51 apartments and a 14-story building at 202 West 77th Street with 81 apartments.
The residential condominium development was completed in 2009 and designed by Robert A. M. Stern, the nation's pre-eminent Post-Modern architect and the author of a very important five-volume series of books on New York City's architectural history since the gilded age in 1880.
The Related Cos. was the developer of this LEED-certified project.
Bottom Line
This distinguished, mid-block building is a wonderful example of contextual architecture as it created two mid-rise buildings that complement its neighbors rather than one disruptive very tall building and in the process left untouched the attractive low-rise "hold-out" on the northwest corner of 76th Street and Amsterdam Avenue. Its massing and façade treatments are quite original and architect Stern, who designed 15 Central Park West, is no stranger to laying out true luxury apartments.
The building has an impressive, large lobby and houses an Equinox fitness center.
Description
The Harrison's façades are much simpler than what Stern designed at the Brompton at 205 East 85th Street, another Related Cos. "Post-Modern" project completed at about the same time.
Here, at the Harrison, the design is distinguished by its pale orange façades, slanting ground-floor columns, angled ends, large windows, a grand entrance with arched windows, a fireplace and a large entrance marquee that is emblazoned on its edge with the building's name.
Both of the Harrison's buildings share salmon-colored façades with very large windows. Both have bases of equal heights that are rectilinear and setback towers with large angled bays, which do not appear to relate contextually with anything nearby.
Such observations, of course, are not necessarily derogatory, for individuality, unusualness and distinctiveness are urban attributes much admired by many planners. Mr. Stern's application of small bright light green squares on the building's façade is particularly appealing especially when contrasted with the quite vibrant salmon façades.
Amsterdam Avenue for decades was somewhat dreary but in recent years it has become a very, very lively and popular stretch teeming with restaurants and bars from the mid-70s to the mid-80s.
The Harrison elegantly pays Post-Modern homage to such neighborhood bastions as the Riverside Memorial Chapel on the southeast corner of 76th Street and Amsterdam Avenue, across the avenue from the stylish and modern Jewish Community Center designed in 2001 by A. J. Diamond. It also shelters in its bosom the low-rise residential building on the northwest corner at Amsterdam Avenue and improved the neighborhood for the Laureate on the southeast corner at Broadway that would soon follow it with its handsome and lacy balconies.
Stern has added some good and interesting touches to this project, bravura flourishes such as the very large bay windows in a nod to the design tradition of Louis H. Sullivan, and protruding mullions that have extensions.
Perhaps more importantly, rather than give the Upper West Side a monolithic single tower he has divided the project into two parts, which minimizes its impact on the skyline (where two considerably taller towers are within a block). Stern has created a visual sense of mystery for pedestrians who can see two very similar façades on what appear to be completely disconnected buildings looming over what appears to be a classic five-story "hold-out" on the northwest corner of Amsterdam Avenue and 76th Street.
The buildings are joined at the base but from the street they appear as separate structures.
To further confuse things, there is a very large and impressive entrance in the middle of the avenue frontage but it's for the project's health club, which is owned by The Related Companies that built the Harrison.
Amenities
The building has concierge and a doorman, an entertainment lounge with a landscaped outdoor courtyard, a "dinosaur-themed children's playroom" (in honor, no doubt, of the large bones nearby at the American Museum of Natural History), a rooftop sun terrace, a garage, a health club and an event room.
Apartments
Kitchens have mahogany cabinetry, cream polished granite countertops, marble backsplashes and grey stone flooring as well as "state-of-the-art" appliances with fully-integrated wood-paneled refrigerators and dishwashers.
Master baths are clad in white marble with polished marble floors with patterned stone borders.
Apartment 303 is a three-bedroom apartment with a 29-foot living/dining area with an alcove adjacent to a pass-through kitchen. It has a 35-foot-long terrace that is reached through the living room and two of the bedrooms.
Apartment 4H1 is a two-bedroom unit that an 11-foot-long foyer that leads to a 22-foot-long living/dining area with a wide terrace, an enclosed kitchen and master bedroom with a large terrace.
Apartment 4GH has four-bedroom unit with a 20-foot-long foyer that leads to a 26-foot-long living/dining area with an enclosed kitchen and a very long narrow terrace with five doors. The master bedroom also has its own terrace.
Penthouse 4BN is a three-bedroom unit with an eat-in kitchen and a 25-foot-long "great" room with large windows on four sides.
Penthouse1F is a three-bedroom unit with a 30-foot-long great room with windows on five sides and a large terrace.
History
Part of this site was formerly a mid-rise-building that housed the stables for the famous Dakota apartment building at 1 West 72nd Street.
Mr. Stern is the nation's pre-eminent Post-Modern architect as well as being the dean of the School of Architecture at Yale University and an author of the greatest books on New York City architecture, a gigantic, five-volume series that traces and illustrates the growth and changes of the city from the 1880s to the present.
Over the past couple of decades, The Related Companies has become one of the city's most active developers and so it is a bit puzzling that they could not buy the "hold-out" property on the northwest corner of 76th Street and Amsterdam Avenue, but perhaps they were impatient and eager to get on with building this project so they could move on to bigger things such as the Hudson Yards project.
Location
The Harrison has a very central Upper West Side location, around the corner from the Beacon Theater, one of the city's premier concert venues, and only a few blocks away from the great Ansonia and Apthorp apartment buildings. It's also not far from the 72nd Street subway station on Broadway.
Book a Tour or Get More Information on this Building
148 Buyers
are interested in buying at
205 West 76th Street!
Interested in Selling?
We'll introduce you to the agents that
specialize in 205 West 76th Street and are
experts in selling apartments there.

And they'll be able to contact all of the buyers interested in the building.
There's no obligation and your inquiry is confidential.
Call us at (212) 755-5544