241 Central Park West: Review and Ratings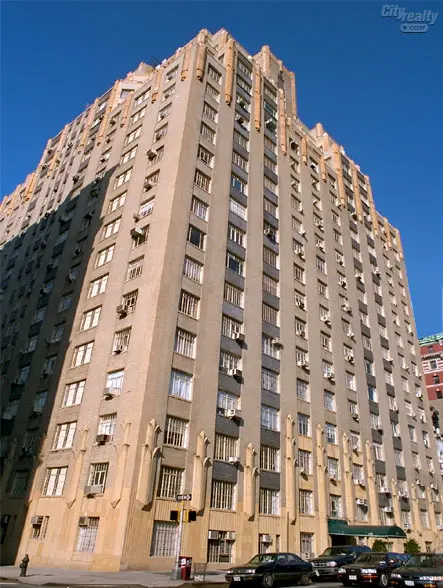 Review of 241 Central Park West by
Carter Horsley
This impressive, Art Deco-style, 19-story apartment building at 241 Central Park West on the north corner at 84th Street was designed by Schwartz & Gross, one of the more prolific of the pre-war Upper West Side architectural firms.
The building has 139 rental apartments and was erected in 1930, two years before the opening of the boulevard's IND subway.
It has protruding vertical piers and some setbacks and is similar to 55 Central Park West, also by Schwartz & Gross.
In his fine, July 11, 1999 "Streetscapes" column in The New York Times, Christopher Gray noted that 55 Central Park West was "the first full-blown Art Deco building on the thoroughfare."
The architects, he continued, "were working for Victor Earle and John C. Calhoun, who had been active on the Upper West Side since the 1910s," adding that Victor Earle and his brother, Guyon, developed a dropped living room design that distinguished the interiors from others of the time
It was erected for the 65 Central Park West Corporation represented by Earle & Calhoun. It was acquired in 1945 by the Rudin family.
The site was formerly occupied by eight rowhouses.
The building is also known as 1-5 West 84th Street.
It is a block south of a subway station and a traverse road through Central Park, which it overlooks.
Bottom Line
With its very pronounced floral vertical elements around its base and its top enclosing its simple shaft, this Art Deco apartment house is rather startling and bold and a rare instance where its protruding air-conditioners provide some welcomed texture.
Description
The building has numerous setbacks at its top all with protruding vertical floral elements that also appear at its base but break free at the top where they become strong finials. The vertical elements, which also liken cornstalks, rise from a one-story base that has closely packed vertical incisions.
The shafts of the building have dark spandrels in some piers to break up its mass.
In his fine book, "Upper West Side Story," Peter Selwen notes that "the yellow brick Art Deco façade of 241 Central Park West…would have occupied the whole block, but nearby row-house owners wouldn't sell their property....The 1930 building is distinguished by the handsome buff brickwork and the vaguely floral motif (tulips? cornstalks?) of the buttresses."
The building has a canopied entrance and no sidewalk landscaping.
Amenities
The building has a full-time doorman and protruding air-conditioners. The building is pet-friendly.
Apartments
Many of the apartments have sunken living rooms and some have wood-burning fireplaces and high ceilings.
A two-bedroom unit has a 20-foot-wide entry foyer with a 1-step-down, 25-foot-long living room overlooking Central Park and a 22-foot-long dining room with an enclosed and windowed 22-foot-long narrow kitchen that leads to an 11-foot-long staff room.
Apartment 3F is a two-bedroom unit with 1,000-square feet and an entry hall that has an attractive iron railing with two curved steps descending into the living room where there is a decorative fireplace.
A two-bedroom layout has a 14-foot-wide entry foyer overlooking the 23-foot-long living room. The unit has a 9-foot-long, enclosed and windowed kitchen on the same level as the foyer.