The San Remo at 145 Central Park West: Review and Ratings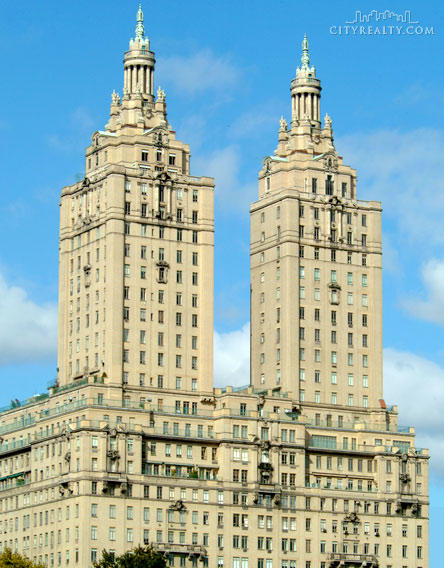 Review of 145 Central Park West by
Carter Horsley

Carter B. Horsley, a former journalist for The New York Times, The International Herald Tribune and The New York Post. Mr. Horsley is also the editorial director of CityRealty.com.
One of the city's, and the world's, greatest residential skyscrapers, the San Remo at 145 Central Park West is the city's most beautiful apartment building and one of its most prestigious addresses.
Like the Beresford a few blocks north on Central Park West, the twin-towered San Remo is one of the masterpieces of architect Emery Roth, whose firm, Emery Roth & Sons, would subsequently design more office buildings in the city than any other firm.
The 27-story-high building has 136 cooperative apartments and was completed in 1930.
Bottom Line
The most elegant of Central Park West's extremely impressive roster of multi-towered residential buildings.
Description
In his excellent book, "Mansions in the Clouds, The Skyscraper Palazzi of Emery Roth," 1986, Balsam Press Inc., Steven Ruttenbaum noted that "the San Remo's two towers convey a lyrical, uplifting feeling, similar to the religious aura of a medieval cathedral," adding that "the circular temples at each top, which were inspired by the ancient Greek Choragic Monument of Lysicrates that Roth had studied at the Chicago world's fair, reinforce those spiritual connotations."
"For a certain upwardly mobile section of the population, there is no mistaking the message written on these walls of buff brick and terracotta: What lies within are sumptuous quarters for those who aspire to live like old-world nobility in new-world, high-rise glamour," Ruttenbaum observed.
The three-story base of the block-long building is faced with limestone and while the overall appearance of the building is a harking back to classical themes, the entrances and lobbies have some Art Deco motifs.
The brick-and-terracotta façades of the rest of the building are nicely modulated with a great sense of rhythm and finesse. The towers, for example, have no corner windows, but protruding piers that reinforce the sense of monumentality. The transition from the 17-story base to the towers, furthermore, is achieved with setbacks and terraces that provide visual interest but not so much as to distract from the overall composition.
What truly distinguishes the 400-foot-high towers from the other twin-towered silhouettes on Central Park West is the transition of the rectilinear towers "into circular, Roman-style temples ringed by Corinthian columns 16 feet high and by urns and finials that measure 8 feet," Ruttenbaum observed.
The "temples" are topped with copper finials containing bright beacons, one of which titled and had to be repaired in the 1970s.
Like the Beresford, the San Remo is actually a U-shaped structure despite its appearance from the street, as a courtyard is carved out of its west side.
Amenities
The building has a full-time doorman, a health club, a community room, storage room, and a laundry.
Apartments
Some units have fireplaces and many have very large entrance galleries and very generous room sizes.
An April 17, 2015 article by Robin Finn at nytimes.com reported that Demi Moore, the actress was asking $75 million for her triplex penthouse apartment in the south tower and a two-bedroom maisonette. She bought the penthouse in 1990 with her former husband, Bruce Willis, from Robert Stigwood, the producer of "Saturday Night Fever," the movie. The penthouse has about 7,000 square feet of interior space and about 1,500 square feet of terraces. In an e-mail, the actress recalled that "we looked at everything on the park, Fifth Avenue, Central Park South and Central Park West, and there was just nothing like it." The penthouse has 14 rooms, the article continued, "not counting bathrooms and nooks and crannies." The media room on the 28th floor, the article noted, has 16-foot ceilings.
Apartment 10B has a 26-foot-wide entry foyer that leads to a 26-foot-long living room to the south and a 12-foot-long dining room adjacent to a 9-foot-long library to the north. The two-bedroom unit has a 10-foot-long office, an 11-foot-long eat-in kitchen and a 11-foot-long maid's room.
Apartment 13B, a two-bedroom unit, has a 27-foot-long entry foyer that leads to a 28-foot-long living room next to a 22-foot-long bedroom. The gallery also leads to a 22-foot-long dining room next to a 10-foot-long kitchen and an 11-foot-long servants' room.
Apartment 12E has three-bedrooms facing Central Park has a 22-foot-long gallery that leads to a 29-foot-long corner living room with fireplace adjacent to a 21-foot-long library. The gallery also leads to a 27-foot-long dining room next to a large pantry and a 20-foot-long kitchen. The apartment also has three maid's rooms.
Apartment 21C, another three-bedroom unit, has a 12-foot entry foyer that leads to a 21-foot-long living room that opens onto a 20-foot-long dining room off a long corridor to a 23-foot-long eat-in kitchen and a 9-foot-long butler's pantry. The apartment also has a 14-foot-long library overlooking Central Park.
Apartment 4G, a two-bedroom unit, has a 22-foot-long gallery that leads to a 27-foot-long great room with a fireplace, a 19-foot-long library adjacent to a 9-foot-long sun room that also opens onto a 17-foot-long dining room next to a 18-foot-long kitchen.
Penthouse 19C is a three-bedroom apartment has a 17-foot-long gallery that leads to a 21-foot-square living room that opens onto a 17-foot-long dining room that is connected via a long corridor to a 22-foot-long eat-in kitchen with a breakfast room, study and a 22-foot-long balcony that steps down to a 55-foot-long northeast terrace, a 46-foot-long south terrace and a 16-foot-long northwest terrace.
Apartment 25E is a two-bedroom tower unit that has a 12-foot-long entry foyer with views of Central Park that leads to a 23-foot-long living room to the north and a 22-foot-long dining room to the south that is connected by a 20-foot-long pantry to a 24-foot-long kitchen and office.
History
The San Remo replaced a 10-story hotel of the same name on the site that had two pyramid towers.
Emery Roth's design for dividing the top of this building into two 10-story towers was the first such scheme in the city and was quickly copied by three other twin-towered buildings on Central Park West, the Century, the Majestic and the El Dorado.
Construction began on the San Remo in 1929 as the Beresford was being completed. That year the city enacted its Multiple Dwelling Act and that law allowed residential buildings of great height than previously permitted in exchange for larger courts and yards.
Roth's design met with the new law's requirements that towers not exceed 20 percent of the site and be setback 70 feet on all sides.
His twin-towered solution created more apartments with more light and air and also reduced space lost to long elevator corridors.
The windows were an innovative design as the top transom swings out and the lower transom swings in, an attempt to improve ventilation.
With its better views of midtown, the south tower was considered more desirable and was built with duplex apartments while those in the north tower were single-floor units.
Despite their famous appearance from Central Park, the towers are not symmetrical and bulge a bit on the west frontage.
Book a Tour or Get More Information on this Building
3,378 Buyers
are interested in buying at
145 Central Park West!
Interested in Selling?
We'll introduce you to the agents that
specialize in 145 Central Park West and are
experts in selling apartments there.

And they'll be able to contact all of the buyers interested in the building.
There's no obligation and your inquiry is confidential.
Call us at (212) 755-5544