Brooklyn Point, 138 Willoughby Street: Review and Ratings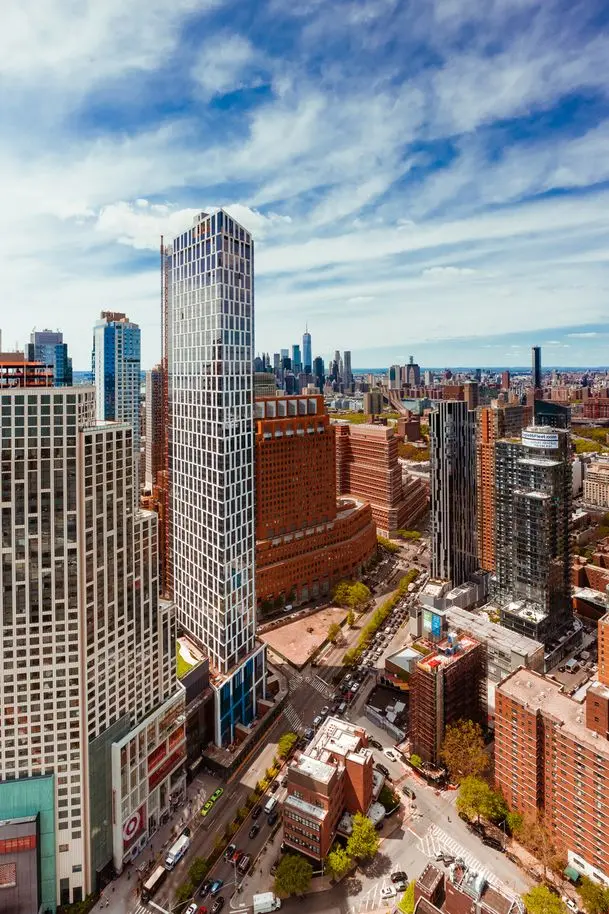 Review of 138 Willoughby Street by
Carter Horsley
This prominent, 68-story tower at 136 Willoughby Street in Downtown Brooklyn has 458 apartments and is the tallest building, briefly, in the borough when it is completed in 2020.
It was developed by the Extell Development Company, headed by Gary Barnett, which built One 57th Street across from Carnegie Hall in Manhattan, the city's first SuperTall mixed-use tower, and is building Central Park Tower, which will become the city's tallest SuperTall when it is completed in 2020 on 57th Street near Columbus Circle.
This building as designed by Kohn Pedersen Fox, the architect of the beautiful One Wacker Driver in Chicago and the 1,401-foot-high One Vanderbilt just to the west of Grand Central Terminal on 42nd Street.
Katherine Newman Designs is the building's interior designer. Mathews Nielsen Landscape Architects designed the rooftop facilities.
The building has a 25-year tax abatement in exchange for which the developer is contributing to the creation of 200 "afforable" housing units nearby.
It is part of the City Point development that also includes two other residential towers in a 1.8-million-square-foot, mixed-use project with retailers such as Target and Century 21.
BFC Partners developed a 250-unit building with market-rate and affordable housing, and, next to it, the Brodsky Organization, in its first Brooklyn project, is put up a complex that will have 440 market-rate apartments.
According to a February 23, 2018 article by Stefanos Chen in The New York Times, Brooklyn point "anticipates total sales of about $901 million, according to paperwork filed with New York State."
According to a February 16, 2018 article by Kim Velsey in The New York Times, residents in the tower "will have access to the highest rooftop pool in the Western Hemisphere, outdoor showers and a stargazing observatory," but "Ari Alowan Goldstein, a senior vice president of development for the company, considers Willoughby Square, the one-acre park the city is building across the street as part of the Downtown Brooklyn Redevelopment Plan, to be on part with those perks."
Bottom Line
The tallest of three residential towers at City Point, this attractive building with many amenities including a roof-top infinity pool rises dramatically without setbacks from a slightly broader, four story retail base on a very prominent site in Downtown Brooklyn.
Description
A February 15, 2018 article by Ondel Hylton at cityrealty.com noted that "public face" of "The muscular yet lithe design" is distinguished by a checkered façade of full-height windows, beveled window surround, and an angled roofline that will be a standout in Brooklyn's flat-topped skyline."
The 720-foot-high tower will have an angled roof, part of which will have an outdoor infinity pool.
Amenities
The building has a concierge and a doorman, a rooftop infinity pool that is the highest in the Western Hemisphere, a squash and basketball court, a fitness center with rock climbing, cycling, yoga, hot tub, a landscaping terrace, a putting green, a children's play area, a forest adventure area, a chef's kitchen, a wine cellar, bicycle storage, personal storage, a package room a dry-cleaning valet and a screening and performance room.
Apartments
Residents have a choice of light or dark palettes for cabinetry in the kitchens that have white quartz countertops and Miele appliances.
Master bathrooms have double-sink vanities with open space at part of their bottom for storing towels. Some of the walls are tiled with floorplans and the bathrooms also have radiant heated floors and master suites have walk-in closets.
Apartment 52F is a three-bedroom unit with 1,487 square feet of space and an entry by its open, 11-foot-long kitchen that leads to a 34-foot-long living/dining room and a 16-foot-long gallery.
Apartment 52D is a three-bedroom with 1,454 square feet of space and an 11-foot-wide entry foyer that leads to an angled, 16-foot-wide living room and an angled, 16-foot-wide, eat-in, open kitchen.
Apartment 61C is a two-bedroom unit with 1,142 square feet and an 8-foot-long, entry foyer that leads to a 12-foot-long, eat-in, open kitchen and a 12-foot-long living room.
Apartment 67A is a two-bedroom unit with 1,181 square feet of space and a 10-foot-wide entry foyer that leads to a 28-foot-wide living room, 15-foot-long dining room with corner windows and an 11-foot-long open kitchen with a breakfast bar.
Apartment 38J is a one-bedroom unit with 792 square feet and a 9-foot-long entry foyer next to an open, 9-foot-long kitchen near a 19-foot-long living room.
Apartment 62G is a one-bedroom apartment with 740 square feet and a 10-foot-long entry foyer that leads to a 20-foot-long living/dining room with an open kitchen.
History
A June 2. 2015 article by C. J. Hughes in The New York Times noted that Extell bought the last development site on city-owned land at the City Point development in May, 2015 for $120 million from Washington Square Partners and Acadia Realty Trust.
"Conceived last decade," the article said, "City Point, which is being financed mostly with private money, has been slow to take shape. During the recession, the California Public Employees' Retirement System withdrew its backing from the project, for instance. The design of the mall part changed along the way, too. Initially, it was imagined for big-box stores, according to project officials, and had many solid walls and a blocky shape, like the Albee Square Mall, a 1980 version that used to stand on the block and that was razed in 2007.
"Determined not to repeat the mistakes of the past, despite replacing one mall with another, Washington Square and Acadia chose a more open design from the CookFox architecture firm....City Point, a major development in Downtown Brooklyn, is offering touches that seem to cater to Brooklyn's homespun, forward-thinking spirit: a movie theater that serves beer. A reinvented shopping mall. A food hall for start-up restaurateurs.
"Extell, which will technically be leasing the property, with an option to buy a few decades down the road, must also construct a four-level, 60,000-square-foot shopping center, which Washington Square and Acadia will own.
"The below-grade concourse level at the site, which is bordered by the Flatbush Avenue Extension, Gold Street, DeKalb Avenue, Willoughby Street and Fleet Street, will mostly be dedicated to dining....
"Once packed with theaters, restaurants and a range of stores, Downtown Brooklyn saw its fortunes turn in the mid-20th century along with much of the rest of the borough. And the area, which contains a crossroads of subway lines and major streets, near the Brooklyn and Manhattan Bridges, has been the subject of intersecting ideas about revitalization ever since.
"In the late 1980s, an eight-block stretch of Fulton Street widened its sidewalks and banned car traffic in an effort to draw more shoppers. Also in the 1980s, the area welcomed MetroTech Center, a sprawling multi-building office and classroom complex that attracted back-office jobs for Manhattan banks.
"After a 2004 rezoning that permitted taller buildings in the area, residential developers swarmed."
Book a Tour or Get More Information on this Building
4,675 Buyers
are interested in buying at
138 Willoughby Street!
Interested in Selling?
We'll introduce you to the agents that
specialize in 138 Willoughby Street and are
experts in selling apartments there.

And they'll be able to contact all of the buyers interested in the building.
There's no obligation and your inquiry is confidential.
Call us at (212) 755-5544