18 Gramercy Park South: Review and Ratings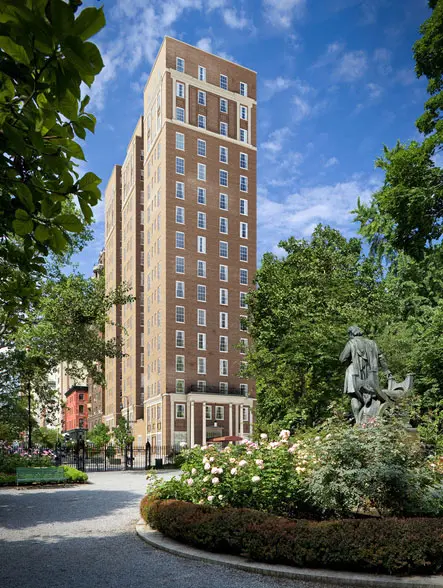 Review of 18 Gramercy Park South by
Carter Horsley

Carter B. Horsley, a former journalist for The New York Times, The International Herald Tribune and The New York Post. Mr. Horsley is also the editorial director of CityRealty.com.
The conversion in 2013 of this former women's residence building at 18 Gramercy Park South on the southwest corner at Irving Place with rooms for 300 residents resulted in a luxury residential condominium building with apartments for 16 families.
William Lie Zeckendorf and Arthur Zeckendorf, his brother, and Eyal Ofer of Global Holdings were the developers.
Robert A. M. Stern, who designed 15 Central Park West for the Zeckendorfs, was the architect. An August 2, 2013 article in The New York Times by Robin Finn noted that while this building "may be far smaller, but it does convey ownership of a coveted key that unlocks the gates to Manhattan's only private park," adding that "the billionaires who inhabit 15 Central Park West must share their park with the rest of the city."
The attractive, 17-story building was formerly known as the Parkside Evangeline Women's Residence and was sold to the developers in 2007 for about $60 million by the Salvation Army, which reportedly took back at $40 million mortgage.
The building was erected in 1927 and became a dormitory-like residence for young women in 1963. It closed in 2008.
Bottom Line
Another smashing success for the Zeckendorf/Stern team with large apartments overlooking Manhattan's only private, and very charming, park with good public transportation and many nearby restaurants.
Description
The red-brick building has a two-story portico with thin white columns facing the park and two deep light wells above the first floor along Irving Place.
It has a large, wood-paneled lobby with gilt fluted pilasters, a fireplace and a concierge desk and a spa and fitness center.
Apartment window sills are marble.
Amenities
The building has a concierge and a fitness center, but no roof deck and no garage.
Apartments
The building has 14 full-floor apartments, a maisonette with its own entrance on Irving Place, and duplex penthouse.
The five-bedroom penthouse has 6,300 square feet of space and four terraces with a total of almost 2,000 square feet with a heated infinity pool on one level and a whirlpool on another.
The full-floor apartments have more than 4,200 square feet with key-locked elevator access. Living rooms face the park and the apartments have formal dining rooms, eat-in kitchens and family rooms. Floors are of rift and quartered white oak and the walls and ceilings are hand-troweled. On floors three through 6, the four-bedroom units have 15-foot-long entry foyers that lead to 35-foot-long galleries that open onto a 37-foot-long living room, a 17-foot-long family room, the kitchen and a 13-foot-long dining room.
Kitchens have cabinetry by Smallbone of Devizes.
The master bathroom has a Gris Souris marble slab shower and a Calacatta Caldia marble slab steam showers. The other three bedrooms has Kohler Tea-for-two bathtubs.
History
A November 1, 2006 article by Lauren Elkies at therealdeal.com said that the building, which provided about 300 residents with their rooms and two meals a day for under $300 a week, was up for sale "for more than $100 million."
Maid service was also included and the building had a key to the park that residents could use for an hour.
A September 12, 2013 article by Josh Barbanel in The Wall Street Journal reported that "Leslie Alexander, owner of the Houston Rockets basketball team, has paid $42 million "for the building's penthouse, adding that the purchase "represents the highest sale price in downtown Manhattan according to city records."
The article said that Mr. Alexander was "a former Wall Street trade who was born in the Bronx" and had told The Journal that "this beautiful building really is the core of he city."
The building is within the Gramercy Park Historic District and residents of buildings directly fronting on the private park have keys to gain access to it.
"The Parkside was designed to enshroud new arrivals in a safe, vaguely Christian environment until they married or moved on," Steven Kurutz wrote in a September 25, 2005 article in The New York Times.
"Amenities included a rooftop garden, a sewing room and an in-house social group called the Parkside Club. A brassy Southerner named Opal Pierce ran the front desk. Even as the early 60's gave way to the 'Sixties,' an Eisenhower-era atmosphere pervaded. Though the residents were grown women, alcohol was forbidden, and the policy on male visitors was only slightly more lenient: they were allowed on the ground floor but not beyond.
"The rooms at the Parkside are very, very small, about the size of the space in which a woman living in a Park Avenue penthouse might keep her shoes. Some doubles exist, but most units are 100-square-foot singles with modest wood furnishings: a bed, a dresser, a desk. There is a rumor that when the Salvation Army bought the place, which was formerly a hotel, it halved the old rooms and turned the closet of each new room into a bathroom," the article said.
In their great book, "New York 1930, Architecture and Urbanism Between The Two World Wars," (Rizzoli International Publications, 1987), Robert A. M. Stern, Gregory Gilmartin and Thomas Mellins provided the following commentary about the former Barbizon Hotel on the southeast corner of 63rd Street and Lexington Avenue:
"Murgatroyd & Ogden, whose women's club residence at 18 Gramercy Park South of 1927 had been a chaste of overblown Adam-style Georgian building, returned to the Italianesque in their romantically massed and detailed, tawny-colored 1927 Barbizon club residence for women."
Book a Tour or Get More Information on this Building
210 Buyers
are interested in buying at
18 Gramercy Park South!
Interested in Selling?
We'll introduce you to the agents that
specialize in 18 Gramercy Park South and are
experts in selling apartments there.

And they'll be able to contact all of the buyers interested in the building.
There's no obligation and your inquiry is confidential.
Call us at (212) 755-5544