Manhattan House at 200 East 66th Street: Review and Ratings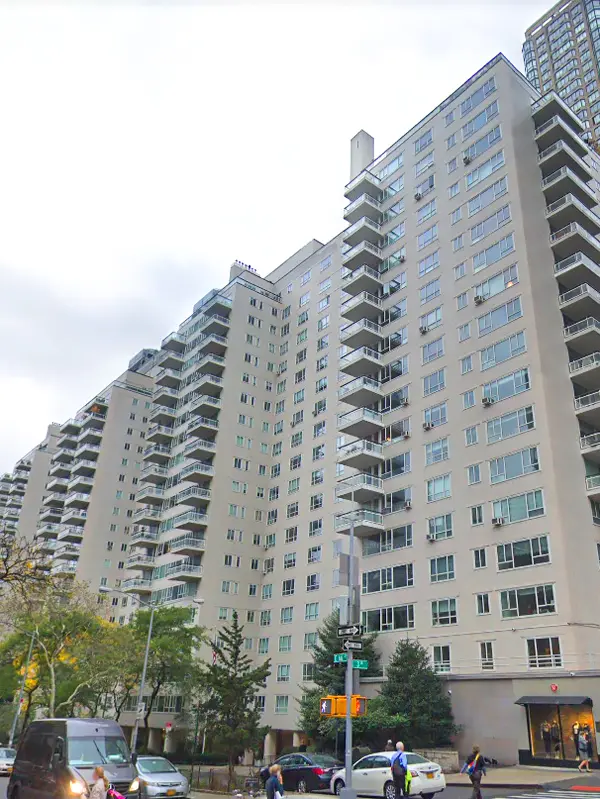 Review of 200 East 66th Street by
Carter Horsley

Carter B. Horsley, a former journalist for The New York Times, The International Herald Tribune and The New York Post. Mr. Horsley is also the editorial director of CityRealty.com.
Manhattan House, one of the most influential post-war buildings in New York City, marked the beginning of the age of "white-brick monstrosities" in the eyes of some observers and the first big splash of International Style modernity in the city to others.
The mammoth development, which occupies the full block between Third and Second Avenues and 65th and 66th Streets, actually is clad in a light gray-brick, but niceties aside it presented a "clean," "neat," almost Spartan appearance in distinct contrast to the historical styles of earlier periods and the Art Deco stylizations of the 1920s and 1930s.
Manhattan House at 200 East 66th Street is a 19-story building with 581 apartments, many with balconies and some with fireplaces. A rental when it opened in 1950, in 2007, the year that the building was named a landmark by the city, new owners began its conversion to condominium apartments, a process that was completed in 2010.
Bottom Line
The quintessential, post-war, "modern," full-service apartment building featuring lush and very large and serene gardens and sidewalk landscaping, a see-through lobby and many balconies in a central Upper East Side location.
Description
The building, which covers about 40 percent of its site, is a modified H-plan with five short wings extending from a continuous spine.
The developer negotiated with the city to widen 66th Street and by conveying a 40-foot-wide strip of land along the north edge of the block to the city, two additional lanes of traffic were created. The land between the lanes was planted with trees and this arrangement not only allowed the separation of the local and through traffic but also permitted the building to be taller because street width determined the height of buildings that adjoin it.
The building's balconies are above the sixth floor and they were among the first in the city to cantilever without any visible means of support.
The building has five projecting bays, each with two balconies, and its entrances are along a curved driveway on 66th Street. There are several entrances along the driveway, which is lushly landscaped, and the lobbies have floor-to-ceiling windows that permit views from the driveway through to the development's large gardens on the south side that are walled from 65th Street.
Amenities
The building has a roof deck, a library and lounge, a spa and a yoga studio.
Additional services and amenities include: 24 hour doormen, a full-time residence manager, on-site valet parking services, the Rooftop Manhattan Club offering 10,000 square feet of interior and exterior entertainment space, Mind Body Spa & Fitness club, a yoga studio, a children's playroom designed by Roto Architects, bicycle storage and five star hotel concierge service.
The building is located on two-way, tree-lined street and has two porte-cochère entrances that lead into the grandly proportioned glass-enclosed lobby overlooking one of the largest private gardens in the city.
Apartments
There are almost 200 different apartment layouts but most units are no bigger than two-bedrooms and could be combined into larger apartments.
One three-bedroom apartment has a very large living and dining room area with a fireplace and a small third bedroom tucked behind the kitchen.
Another three-bedroom unit has an extremely large living and dining area off a very large foyer and it has a very large kitchen with a servant's bedroom and a three-sided, 1,407- square-foot terrace.
Another three-bedroom apartment has a very large living and dining area with a small balcony and an extremely large master-bedroom with a sitting area with a small balcony.
Most apartments have enclosed kitchens but one three-bedroom unit has a kitchen that opens onto a very large living room with balcony and also has a master bedroom with a balcony.
History
The Manhattan House site had formerly been used to store horse cars and trolleys in a building that had been expanded by Henry J. Hardenberg, the architect of the Plaza Hotel, in the 1890s in the Italianate style.
New York Life acquired the land for Manhattan House for about $1.6 million at public auction in November, 1946, about six months after establishing its rental housing division.
While the Second Avenue elevated railway had been taken down in the 1930s, the Third Avenue elevated railway was not taken down until 1955 and the area around Manhattan House had not been considered prime when it was built.
Designed by Skidmore, Owings & Merrill and Mayers & Whittlesley, Manhattan House was built in 1950 and according to Gordon Bunshaft of S.O.M., it was Mayer & Whittlesley that convinced New York Life to bid on the site. That firm had been founded in 1935 by Albert Mayer and Julian Hill Whittlesley. Mayer was a member of the Regional Planning Association and founded, with architect Henry Wright and critic Lewis Mumford, the Housing Study Guild, that led to the establishing of the United States Housing Authority in 1937. The firm was later known under various names when M. Milton Glass, William J. Conklin and James S. Rossant became partners.
To protect its investment, the developer, the New York Life Insurance Company, bought the row of tenement buildings on the north side of 66th Street and renovated their interiors and painted their façades dark gray with white trim to be more compatible with Manhattan House. It also built a low-rise commercial building to house the handsome Beekman movie theater at 1254 Second Avenue across from Manhattan House that was closed in the early years of this millennium.
New York Life also acquired the block just to the south of Manhattan House for which it planned a large parking garage topped by a public park with 300 of its 1,400 parking spaces to be reserved for the residents of Manhattan House. The plans for this block, however, were shelved.
According to Robert A. M. Stern, Thomas Mellins and David Fishman in their superb book, "New York 1960 Architecture and Urbanism Between The Second World War And The Bicentennial," this development was "the most literal manisfestation in New York of Le Corbusier's postwar conception of vertical living, which the master himself was not to realize until 1952 in his Unite d'Habitation at Marseilles." The authors argued that the building was "a genteel manifesto for architecture's brave new world, a reassuring statement that Modernist minimalism had more than cost benefits."
The building originally had about 60 maid's rooms, including 50 in the apartments, and 10 grouped together in a central suite.
Gordon Bunshaft, the principal architect with Skidmore, Owings & Merrill for the project, took an apartment for himself at Manhattan House and at one time Grace Kelly, the actress, also rented an apartment, as did Benny Goodman.
In 2005, New York Life Insurance Company sold the property to Manchester Real Estate, of which N. Richard Kalikow and Jeremiah W. O'Connor Jr. were principals, for about $625 million.
On October 30, 2007, the Landmarks Preservation Commission declared the building a landmark.
Book a Tour or Get More Information on this Building
1,627 Buyers
are interested in buying at
200 East 66th Street!
Interested in Selling?
We'll introduce you to the agents that
specialize in 200 East 66th Street and are
experts in selling apartments there.

And they'll be able to contact all of the buyers interested in the building.
There's no obligation and your inquiry is confidential.
Call us at (212) 755-5544