Durst Fetner Residential took title December 21 to the mostly-vacant development parcel at 855 Sixth Avenue where real estate investors Yitzchak Tessler, Meyer Chetrit and Jacob Chetrit sought to build a 355,000-square-foot tower before the economic downturn disrupted their plans, according to an article by Adam Pincus today at therealdeal.com.

Durst Fetner, a partnership between the Durst Organization and Hal Fetner, acquired the seven-parcel site that has about 378,000 square feet of development rights, after lender iStar Financial initiated foreclosure proceedings in November 2008 against property owner 855 Realty Owner, as well as Tessler and the Chetrits individually.

Durst Fetner now controls seven of the eight parcels of the large site on the west side of Sixth Avenue between 31st and 32nd streets.

It had been reported in July that Durst Fetner bought the note with a face value of $104 million for an undisclosed amount.

The parcel has been the subject of complex litigation going back at least four years, court records show, the article said, adding that the site is between two newly constructed high-rises - the 54-story tower that includes the residential Beatrice and the hotel Eventi on 29th Street and a 47-story mixed-use building at 885 Sixth Avenue - that are part of a transformation of the area immediately south of Herald Square.

"The litigation began," the article said, "after owner and developer Baruch Singer and a group of real estate investors bought six of the seven parcels on the site for $117 million in February 2006, from two different owners. Almost immediately, several investors who claimed they had agreed to partner with Singer and others to buy the site, accused him and his other partners in an April 2006 lawsuit filed in New York State Supreme Court of improperly shutting them out of an opportunity to buy the property. An agreement related to this case was filed Dec. 21 with the court, but since it was sealed the contents were not known, court records show."

"Just over a year later," the article continued, "in March 2007, Singer's group sold the assembled plot to Tessler and the Chetrits for $140 million, city records show. At the same time, to enlarge the footprint and bulk of the development, Tessler Development signed a contract to buy 112 West 31st Street and in October 2007 a contract to buy 110 West 31st Street, from separate owners. In January 2008, Tessler and partners closed on the acquisition of 112 West 31st Street for $12.3 million. However, Tessler and the Chetrits never closed on the purchase of 110 West 31st Street, a narrow 25-foot wide, four-story commercial building. Both buildings remain standing today."

In December, 2007, Tessler Development unveiled plans for the site by Costas Kondylis, shown at the right, that indicated the tower, which is on the southeast corner at 32nd Street overlooking Greeley Square, would have an unusual form with a setback tower rising

from a low-rise retail base that cantilevers slightly on its south facade and has a setback on its east facade that also has a narrow northern section that angles outward and then inward.

The building would have 35 stories with a garage and office space on floors 3 through 16 and almost 200 apartments.

The article did not indicate if Durst Fetner planned to use the Kondylis design.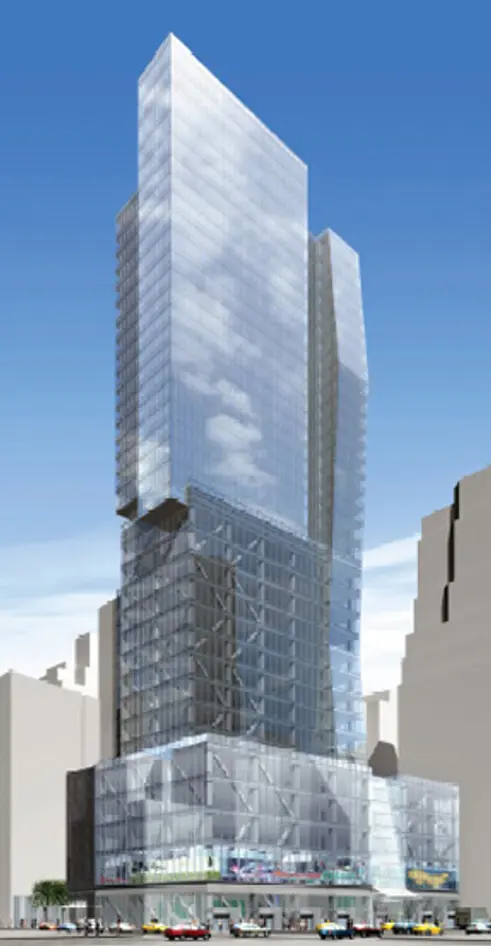 Additional Info About the Building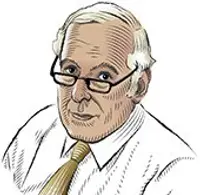 Architecture Critic
Carter Horsley
Since 1997, Carter B. Horsley has been the editorial director of CityRealty. He began his journalistic career at The New York Times in 1961 where he spent 26 years as a reporter specializing in real estate & architectural news. In 1987, he became the architecture critic and real estate editor of The New York Post.