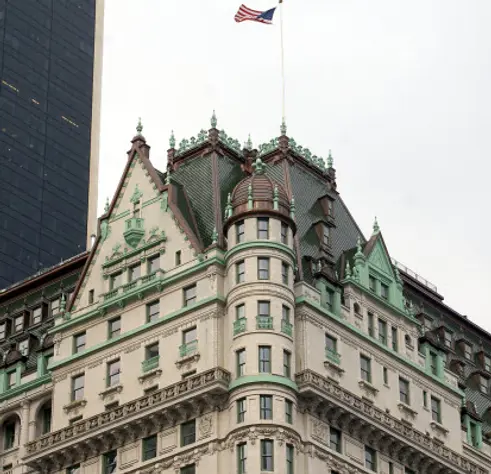 Tall and slender, finials are employed in architecture to add drama to the edges or tops of buildings. Imagine a spear sticking straight up out of the ground, or an uncarved totem pole, or even a periscope without a twist at the top. They are the exclamation points of architecture!
According to an entry in the online encyclopedia Wikipedia.com, "an architectural finial can also function as a lightning rod, and was once believed to act as a deterrent to witches on broomsticks."
While they proliferate on many churches, finials are less common on commercial and residential buildings.
Perhaps the most visible finials in the city are at the base of the pyramidal crown of the great Woolworth Building at 233 Broadway, which was designed by Cass Gilbert.
Equally prominent is the recently restored Plaza Hotel in Midtown, which positively bristles with pointy finials, especially atop its many small dormer windows and other facade elements.
The twin towers of the El Dorado apartment building at 300 Central Park West, designed by Margon & Holder and Emery Roth, were originally intended to be painted gold, with their jagged stepped form conjuring the jolting shocks of lighting bolts.
Another fabled Central Park West apartment building, the Dakota at 1 W. 72nd St., has some finials, but they are less prominent. Not all finials are slim. The corners of the roof of 14 E. 75th St., an apartment building on the southwest corner of Madison Avenue, have large, thick finials. The 12-story structure was designed in 1929 with neo-medieval flourishes by Schwartz & Gross, one of the city's most active designers of prewar apartment buildings. The brown brick building is notable also for its many tall and large, multipaned windows.
Finials, of course, have not been limited to building exteriors, and can be found as decorative elements atop bedposts, lampshades, the ends of curtain rods, and even antique secretaries and highboys. In more modern times, a new flurry of finials has been spotted in the form of spires atop such new construction as the New York Times building on the southeast corner of 41st Street and Eighth Avenue and the One Bryant Park tower on the northwest corner of 42nd Street and Sixth Avenue.
This article was previously published by the New York Sun.
www.nysun.com/real-estate/keeping-the-witches-at-bay/74500/
Schedule an Appointment
To tour any of these properties, just complete the information below.
Or call us at (212) 755-5544
Additional Info About the Building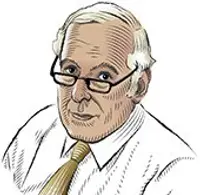 Architecture Critic
Carter Horsley
Since 1997, Carter B. Horsley has been the editorial director of CityRealty. He began his journalistic career at The New York Times in 1961 where he spent 26 years as a reporter specializing in real estate & architectural news. In 1987, he became the architecture critic and real estate editor of The New York Post.