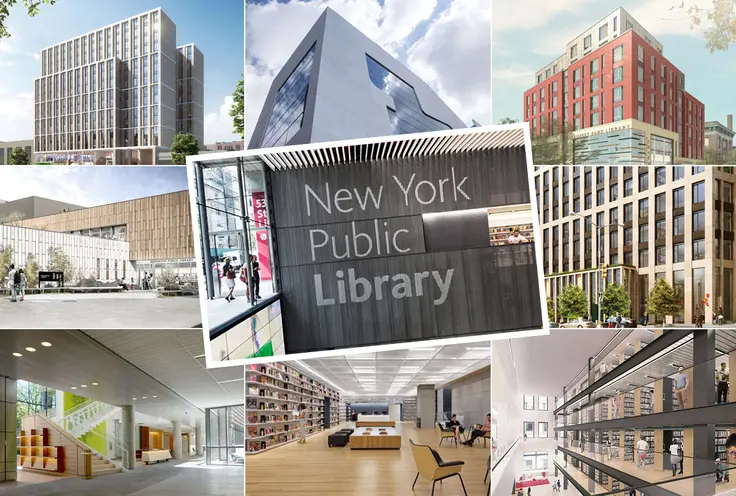 Libraries are not what they used to be. Rather than the solitude and quiet isolation stereotypically associated with them, the Brooklyn, Queens, and New York Public Library all report that they have become a place for communities and connection. This was especially evident during the coronavirus pandemic - while the buildings were forced to close, the libraries themselves sprang into action with an expansive e-book selection and robust online programming. But for some, there is no substitute for physical books.
Certain locations
are open for grab-and-go book pick-up, and in
select locations
, readers will be able to browse the selves for set periods of time and make appointments to use desktop computers starting
Monday, May 10
.
As locals of all ages use the library to attend story hours, do homework, study for citizenship tests, learn to code, attend workshops, stay caught up on current events, and work together in addition to checking out books, the design must be rethought to reflect the changes. Throughout the city, libraries are moving or renovating into more modern, more appropriate spaces through partnerships with the city, the public library system, and residential developers.
Some of the projects seek to provide affordable housing and community spaces, others are luxury residential projects that provide new spaces in the building for local libraries. Whether or not these projects create more affordable housing, the building of new libraries benefits all communities.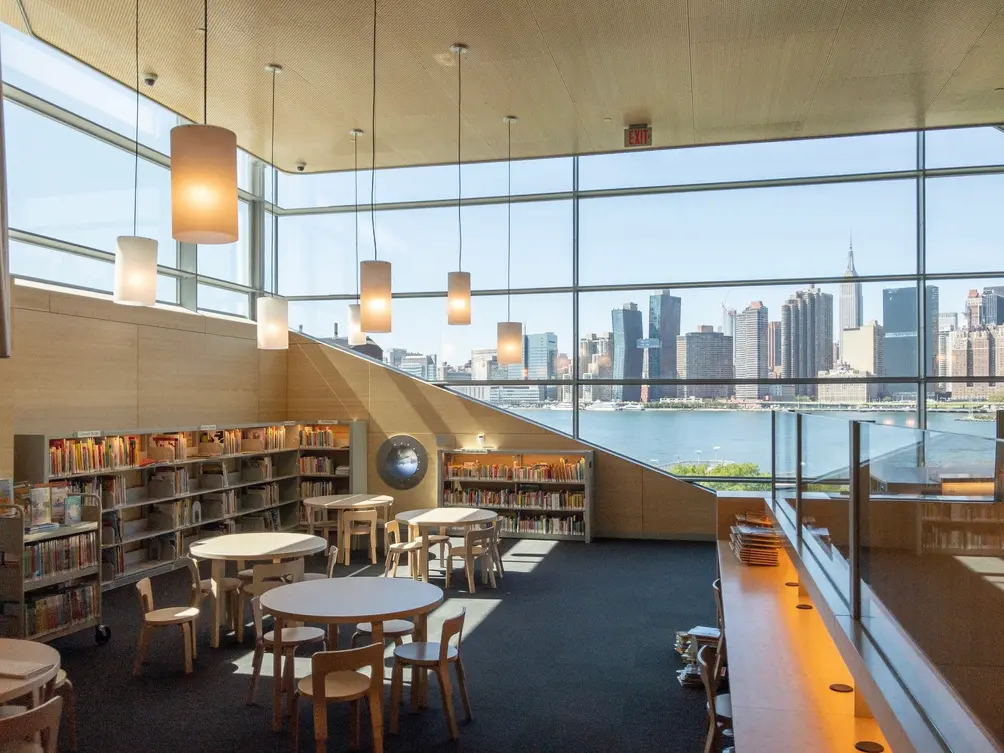 "New Yorkers have faced unprecedented challenges in the last year, and we know how much they need their libraries as they prepare to enter a chapter of recovery and renewal" - Anthony W. Marx, President, New York Public Library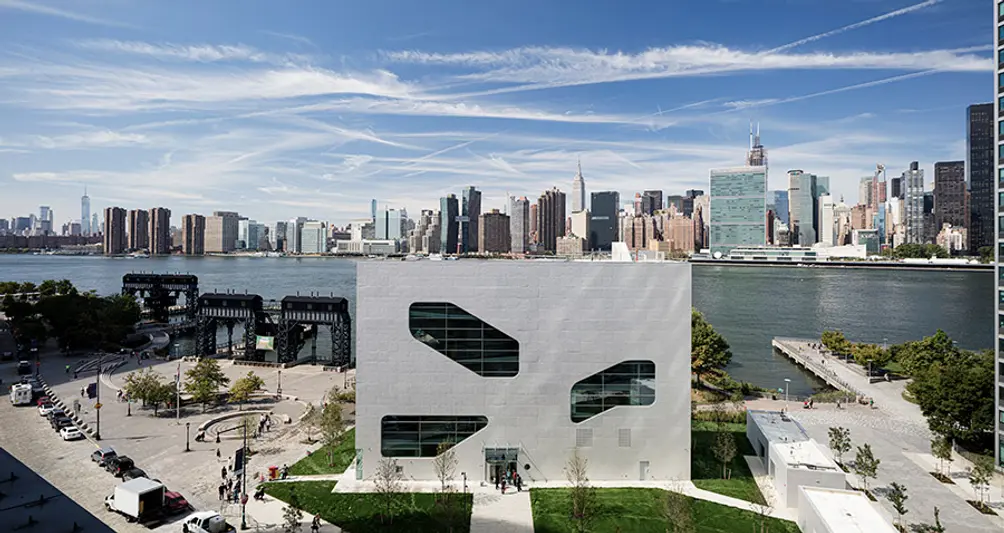 Partnerships to provide affordable housing
The nyc.gov site explains that as New York City's population grows at record rates, available and affordable housing have not kept pace. Rents have risen all across the city are have priced too many New Yorkers out of their homes and neighborhoods.

The city is exploring creative opportunities to build more affordable housing in all of the NYC boroughs. In neighborhoods where there is very little city-owned property, like the Inwood neighborhood, the city had to be more creative in identifying opportunities. Out of this came their partnership with NYPL to develop new affordable housing for the community.

The city conducted community workshops, in both English and Spanish, and created a formal report, the Community Visioning Report, to guide their Request for Proposals (RFP) to construct the project and operate the housing. At that point, they opened a competitive process. There was also a formal Uniform Land Use Review Procedure (ULURP) public review process to approve the project. Developers submit project proposals through a competitive Request for Proposals (RFP) process. Their proposals are scored based on criteria such as the mix of affordability; the quality and sustainability of the design; the financial feasibility of the project to ensure the building's long-term viability; and the track record and experience of the development team.
Below, CityRealty reviews the modernized spaces in New York City's newly-built and future libraries.
The Queens Library at Hunters Point
Now open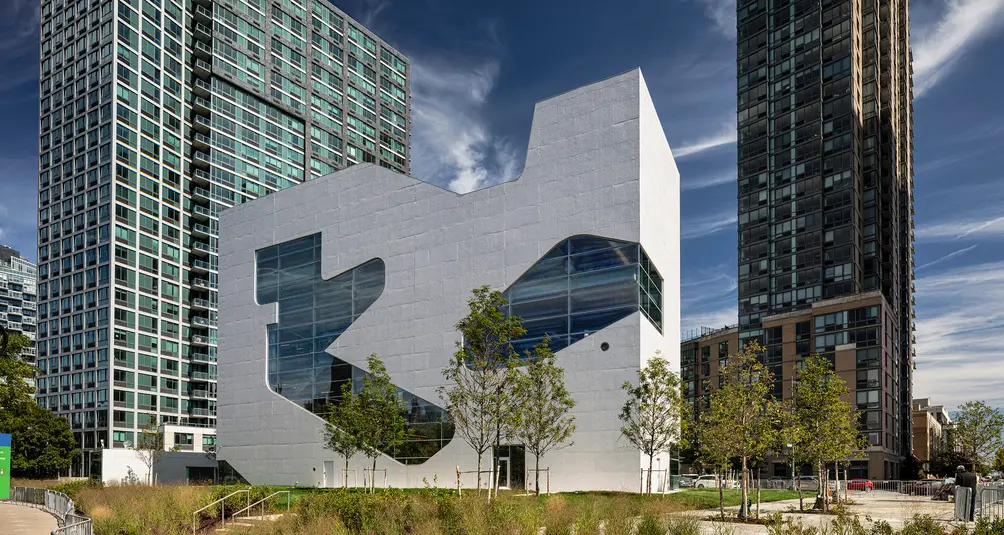 An incredibly distinctive architecture designed by
Steven Holl Architects
, the new Queens Library at Hunters Point has been described by
The New York Times
as being "among the finest and most uplifting buildings New York has produced so far this century." The structure is concrete with sparkling aluminum paint. Inside, warm bamboo creates a welcoming environment, and glazed cuts in the facade grant visitors views of the East River and the Manhattan skyline. The library has a children's area, teen area, and adult area, but the architect says the programmatic divisions are fluid.
The 22,000-square-foot library stands as a public building and public park in one, bringing maximum community-devoted green space to the increasingly privatized Long Island City waterfront. The east entrance faces a reading garden bordered by a low park office pavilion, and visitors have access to a rooftop reading garden with panoramic city views.
The library is set against Long Island City's backdrop of recently built high-rise condominiums. Like the 53rd Street Library (see below), this branch of the Queens Public Library occupies a part of a larger luxury development, in this case, a 50-story condominium tower.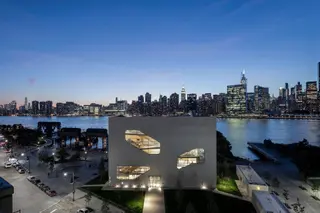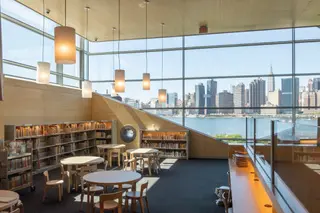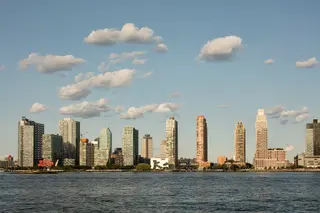 Central Library
Expected Completion: 2023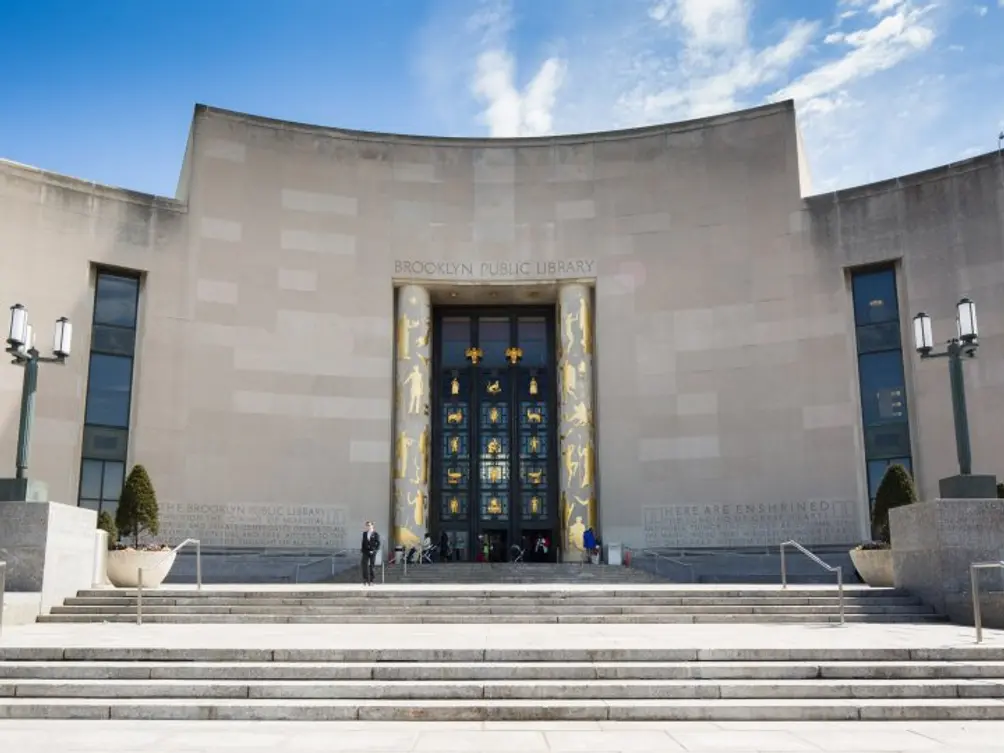 Central Library's breathtaking facade and grand entrance have made it a Brooklyn fixture since its opening in 1941, and the building was designated a New York City Landmark in 1997. Since then, the library has embarked on an extensive renovation and restoration designed by
Toshiko Mori
; following the completion of the first phase, it is one of 13 locations to reopen their doors on
Monday, May 10
.
The main lobby has been restored to its original grandeur, and visitors will arrive to the Major Owens Welcome Center, named in honor of the 12-term United States Senator and BPL librarian. The New & Noteworthy gallery will feature a custom-designed metal sculpture, large windows overlooking Grand Army Plaza, and a selection of 2,000 titles curated by librarians. The Business and Career Center will offer private rooms, co-working areas, and services like resume writing and the navigation of government aid programs. The Civic Commons has its own dedicated entrance on Flatbush Avenue and is home to the Passport Services Center, an IDNYC office, a computer lab, and a rotating community partner office.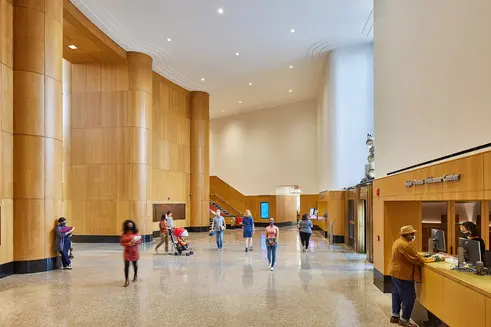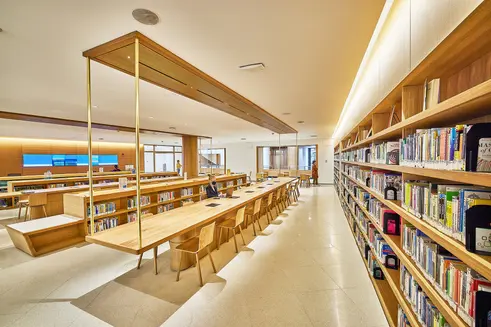 The recently completed construction is part of a larger,
five-year renovation
. The next phase is expected to last from 2022 to late 2023 and include refurbished collections, a new teen space, and an adult learning center nearly doubled in size. Additionally, Central Library plans to repurpose lower-level storage areas for community use and connect the library to Mount Prospect Park with an elevated outdoor garden.
The Inwood Library
Expected Completion: 2022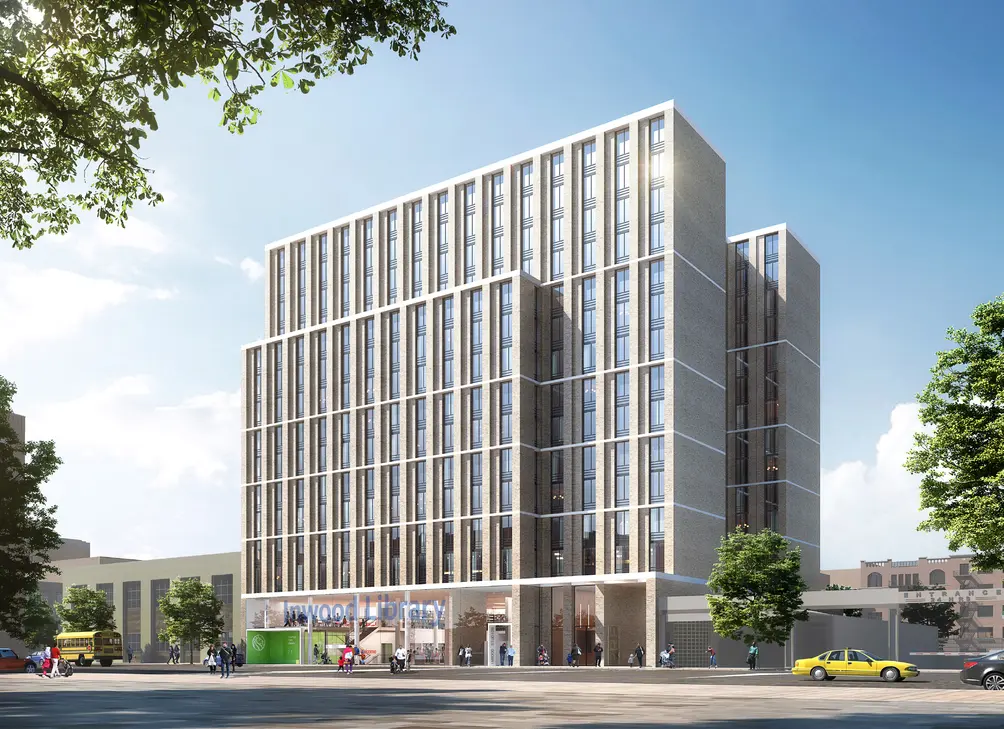 In
spring 2019
, plans were filed to transform the Inwood Library branch into a new 14-story development with a three-story library at the base, 174 affordable apartments on top, additional community space, and a pre-K school.
Fogarty Finger Architecture
and
Andrew Berman Architect
are the designers of the project, which is a joint development venture between the New York Public Library, HPD, the anti-poverty nonprofit The Robin Hood Foundation, the Community League of the Heights (CLOTH), Ranger Properties, Alembic, and the Children's Village.
Apartments in The Eliza, named for Eliza Schuyler Hamilton, will come in studio through three-bedrooms and will be available to families earning a range of incomes, including those earning less than $26,000 and formerly homeless families. At least 40% of the homes will be permanently affordable and the City will ensure future public control of the affordable housing developed on the site.
The
Inwood Library
was built in 1952. The new space will be approximately the same size as the current library -- 17,300 square feet -- but it will have a more efficient layout, extra space for computers and community, and upgraded technology without sacrificing any books from the collection. It will be owned and operated by The New York Public Library. While construction is underway, a
temporary branch
will operate one block away at
4857 Broadway
.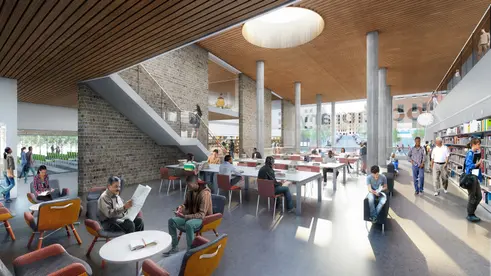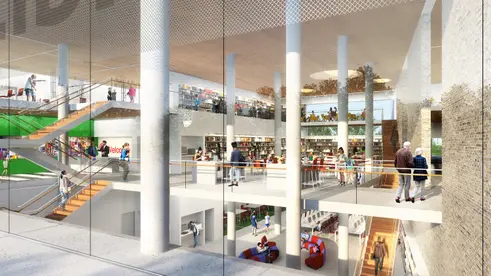 Sunset Park Library
Expected Completion: 2021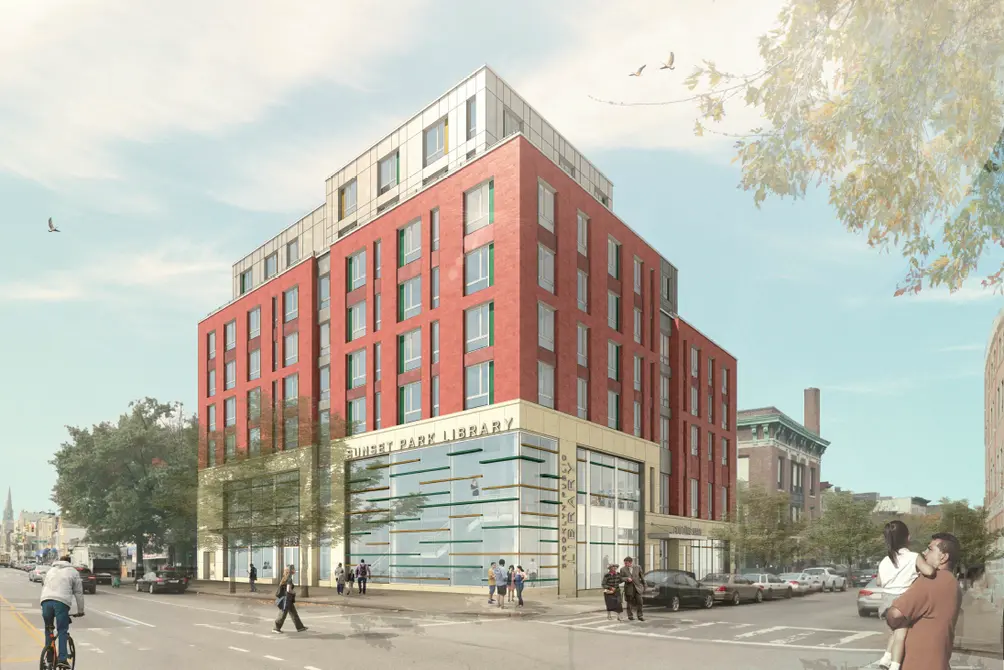 At 5108 Fourth Avenue, the
Sunset Park Library
is one of Brooklyn's busiest libraries, out of Brooklyn's 60 branches total. At 12,200 square feet, the current branch is too small and too outdated to meet the needs of the patrons who depend on its collection and services. The current space and condition of the library is no longer viable for the community.
A rendering has been revealed of the proposed eight-story, 49-unit mixed-use project. The new branch will measure nearly 21,000 square feet - almost twice the size of the current space! - and, according to Brooklyn Public Library (BPL)
website
, "The new library will be everything that the current one is not: bright and comfortable, with an open, flexible design and up-to-date technological infrastructure...The public will contribute to the design of the new branch at workshops, at the current location, and online." The library portion of the building is expected to open later this year; in the meantime, an interim location will operate at
4201 Fourth Avenue
(at 43rd Street) in space made available by the New York Police Department.
The residential portion of the building above the library will have 49 units, from studios to three-bedrooms, of permanently affordable housing, which include nine apartments reserved for survivors of domestic violence. The majority of units will rent for between
$500 and $1,000/month
, but further lottery information is not yet available.
BPL is partnering with the Fifth Avenue Committee, who will pay for the core and shell of the new, expanded branch along with Community Investment Funds from New York State Homes and Community Renewal. Magnusson Architecture & Planning is behind the design.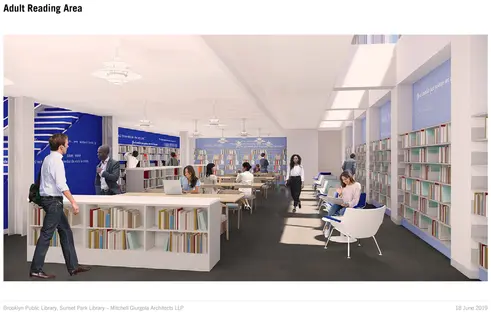 Brooklyn Heights Library
Expected Completion: Summer 2021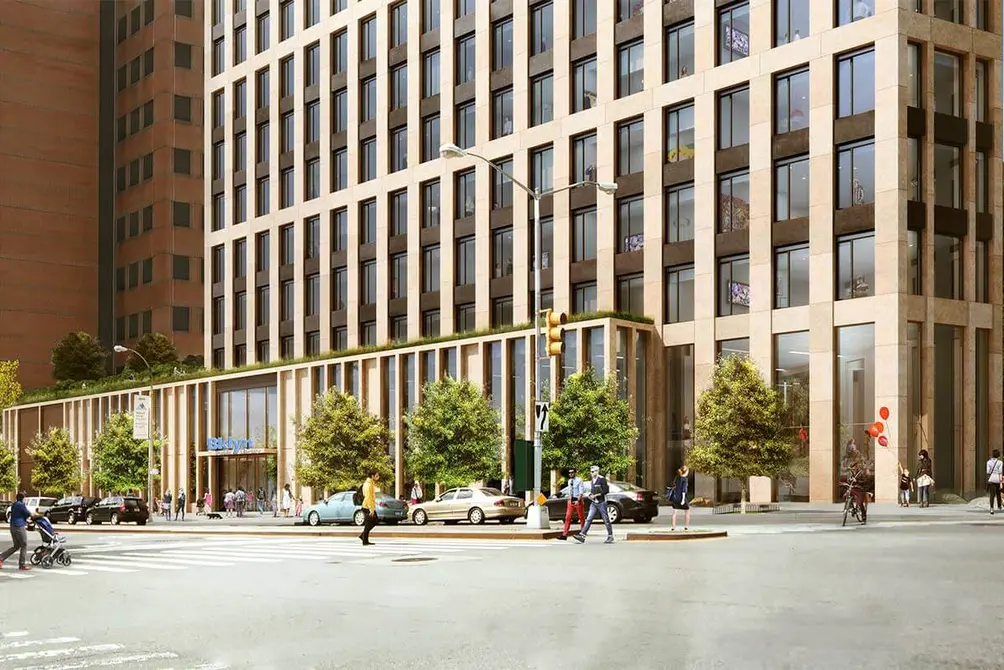 Developer Hudson Companies is transforming 280 Cadman Plaza West from the current
Brooklyn Heights Library
(another branch of the Brooklyn Public Library) into
One Clinton
, a 36-story condo building with a new, high-tech, 26,620-square-foot public library on the first three floors. The Marvel Architects-designed building will also include 9,000-square-foot STEM lab operated by the city's Department of Education and two retail spaces on Clinton Street.
The overall project will additionally include the construction of
Athena North and South
, a 114-unit affordable housing project at Fulton Street and Atlantic Avenue. This will also be designed by Marvel Architects, and units will be open to those making between 60 percent to 130 percent of the area median income.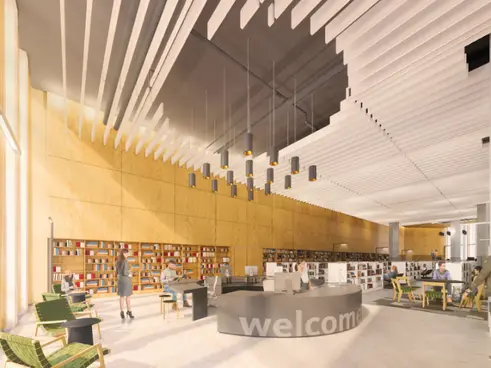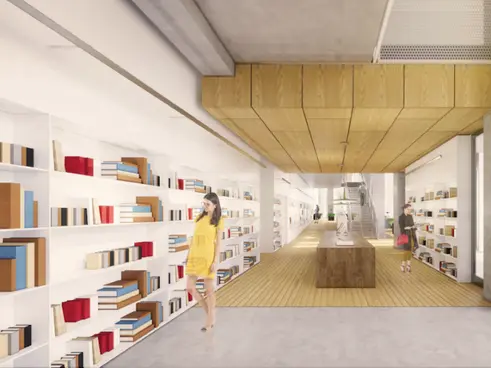 For this project, Hudson Companies purchased the site from the BPL for $52 million. Brooklyn Public Library President & CEO Linda Johnson cited this as a prime example of the library using its assets to take care of its assets. And to the relief of
locals
, the bas-reliefs at the original location will be displayed in the new library as well as the Walt Whitman Library.
The new library will feature a double-height main hall that includes a reading circle with abundant power outlets and comfortable seating options. The dedicated teen space will be the first of its kind in Brooklyn Heights, and the children's area will be targeted at patrons from birth to elementary school. The library will also offer a new multipurpose room, conference and meeting rooms that can be reserved online, and collaborative co-working seating throughout.
Interim library service began at 109 Remsen Street, but was unable to safely reopen because of the coronavirus pandemic. As of December 2020, BPL is offering lobby service for book pickups and returns at the
Center for Brooklyn History
at 128 Pierrepont Street.
Elmhurst Public Library
Built Year: 2016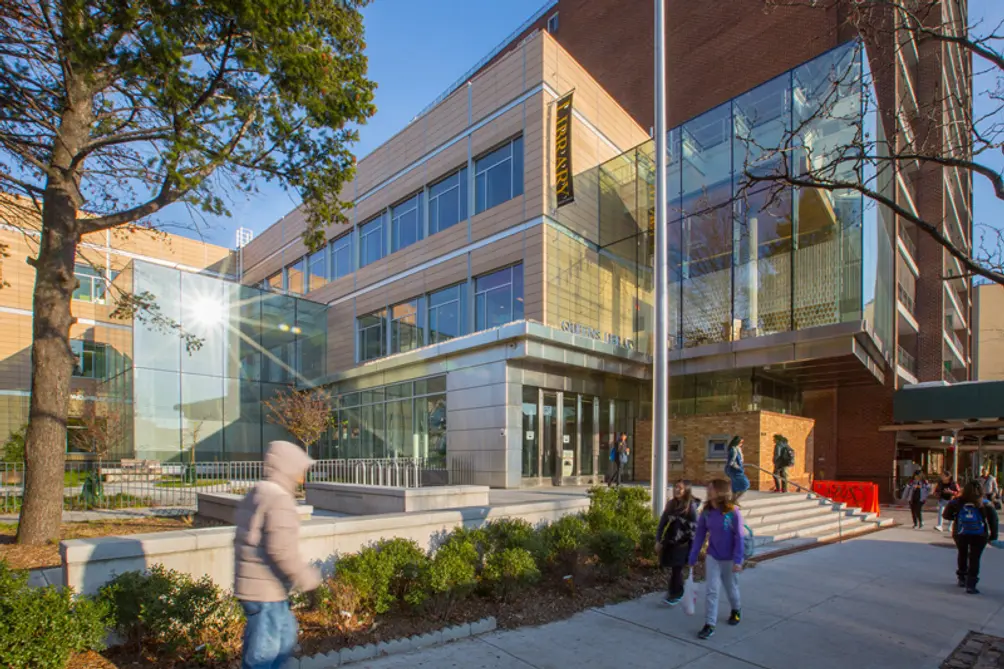 Commissioned in 2004 by New York's Department of Design and Construction (DDC), the
Elmhurst Community Library
was another library that was plagued with delays. When the 32,000-square-foot building finally opened in 2016, it quickly became a successful library. Designed by Marpillero Pollak, there are many bright and cozy community and social areas, a back courtyard, two green roofs, and a landscaped front garden.
Nods
to the Carnegie library, the neighborhood's original, come through in the fireplace mantel, bricks in construction, and a 336-foot-long architectural drawing above the checkout counter.
Elmhurst is one of the most diverse residential neighborhoods in the world and home to mostly poor immigrants from 80 countries. The Carnegie library was built in 1904 and housed only 3,000 volumes. After many major renovations and additions, these changes led to an interior space that no longer worked. The new library was well-needed and well-received.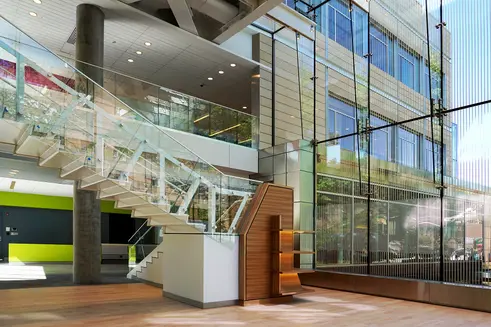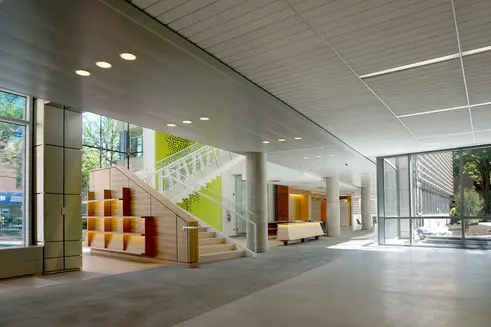 Greenpoint Library
Now Open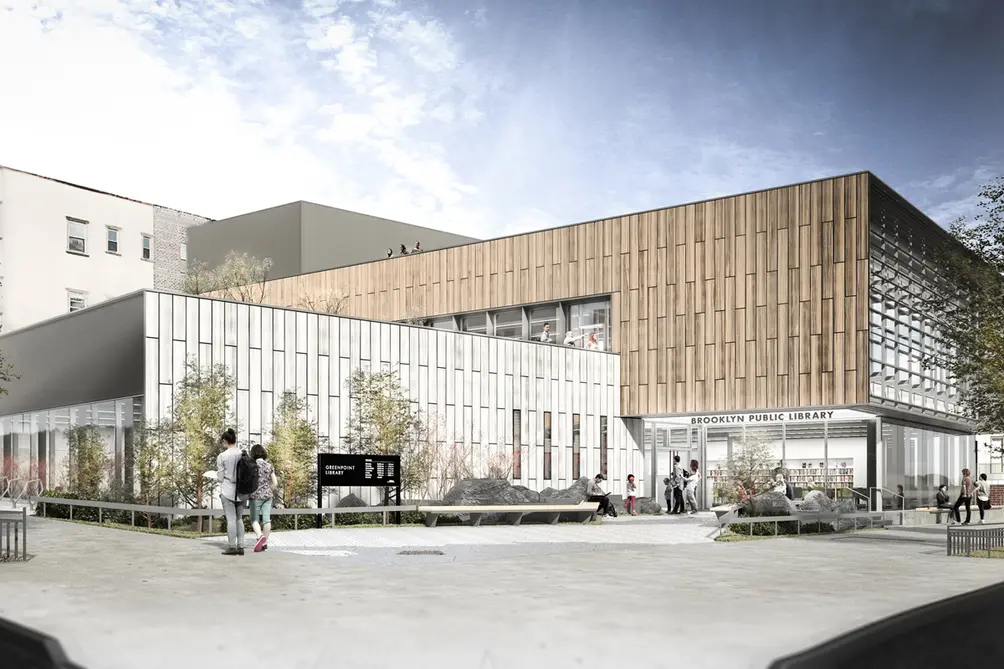 Greenpoint Library
closed on July 1, 2017 for the rebuild, and opened its doors for limited lobby service on October 20, 2020. The new modern, sustainable Greenpoint Library & Environmental Education Center, designed by
Marble Fairbanks
, is expected to open in the fall of 2019. The project was funded by a $5 million grant from the Greenpoint Community Environmental Fund and a $14 million contribution from the Brooklyn Public Library.
The original library was constructed in 1906 and rebuilt in the 1970s. The new library will have much more indoor and outdoor space in addition to being sustainable by reduced annual water and air pollution and energy use. The goals are to reduce heating and cooling by 80 percent, reduce water use by 50,000 gallons, eliminate 33,600 pounds of air pollutants, and treat 70,000 gallons of stormwater. Additionally, the new environmental education center aims to boost awareness and environmental conservation by offering local residents environmental education programs and special collections as well as a meeting space for local environmental groups and public programs.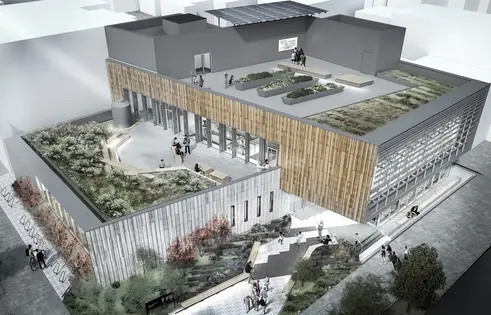 According to the GCEF website, new features and functions include solar panels, rainwater harvesting and stormwater runoff control systems, high-energy HVAC and lighting systems, and open green space that is expected to save 50,000 gallons of water and cut down on 80 percent of energy use. In addition to traditional library features, the new space will have green roof space, an ecolab/lounge, a large meeting and event space, and a landscaped plaza.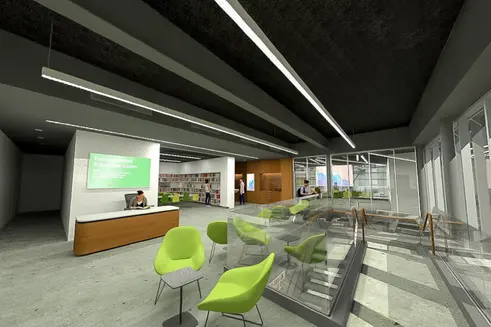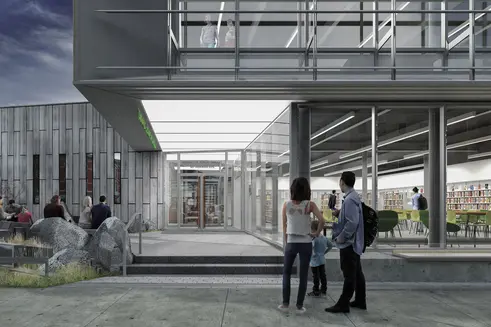 53rd Street Library
Built Year: 2016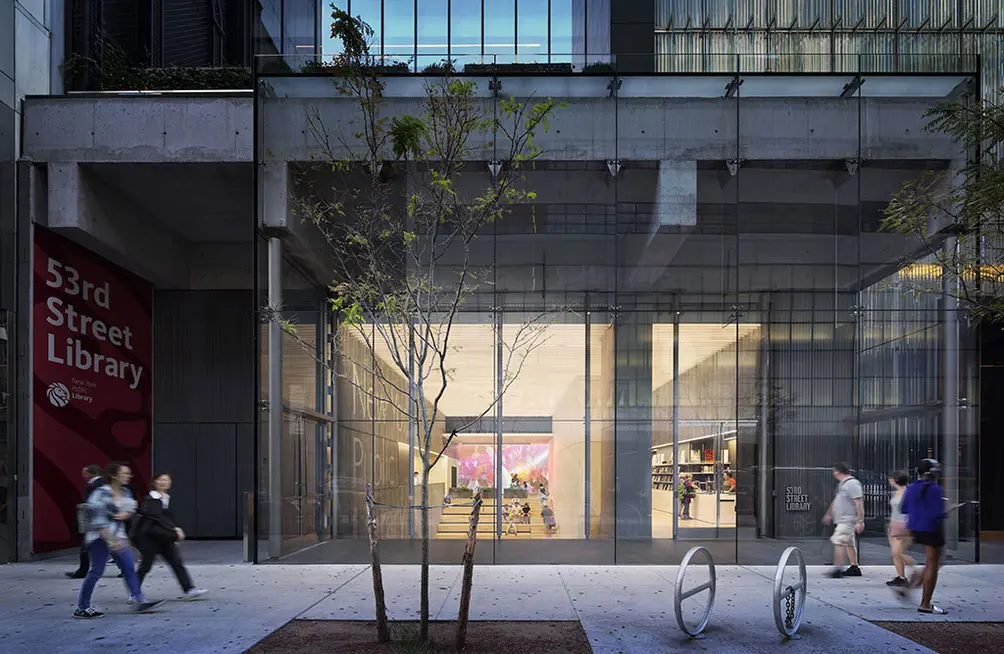 The
53rd Street Library
, previously the Donnell Library which closed in 2008, was designed by principal architect Enrique Norten at
TEN Arquitectos
. The three-level library is built in the basement of the luxury
Baccarat Hotel
, a 50-story high rise. Located across from the Museum of Modern Art, the $23 million project is beautiful but, initially, the library patrons were not thrilled to have two of the library's three floors underground.
In 2007, Orient-Express Hotels bought the Donnell Library property for $59 million, giving the NYPL plenty of money to go toward other branches' building needs. Orient-Express planned to build a hotel and space for the library. In 2011, Tribeca Associates and Starwood Capital bought the building and built the Baccarat hotel and condominium complex. It is now owned by a Chinese company.

When the library opened in 2016, protesters shouted "Books Not Billionaires" and "To the basement!?" Objections seem to have quieted over the past two years as patrons have gotten used to the more modern space, which includes an amphitheater, laptop bar, reading room, and community meeting room. Moreover, with the branch across the street from MoMA, this has created many opportunities for collaborative programs, events, and educational opportunities between the two spaces.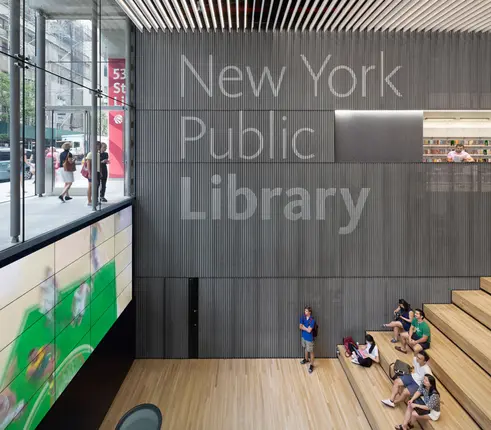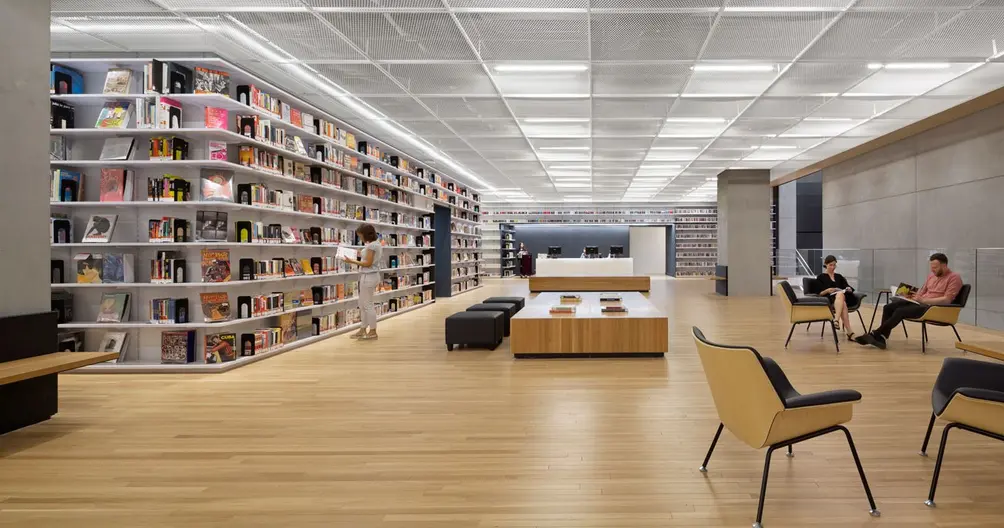 Stavros Niarchos Foundation Library
Expected Completion: 2021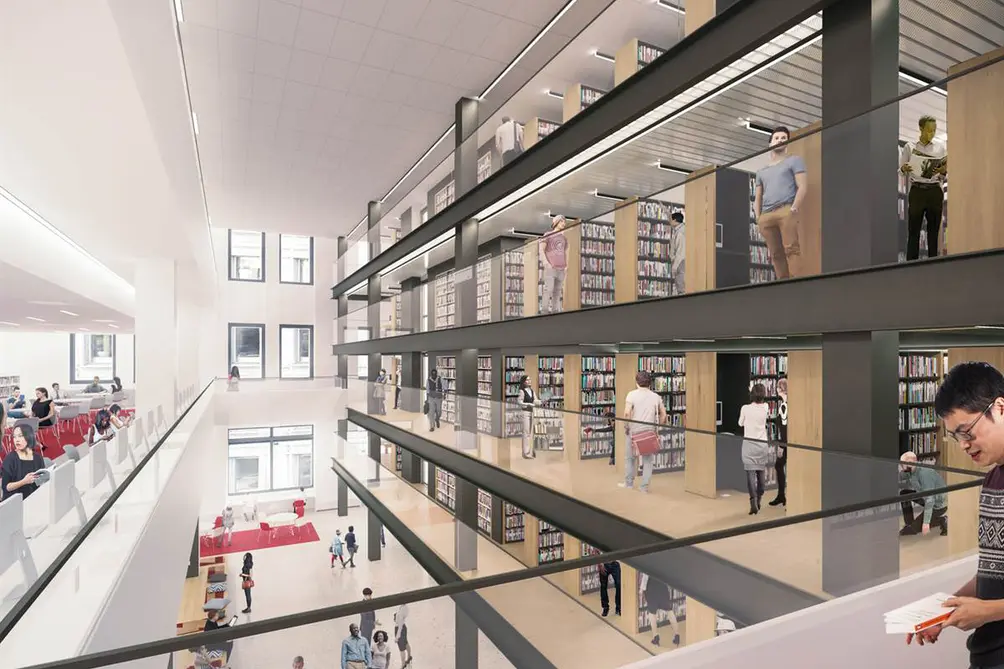 Anthony Marx, New York Public Library President and CEO, acknowledged that the
Mid-Manhattan Branch
, located across the street from the landmarked
Stephen A. Schwarzman Building
, has never lived up to its iconic neighbor. However, a $317 million master plan, led by
Mecanoo
with
Beyer Blinder Belle
, is set to change that.
The library has been renamed the
Stavros Niarchos Foundation Library
in honor of the foundation's $55 million gift, and the public space will be dramatically increased by transforming and reopening rooms that were originally designed as public areas but have long been used for staff or storage. It will increase accessibility to the library as well as increase public space for research, exhibitions and educational programs by 20%.The team worked for over a year analyzing library usage data, interviewing staff, surveying the public, and meeting with community stakeholders to ensure that the new branch will best meet the needs of library patrons.
The centerpiece of the renovated branch will be the Long Room, an open, atrium-inspired wall of browsable shelving. There will be one full floor dedicated to children's books and programming, and a teen library will include study rooms, a recording studio, and media lab. Additional offerings will include a full-floor employment skills center and an adult learning center. The roof terrace, one of the only free public roof terraces in Manhattan, will host an event center and cafe.

The new branch was gearing up for a May 2020 reopening, but those plans were put on hold when all libraries closed in response to the pandemic. It is currently open for grab-and-go service.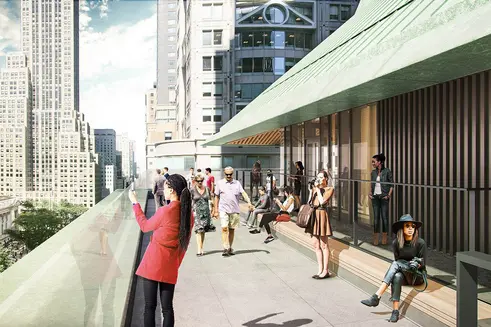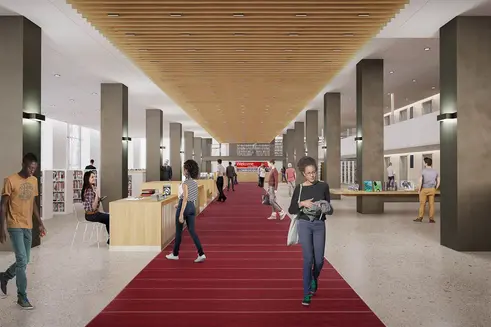 Schedule an Appointment
To tour any of these properties, just complete the information below.
Or call us at (212) 755-5544
Additional Info About the Building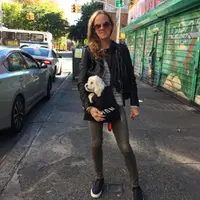 Contributing Writer
Michelle Sinclair Colman
Michelle writes children's books and also writes articles about architecture, design and real estate. Those two passions came together in Michelle's first children's book, "Urban Babies Wear Black." Michelle has a Master's degree in Sociology from the University of Minnesota and a Master's degree in the Cities Program from the London School of Economics.
Off Market Listings
Off-Market Listings
Off-Market Listings
Many apartments are sold off-market
without being publicly listed.
Contact us to learn more about off-market listings. It's quick and easy. And never any obligations.
or call us at (212) 755-5544