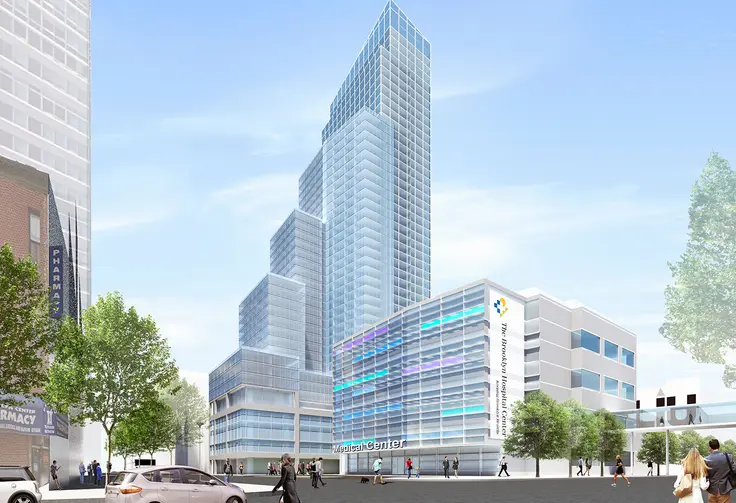 The Brooklyn Hospital Center
(TBHC) and
Long Island University (LIU)
are embarking on ambitious plans to redevelop portions of their
Fort Greene
campuses. After a
mysterious permit
was filed for a 34-floor residential tower on the LIU campus this past January, and Rabsky Group's recent
$100 million purchase
of a Brooklyn Hospital Center building, we've unearthed a general master plan produced by the
Kimmerle Group
that appears to make sense of it all. The planners explain that two organizations are working together to "to solve both the physical and financial needs of both institutions" and to "develop the area as a center for urban living and a hub for the academic community using urban design principles."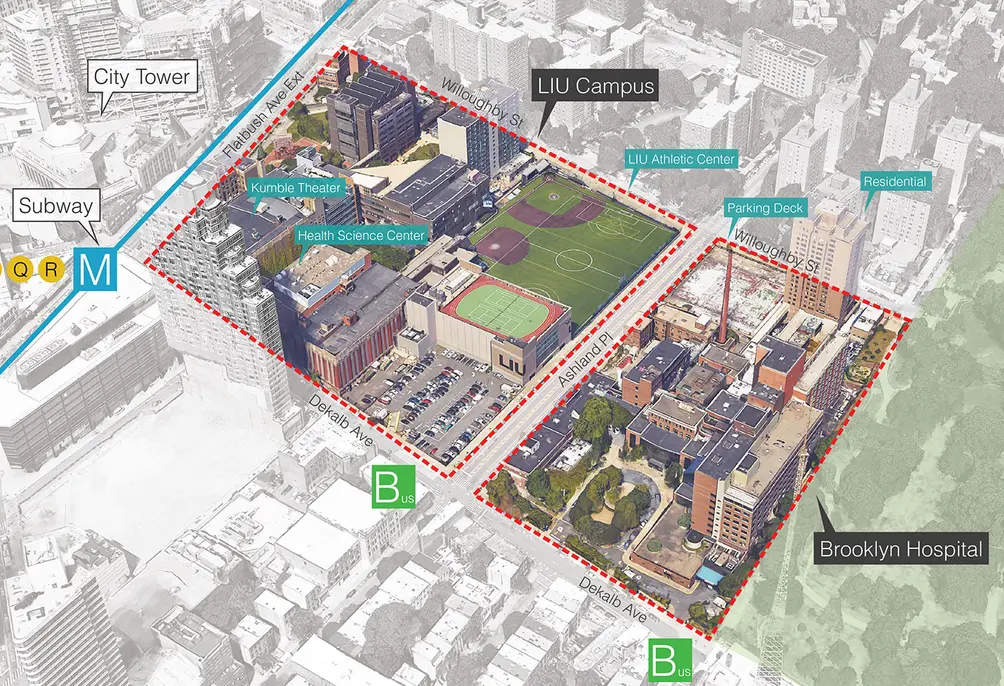 The two superblocks are in the rather pedestrian-unfriendly zone between
Fort Greene Park
and
Downtown Brooklyn
. Images and text published on Kimmerle's website explain the plan involves the construction of more than 1,000 housing units, a new 250,000-square-foot medical/ambulatory care space, 100,000 square feet of new academic and research space, and parking for more than 1,000 vehicles. "The plan is conceived as the sharing of air rights and development rights between these institutions to achieve a "new" campus plan that unites the two campuses and creates a vital link between the open-air quadrangles and athletic fields of LIU with Fort Greene Park."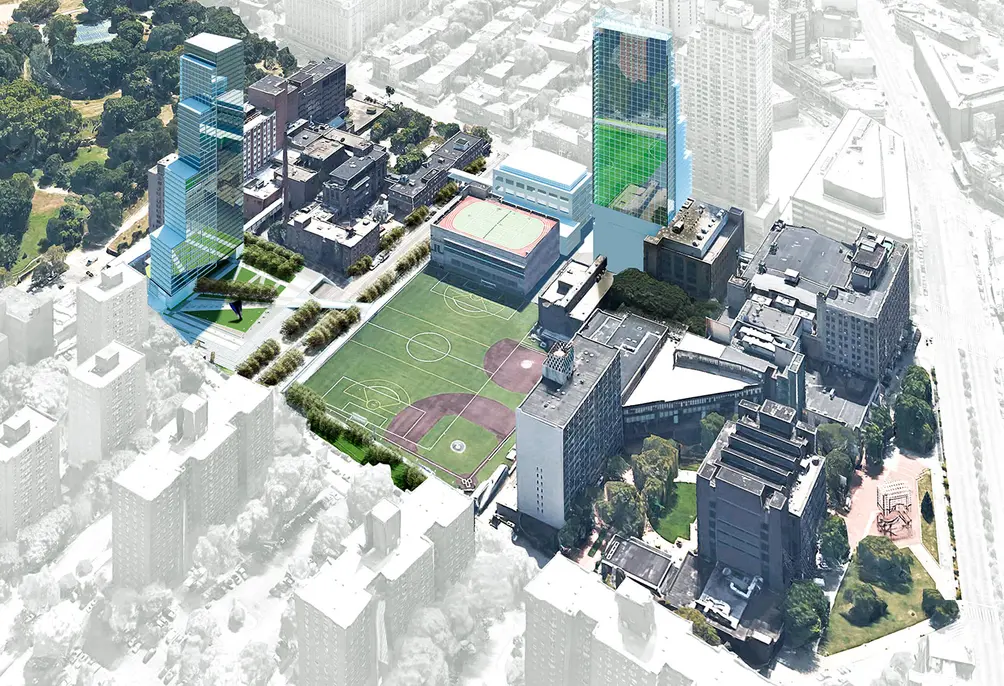 Kimmerle explains the 1.25-million-square-feet of transferable development rights represent a market value between $125 to $200 million. In January,
Crain's reported
that Brooklyn Hospital sold their Maynard Building, to Simon Dushinsky's Rabsky Group for roughly $100 million and the developer is also in contract to buy a parking garage nearby. According to the paper, Rabsky would need to upzone the hospital sites to allow for more residential development, which sources say could balloon to more than 700,000 square feet.
Renderings on Kimmerle's page show conceptual, glass-sheathed apartment towers rising upon each institution's superblock. They would supposedly replace obsolete buildings on both campuses. On the LIU campus, at the northwest corner of Ashland and DeKalb, a freestanding medical facility is depicted.
Permits
filed earlier this year show the site will receive a two-story, 534-car garage with offices on the first floor and an athletic playing field on the roof instead. A reason for the change may be that Brooklyn Hospital has signed a lease to relocate medical facilities and offices out of the Maynard Building into a recently-completed commercial building at
620 Fulton Street
.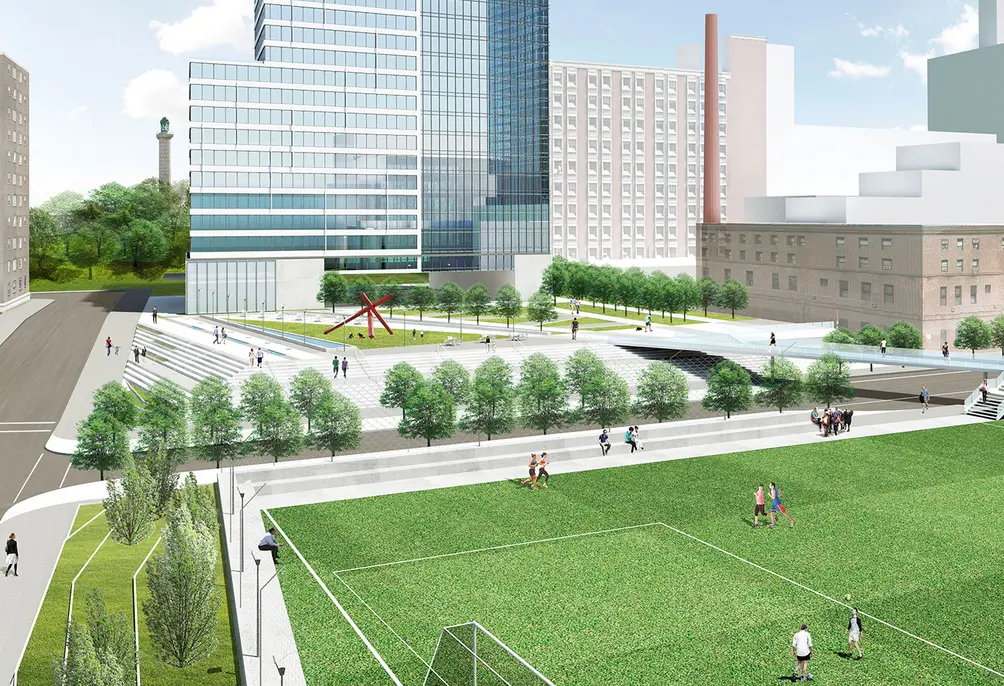 At the southeast corner of Willoughby and Ashland, renderings show a terraced open plaza that the firm says could serve as a seating element and platform for the adjacent LIU athletic fields across the street. Green features are promoted and include a water reclamation system for use off-site and energy-conscious enveloped in high-performance curtain wall systems. They also aim to adaptively reuse many of TBHC's historically significant buildings. Kimmerle concludes, "This project is about landmark creation for both facilities. The redevelopment will provide a "face-lift" to an area of the city that currently doesn't have a strong identity, seamlessly integrating both facilities into the urban fabric of the community."
The plans shown are likely guidelines to steer the area's redevelopment. The final form of each component will likely take on a piecemeal approach and determined by the individual developers/owners.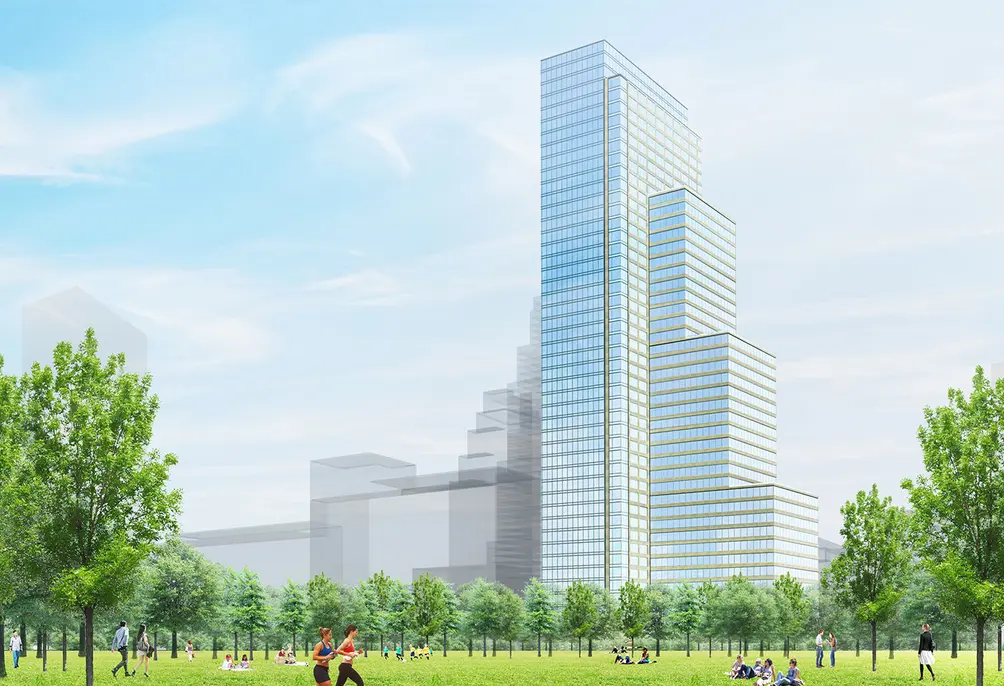 Additional Info About the Building