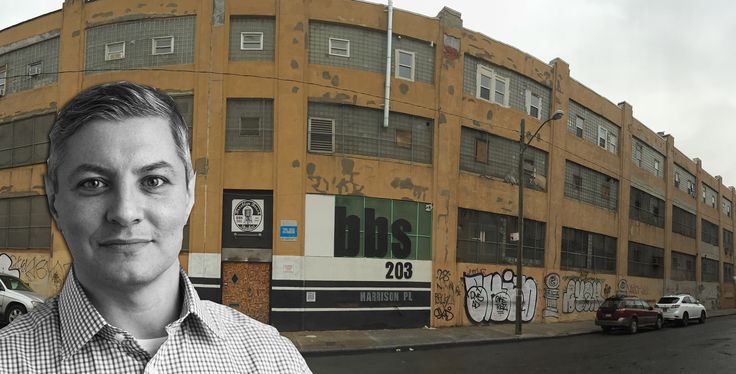 WeWork is the most recognizable name in co-working spaces. But WeWork does not work for everyone; specifically, it does not work for most artists. Artists' work is often messy, smelly, large, dusty, loud and/or some combination of those attributes - not things welcomed in open workspaces. But there are 4.2 million makers, builders, technologists, and artists in the United States who need workspaces that are functional, flexible, professional, affordable and designed for the ways they work.
b[x] spaces
is a co-working space specifically designed for creatives. b[x] spaces, which has three locations in Brooklyn and plans to expand more, provides functional workspaces at affordable prices in underutilized industrial real estate in desirable areas for creatives. They offer monthly memberships ranging from $150-$825, which include tailored amenities, flexible terms, an all-inclusive fee, programming and events. In the three current b[x]spaces buildings, there are 173 workspaces and 202 active members.
CityRealty spoke to
Rafael Alvarez
, the co-founder of b[x]spaces, about how he came up with the idea, how he supports his artists beyond giving them spaces to work, and what his plans for the future are.
As an artist's life can be so solitary, I'm really intrigued by your programming. Tell me more.

We have two to three monthly events, one meet-and-greet, and every last Wednesday of the month we open to public as well as all of our members, for makers and artists to socialize and meet each other. Hopefully collaborations form there. Often, my staff and I use those events to introduce artists to each other. For example, if a jewelry designer is looking for a photographer, we bring them together. Or is a fashion designer needs accessories for a photo shoot, we introduce them. We like to make the initial introduction and then step away and let them get things done together. But it this way it stays under our roof.

We have a gallery space in one of our locations and we hold monthly events there. Often it's an opening with either a solo show or a group show. If it's a group show and there are five people involved, three will be from our members and two artists will be from outside. We want to bring in more of the community and not just have a closed atmosphere.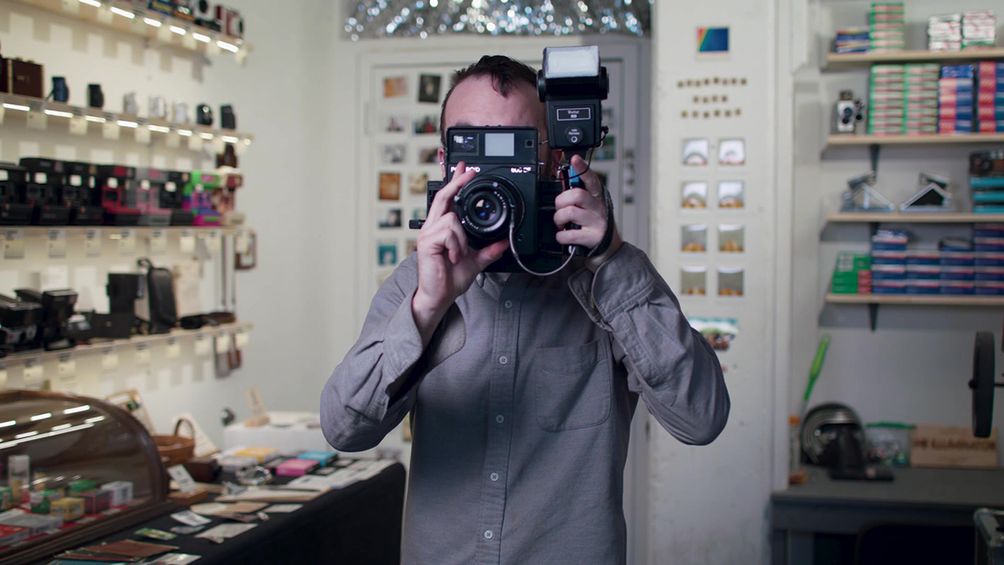 We have four gallery shows a year. Our Bushwick Open is the largest event drawing in 2,500-3,000 people on that Saturday and Sunday. The other three events are our own open studios, which typically attract 500-600 people each. They are all opportunities for makers and artists to have intimate conversations with those visiting versus larger events. It gives them a chance to visit each other's studios and see what everyone is working on.

Across the street from one of buildings is a family shelter. There are a lot of kids there, so throughout the year, we have three events with them. We bring the kids over and have one of our artists teach a class. It's a great opportunity for the kids to interact with the artists.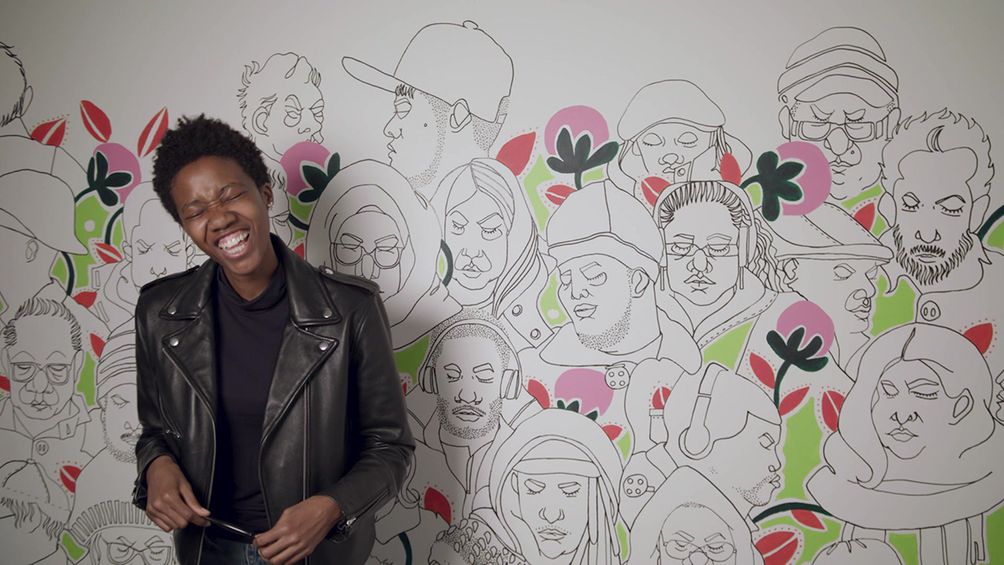 Also, outside of the building is our mural project. We changed out the murals every four to six months. There are 18 murals which are 8' tall by 16' long. They're not huge as far as murals go but for our artists, they are a great opportunity to get work out into the public.

We have a collaboration with a group from Brazil called AnnexB which rotates artists through our studios on a monthly basis. We try to go outside our borders, we also have a group of Japanese artists, we are very fortunate.
How did b[x]spaces begin?
We opened in June 2008, probably the worst time to open anything. By the end of that year, everything was closing. My background was as an engineer. I worked on mostly bridges for 12 years. I left the industry in 2006 and started doing my own stuff. I started looking for space - I needed an office, a place to store materials, a place to cut something or do a piece of furniture and not be bothered. My only options were whole warehouses that were very large, like 5,000 square feet, or to get a small storage facility and an office somewhere in city or in a WeWork. There was not anything that did both.

Someone referred me to Craigslist to check out artists' studios. I went to check out a few places and their price points were fine, but the amenities and locations were really subpar. What people were accepting as workspaces was crazy. There was no toilet paper, no heat, and there were half walls so you could hear your neighbors and couldn't do anything without dust coming over the wall. I saw there might be a market there. So I looked for a larger space, around 8,000 square feet, and I took 3,000 square feet of it and chopped it into smaller spaces. I put on Craigslist and started renting them out to artists and markers. After six months, I got the feel of the community and what their needs were. Since then we have three locations with 173 artists.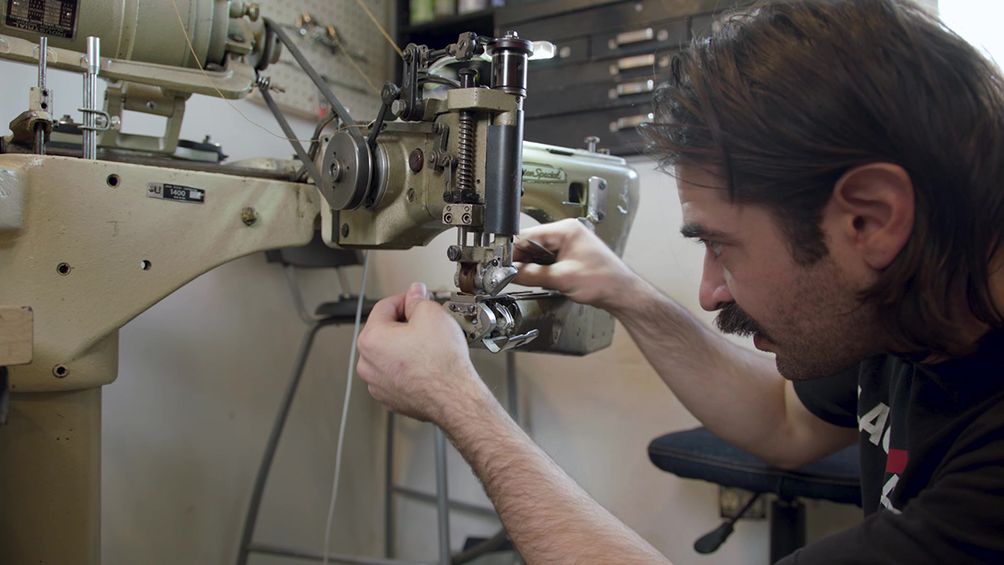 Is there anything else out there like this?
I would love to say that we're really forward thinking but artists' studios around since the 1950s and 60s. In Soho and industrial downtrodden neighborhoods, artists would go and work and squat in old sewing factories and knitting mills. This is not a new concept, but what we have done is upped the game. We have high expectations for cleanliness. We make sure all the construction and studio spaces are code compliant. We resolved any security and safety issues. Unfortunately, there was an artists' warehouse called
Ghost Ship
in Oakland, California where there was a big fire in 2016 where 36 people died. One of my pet peeves is that all the hallways must be cleared at all times, there cannot be anything in the stairwells, and no bikes locked up blocking the area.
How does b[x]spaces compare to other co-working spaces?
Co-working spaces all say "we have community," but it has become cliche and it's not true. There is no socializing and they couldn't care less about the interaction. Sadly, what you usually find in co-working spaces is that as long as you pay the rent, the owners don't care. They do not provide programming and there is definitely no community. We have an honest community that we focus on building.

WeWork has done an amazing job. They started in 2010 and to watch their progress is incredible. One big thing they have done for us is to educate the investor population about what the co-working is, the idea and philosophy behind it. The big question we get from investors is that WeWork is a giant - will it step on you like a cockroach? Our answer is always that we don't compete for customers or real estate. There is no WeWork outside of class A real estate. They need to be in areas that are already established, that have restaurants, cafes, and retail. We went into Bushwick in 2008 when there was one bodega and one restaurant in the area. Now there is something like 38 restaurants, bodegas, cafes and nightclubs in the area.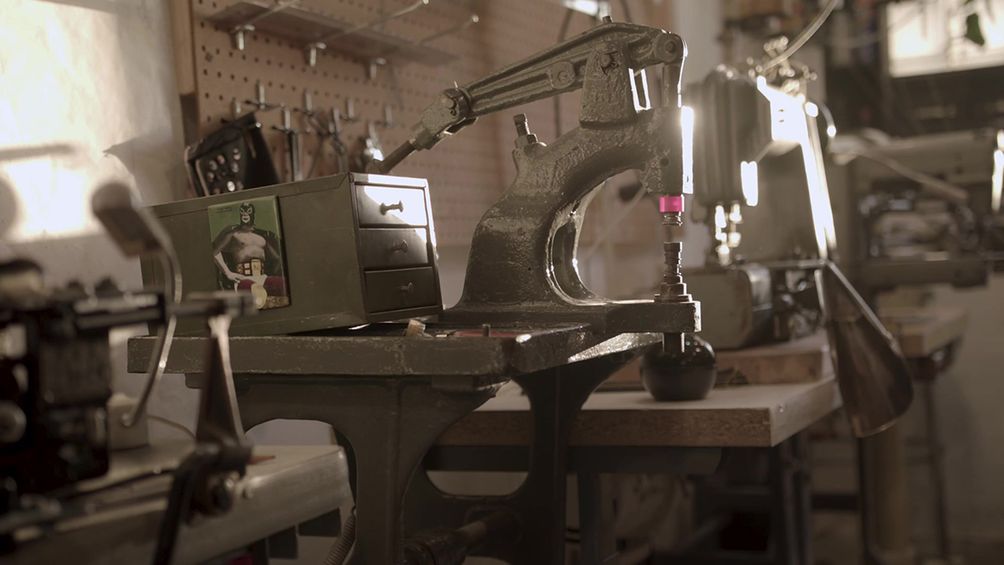 I have never gone into WeWork and seen a sewing machine or a screen printer. Our customers aren't welcome in WeWork with their half-glass walls. Our walls are full height with double sheet rock so people are able to do their tasks. Our clientele's market is Etsy and Amazon Handmade and those markets are huge. Unfortunately, typically most artists work from home because they can't go to a typical co-working space. We work to educate the public and investors on that.

The real estate portion is very important to us. As more of these office co-working spaces pop up, there is more competition in class A real estate. We are interested in class C, which are industrial projects that haven't been used in years. Most manufacturing has gone overseas but the buildings are still here, either vacant or being used as storage. We are able to monetize these locations and get warehouse spaces for lower prices.
What are the details of how artists can rent space from you?
We have a license agreement with the artist. The minimum stay is two months which allows us to bring a lot of artists in that may have a project-based work. 18 months is our average stint. It's a loyal group. Our artists have been blamed for gentrification but the fact is that artists move into an area because it's cheap. Then friends visit, people catch wind, they open coffee shops and similar, and sooner or later the artists are pushed out of the area because of the price points. We are not looking to gentrify areas, but if we can get in early enough, we can keep our pricing down.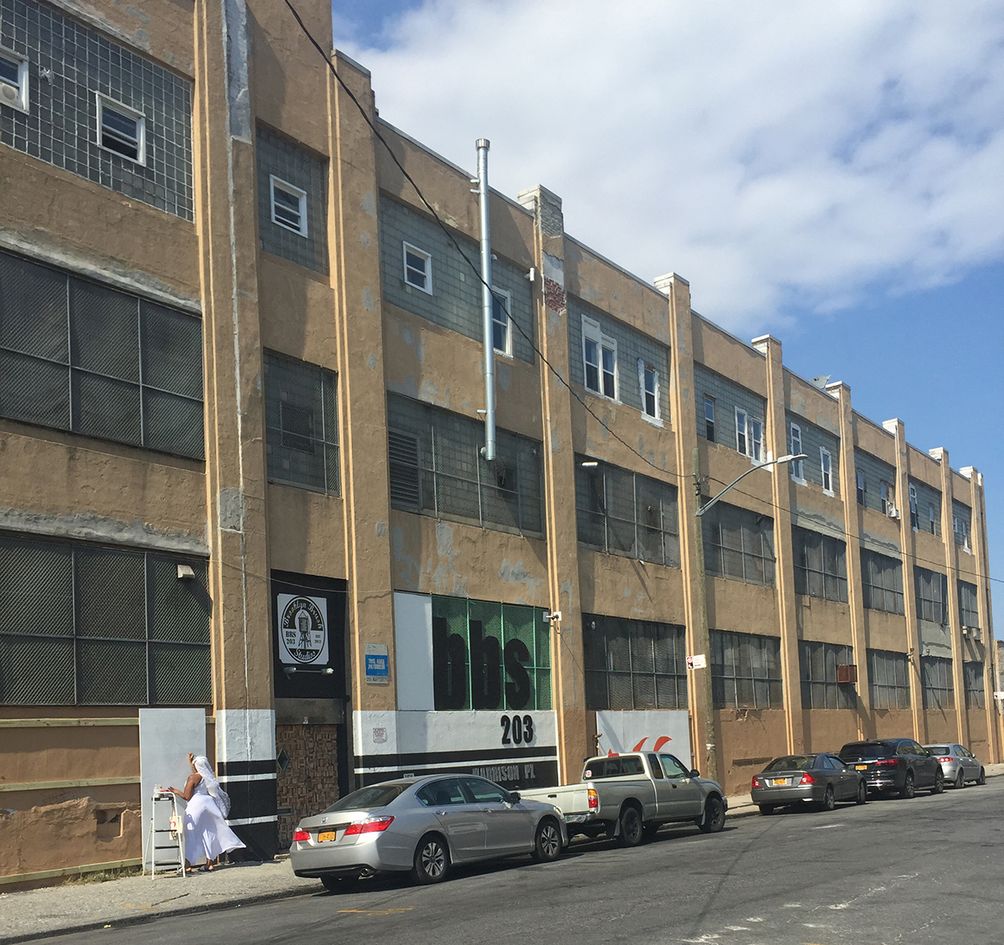 Do your three locations work together?
One of our buildings has a roof deck, and that's where all our events are in the warmer months. We have monthly movie nights and regular meet-and-greets. In the colder months, we use the gallery space and larger lounge area. There is always pollination back and forth between the buildings and the artists.
Do you promote your artists' work?
We showcase the artists' work four times a year at our gallery event. Moreover, the outside murals are like an outdoor gallery space versus just murals on the wall. The artists use plywood pieces so we are able to hang them on the wall and then rotate them. They can work on in their studio and then we display them outside. Bushwick has become really popular for its art. There are tour groups that come just to check out the street art. We didn't start this but we are capitalizing on it. We made contact with those tour groups and asked them to come in and do tours here. They asked if we have any workshops so we now put them together and choose different members to showcase their work. We like to spread it out among the members so they can all get exposure.
Also, at some of our meet-and-greets, we ask more successful members to talk to the other members. They often talk about what they did and what worked for them, but what is even more important is when they talk about what didn't work and what not to do. That's how the conversation really starts. We never want to be too heavily involved because then it's not replicable. But all the time, we have these events and all of a sudden notice 10-12 people walking out together - they're going from studio to studio to show each other their work.
What makes b[x]spaces so special?
It's the ability to be in a studio and have complete privacy and then you can open the door there's a community right outside. If you work at home, you are alone and it is easy to be distracted. Here we have a kitchen, a gallery space, a conference room, and someone else always a few steps away.
b[x] is currently running an equity crowdfunding campaign on Republic, an investment platform for startups to raise capital that allows anyone to invest in startups with as little as $50.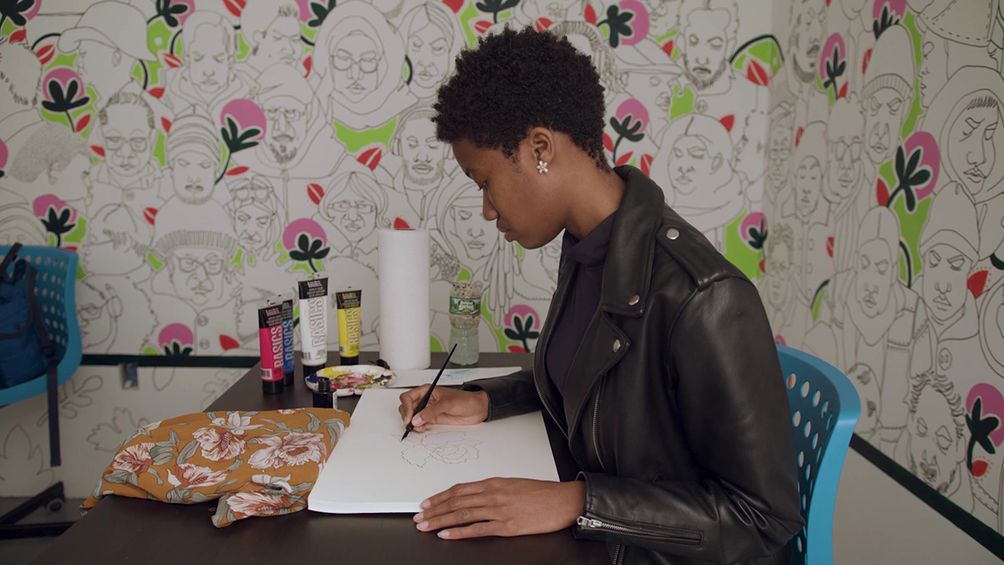 Additional Info About the Building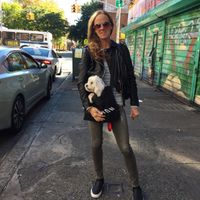 Contributing Writer
Michelle Sinclair Colman
Michelle writes children's books and also writes articles about architecture, design and real estate. Those two passions came together in Michelle's first children's book, "Urban Babies Wear Black." Michelle has a Master's degree in Sociology from the University of Minnesota and a Master's degree in the Cities Program from the London School of Economics.
Get the latest updates!
Before you leave,
sign up for insider access
to the latest listings.
It's 100% free!