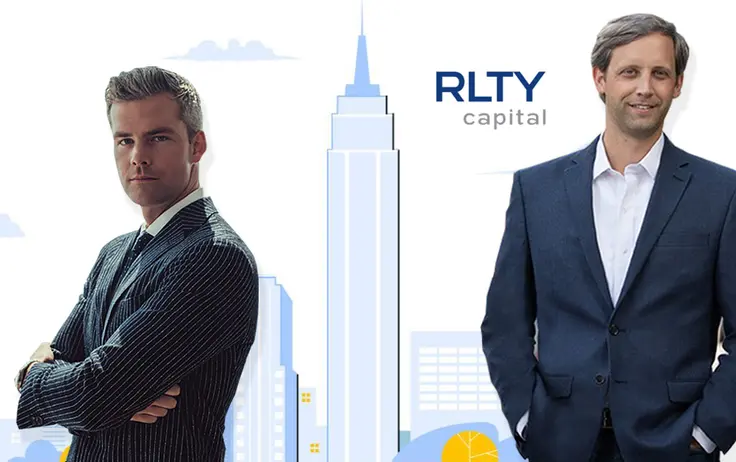 Last year's COVID-19 lockdown halted apartment showings and in-person meetings, and impeded the homebuying process for weeks on end. Some real estate agents dependent on commissions found themselves in a cash flow crunch, not knowing when pending deals would close and unable to show new clients listings.
Briggs Elwell
, co-founder of
RLTY Capital
, created a financial service platform to buffer residential and commercial agents from such unforeseen circumstances. Its services can provide agents up to 80% of their commissions within 24 hours of an approved offer.
"The real estate community experienced unprecedented turbulence in the past year and we've developed a unique financial tool that enables real estate businesses to proceed without interruption." - Briggs Elwell, co-founder and CEO of RLTY Capital
With a life-long career in New York City real estate, spending seven years with major developer Related Companies and as the current head of Corporate Development at residential brokerage Elegran, Briggs gained expertise in both the sponsor and broker sides of the business, becoming adept in identifying voids that stymie the buying and selling process, especially ones that impact the broker. "The broker community is especially tough and most don't make it after a few years," says Briggs. "The economic uncertainty of being a broker has a profound negative impact for those looking to continue on in the profession."
After perceiving that agents are not terribly supported by the developer community, often waiting weeks to months to get paid, Briggs ensured Elegran agents received their payments within 30 days. This had a huge positive impact on their morale and well-being; as Briggs explains, "A simple delay created a lot of unintended tension between the brokers and the developer."
RLTY Capital further tries to bridge that gap, providing agents a bulk of their commission prior to closing. While the concept of commission advance already exists, this platform provides a slightly different model in that it is not a loan, but rather a program that pays brokers their commission for a small fee, and once the deal closes, the company recoups the payout. There is no limit to the commission amount but for now, the program is focused on deals that will close within one year.
To minimize risk, the platform identifies the credentials of the agent through big data and artificial intelligence, looking at their transaction history and what deals they are currently working on. "Usually we are able to approve deals within 30 minutes," Briggs explains. Fees vary depending on the transaction but no credit checks are performed and the broker's privacy is of utmost importance to the company. Unlike other competing commission-advance programs, brokers do not need a sign-off from their brokerage. No one has to know you are taking out an advance.
The company provides up to 80% of the pending commission to ensure agents keep some skin in the game and see to it that the deal closes. However, if the deal falls through, the agent is responsible for paying back the advance.
Briggs explains the reception has been overwhelmingly positive with the majority of agents returning for multiple advances. "We are trying to help the agent's ability to function. We have yet to have a transaction that didn't conclude positively." As proof of confidence, recently,
Ryan Serhant
, founder of
SERHANT
, signed on as a partner and equity holder of RLTY. The new company has every intention of expanding nationally, though Briggs explains that there may be obstacles operating in states where there is no obligation for a buyer to close after the contract is signed.
"RLTY offers a platform that allows agents to access their commission upfront to reinvest in themselves and their business. As an agent-first company and one that is dedicated to helping the industry modernize with new tech solutions, we are proud to partner with RLTY to deliver a smart and practical solution to New York real estate agents." - Ryan Serhant
Additional Info About the Building