Halloween is not over atop
One Beacon Court.
The nightmare of the 58th Street penthouse that can't sell drags on as Steve Cohen's
five-bedroom abode
was quietly relisted last week for $34 million, a whopping 70%
haircut
decapitation from its initial 2013 $115 million ask ⁠—its ninth price chop by our count. At this rate, we expect an affordable housing lottery on Housing Connect if it doesn't sell by next summer. Stay tuned.
Regardless of its history, the home is still one-of-kind --well maybe now 10-of-kind given all the new competition that has cropped up around it. Designed by the late Post-Modern architect Charles Gwathemwy, the two-floor, 9,000-square-foot aerie boasts a 24-foot-high living room, 400 linear feet of oversized windows, and views, views, views. Since returning to the market, the spread has been de-personalized from its early 2000s aesthetic (ah, the simple times). Now being marketed by Christie's International, new images show the home has been made a fresh clean slate for someone to come in and paint their own vision of sky-high Manhattan living.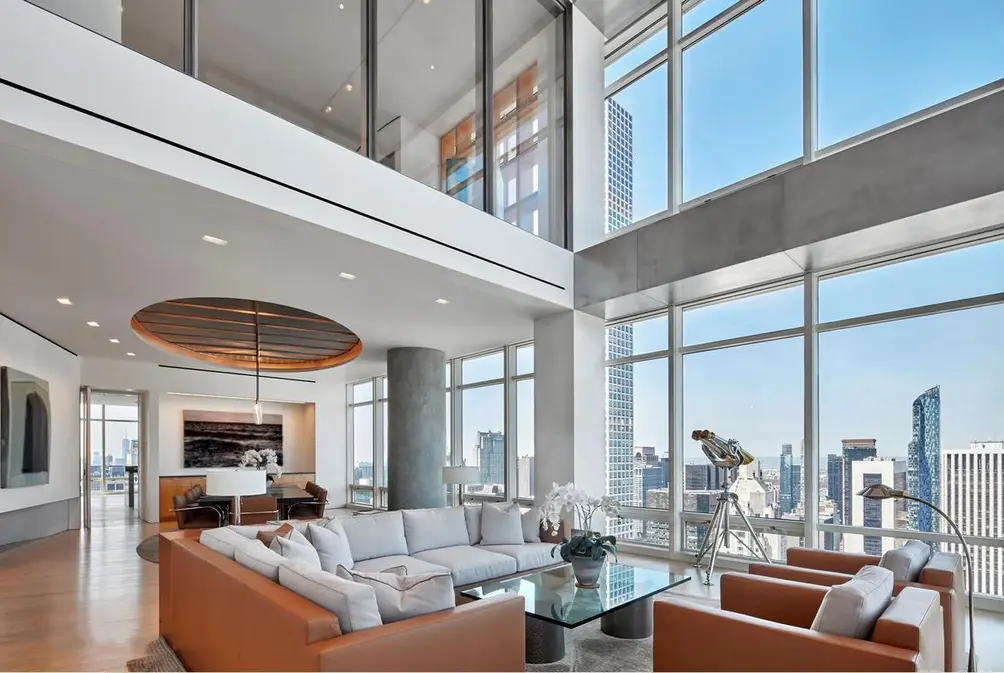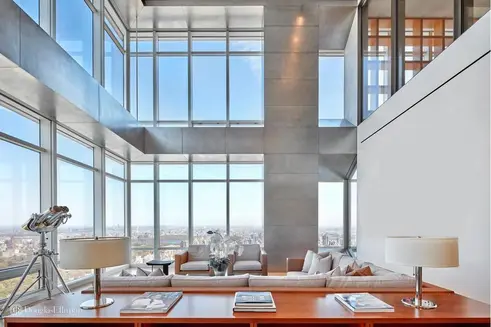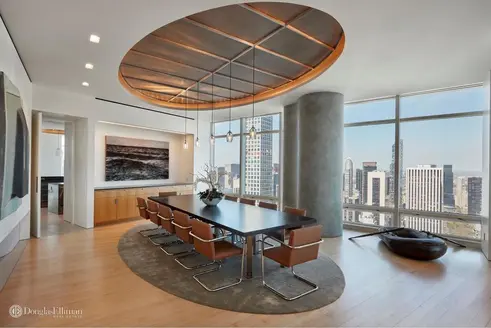 In this new series "Real listings, imagined lives," we take inspiration from real-life listings and overlay an imagined story. The traditional real estate listing descriptions are fictionalized to add fascination and a New York edge. The series will envision residents, neighborhoods, culture, and more around NYC homes for sale. New Yorkers are anything but ordinary, and so their home descriptions should not be either. So our stories take creative license and New York chutzpah to reveal the most interesting aspects of listings as we envision the lives lived in these amazing homes and communities.
In this installment, Michelle Sinclair Colman explores the day in the life of a window cleaner as she gets carried away by the views and her imagination by the One Beacon Court penthouse.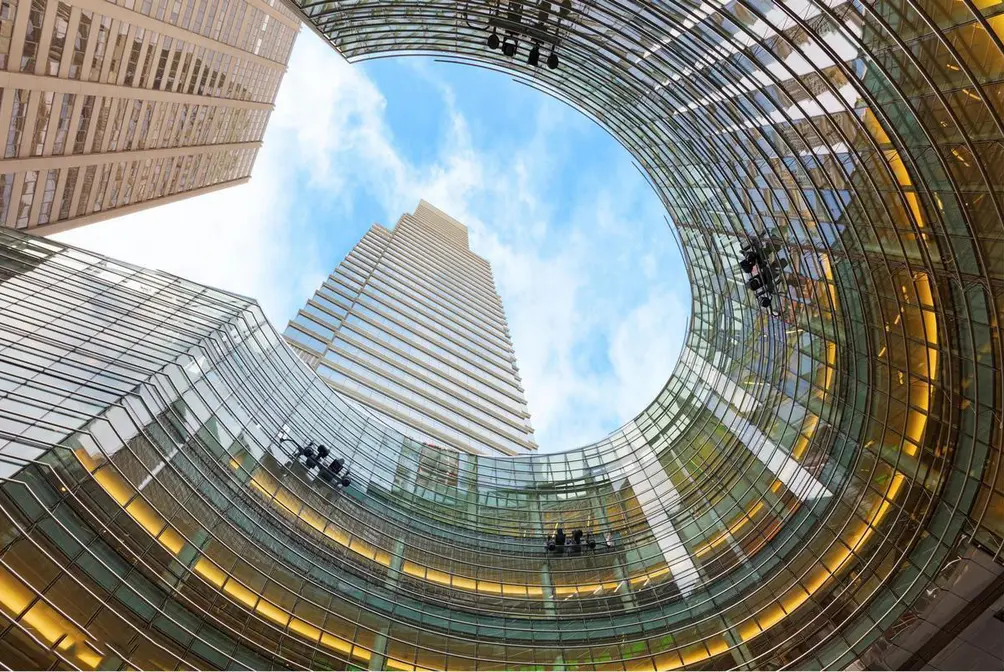 The wind is my worst enemy. As I hoist myself up the building, I'm grateful it's calm today. Well, it's insanely noisy down here but once I get a few stories up, all the chaos fades away and the amazing city unfolds below.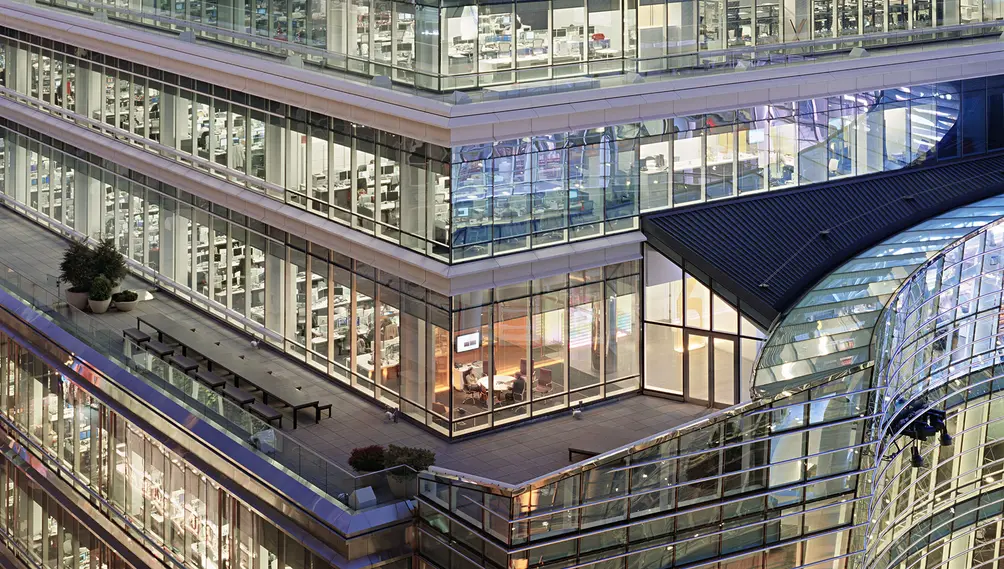 I absolutely adore this building. The first few floors are retail and Bloomberg's headquarters and propped above are approximately 100 condominium residences. Not only am I so thankful that each set of windows has ledges, unlike most of these new glass monolithic giants, but the views, both inside and out are to die for. Ha, maybe that's the wrong phrase. Not to die for like from falling from 50 stories up, but, well, you know ;)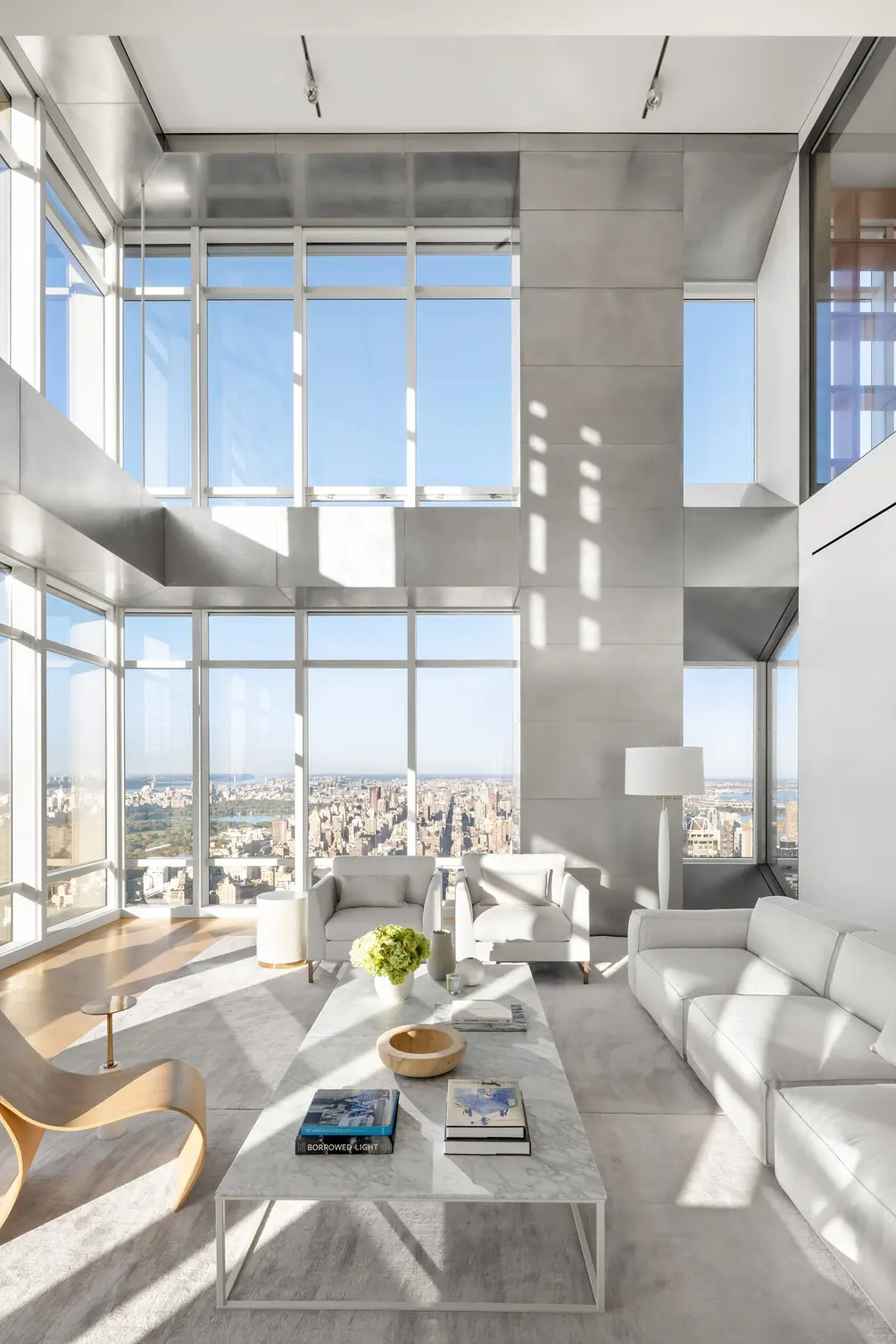 Today my assignment is to clean the penthouse windows. I have told so many people about this place but no one can fully understand the grandeur. Most of the time when I do my job, I don't focus inside, I just focus on the window in front of me but this place is something else. I can't help but be a peeping Tom - some apartments are just too good to look away. I don't like catching people in compromising positions but this real estate porn is too good to divert my eyes.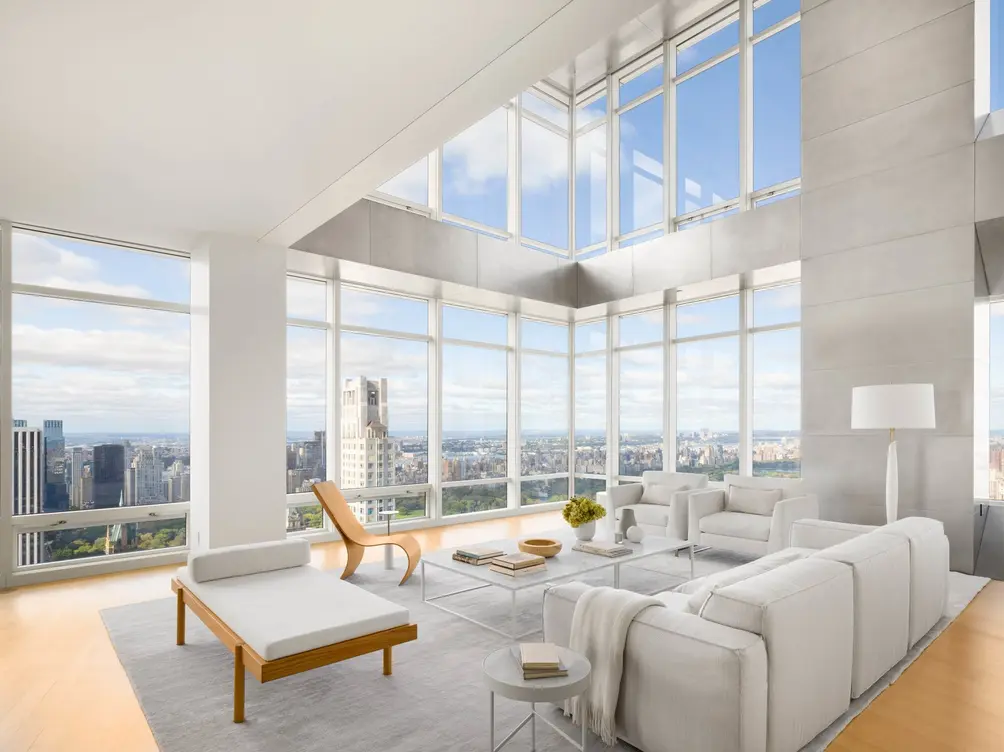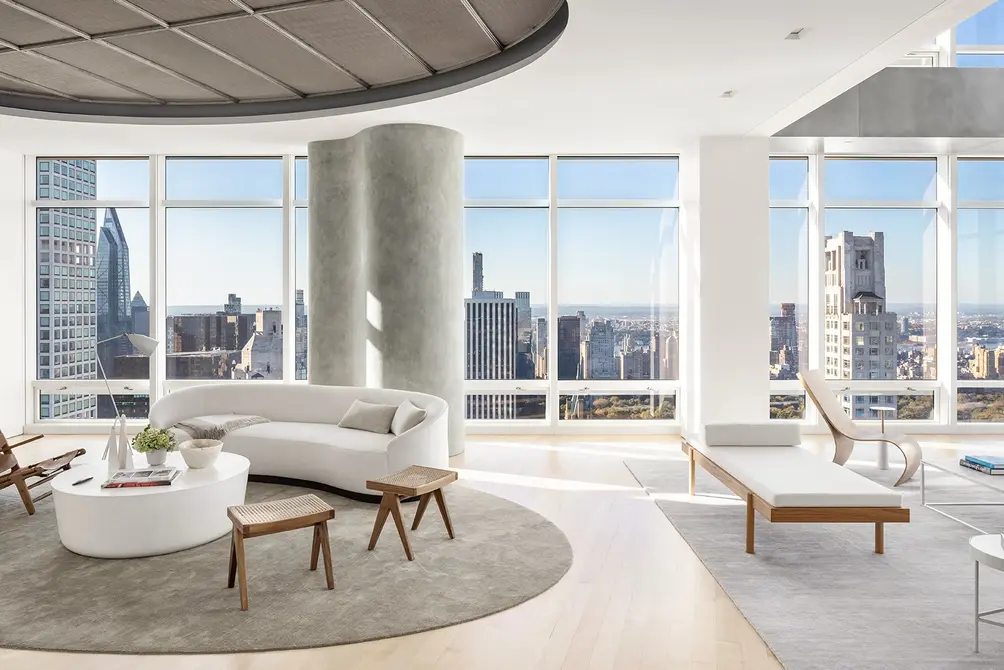 The two-story living room is other-worldly. Clearly, no children live here because it's so white and so perfect. And, each room just oozes from one to another, there are no walls cutting it up. Even the stairs are made of glass. I imagine super swanky parties where guests just float around in white flowy clothes and never touch the ground.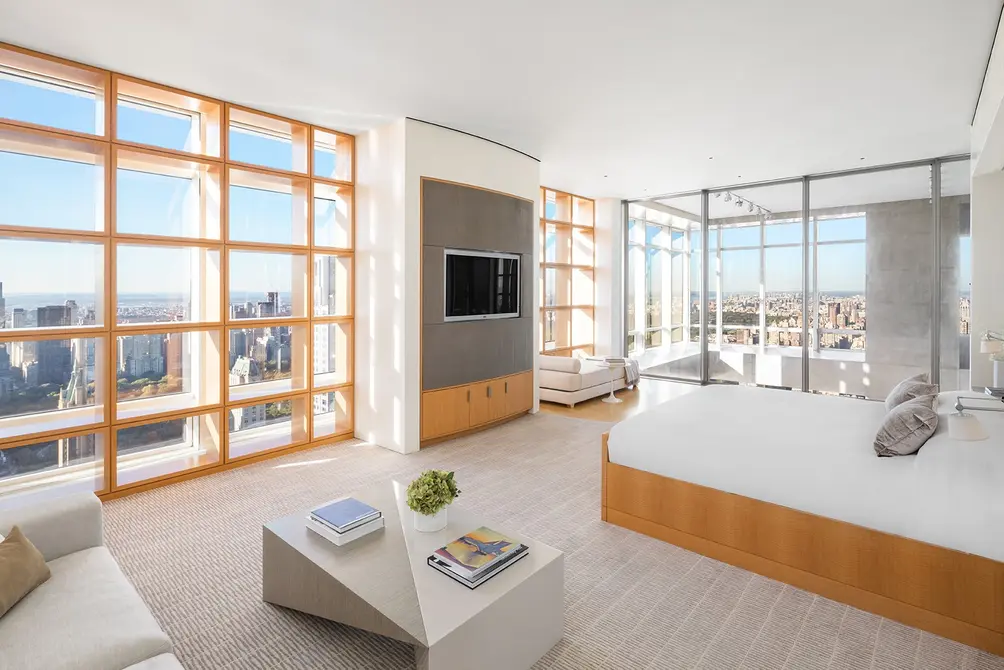 As I work my way around the building, I'm always eager to see the master bedroom. NO, not for that reason - because it's insane. It not only does it have walls of floor to ceiling windows but the "wall" between the bedroom and the two-story living space is made of windows. I wish they'd call me in to clean those!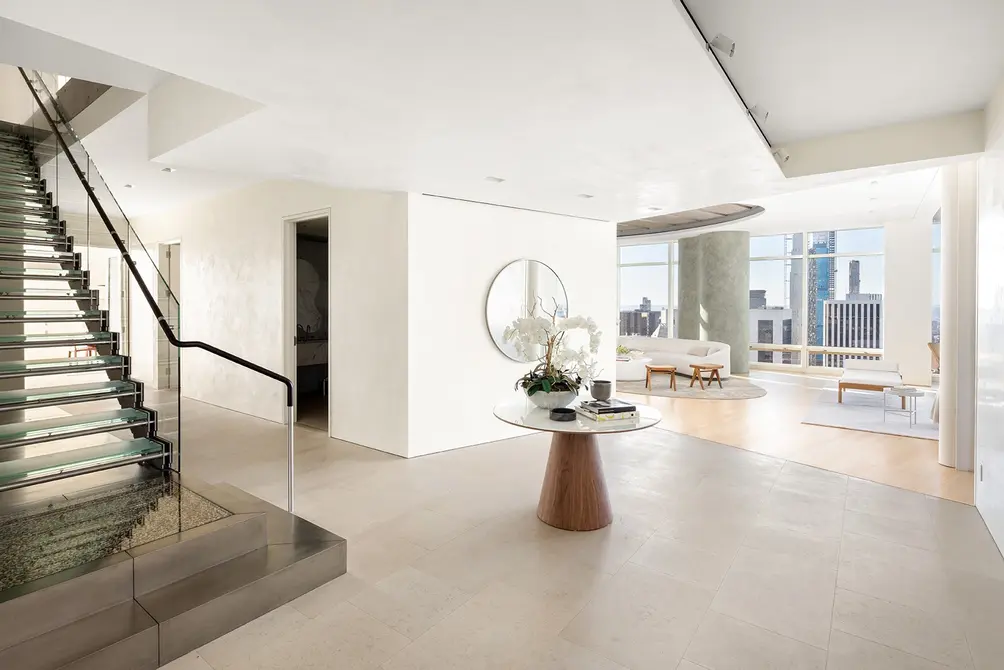 I'm dying to surprise the owner someday. I imagine he's a tall, gorgeous, salt and pepper, modern-day Gordon Gekko. I want him to come home one day in his bespoke suit, breeze through his apartment absorbed by his phone, followed closely by his many lackeys who bump into him as he stops abruptly, in shock, to see this gorgeous woman suspended outside his apartment window! Well, not sure I'm looking super sexy with all of these safety straps but a girl can dream ;)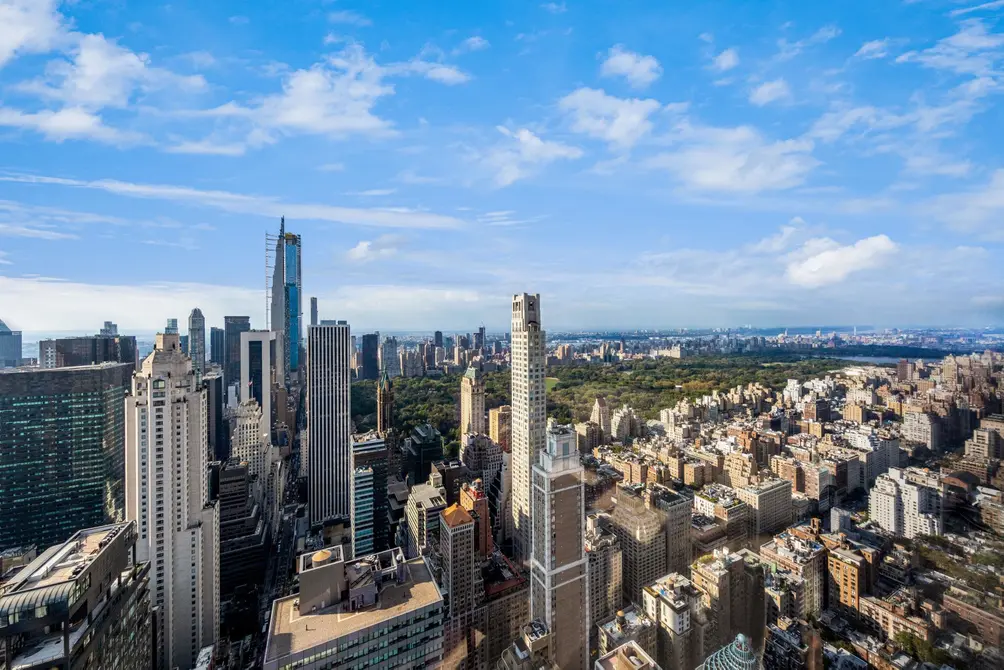 That new super tall building on the park is getting bigger every day. I think it just topped out. I pray I get to clean those windows someday.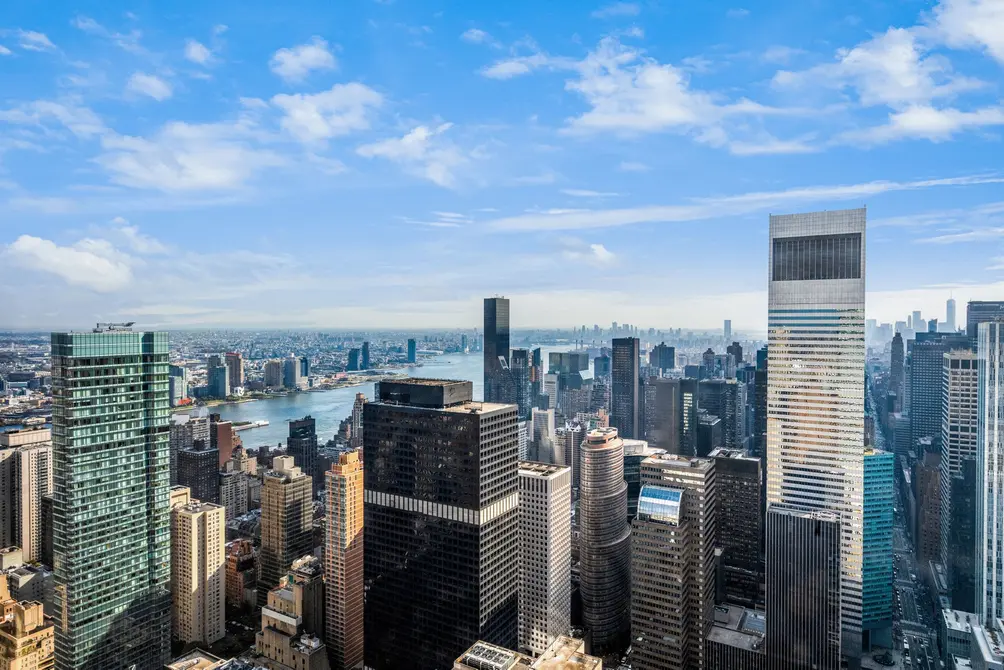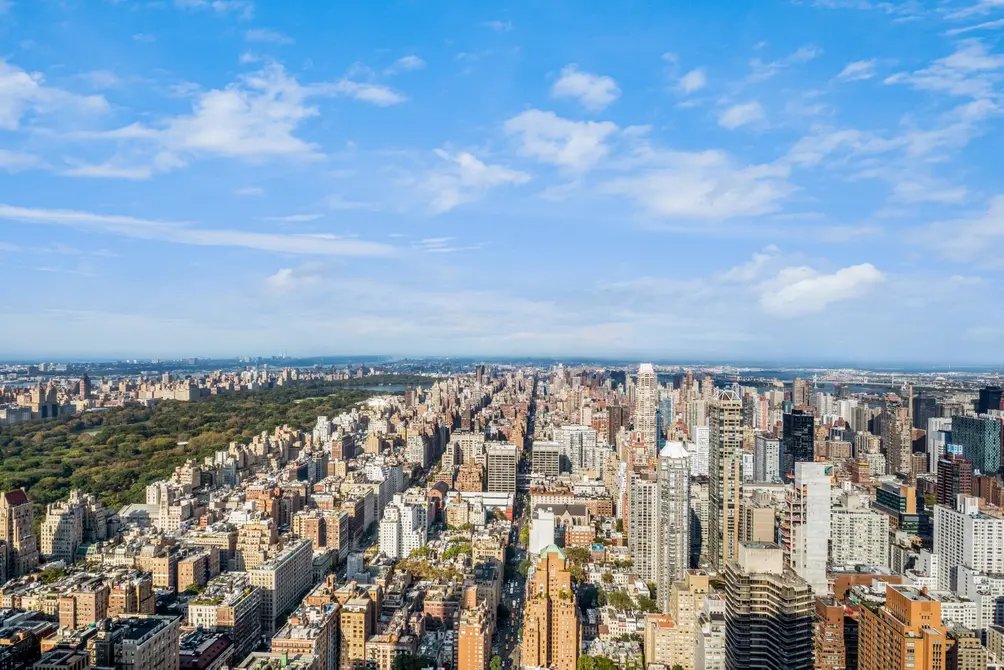 As my mind wandered, I let myself spin around and take in the view from 700 feet above Midtown and the Upper East Side. I can see everything from Central Park to the East River and from downtown to the George Washington Bridge on the Hudson River. I don't think there's anything I can't see. The sun strikes the nearby buildings so beautifully, they were all glistening. The light goes straight through 432 Park, from one side to the other. And One57 almost blinds me with its pixelated facade. It reminds me of an old computer screen dying.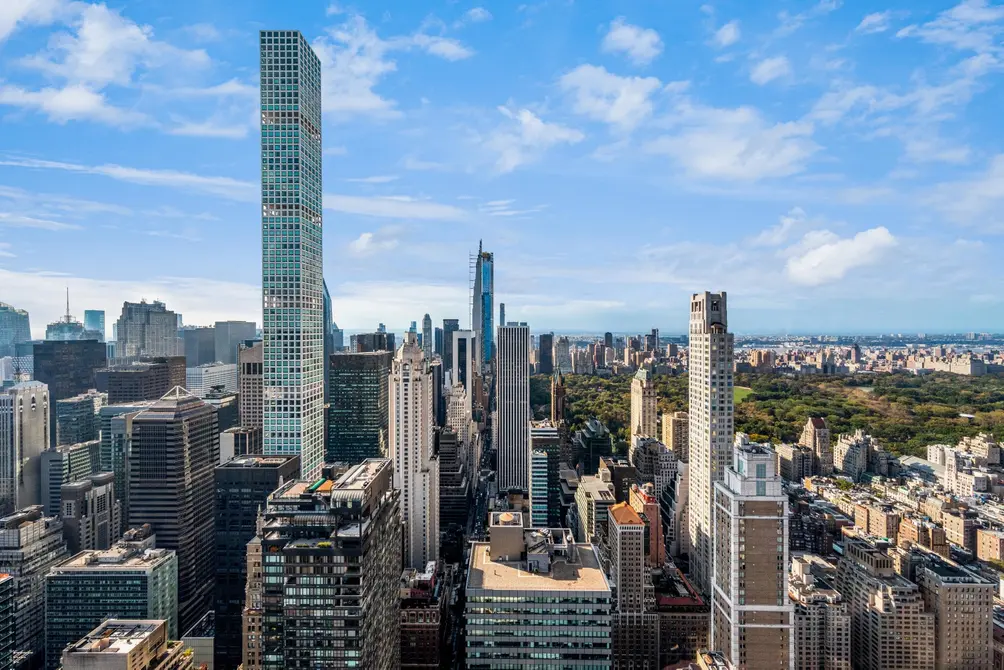 432 Park Avenue is a dream to clean with those double-height open floors for me to hide and take naps in. I take breaks every 12 or so floors. That's a good building for newb window cleaners.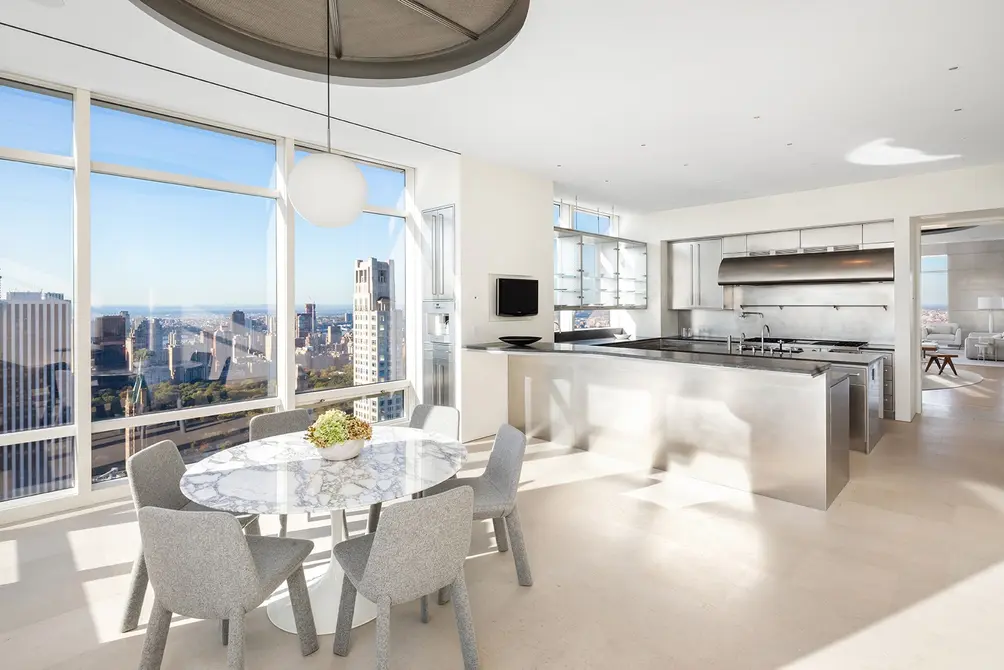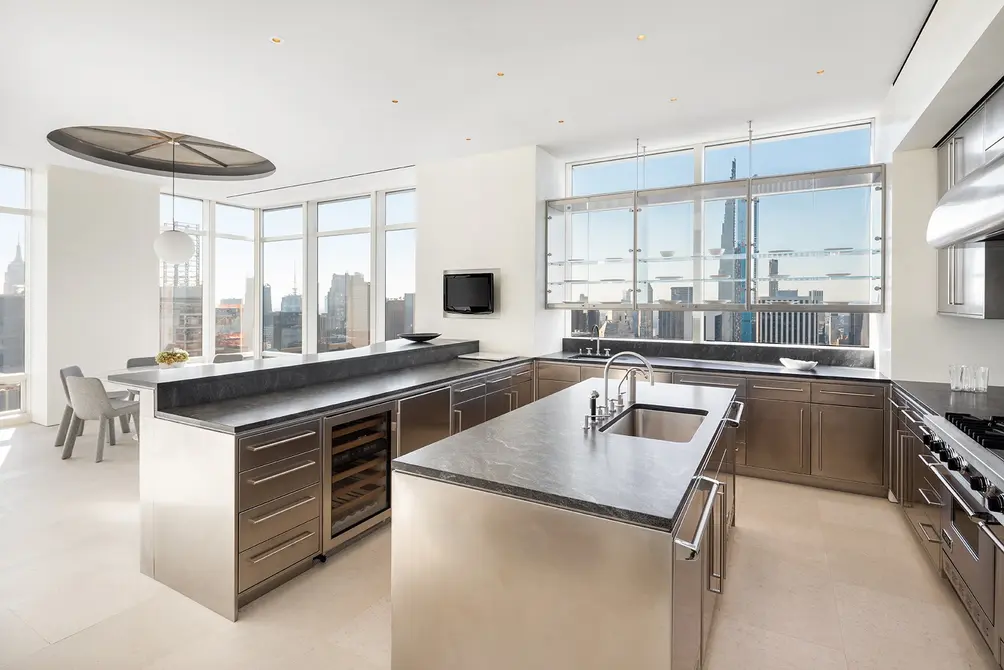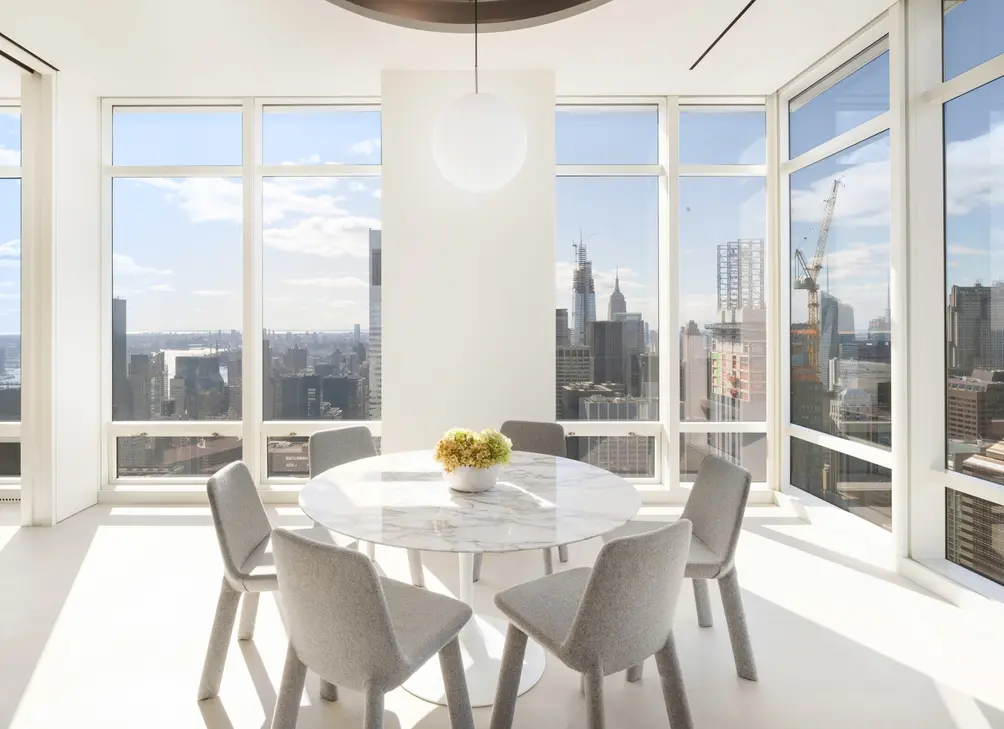 A slight wind blew me to shake me from my daydream. I worked my way around to the kitchen. I'm looking through the window through the glass shelves. I can't imagine anyone has ever cooked on that pristine stovetop or diced on that countertop. I imagine that one day I'll come to clean and see Jean-Georges whipping a little something up on the night Gordon doesn't feel like having the same ole, same ole delivered from Hutong downstairs.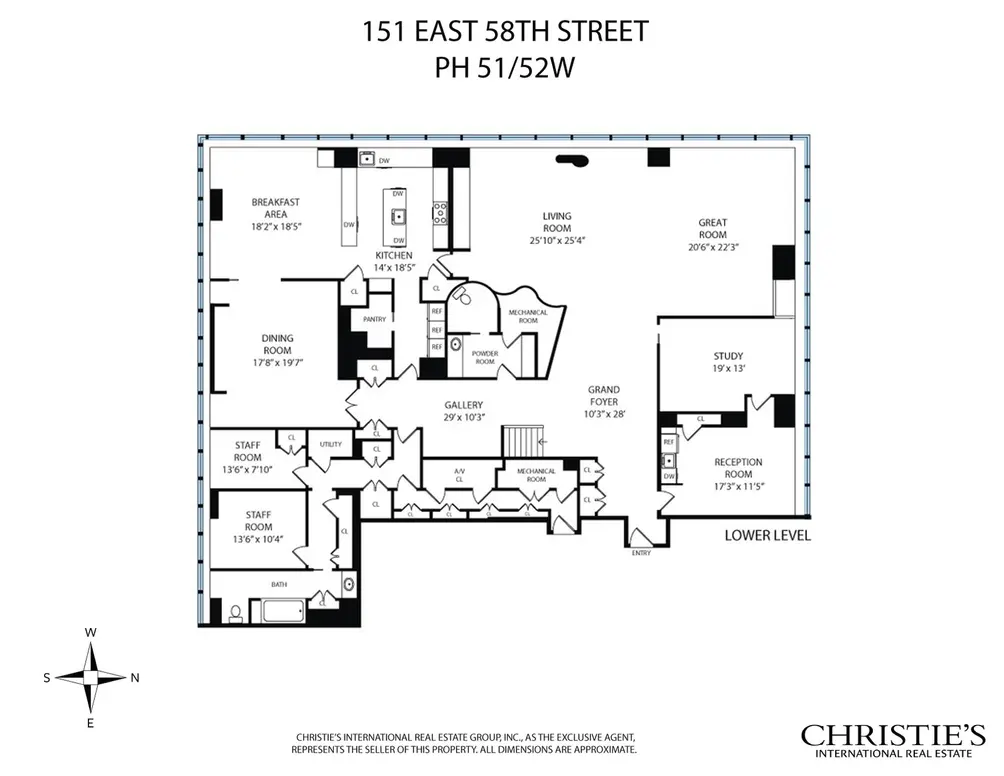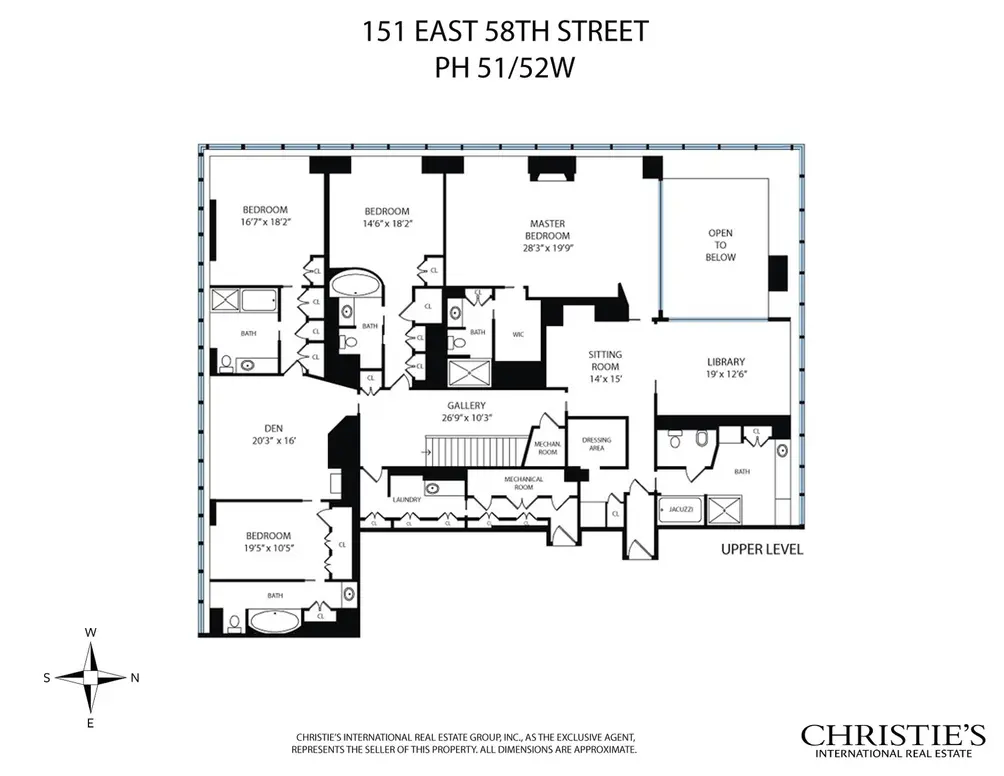 Word on the street, literally on the street down 50 floors or so, is Gordon can't give this place away. I don't believe it but they say he originally listed it over $100 million and now it's down to a "mere" $30-something million. I can't believe I'm about to say this but this place is a bargain at $30 mil. I start to laugh to myself which starts me swinging again. Steady, girl.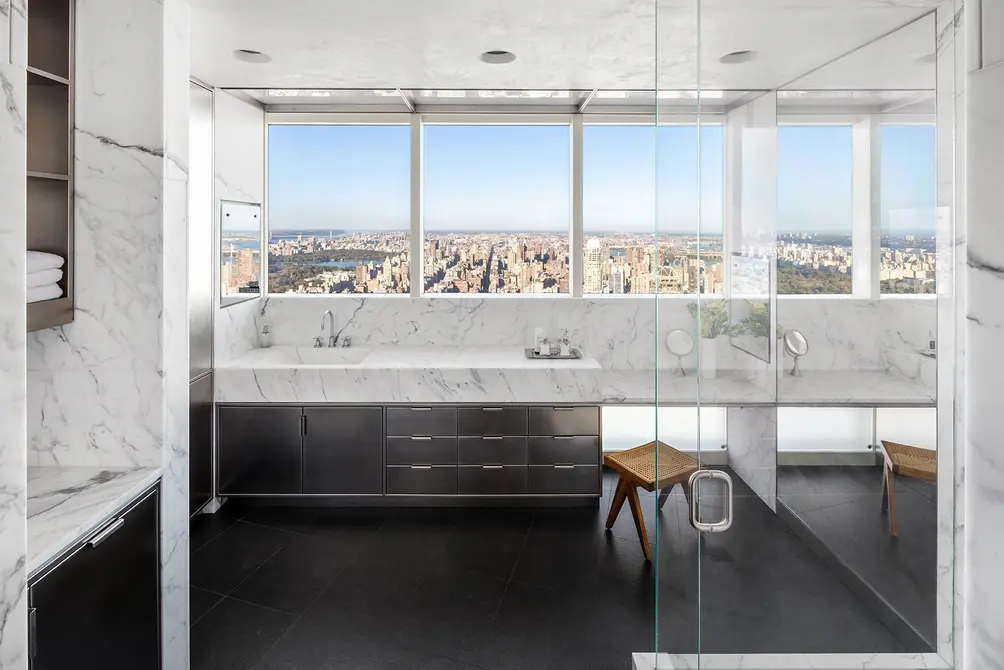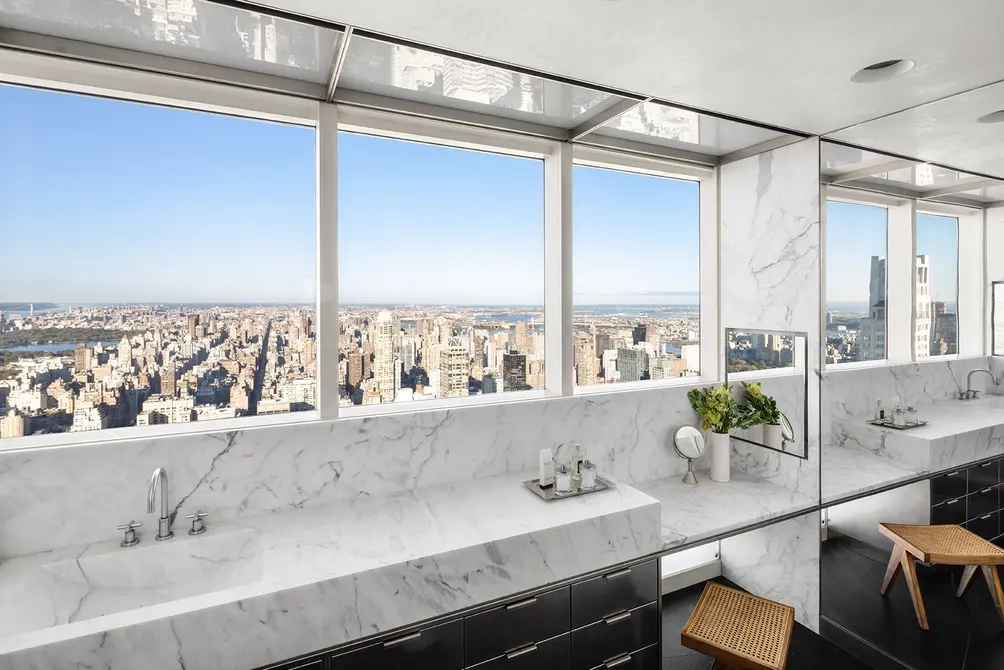 The master bathroom always amuses me. Not because there's anything funny but because most people stare at themselves in the mirror when they are at their sink but Gordon just soaks up the view. I wonder if he's ever cut himself shaving because something unexpected flew by?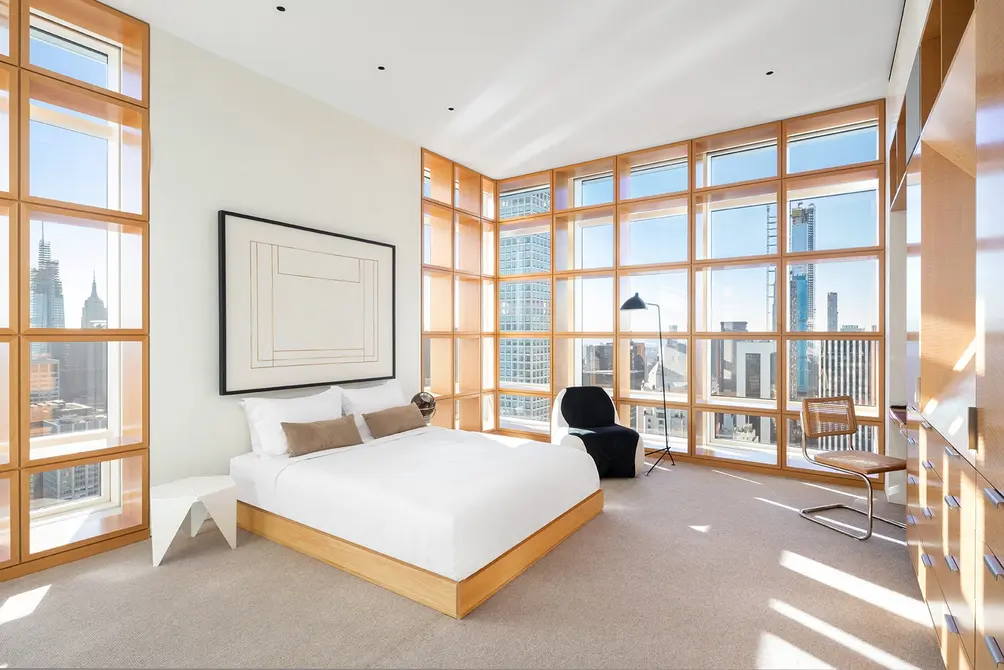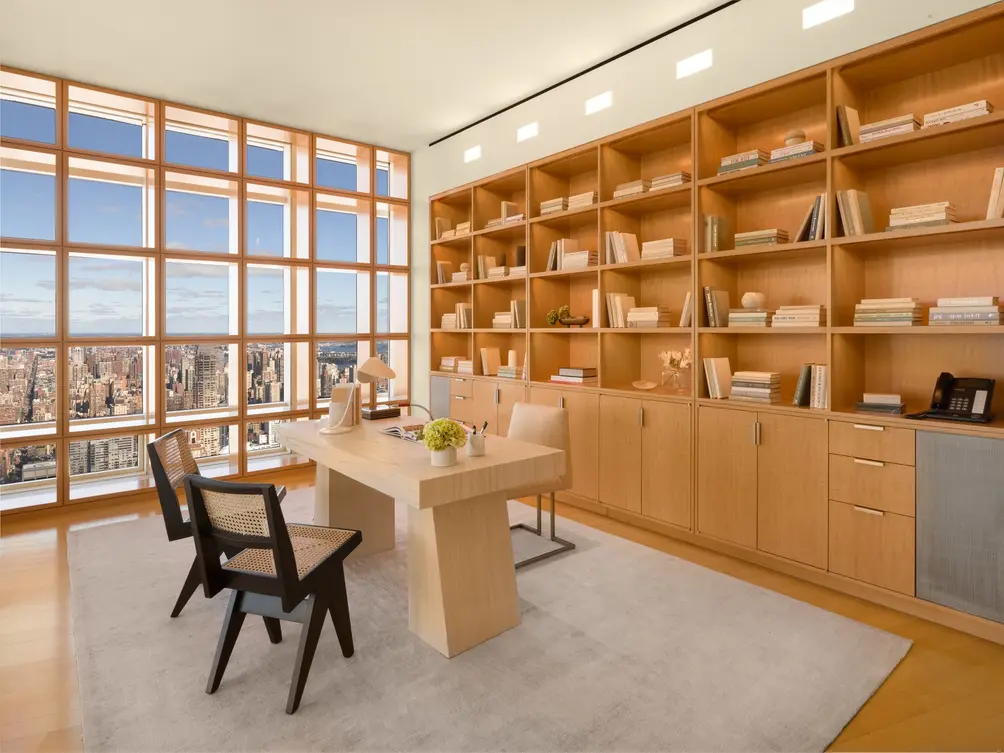 The den and guest bedrooms are equally dreamy. This is a megamansion in the sky. I will never tire of this, I thought. I jump as I hear a bang against the window.
I turn and there I am, face to face with a bald man wearing glasses, jeans, and a sweatshirt looking very confused/concerned/invaded. Hey, you are NOT Gordon!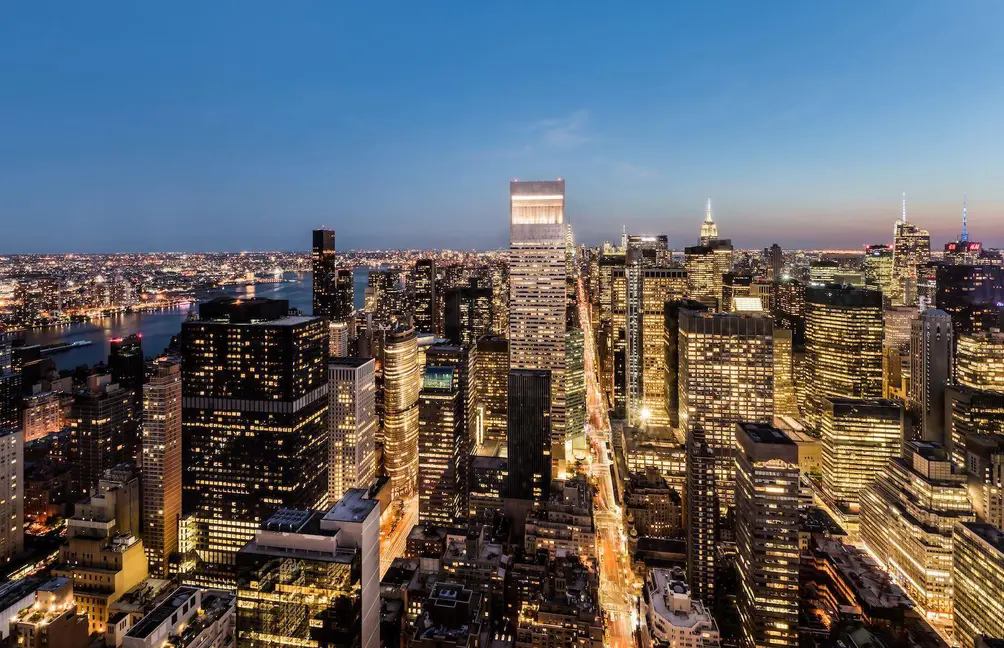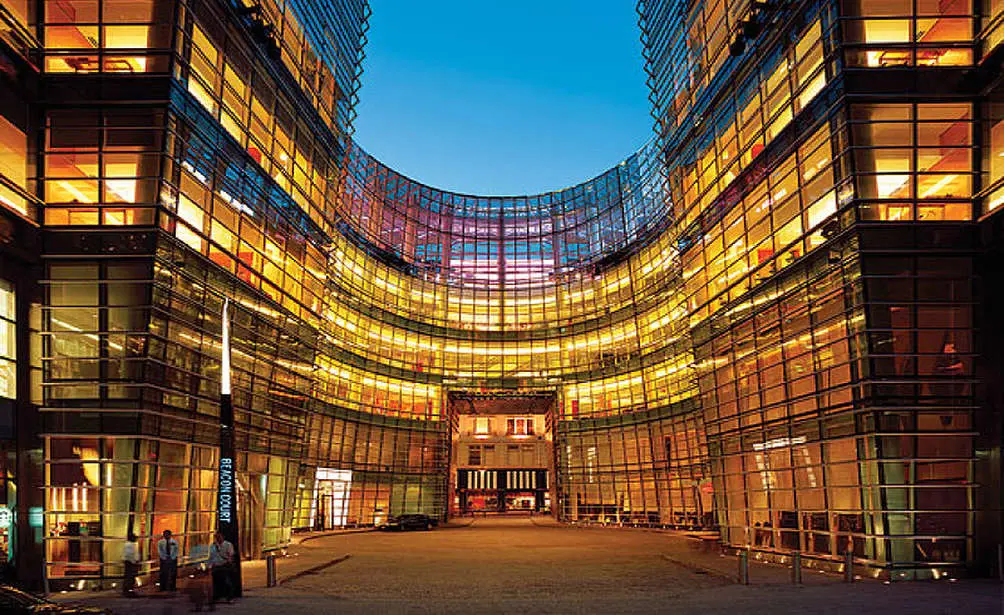 Schedule an Appointment
To tour this property, just complete the information below.
Or call us at (212) 755-5544
Additional Info About the Building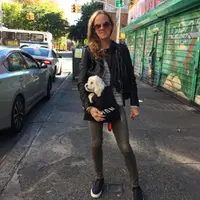 Contributing Writer
Michelle Sinclair Colman
Michelle writes children's books and also writes articles about architecture, design and real estate. Those two passions came together in Michelle's first children's book, "Urban Babies Wear Black." Michelle has a Master's degree in Sociology from the University of Minnesota and a Master's degree in the Cities Program from the London School of Economics.
Book a Tour or get more information about any of these properties
Off Market Listings
Off-Market Listings
Off-Market Listings
Many apartments are sold off-market
without being publicly listed.
Contact us to learn more about off-market listings. There's no cost. And never any obligations.
or call us at (212) 755-5544