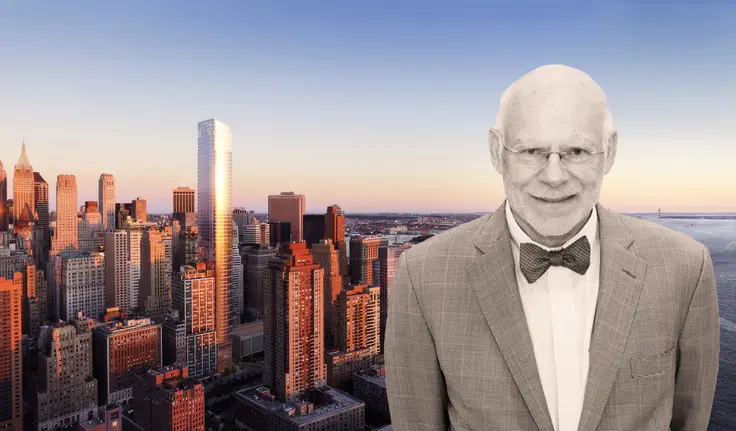 When it comes to real estate, Greenburger believes in a comprehensive approach, creating a sustainable company by investing in multiple markets and properties that ensure a healthy cash flow regardless of the economy. As such, Time Equities is involved in the acquisition, development, conversion, and management of properties across the globe—and most notably, in New York City. In his downtime, Greenburger loves to ski, play tennis, swim, and spend time with family and friends at his homes in the Caribbean, Colorado, Long Island, and New York City. Ahead he chats with CityRealty about his day job, extracurriculars, and what it's like to have a hand in the transformation of
lower Manhattan
.

What do you mean when you say that Time Equities is a sustainable real estate company?
Francis Greenburger: When real estate companies are solely dependent on development activities and the cycle goes against them, they get into trouble because the market has disappeared, and they don't have other income that can help them through those periods. But because Time Equities is heavily involved with income properties where the cash flow continues even when buying and selling of apartments or other kinds of real estate slow down, we have that recurring income, so we are sustainable. We can get through periods of low development activity or sales. Our income comes from properties that are completed, rented, and leased up. Real estate companies that are solely dependent on their development activities would have trouble sustaining their workforce, but one that continues to collect monthly rent checks the way we do has that as a diversified source of income.

Time Equities owns property in 26 States and four countries, so if things are not doing well in New York, but they are going well in Chicago, or they're not doing well in the southwest, but they're doing well in California, because we're so diverse, we aren't overly dependent on a cycle in a particular location. If you're a Florida real estate company, and you only own properties in Florida, and there's a huge hurricane, you can have a very serious problem. But because we're so diversified, we can balance the winners off of the losers.
What trends or markets is Time Equities focused on right now?
Francis Greenburger: Right now in our development pipeline we are working on three projects: one in Chicago, one in Florida, and one in Grand Rapids, Michigan. We're finishing two projects in New York City, but we don't have additional projects here. We felt that the risk was too great because the pricing for land or buildings to be renovated is so high. We also felt that because the market is so mature, there's a chance of it slowing down. Chicago is on a different cycle. Their market has only been revived for the last 12 to 24 months, so they're earlier in the cycle than New York, which is probably five or six years old since we came out of the financial recession. Now we're seeing some slow down in the higher end product, so it's a different market cycle. So we looked at the markets that were still young.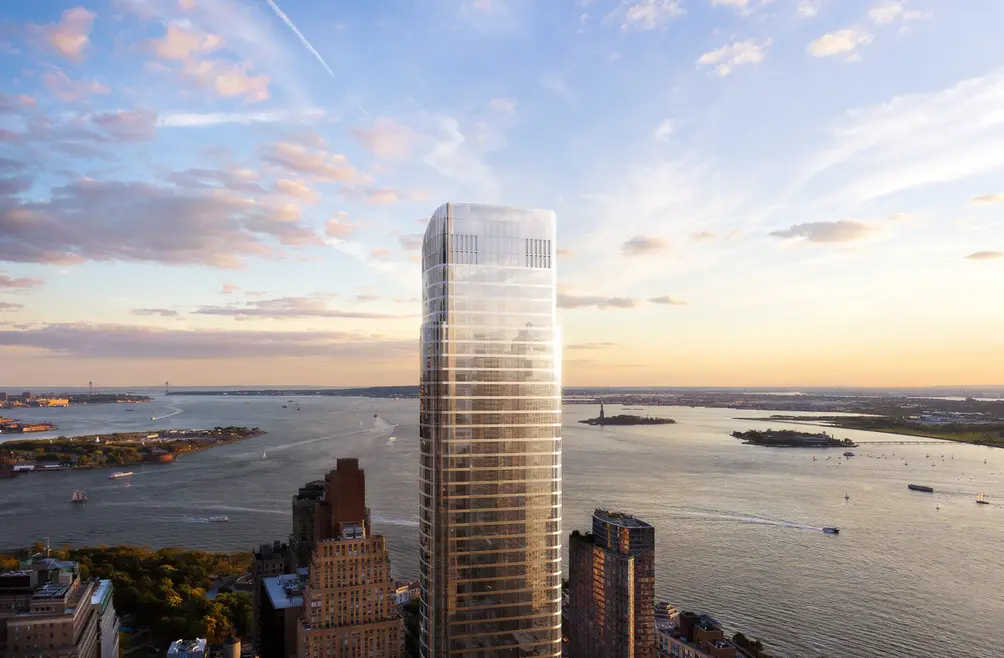 How long have you owned the site where you built 50 West Street?
Francis Greenburger: I bought the site in 1982. There were three loft buildings there. We operated them as office buildings for 25 years. And then we made the decision to demolish them and build this building. They came down in 2007. Everybody in town was racing to get there because there was another tax abatement expiration, which was July 1st of 2008, and you had to get your foundation started before that date. We'd just begun the foundation, but then, of course, we came up against the financial collapse in September of 2008, and we decided to discontinue construction at that time and wait until the market came back, which we did for almost five years.
The site that 50 West Street is built on is challenging on street level with the proximity of the garage and the highway. How did you work with that?
Francis Greenburger: Basically, we did a couple of things. We used the base of the building for our amenities, so that's where we have a fitness floor, a floor of lounge spaces, a floor of condominium offices, and a floor for mechanical aspects of the building. The first residential floor in the building is the eighth floor. Also the ceilings on the first seven floors are quite high, so you're really about a hundred feet in the sky by the time you get to the eighth floor. The primary entrance is on West Street, but there's a secondary entrance on Washington Street.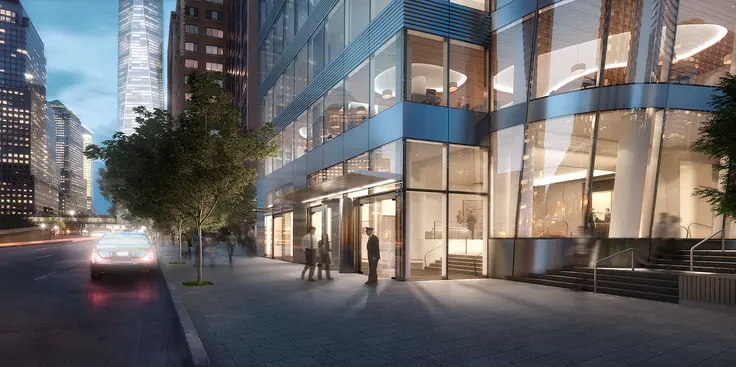 Enlarge Image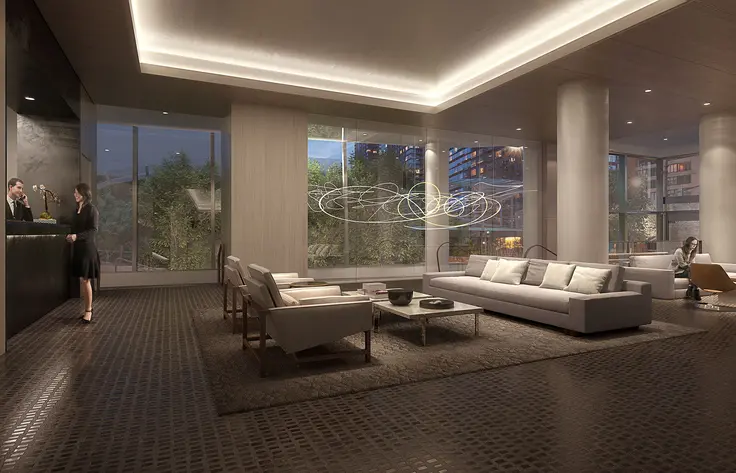 Enlarge Image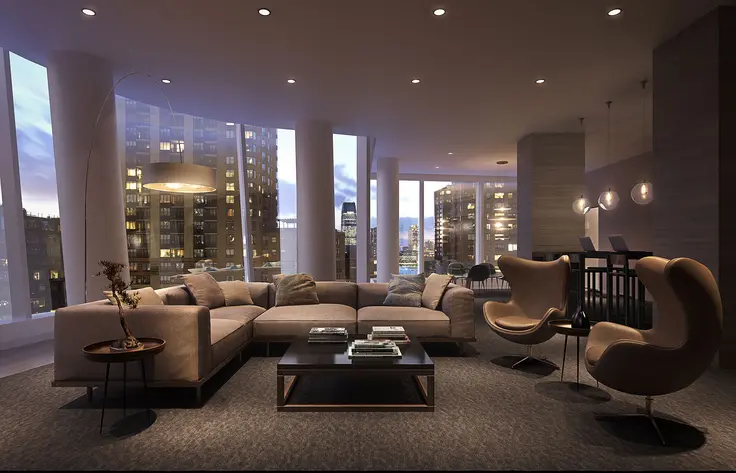 Enlarge Image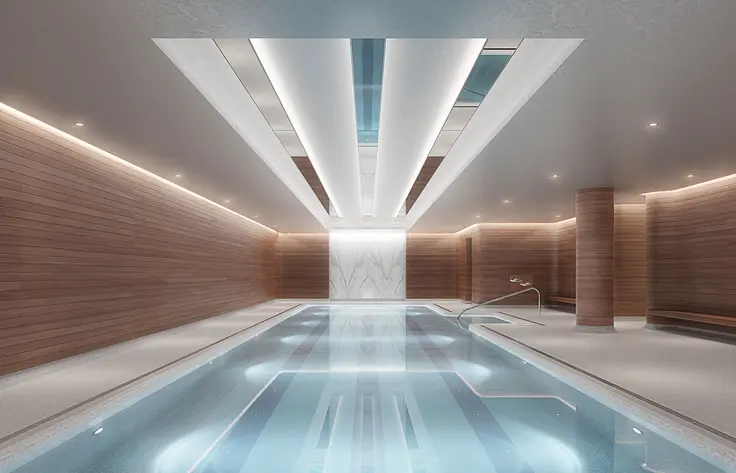 Enlarge Image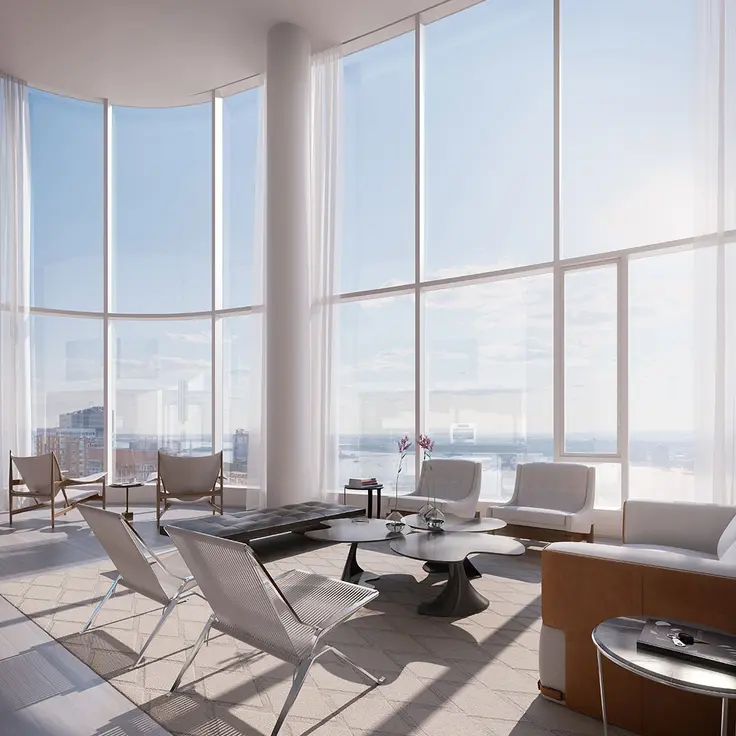 Enlarge Image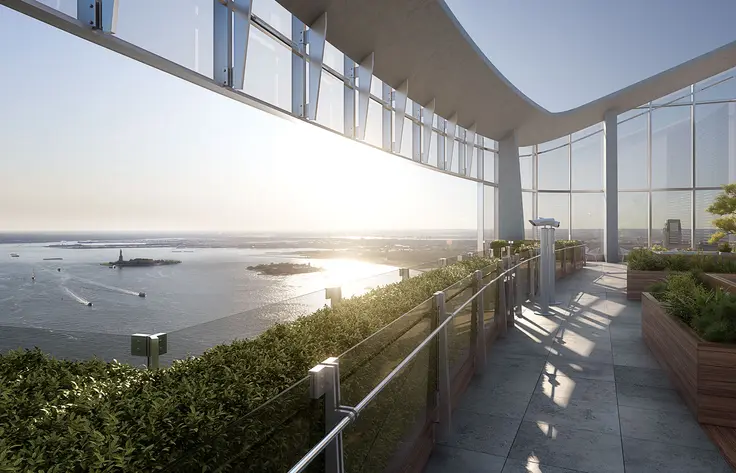 Enlarge Image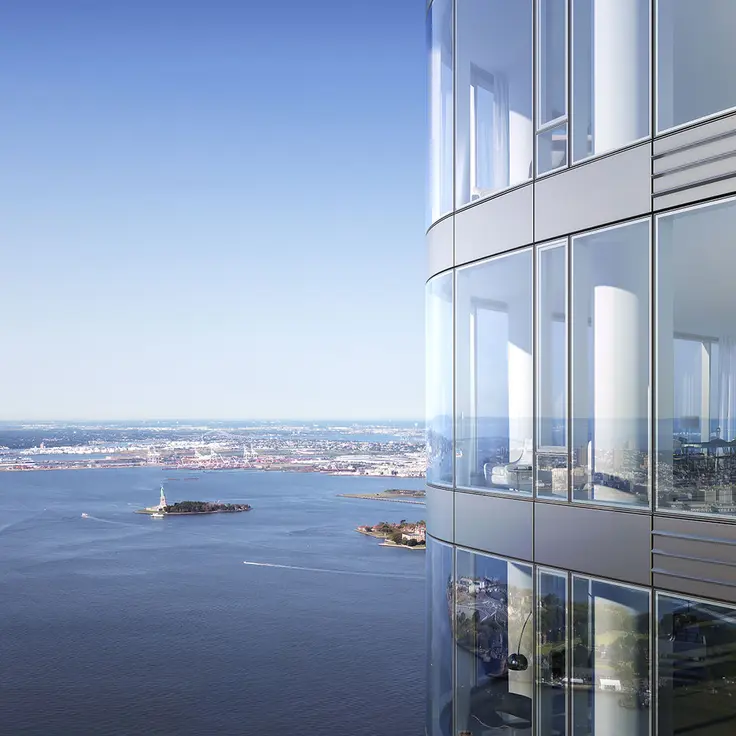 Enlarge Image
Can you tell me about the 50 West Street team?
Francis Greenburger: Helmut Jahn, who is one of the ten leading architects in the world, designed the exterior of the building. We held a competition to choose an architect, and we picked the one we felt had the best concept — and that was Helmut. But then because this is New York City, it's a highly specialized building environment, and his main offices were in Chicago, we wanted to have a local executive architect, and we chose SLCE, who is generally regarded as the gold standard of executive architects in the city.

They were terrific in terms of the interior and understanding zoning and layout issues. They helped us understand issues that we did not understand, such as the use of voids on the part of the building that faces another building. The building to our north is twenty-five or thirty stories high, and we didn't want to have rooms that were facing those blank walls. They wouldn't have had any windows, or they would have had rooms that were very deep if we relied on the windows on the east or west side. So we created what are called void spaces, which have nothing in them and are bricked over. If you don't use up buildable FAR [floor area ratio], you're then allowed to put that FAR on top of the building. You trade dark spaces with blank walls for the best part of the building. SLCE isn't the only firm that uses it, but they are definitely one of the firms that is extremely knowledgeable and adept at it.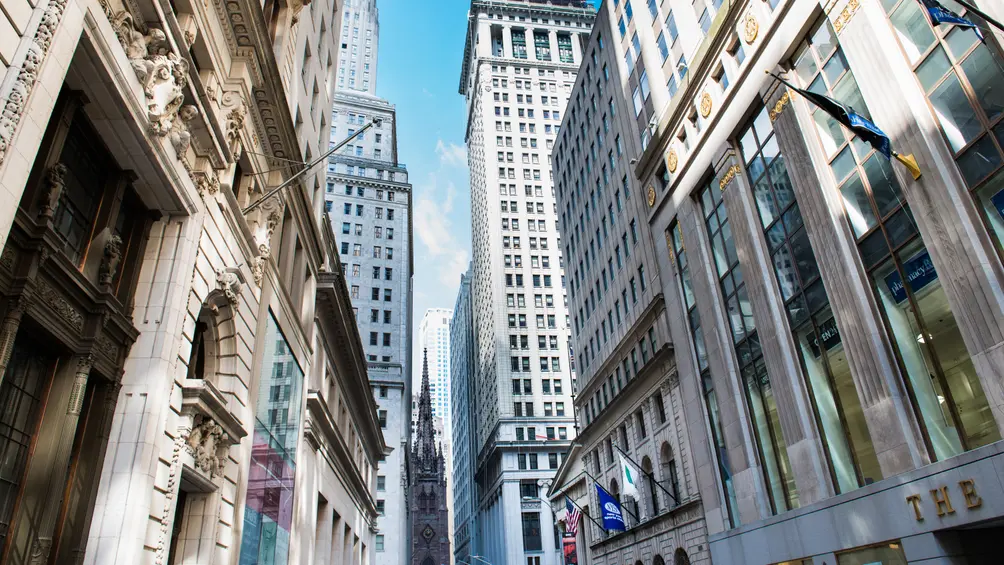 There's a tab on the 50 West Street website for "The New Downtown." What do you mean? What is your vision for the continuing evolution of this neighborhood?
Francis Greenburger: If you walk down West Street, particularly in the last 24 months, it's apparent that it has been turned into a boulevard. There's the plantings in the middle and on the sidewalks, the Memorial, the parks, and Brookfield Place that turned what was the back of their buildings into the front and put in extraordinary retail. If there ever was a transformation, it seems to have occurred, and that's part of what we mean about the new downtown. The advent of the residential component has been a trend in the last 15 or 20 years as it's been transformed from a commercial district into a mixed-use district. So all of those things are what I mean when I talk about the new downtown.
You've had your hand on the helm of a range of major companies in different fields including real estate, literary representation, an international art center, and social and criminal justice reform. Can you tell us about them?
Francis Greenburger: I self-identify as a mixture of a traditional entrepreneur and what I'm calling a social entrepreneur. Basically, my fields are in the not-for-profit area, and the social entrepreneurship is art, education, and criminal justice. I'm the chair of something called the Sports and Arts in Schools Foundation. We're the largest provider of after school programs to the public schools in New York. We're in 200 schools. We have twenty-five hundred students and 3,000 part time teachers working for us. On the for-profit side, there are two businesses. One is the real estate investment business and one is publishing, which is a family business. My father ran it for the last 45 years.
Are you still involved with the literary agency?
Francis Greenburger: Yes, very much so. Personally I don't work with authors anymore. I gave that up 35 years ago. So really what I do is support the agents who work in my agency. We represent Dan Brown, Brad Thor, and a wide variety of other well-known authors. Fortunately, we have authors that have done extraordinarily well and continue to do extraordinarily well.
Schedule an Appointment
To tour this property, just complete the information below.
Or call us at (212) 755-5544
Additional Info About the Building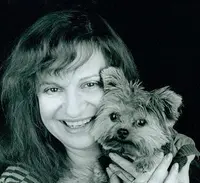 Contributing Writer
Jillian Blume
Jillian Blume is a New York City based writer who has published articles widely in magazines, newspapers, and online. Publications include the New York Observer, Marie Claire, Self, MSN Living, Ocean Home, and Ladies Home Journal. Jillian received a master's degree in Creative Writing from New York University and teaches writing, critical reading, and literature at Berkeley College.
Book a Tour or get more information about any of these properties
Off Market Listings
Off-Market Listings
Off-Market Listings
Many apartments are sold off-market
without being publicly listed.
Contact us to learn more about off-market listings. It's quick and easy. And never any obligations.