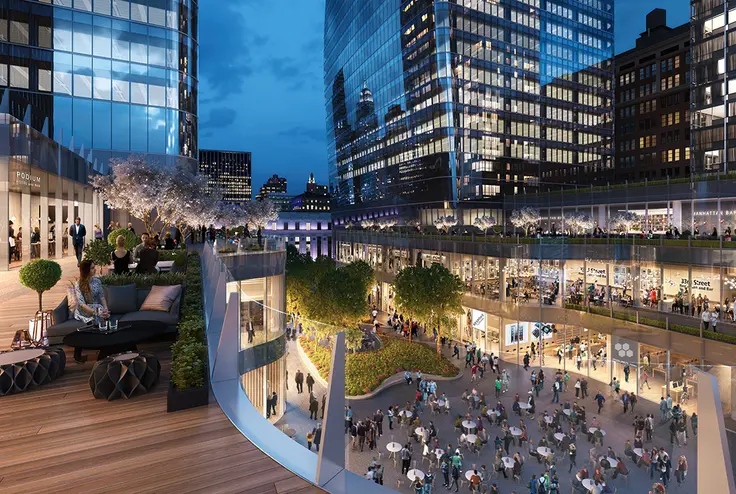 Timing is everything: a truism that certainly applies to the west side of Ninth Avenue, between 31st and 33rd Streets. For decades, the site was solely occupied by the Pennsylvania Railroad tracks, with a highly valued package of air rights above.
Brookfield's
new mega-development,
Manhattan West
, has the potential to wipe away memories of the area's more volatile history. Here is a quick run-down of site's five-decade long development history.
On September 28, 1967, Mayor Lindsay announced plans to develop a $60 million, middle-income apartment complex to be built west of Ninth Avenue between 31st and 33rd Streets over the Pennsylvania Railroad tracks. Dubbed Chelsea Walk, the complex was proposed to consist of 1,600 residences, ranging from studios to three-bedrooms for an average price of $53/month. Designed by Philip Johnson, the development would comprise two 25-story towers and two 38-story towers as well as retail stores, offices, a private park, and a nursery school.

Lindsay claimed the project would deter families from moving out of the city by offering suburban conveniences in an urban setting. The project, however, saw opposition from many, including seventeen speakers at a City Planning Commission hearing the following January. Democratic District Leader Raymond Guenter claimed that the area should instead be used for low-income housing, and be geared towards families rather than offering mere one- and two-bedroom units. Democratic Assemblyman Jerome Kretchmer proposed that the area should instead host an industrial development to provide much-needed jobs. In the end, opposition won out, and the proposal for Chelsea Walk was for naught.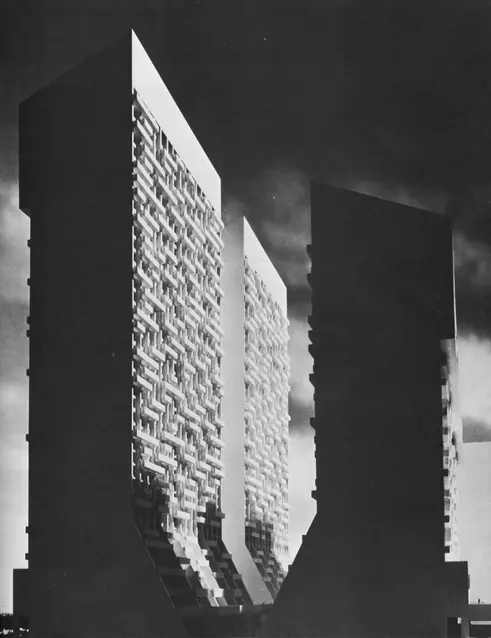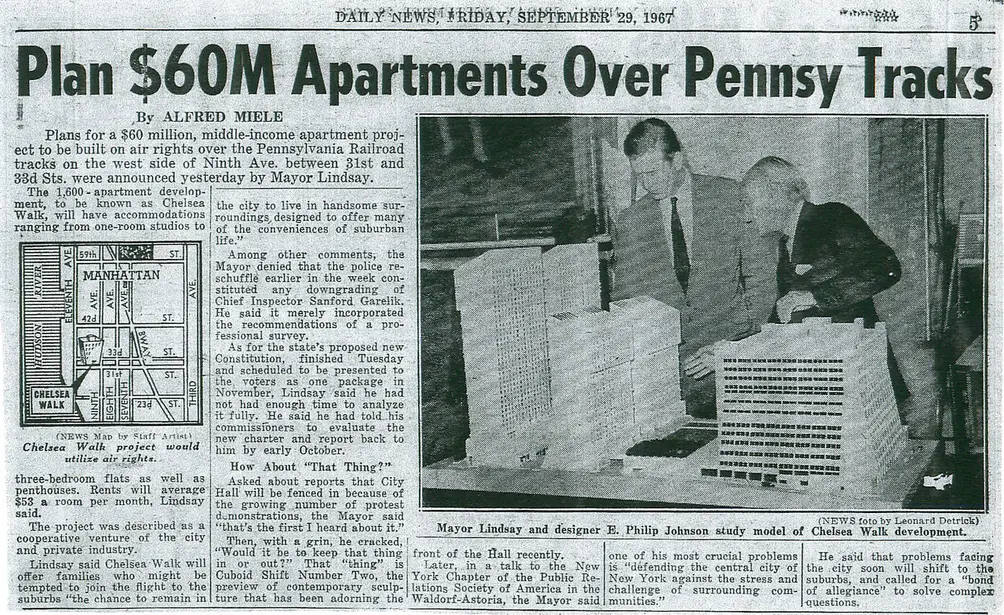 Fast forward to 1990, when developer
Harvey Schulweis
obtained a permit for the site at 400 West 33rd Street. For ten years, Schulweis was involved in slow-moving negotiations with the
Metropolitan Transportation Authority
, owner of the tracks below his proposed one-million-square-foot tower. Enter the
National Basketball Association
, which was at the time seeking a new headquarters in the hopes of consolidating its multiple offices. After setting their hopes on Schulweis' proposed tower, they sought to extend the construction permit as well as secure a property tax break. The City Planning Commission, however, declined to provide a large enough package of tax breaks for the proposed development, and the NBA dropped their plans in 2001.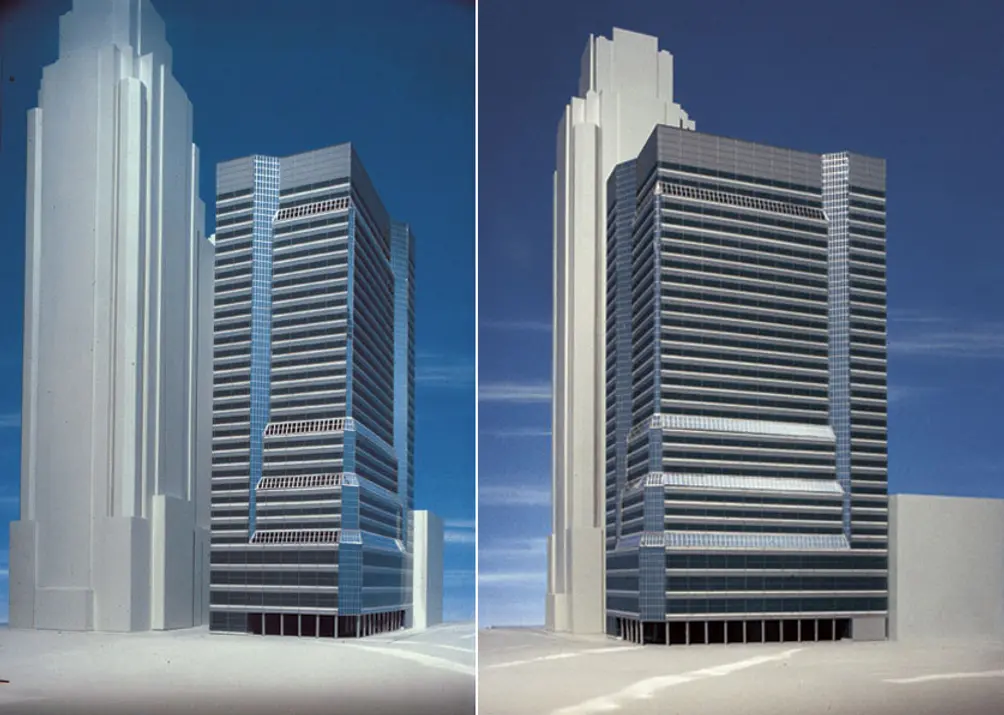 The next proposal for the area came from by Olympia & York, who built the World Financial Center (now
Brookfield Place
) and whose U.S. assets were acquired by Brookfield Properties in 1996. Their scheme called for a 51-story, 754-foot-tall office tower, addressed at 375 Ninth Avenue, to be designed by
Kohn Pederson & Fox
. Designed in the Postmodern-style, the tower culminated in a classical crown.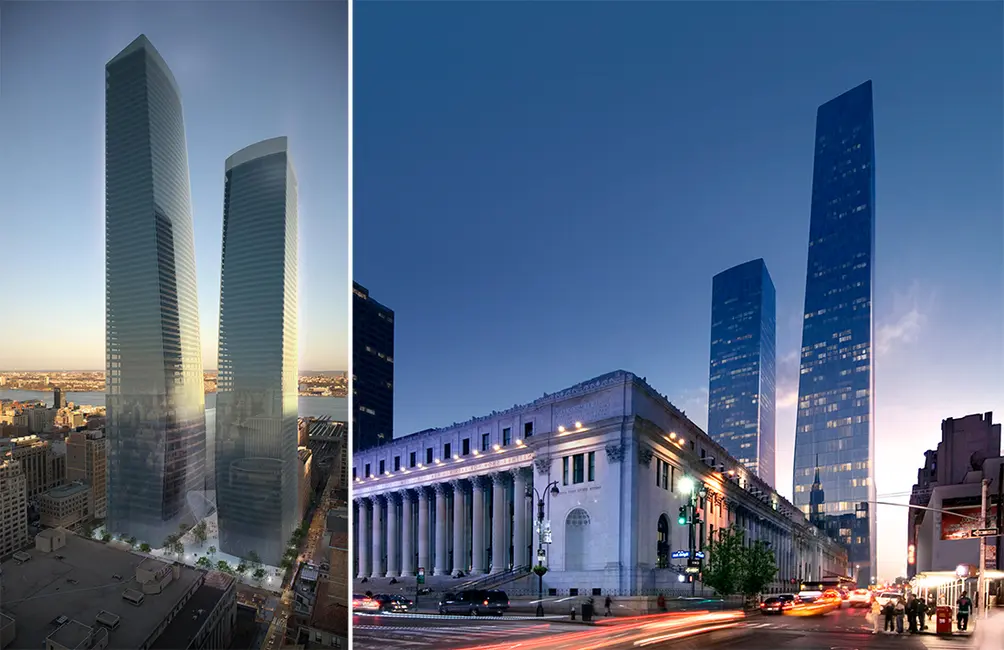 In 2006, Brookfield purchased the northern half of the railyard site along with its air rights from Schulweis when Midtown rents began to soar once again. At the time, Midtown offered few large blocks of space and a multi-building complex envisioned could host up to 4.7 million square feet of office space. The delivery of the first tower was slated for completion in late 2010. However, an unforeseen economic downturn put the project on hold.
Now, fifty years since the original Chelsea Walk proposal and many failed plans, tax abatements, political opposition, and market downswings later; the railyard is finally in the midst of a game-changing transformation. Brookfield's current five-building mega-development was first fully unveiled in 2010 and knighted the name Manhattan West. In 2012, after six years of promises, construction finally began to build a deck over the railroad tracks, a tremendous two-year endeavor that wrapped up in late 2014.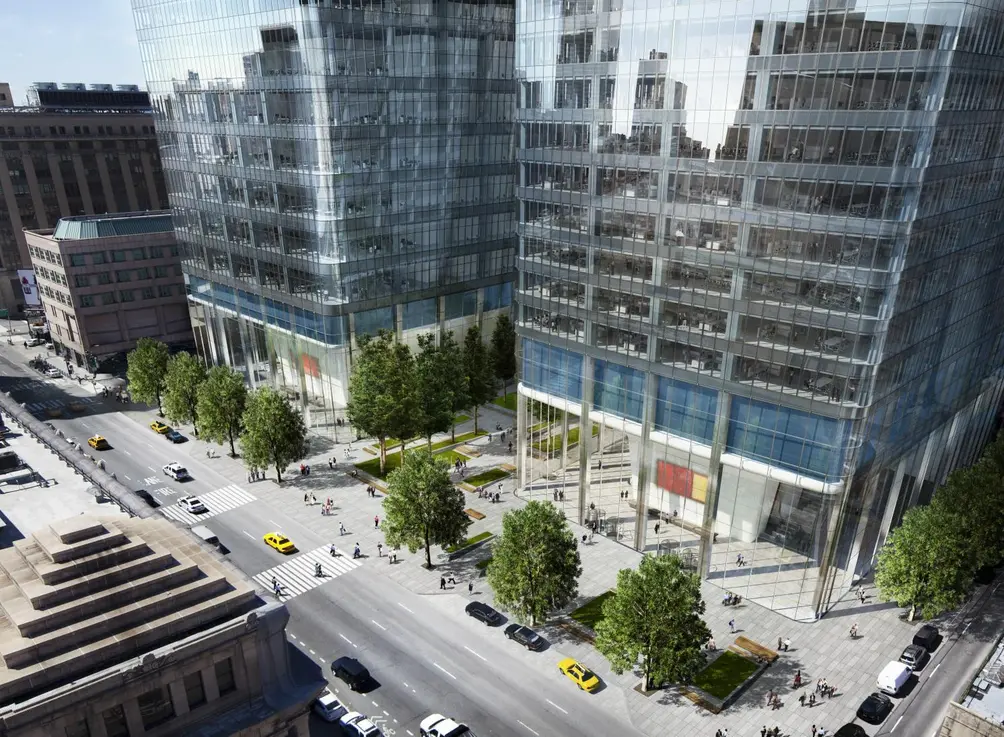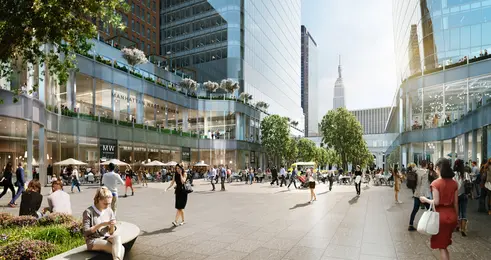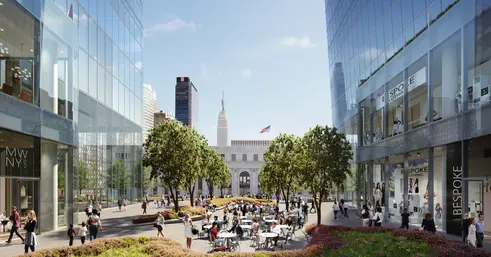 Upon expected completion in 2020, the entire development will host 5.8 million square feet of office space, 844 residential units, 40 condominiums, 150 hotel rooms, a 2-acre public plaza, a year-round arts program, a winter ice rink, and over 200,000 square feet of food, retail, and pop-up destinations. Brookfield tapped
Skidmore, Owings, & Merrill
and REX Associates as the designers.
The development's residential tower,
The Eugene at 435 West 31st Street
, has already topped out at 62 stories and will ultimately feature 844 apartments, over 55,000 square feet of amenities, and a gorgeous 4,500 square foot landscaped and furnished rooftop terrace. The tower is currently receiving the last of its reflective skin, and earlier this week launched a housing lottery for 20% of its apartments designated as affordable. The development will also boast a boutique hotel/condo tower which will rise to 30 floors and host the development's 150 hotel rooms and 40 condominiums. The development's new 2-acre public park is designed by
James Corner Field Operations
, the renowned High Line architects.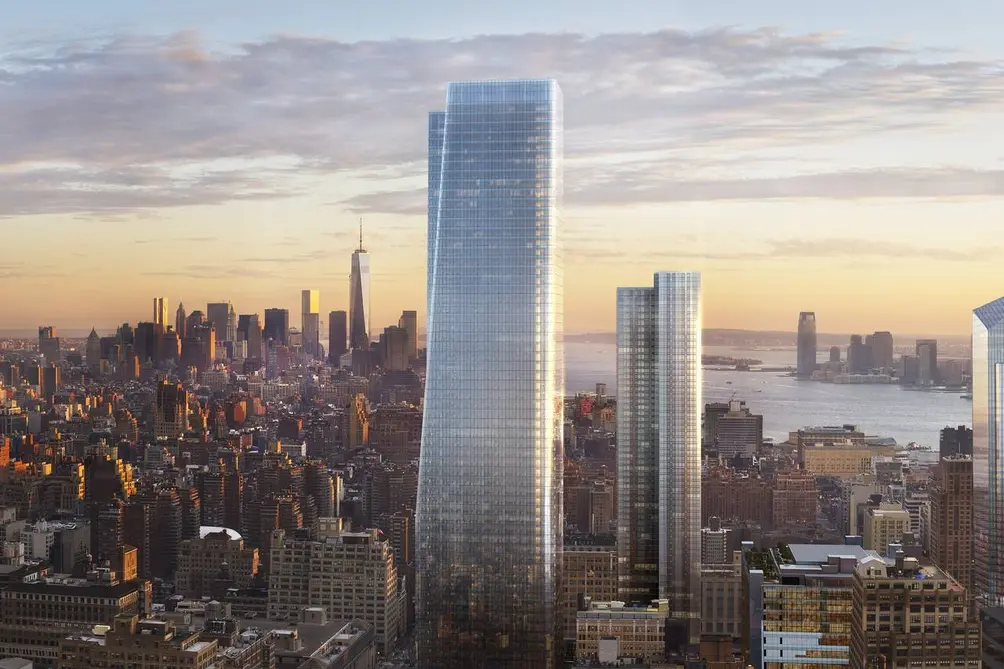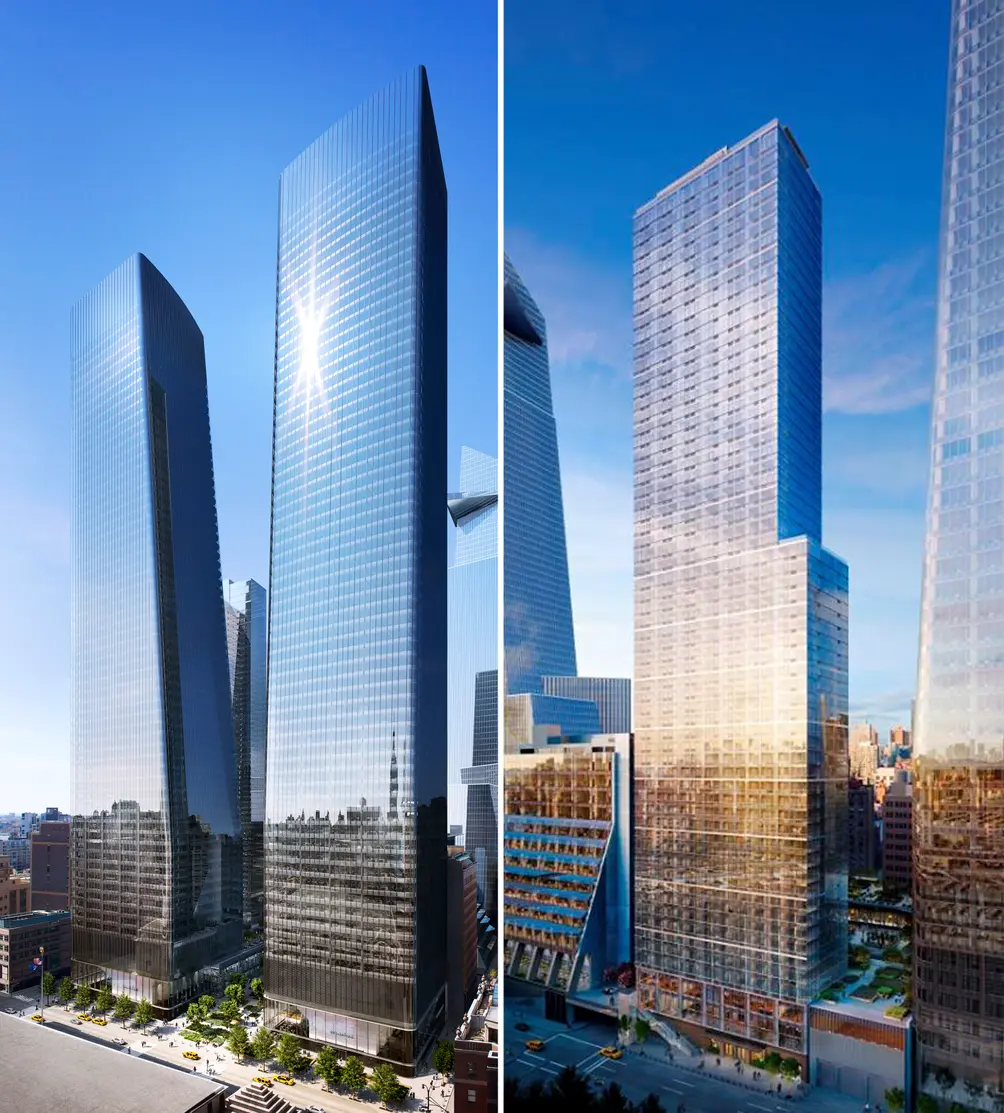 Rising at the northeastern quadrant of the site is One Manhattan West, a 2.1 million square foot office tower, that will ultimately rise to 67 stories and provide approximately 35,000 square foot floor plates for tenants. Law firm
Skadden, Arps, Slate, Meagher & Flom
has already leased 550,000 square feet in the building and the
National Hockey League
is also reportedly considering space there.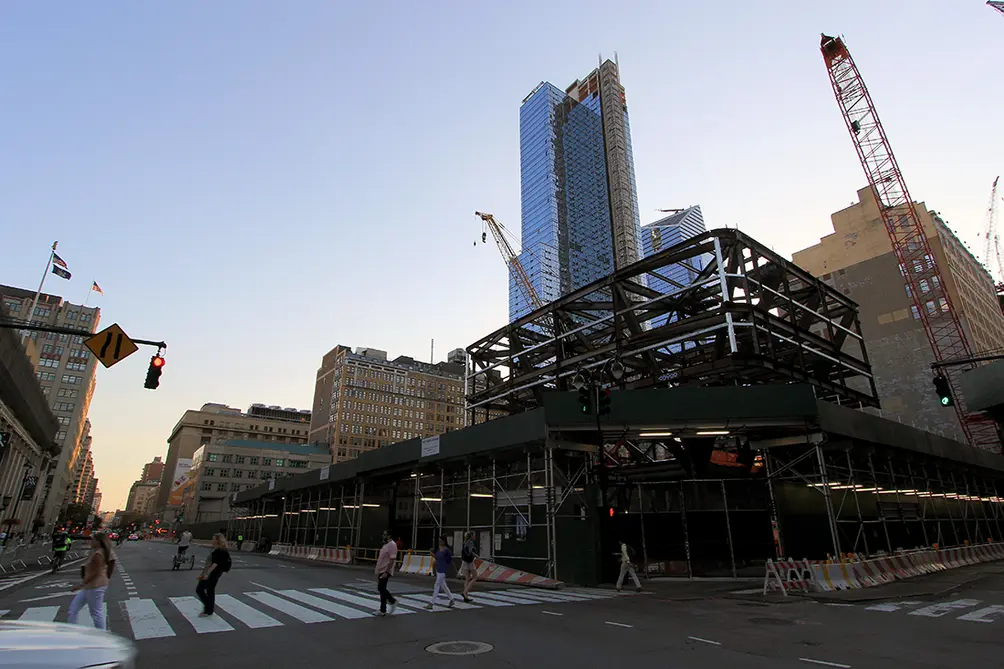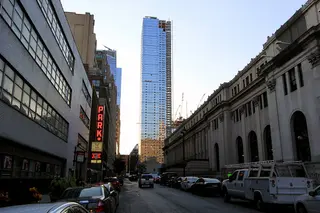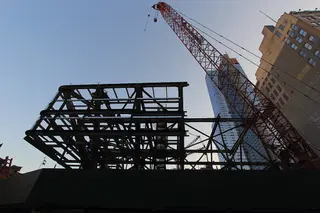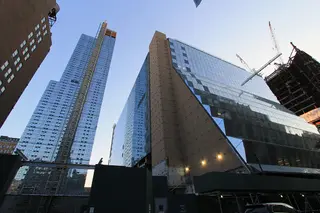 Construction has yet to begin at Two Manhattan West, as the building awaits an anchor tenant. Press releases about the development indicate that building will encompass 1.9 million square feet and will top out at 62 stories. The Lofts, a 202,000 square foot existing building along 33rd Street, will ultimately top out at 13 floors and host 15,000 square feet per floor as well as a private terrace.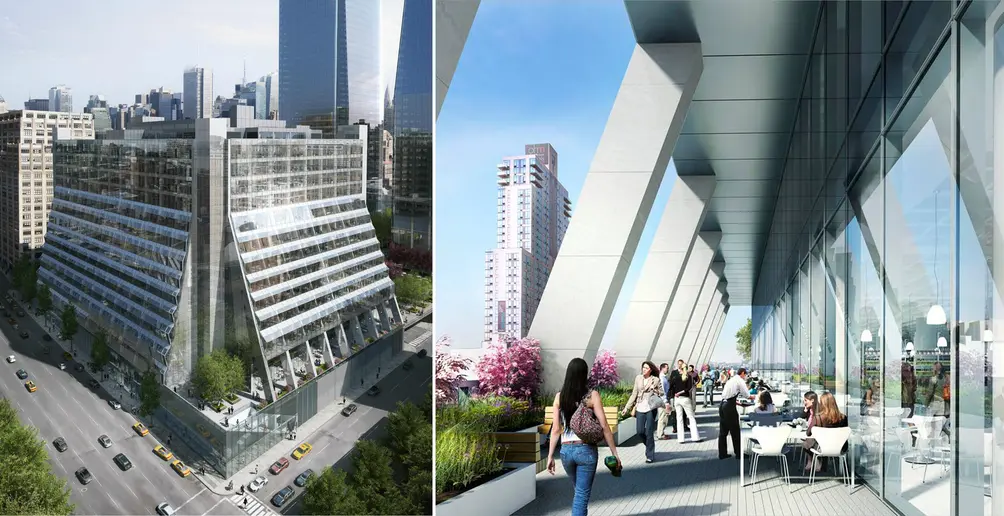 Five Manhattan West, formerly the Westyard Distribution Building is revamping its 1.7 million square feet office space and is in the final stages of a re-clad by the architectural firm
REX
. This building will also boast a rooftop terrace. R/GA, Markit, and JPMorgan Chase have leased space in the building.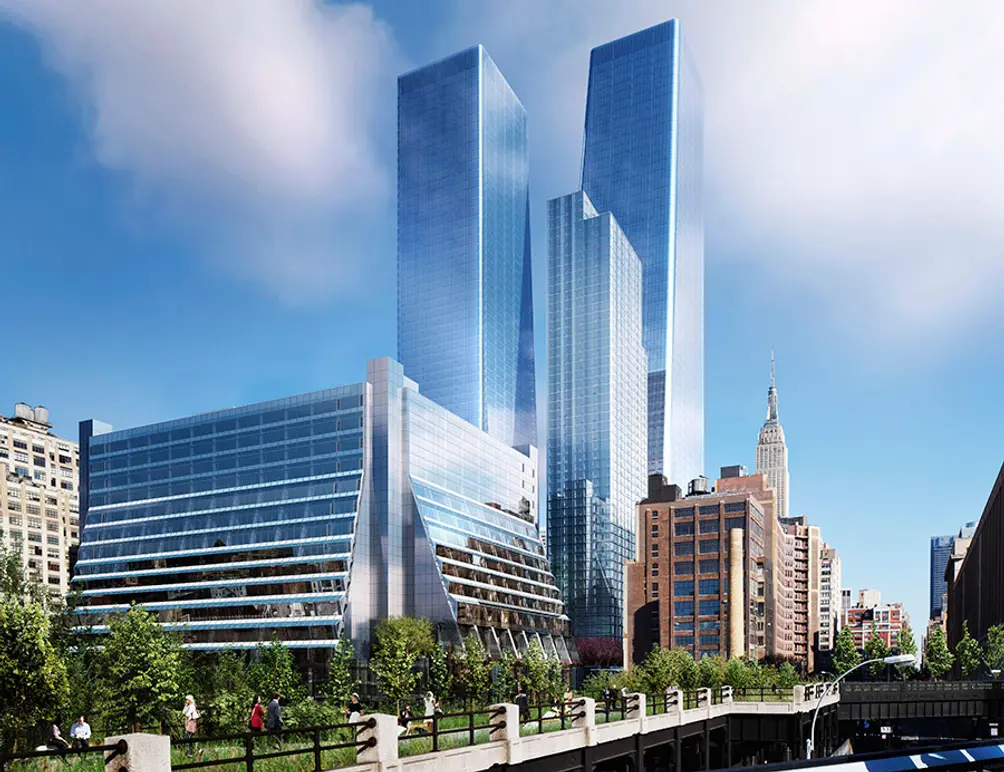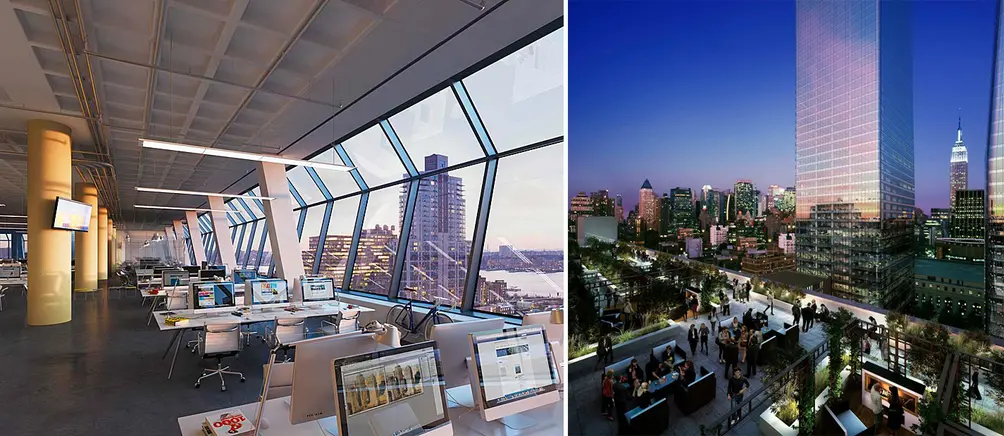 Additional Info About the Building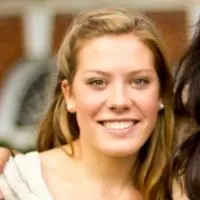 Contributing Writer
Katy Cornell
Katy Cornell is a Long Island native with a passion for writing about real estate in the big city. She recently graduated from the University of Virginia with a BA in English and is a frequent contributor to CityRealty's Market Insight and NYC real estate blog 6sqft.