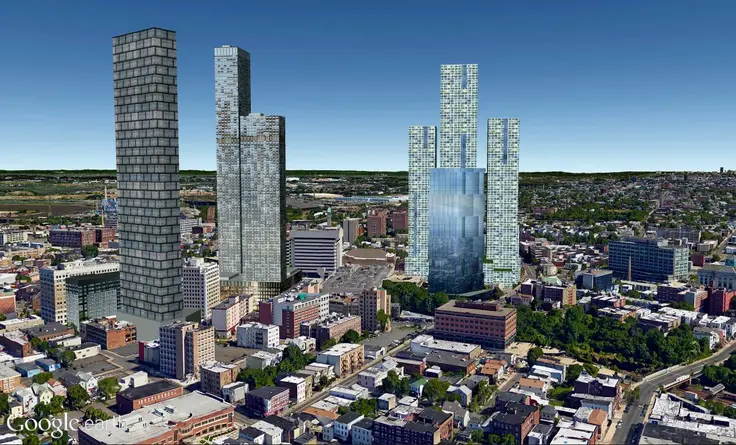 The migration of the New York development rush over to Jersey City was no surprise. Located along the waterfront, Jersey City boasts impressive views of the skyline and easy access into Manhattan from the PATH train. But as new development arrived at a rapid pace, it has resulted in rising prices and a lack of developable land. That's caused developers to look inland in search of other Jersey City neighborhoods ripe for new development. Journal Square, the area surrounding the Journal Square PATH station, has clearly emerged as the new frontier. That's in no small part to the Jersey City Planning Board, which in 2010 approved
Journal Square 2060
, a plan mapping out the redevelopment of the area for the next 50 years.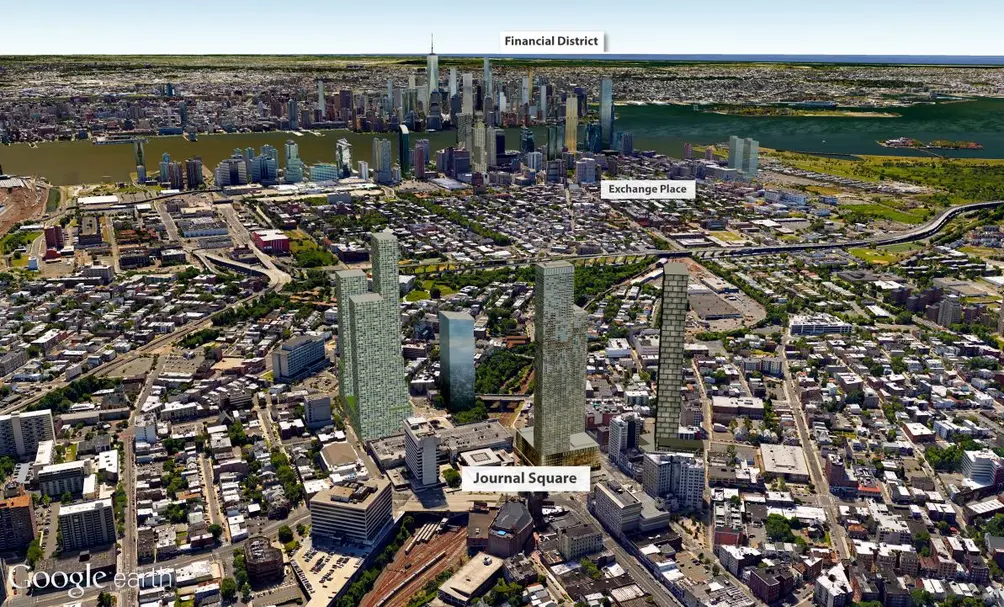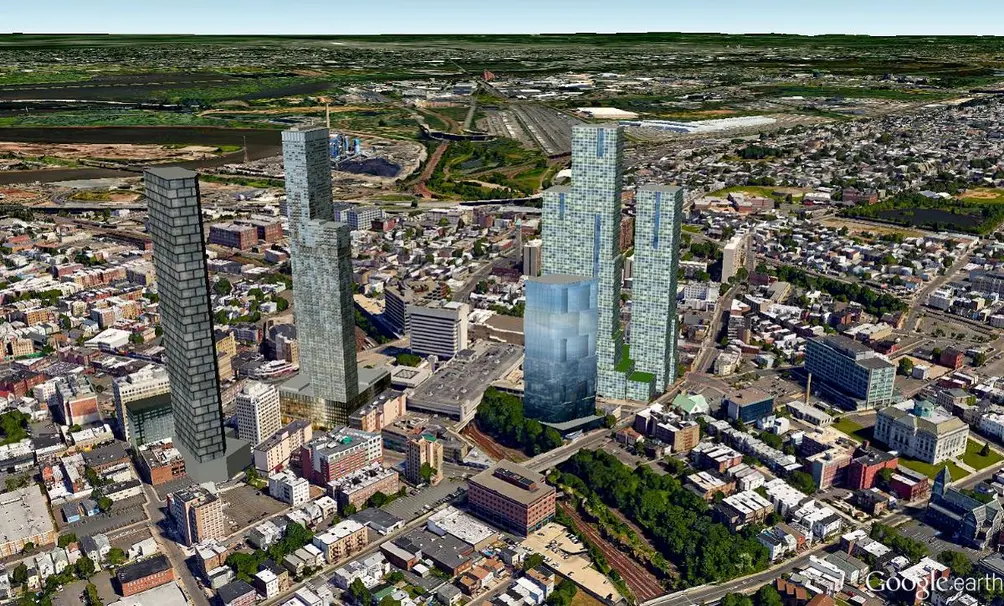 Journal Square was constructed in 1923, after the city condemned and demolished the the offices of the Jersey Journal newspaper to create a broad, widened intersection. The newspaper built its new headquarters there and the square was named in its honor. For most of the 20th century, Journal Square was considered a cultural and entertainment hub, with a transit center opening there in 1975. But it's only in recent years it has attracted high-profile residential projects.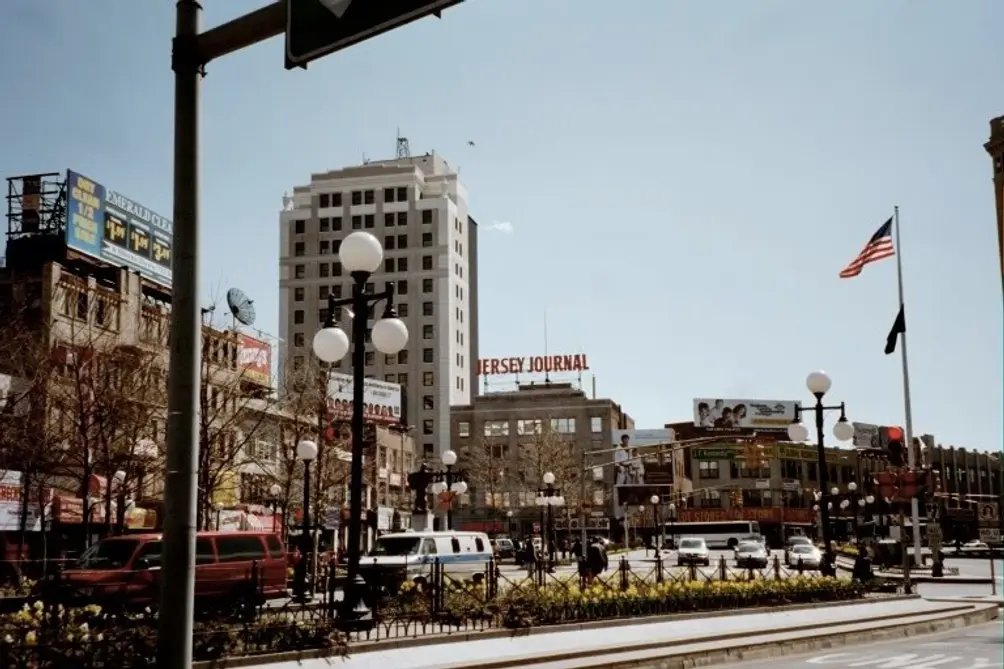 "It's a transit hub that's attracting developers for its easier land costs, and lower construction costs," explained Ken Pasternack, chairman of KABR Group, which is co-developing both One and 30 Journal Square with Kushner Companies. (The two towers will bring around 4,000 new units to the area, he said.) Pasternack thinks that by 2020, the neighborhood will be reinvented with new residential, retail and office space, all thanks to demand from priced-out New Yorkers looking for cheaper rent. "Rents for a new-development high rise will be $40 a square foot here, as opposed to $100 in Manhattan," he said. "We're betting tens of millions of dollars that in the next 10 years, the neighborhood will be a brand on par with Brooklyn."
"We're betting tens of millions of dollars that in the next 10 years, the neighborhood will be a brand on par with Brooklyn" – Ken Pasternack, chairman of KABR Group
KABR Group and Kushner Companies are not the only developers who have set their sites on the area. Here's a roundup of Journal Square development you should be looking out for as this area goes through its unprecedented building boom.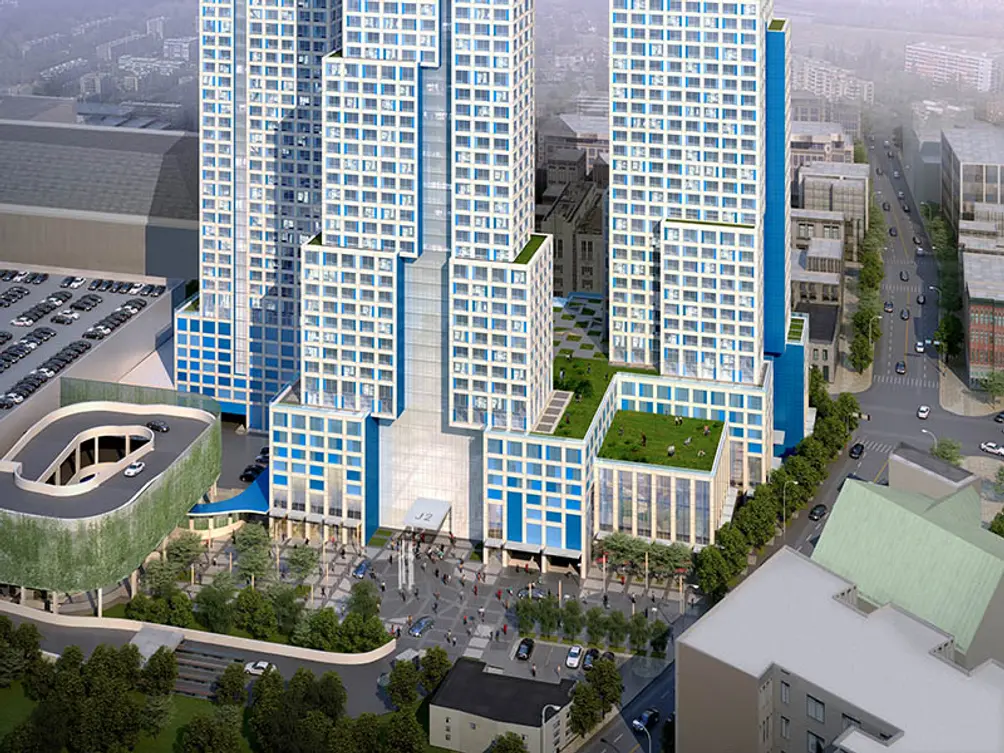 Journal Square was mostly devoid of large-scale development until 2014, when KRE Group announced plans for Journaled Squared, a three-towered, 1,800-unit rental complex located just east of the PATH station. The first building—set to finish construction by the end of this year—will rise 52 stories and hold 583 units. The other towers will rise 60 and 70 feet. Once complete, the complex will have more than 10,000 square feet of amenities that include a fitness center, outdoor pool, children's playroom and a 2,000-square-foot entertaining space.
The developers have hailed the project as a neighborhood game-changer, delivering much-needed residential, retail and open space around the PATH train. The architects, a collaboration between
HWKN
and
Handel Architects
, designed 36,000 square feet of restaurant and retail space as well as a pedestrian-friendly public plaza that will surround the Journal Square station. As HWKN says, "Journal Square has arrived—and this development is the welcome mat."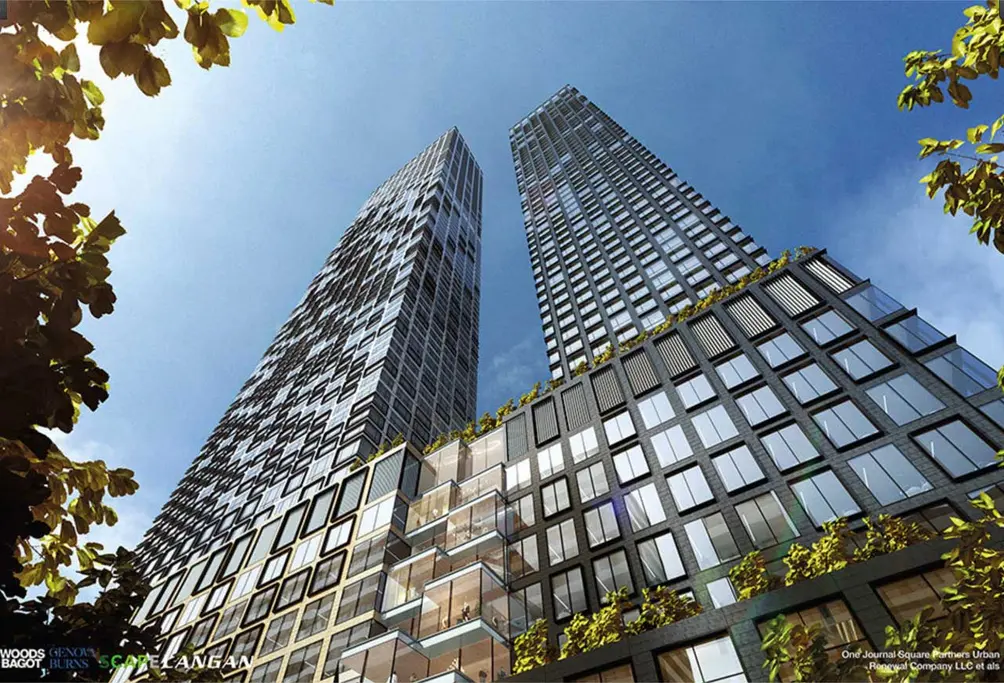 In early 2015, Jared Kushner's development firm, Kushner Companies, announced its $27 million acquisition of the two-acre site at One Journal Square with KABR Group. It's the site of long-delayed plans to construct two 60-story towers, but Kushner had since changed the development slightly. This summer, Kushner Companies released renderings of a 79-story and 56-story tower that will hold a combined 1,725 apartments. (The 79-story tower includes a roof that will top out at 892 feet, making it higher than any other skyscraper already built in New Jersey.) The lower levels will include 88,754 square feet of retail, 910 parking spots and 126,937 square feet of office space that will be run by the co-working firm WeWork. The first phase of development is expected to wrap in 2018.
30 Journal Square is the second major project Kushner Companies and KABR Group teamed up to build in the area. This summer the city approved plans for 741 apartments over 72 stories—the largest project architect Morris Adjmi has designed in the New York region. The tower will be constructed over the old Jersey Journal building, the newspaper that kept its headquarters here. (The Journal moved out in 2014 but its iconic red signage remains on the building, and will not be removed in the redevelopment.) Lower levels will hold 15,030 square feet of retail and 96,602 square feet of office space. No details yet on the amenities package, or the completion date, but we do know terraces will be built out from the middle of the tower upwards, providing outdoor space to upper-level apartments.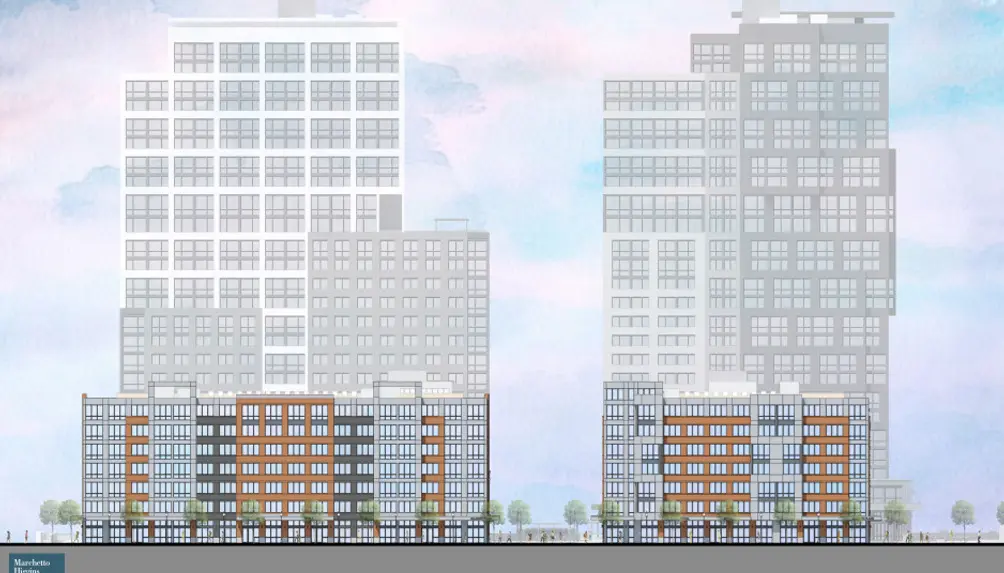 Baldwin Place is a mixed-use residential development that will take the place of the former Muller Pasta factory, which has been vacant for 17 years. The site, which spans over five acres, is not located directly on Journal Square, but is less than a half mile west of the PATH station. Plans were approved
last year
for developer Argent Ventures to move ahead on the two-phase project that includes four buildings and 980 rental units. Phase One consists of two new seven-story buildings; phase two will bring two 25-story buildings. Once construction wraps, the complex will boast a rooftop pool, 36,447 square feet of ground floor retail and 502 parking spaces.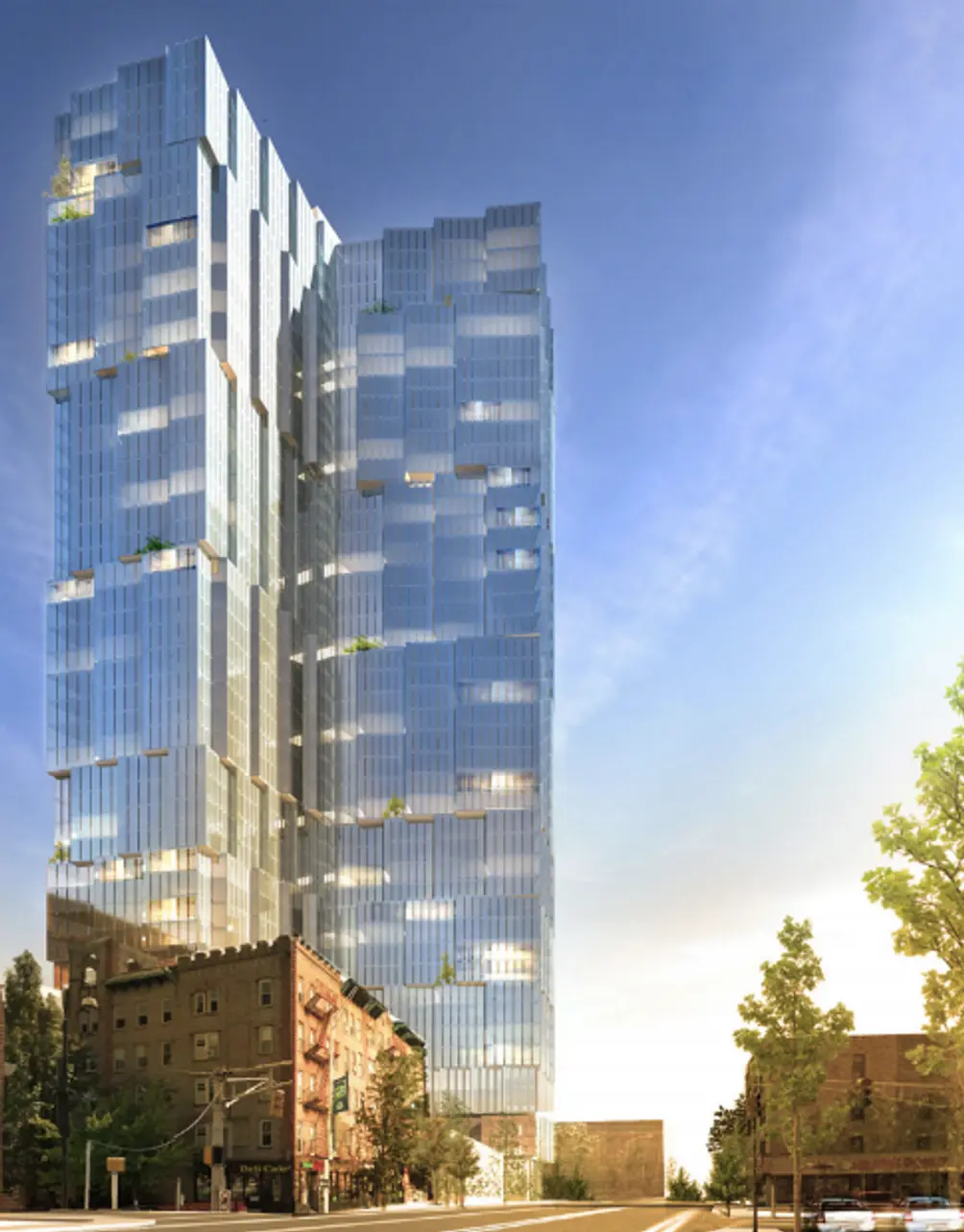 In June, HAP Investments
closed
on this Journal Square property with plans to erect a $400 million, 42-story mixed-use tower. Dubbed the HAP Tower, it will include 785,000 square feet of residential space, with a total of 800 rentals, as well as 30,000 square feet for retail and 100 parking spots.
Cetra Ruddy
is the architect for the building, which boasts a glassy, boxy facade.
Developed by Hartz Mountain and Panepinto Properties, 3 Journal Square is a 13-story building now being constructed over an existing four-story parking garage. Designed by Marchetto Higgins Architect, it will hold 240 rental apartments and will be topped with an eco-friendly green roof. Construction is supposed to wrap in 2017.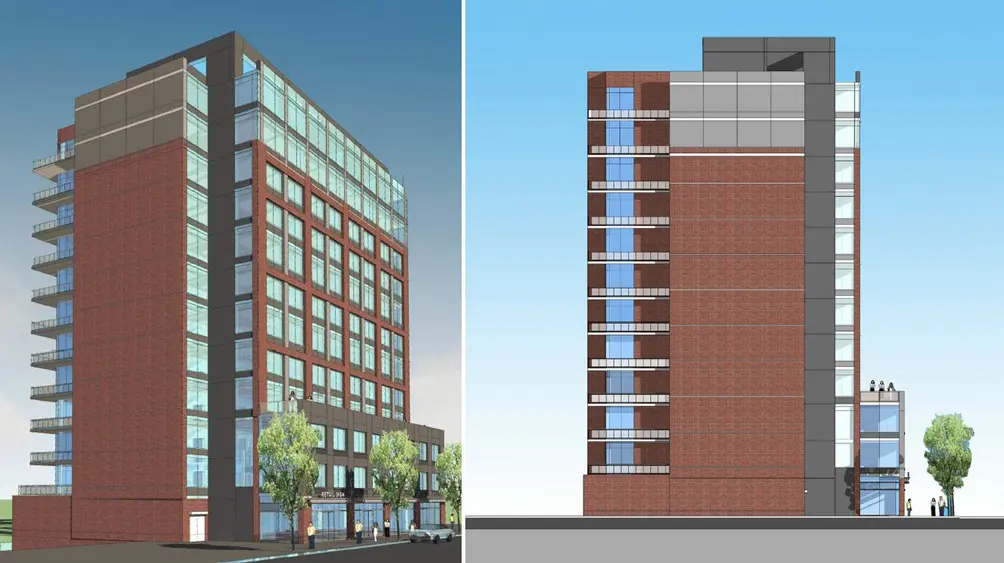 Early this year a new developer
snatched up
this vacant 12,145-square-foot vacant lot which was the site of a stalled development plan. 87 Newkirk Holdings, LLC will move ahead with plans to construct a 12-story mixed-use building with residential and retail space. (Plans from the previous owner called for 111 units and 5,000 square feet of retail and it's unclear how much the current proposal will change.) The development will be located just two blocks away from the PATH station.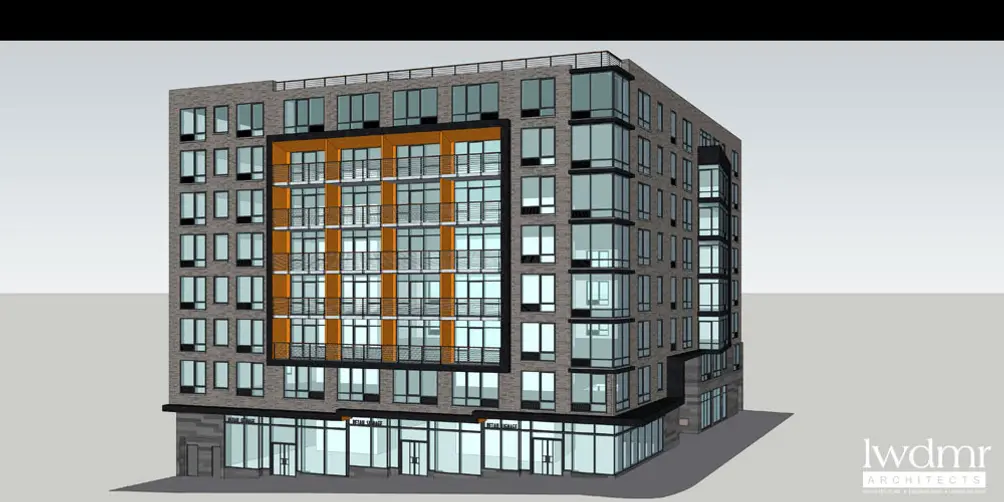 There hasn't been much news about the development proposed for 232 Sip Avenue, but we do know plans were
approved
this spring for an eight-story, 81-unit building. There will also be 2,720 square feet of retail along the ground floor. LWDMR Architects is designing the structure, which will be a mix of glass and light grey brick.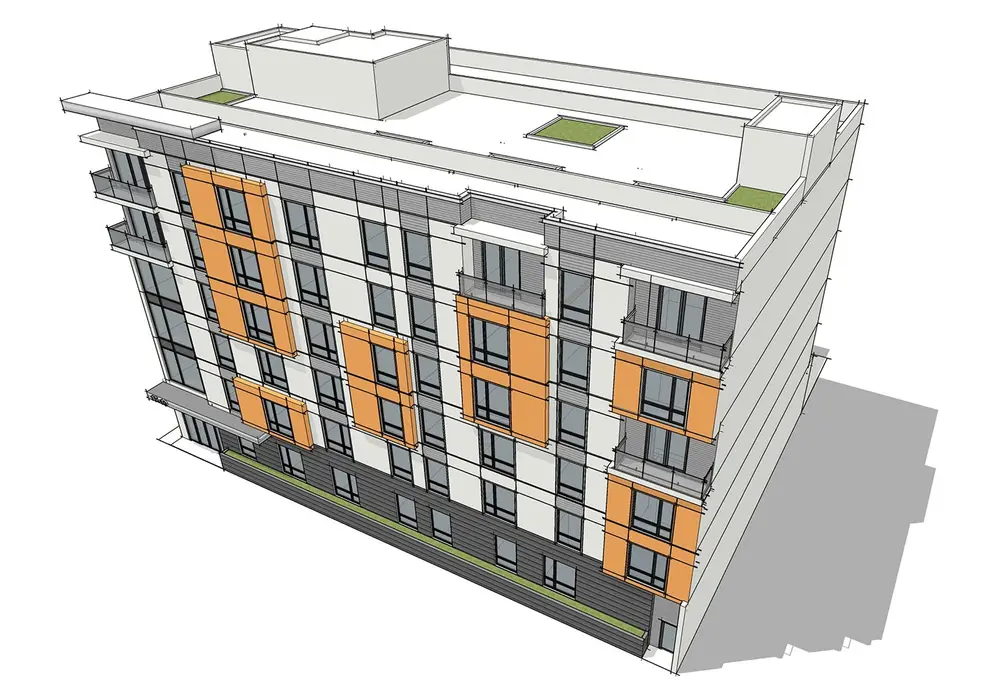 Another mid-sized development
planned
for Journal Square is 17-19 Perrine Avenue, a six-story building that will hold 54 apartments ranging from studios to two-bedrooms. Hampton Hill Architecture designed ground-floor units with terraces and upper-floor units with balconies, while the roof will hold amenities like a lounge, fitness center and outdoor area.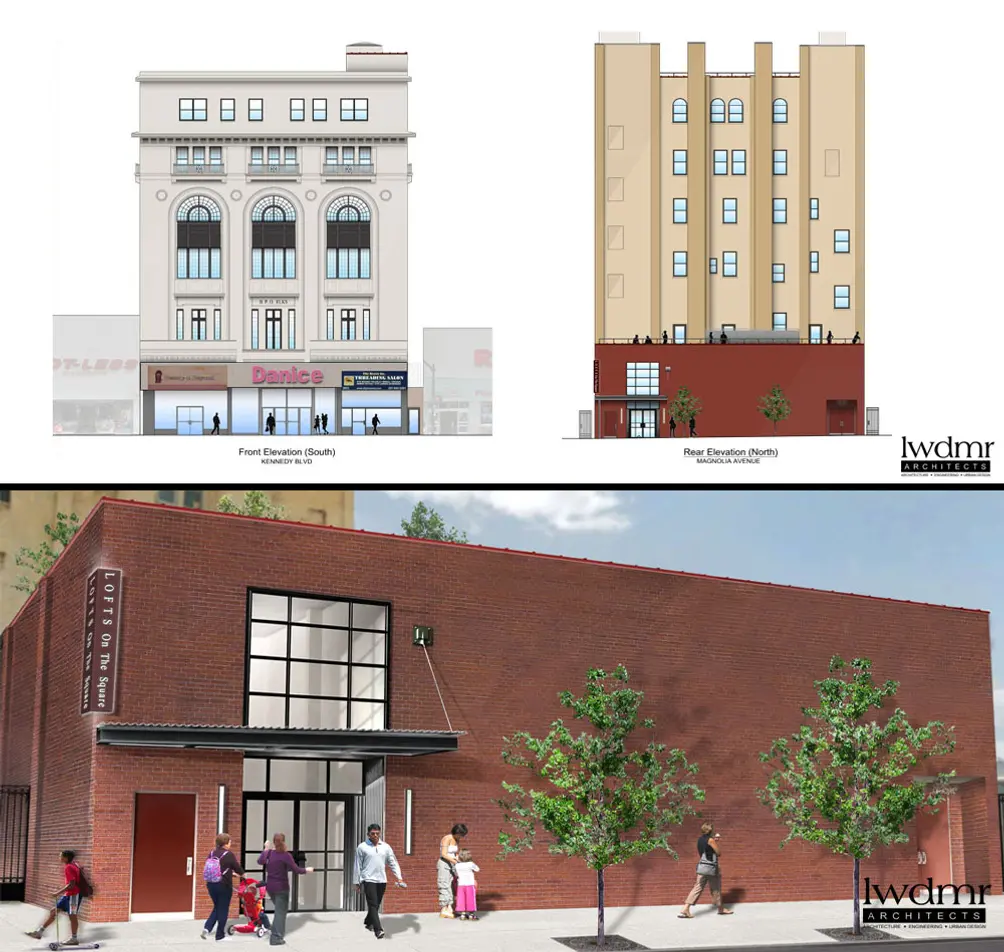 2851 John F. Kennedy Boulevard
Much of the Journal Square development consists of glassy new towers, but 2851 John F. Kennedy Boulevard is an example of an adaptive reuse project. Hopkins Group
will convert
a six-story building into 40 loft-like apartments above the existing ground-floor retail. There will be eight studios, 25 one bedrooms and seven two-bedroom units. LWDMR Architects is the architect of record for the project, which has no estimated completion date.
Additional Info About the Building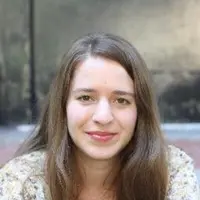 Contributing Writer
Emily Nonko
Emily is a Brooklyn-based writer who has covered New York City real estate, architecture and design for Brownstoner, The Wall Street Journal, Dwell and other publications. You can follow her on Twitter @EmilyNonko.