One Beacon Court at 151 East 58th Street: Review and Ratings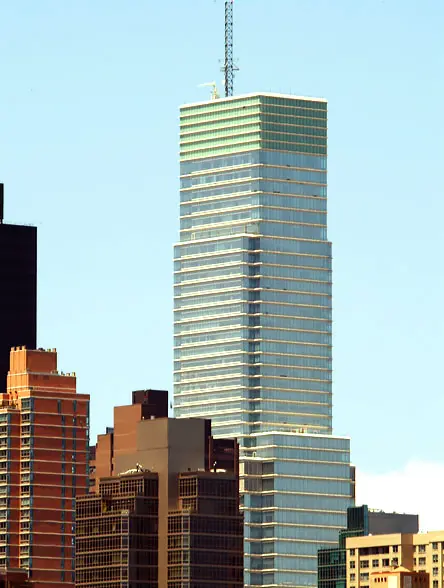 Review of 151 East 58th Street by
Carter Horsley

Carter B. Horsley, a former journalist for The New York Times, The International Herald Tribune and The New York Post. Mr. Horsley is also the editorial director of CityRealty.com.
This tall and very impressive, mixed-use, development occupies the full block bounded by Lexington and Third Avenues and 58th and 59th Streets.
The 806-foot-high tower incorporates about 900,000 square feet of offices for Bloomberg L.P., 160,000 square feet of retail space and 105 luxury condominiums on the 30th to 55th floors of the project's tower on Lexington Avenue.
The residential portion of the building is known as One Beacon Court and its entrance is in a large, elliptical court at 151 East 58th Street just to the west of the entrance to Le Cirque restaurant. The 110-foot-high court, one of the city's more intriguing spaces, inclines about 7 degrees inward and has a broad entrance on 58th Street and a small one on 59th Street.
When it was completed in 2005, it and the Time Warner Center at Columbus Circle gave the northernmost boundaries of Midtown major visual anchors. Both buildings have very prominent illuminated tops.
It was developed by the Vornado Realty Trust, which is headed by Steven Roth.
The project was designed by Cesar Pelli & Associates, the architect of the World Financial Center at Battery Park City and the Museum Tower on West 54th Street.
Bottom Line
One Beacon Court has spectacular views in all directions: Central Park to the northwest; the Queensborough Bridge to the east; and Midtown to the west and south.
In the hustle and bustle of this busy neighborhood, the overall elegance of this very clean-cut, high-tech complex is unexpected and on a par with that of the patrons of Le Cirque, the famous and flamboyant restaurant that relocated here from the Palace Hotel on Madison Avenue.
The mixed-use tower contains 105 condominium apartments on the 30th to 55th floors, office space for Bloomberg L.P., and 160,000 square feet of retail space.
Description
The project, which is directly south of the full-block, low-rise Bloomingdale's store, occupies the former site of the low-rise Alexander's store.
The building has floor-to-ceiling windows and each floor is separated by a thin, protruding string-course that, during construction, was covered with blue paper that gave the tower very handsome accents. When the paper was peeled off a steel element was revealed that was nearly as handsome.
The building's façades are very slick, but the protruding stringcourses make them not too glossy, and a very good complement to Citicorp Center a few blocks to the south on Lexington.
The "court" is located slightly east of the block's center and its eastern wing has an angled roofline setback along the sidestreets. Together with the inwardly canted large elliptical court, it is an interesting and surprising foil to the very crisp and handsome rectilinearity of the tower.
The Bloomberg office space has a large atrium called The Link that overlooks the elliptical court and the atrium has a curved escalator between the 5th and 6th floors.
The building's major retail tenants include The Home Depot, H & M and The Container Store.
The top six levels of the tower are brightly illuminated at night and on a few occasions the illumination has been colored.
Amenities
Richard Johnson, of Page Six of The New York Post, reported November 30, 2003 that "Future residents of One Beacon Court, the luxury condo apartments rising on top of the Bloomberg offices at 731 Lexington Ave., got the use of the building's concierge as soon as they signed their contract, even though they might not be able to move in for a year or more," adding that the developer had hired Quintessentially, the London-based upper-crust firm run by Camilla Parker Bowles's nephew, Ben Elliot, to handle the residents of One Beacon, its first U.S. client.
Residents have access to The Beacon Club on the 29th floor, which includes a fitness center, entertainment suite, children's playroom and a business center. The building has 24-hour doormen, a concierge and a garage and valet parking.
Because 59th Street is one of the main approach streets to the Queensborough Bridge to the east there is heavy traffic, and Bloomingdale's, of course, attracts a lot of shoppers.
There is a subway stop at Lexington Avenue and 59th Streets. There are numerous restaurants nearby, especially on 58th Street, between Third and Second Avenues.
Apartments
Kitchens are very sleek with white, double-stacked cabinetry with lighting underneath, as well as stainless steel utensil racks, Brazilian Pannafragoia granite floors, Italian Basaltina stone countertops, Sub-Zero 600 series refrigerators, Wolf ranges and Miele dishwashers and washers and dryers. Bathrooms have Absolute Black granite floors framed in a Buttucino Fiorito marble and set in Yellow Ramon limestone borders, Buttincino Fiorito marble wainscots, Kohler water closets.
There are about 60 different floorplans for the apartments.
A four-bedroom apartment on the 32nd floor has a large entrance gallery leading to a very large living room and formal dining room that opens onto a L-shaped, 650-square-foot terrace. The apartment also has a maid's hall.
One three-bedroom unit on the 33rd floor has a foyer leading to a large gallery that opens onto a very large living room with a large dining alcove that opens onto a very long terrace that is also accessible from the master bedroom.
A four-bedroom apartment on the 54th floor has two bedrooms that are more than 23 feet long and a breakfast room in addition to the large dining room and large living room.
History
The project was many years in the planning, as the developer, Steven Roth, chairman of Vornado Realty Trust, studied many schemes, and waited for a major tenant long after Alexander's had closed its low-rise, marble-clad building, which was demolished in 1998.
As the site was directly south of the full-block occupied by Bloomingdale's, some observers wondered why Mr. Roth did not consider an even larger project that might have bridged 59th Street, and provided a new "home" for Bloomingdale's, which could have utilized its substantial, unused "air rights."
At one point, a hotel was considered as a component of the mixed-use plans, and major auction houses also considered the site.
Vornado was reported to have also considered making the project entirely residential.
In a November 25, 2003 New York Post article, Steve Cuozzo wrote that "It took Vornado CEO and Chairman Steve Roth a decade to develop the old Alexander's site - a decade in which he put up with sniping from all sides over his seeming indecisiveness."
In an interview, Mr. Cuozzo asked Mr. Roth if he felt "vindicated": "As head of a huge, publicly traded REIT with shareholders to think of, Roth said: 'We're business people. We do things methodically and by the numbers. We knew we had a great asset at a unique spot, and we weren't going to do transactions prematurely that wouldn't get us the values we eventually expected to get ... Notwithstanding pressures to do things prematurely, I have pretty strong convictions about what's right arithmetically."
Roth, with some amusement, said, "We still have 100 models of different buildings as the ideas changed - the tower on Third Avenue vs. the tower on Lexington; multiple towers and much lower buildings with no towers at all."
So why was the tall tower put near Lexington? "Two reasons," Roth said. "It's a better office address. And it's 400 feet closer to Central Park" - no small issue for buyers of the apartments...'"
As the tower began to grow out of the ground, the project was met with widespread enthusiasm, as its sleekness and impressive scale became a gleaming new and major component of the midtown skyline.
The commercial entrance is at 731 Lexington Avenue.
The developer used the city's "inclusionary zoning" provisions to create almost 260,000 square feet of added residential space, by developing one building and purchasing the "bonus" square footage from two other projects in the same community board district. The program permitted developers to get four square feet of bonus space for luxury housing for every square foot of lower-income housing they produce. Vornado Realty Trust used 97,372 square feet from the 53-unit senior project at 351 East 61st Street, developed by RFT and Davis & Partners, and another 42,507 square feet were purchased from BFC Partners that developed 346-8 East 21st Street. The remaining 118,900 square feet was obtained from a 41-unit project for the Metropolitan Council on Housing that Vornado developed at 171 Lexington Avenue, with Jeff Levine.
Book a Tour or Get More Information on this Building
4,587 Buyers
are interested in buying at
151 East 58th Street!
Interested in Selling?
We'll introduce you to the agents that
specialize in 151 East 58th Street and are
experts in selling apartments there.

And they'll be able to contact all of the buyers interested in the building.
There's no obligation and your inquiry is confidential.
Call us at (212) 755-5544